We recently sat down with Andie Yamagami, one half of the sister-owned As Quoted in San Francisco's Presidio Heights, to talk family-owned businesses, San Francisco's restaurant industry, the healing power of beautiful spaces, and SLOW food.
Square: You're sisters but you both work with different focuses. [Kara is an architect, Andie is a nutritionist and therapeutic chef.] What inspired you to work together?
Andie: Kara and I are very entrepreneurial, and have always been thinking about what type of business we can open together. When Kara was starting out, we were brainstorming, and we came up with this lifestyle concept.
Being healthy affects every aspect of your life. If you live in a beautiful space that you love, you're happy to be in it every day. If you eat healthfully, your body is happy — it affects every aspect of your life. As Quoted is a culmination of that — a restaurant where you go in and eat food that makes you feel good, in a calming space. It's meant to be stress free and beautiful.
What made you want to be a chef?
From the time we were young, our mom was setting the groundwork for living a healthy life. Her family had a history of cancer, and she really wanted to be healthy for her kids. She was even making her own baby food in the early 80s, when no one really did that yet.
That really grew into a passion for Kara and me. After that, I was diagnosed with a bunch of food allergies. I was feeling really run down, and trying to figure out why. When I removed certain foods, like gluten, dairy, soy, eggs, and nuts, I felt so much better. My body was telling me that I was doing something right.
I realized that there are so many people who were getting diagnosed with food allergies and didn't know how to navigate through them. If you didn't know how to cook, you couldn't just go to a restaurant and be able to eat. I wanted to do something to make it easier for people to enjoy food. As Quoted is meant to be a restaurant that is okay to eat at — we have those options that are gluten free, dairy free, nut free.
Your slogan is SLOW, (seasonal, local, organic, and wholesome). Tell me more about how you source your food.
When we were building the menu, I had just had my son. We wanted to serve what I felt comfortable serving my son. We want to serve people how we serve our families.
One main thing that comes to mind — the meat that we serve is pasture raised, usually from Marin Sun Farms. We also love Full Belly Farm — it actually belongs to my sister's friend's aunt. Where our products are coming from, and how they are created, have a huge difference in the impact they have on your body. [As Quoted also features local SF sellers like Andytown Coffee Roasters and Happy Moose Juice].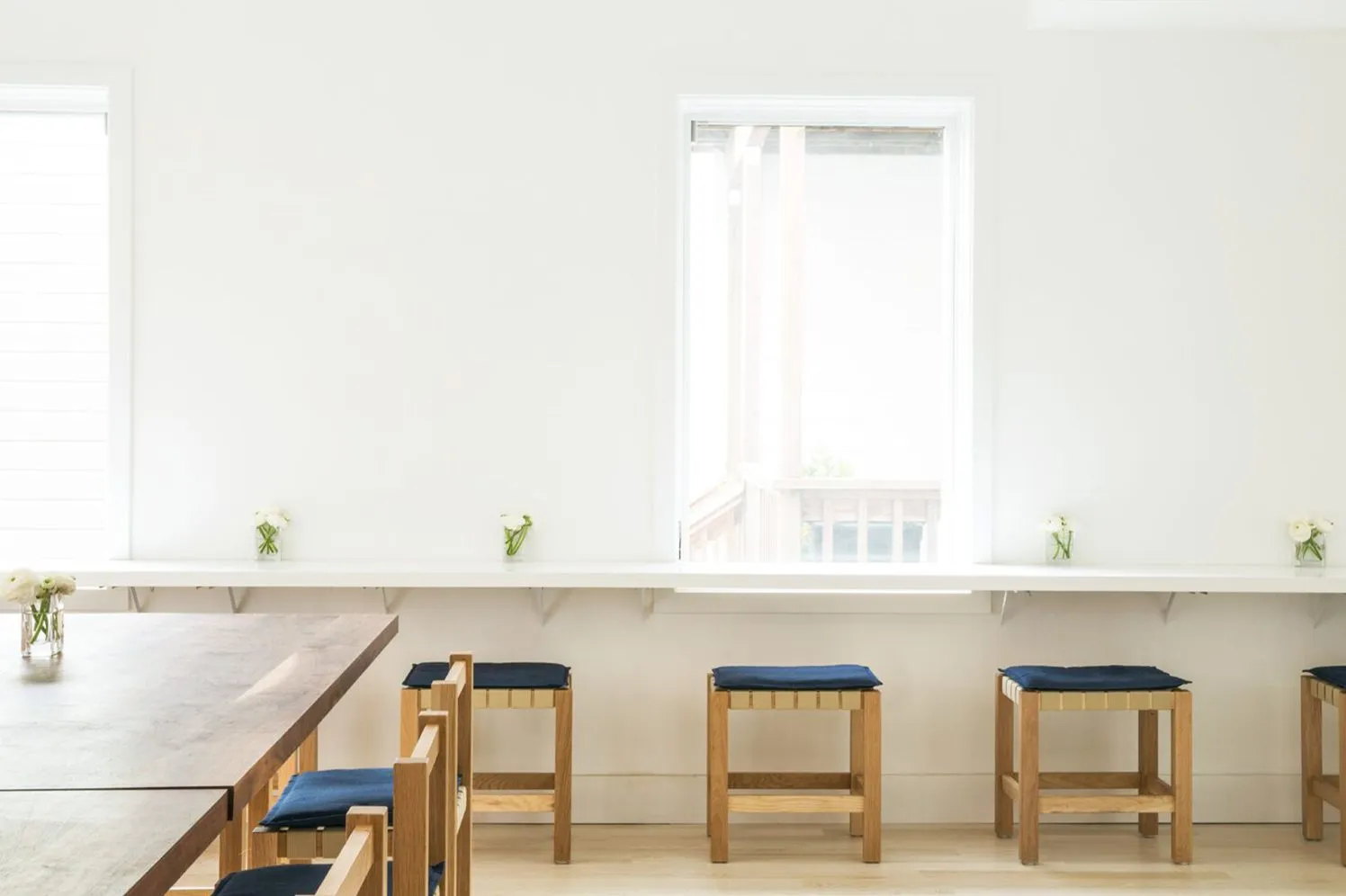 Who (or what) inspires you in the restaurant industry?
Our parents — we've grown up with them as our role models and they opened a restaurant 40 years ago. They're self-taught and have so much experience. They have really helped us shape the way we work and how we look at our operations.
Kara and I want to emulate the relationships our parents have built with their employees. A lot of their employees have been there for many years, and customers recognize and appreciate that.
On being female owners of a restaurant in a male-dominated industry:
We've always had really strong female role models, so owning a restaurant together feels really natural to us. Kara and I went to an all-girls high school, and we've always been around strong women.
When we first opened, the whole kitchen was all women. They were all the people we wanted to work with, we gravitated toward each other. Today, our female manager takes care of everything — everyone loves her. And we still have that female-run feeling.
On creating a restaurant that's a family affair:
Our family's restaurant is a taqueria, and our dad built all the chairs there. When Kara designed our space, she redesigned the chairs they have for As Quoted. We built them all together — our contractor cut the pieces, and our family glued and nailed everything together. It was a collective thing, our own piece of our parents' restaurant.
On creating a neighborhood staple:
We grew up in this neighborhood [Presidio Heights]. We would come home after school and meet up with the neighborhood kids at Laurel Wine and Cheese. Since they aren't there anymore, we wanted to create a space like that, for the neighborhood to come together — whether it's moms after drop-off or kids after school.
What's next for As Quoted?
I feel like we have so much we want to do with the brand. Kara recently moved to Singapore. It's been a little difficult to plan since she's so far away, but we know that we have so many things we want to do.
Right now we're collaborating with some other brands. I'm working with my best friend from elementary school, actually, to create gift boxes for new/expecting moms and babies. They'll be full of clean products for babies and moms, a continuation of the As Quoted lifestyle.
As Quoted can be found at 3613 Sacramento Street in San Francisco. You can also order delivery on Caviar.
Interested in sharing your own story? Submit your Square seller story here.
Photography by Aubrie Pick