Table of contents
"I was always supposed to be The T-Shirt Lady," says The T-Shirt Lady & Son Owner Iesia Earl. In 2001, Earl moved to Atlanta, a single mom who felt she wasn't able to spend the time she wanted with her then toddler-aged son. Before becoming the T-Shirt Lady, she worked in the legal field and was looking for a way to spend more time with her family. The business started with just T-shirts, eventually expanding to other promotional items like keychains, stickers, and mugs.
It started with a T-shirt
While she can't recall the first T-shirt she printed, one print sticks out in her mind: a Rest in Peace T-shirt commissioned in the early days of the business. "They're all meaningful, you know, because I just appreciate the fact that someone's coming to me, to allow me to create something for them, for them to allow me to do what I love," says Earl.
"When they came and picked it up, I didn't know why they were so emotional. I just thought it was because of the passing of the family member, but, it was the fact that when I scanned the image there was a teardrop on that picture," says Earl. Having unwittingly scanned a teardrop onto the image, she left it there, not correcting the mistake immediately as other printers might do. It was the first time she felt like she was doing something meaningful. Earl realized the service she was providing was more than simply making a T-shirt.
Earl started by selling all kinds of apparel out of her car, soon setting up a physical location. Over time she noticed that customers would come in and buy several shirts alongside a single pair of pants. This trend only grew as customers began asking for help matching shirts to hats or sneakers and, before she knew it, Earl was searching the internet for instructions on how to screen print T-shirts. Within a year and a half of starting the clothing store, The T-Shirt Lady & Son officially transitioned to making shirts.
Today The T-Shirt Lady & Son, a mother-and-son printing agency, offers customized promotional products with print methods ranging from screen printing to embroidery. The business counts Hertz, Disney, Ikea, Target, and Netflix amongst its high-profile customers.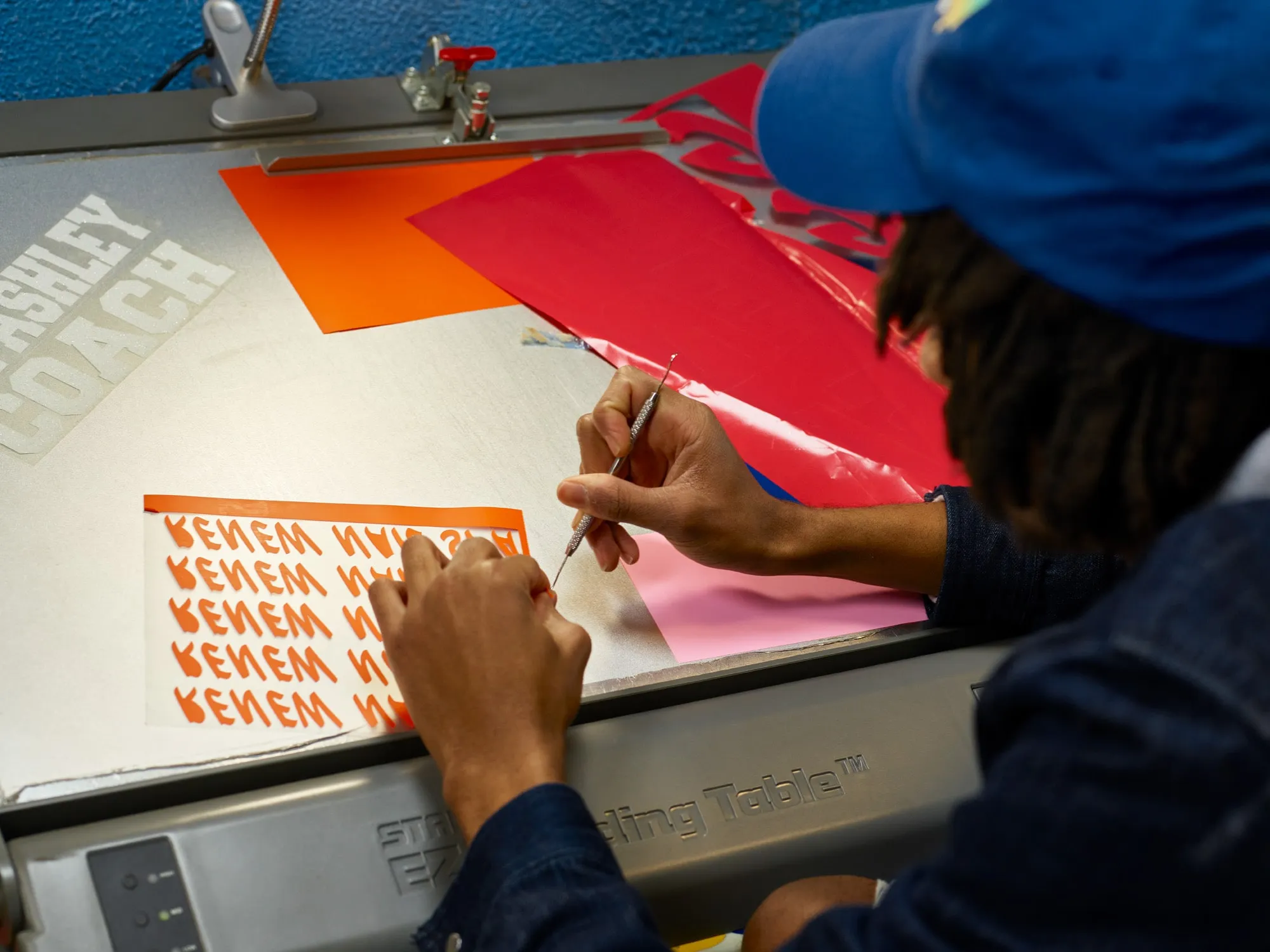 Growing the business online
Earl counts herself among the fortunate businesses who were able to operate successfully and even grow in 2020. Online orders have always been a meaningful driver for the business — most of its deals were coming through the website. In fact, three years prior, Earl was already considering taking the business exclusively online. She temporarily shut down her shop in accordance with local safety regulations at the onset of the pandemic. This ultimately pushed her to close the brick-and-mortar location completely and move to a private studio.
"I just was lost at first and then out of nowhere, I started getting contracts with big businesses," she says. "I won't ever forget, you know. I mean, they could have chosen anyone else." Within two weeks of having to close the physical location her client base had changed, and her revenue along with it. Large clients began discovering The T-Shirt Lady & Son online. From there they referred others by word of mouth. She says if you look at her client list on her website, the last five were acquired during COVID alone.
The process of adapting wasn't without challenges. Earl counts delays in her supply chain and package deliveries to clients as some of the unexpected and most demanding friction points for her operation. While she's not saying no to the possibility of reopening a brick-and-mortar location, she feels that the next likely step would be a warehouse rather than a store.
Laying plans for the future
Earl started the business without a formal business plan, but recently she found a list of goals from a few years back.
"When I pulled out the goals, I was able to check off so many things that I didn't realize that I was even achieving." She says that while she didn't realize she was checking them off, she'd advise others to start with a goal list as well. "Make sure that they're realistic, because a lot of times we put things down on paper that aren't realistic and beat ourselves up because we didn't achieve that, but you need to get the small things done."
The small things she says are the ones that build character in order to complete the big things. Her biggest mistake early on was thinking she had to do everything all at once. When she started the business, she had no machines and much of her free time was spent with a hand on a heat press. As the business grew, so did her equipment, adding in-house embroidery machines, heat presses, screen printing machines, and vinyl cutters, among other tools.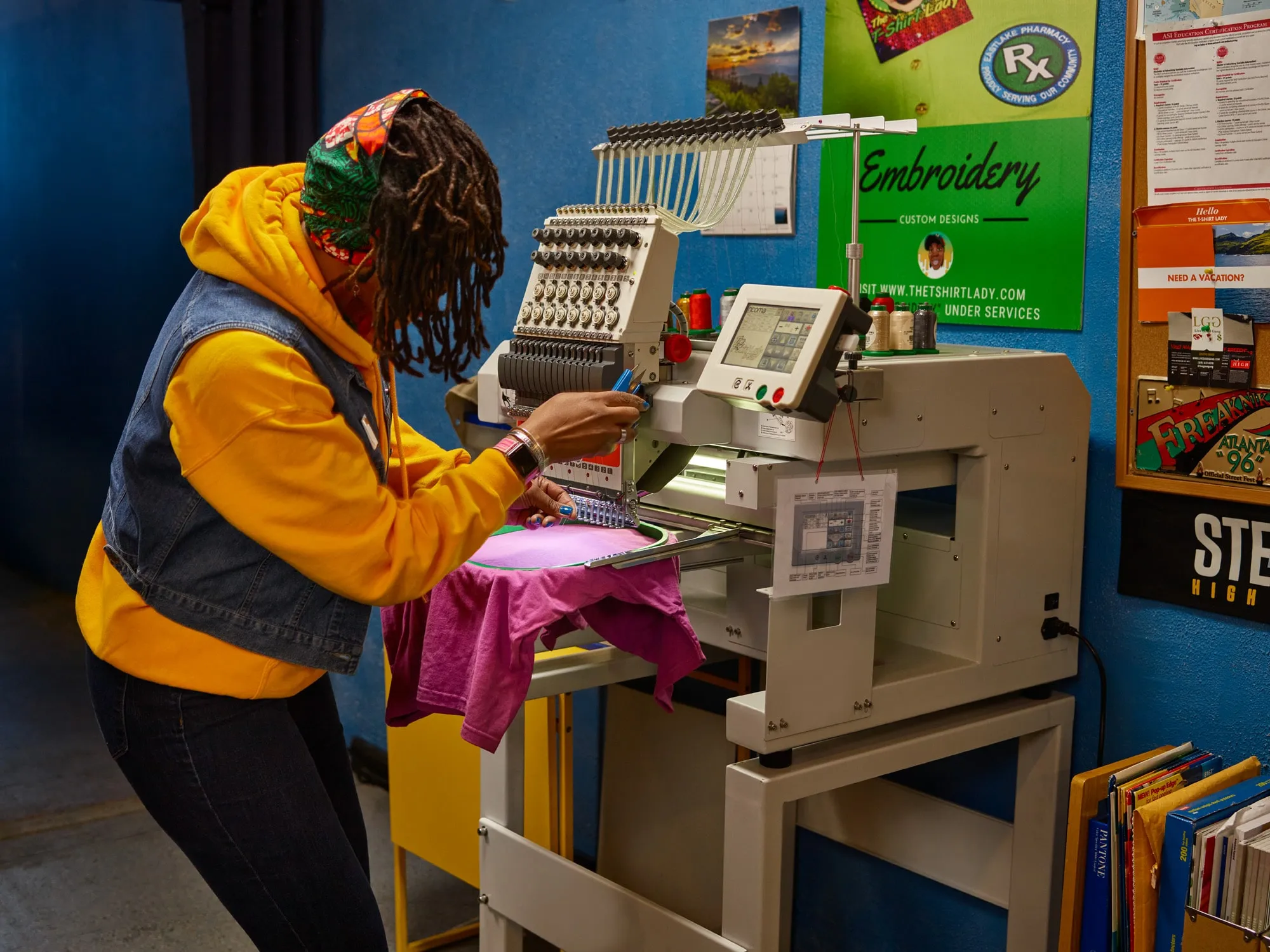 She says moving forward she has plans for the T-Shirt Lady & Son, a university that will teach people the business beyond the printing part. She's begun experimenting on Youtube, showing some behind the scenes of the business, and sharing some business tips and printing methods as she shares her day-to-day routine.
"A lot of people come to me and they want to know how you print, how do you do this? How did you get the contract you got?" says Earl "You know, I tell them, it's the printing that is the fun part. I want to offer printing and classes like that in a sense, but I'm also going to teach business as well."
Earl has been talking to her son about generational wealth since he was a baby. She added him to the logo early on — making him a part of the business was always part of the plan. "I always implemented the idea of, you know, leaving a legacy and having genuine and true wealth," she says. Today, her son helps with everything from answering phones to interacting with clients.
"I feel secure that, you know, if something was to happen to me that he'll be fine. And that he will be able to carry on our business and continue because honestly, right now, he can actually run this business without me."
About Square
Where others see challenges, business owners see possibilities. Square builds tools that let businesses bring those possibilities to life by enabling them to reach customers online and in person, manage their front- and back-of-house operations, and access financing. Square can help your business succeed — on your own terms. Learn more about Square.