Table of contents
"'We want you to take over our business,'" the original owners of MudFire, a Georgia-based ceramics studio, told Deanna Ranlett and her wife Daphne. While it felt like the right move, it also seemed impossible. At the time, Ranlett and Daphne owned a ceramics supply store that was having trouble turning enough profit, and the MudFire owners were customers.
"I said, 'Our current business is not on good footing. This is not something I can do financially,'" Ranlett recalls. "And what ended up happening is that a group of members at the studio crowd-raised funds for us to owner-finance the purchase of the business."
The community brought Ranlett to MudFire, and it's why she'll never let MudFire's community ethos disappear.
To get there, Ranlett had to learn to accept help and "commit to new technologies," she says. "I think sometimes there's this instinct to be like, I can do all of these things myself, I've done it myself for so long, so I should be able to do it myself. I'm always going to do it myself," Ranlett says. But setting up an online store and embracing tools like appointment scheduling software has given her the space to focus on her mission.
"I think learning to lean on the people [and tools] around us was really important," she says.
Expanding access to ceramics
From the get-go, Ranlett shaped MudFire into a place where anyone can learn how to work with clay.
"It feels like home to a lot of people because you're able to come in and meet somebody that there's no way that you would know outside your peer group. I can call people my friends that are 23 and 70," Ranlett says. That diversity is important, particularly in the ceramics world. "Ceramics, in general, has some level of privilege to it."
The privilege in the ceramics world is why MudFire works toward building an inclusive studio where anyone can work with clay. And the inequalities exposed by the pandemic and the Black Lives Matter protests made MudFire cling to that mission even more.
"There was a lot more time to be thinking about all of these interlaced, overlapping ways that society oppresses people," says Ranlett. "And that we have this unique membership that's derived from people that have a lot of privilege to be here and have no problem affording it. And then people that need to be here, and how do we do both of those things?"
Memberships that give back
A portion of all MudFire memberships are free or heavily discounted, and Ranlett seeks out people in need who can most benefit from getting access. Recently, she gifted a membership to a man who used to make bricks when he was incarcerated. "And he fell in love with clay because he was making bricks as a young adult Black man, and now he's in his 80s," says Ranlett. So she reached out to him to ensure that MudFire could rekindle his passion for ceramics.
"His membership is free and we put it on hold for as long as he needs to get a vaccine to be able to come back," she says. "Because it's important to us that he gets to have an experience with clay."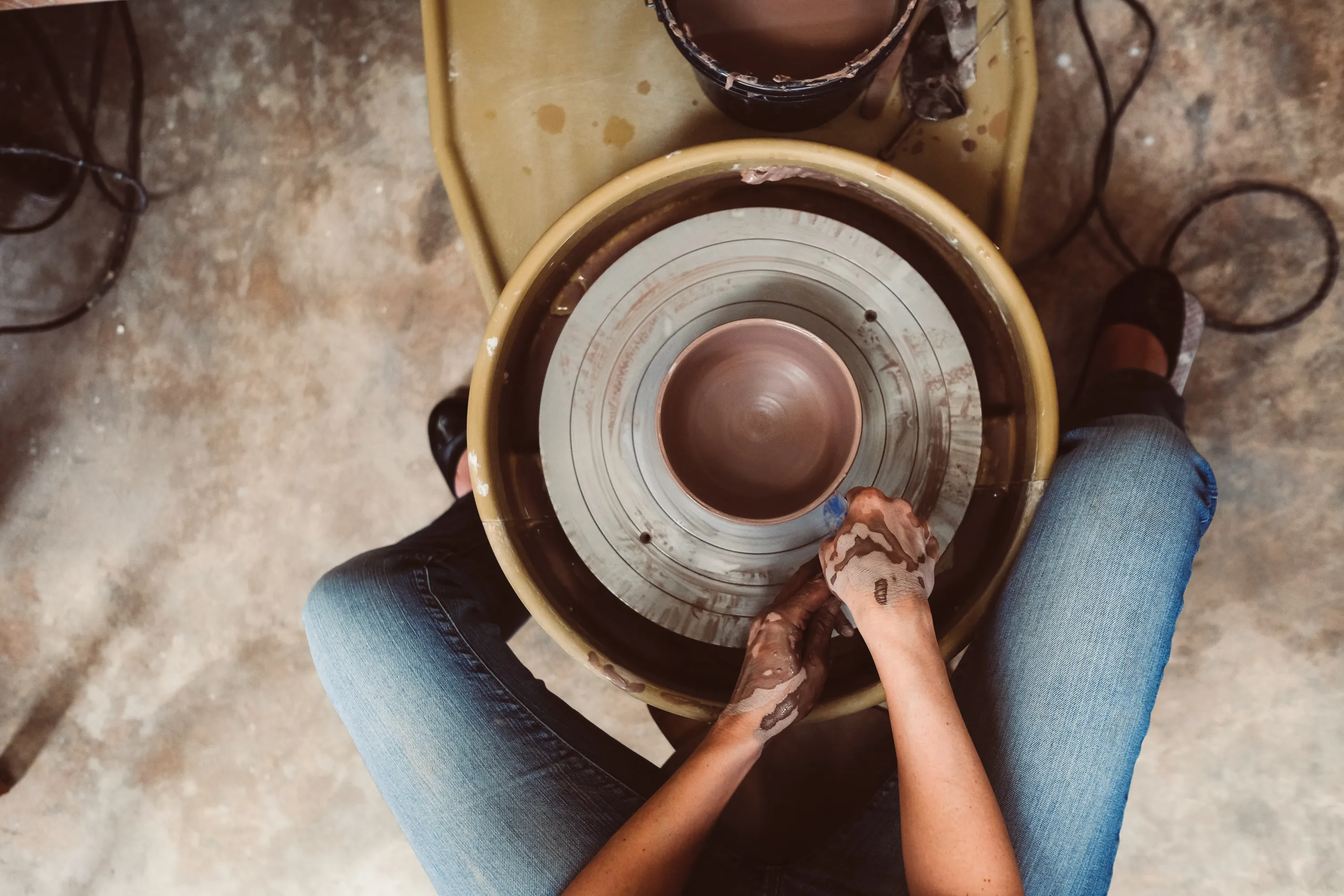 In addition to making memberships more accessible, Ranlett also uses her Instagram account to take a stand, which also encourages followers to sign up. "[We were] talking about voting, racial injustice, what business ownership was like during all of this," says Ranlett. "And people started responding and engaging with us." That decision to stand up for what they believe in and be true to themselves felt right, and it had the added benefit of attracting more members. "And now we have a waitlist for membership," Ranlett says.
Mentorships that build equity
MudFire's mentorship program is another important way they work toward building equity in the ceramics community. When Ranlett took over the business, the original owners ran a work-exchange program, but they weren't teaching the business skills ceramic artists needed to be successful. "And so we made it a little bit more of a structured program, where there's other learning going on," says Ranlett.
"It's very cost-prohibitive to set up a studio yourself post-college, and so we've created a space where [artists] can make their work and learn how to sell it," says Ranlett. The program is designed for artists fresh from school, where they teach both the art and business side of ceramics, including real-world skills like accounting and how to have a professional presence on social media.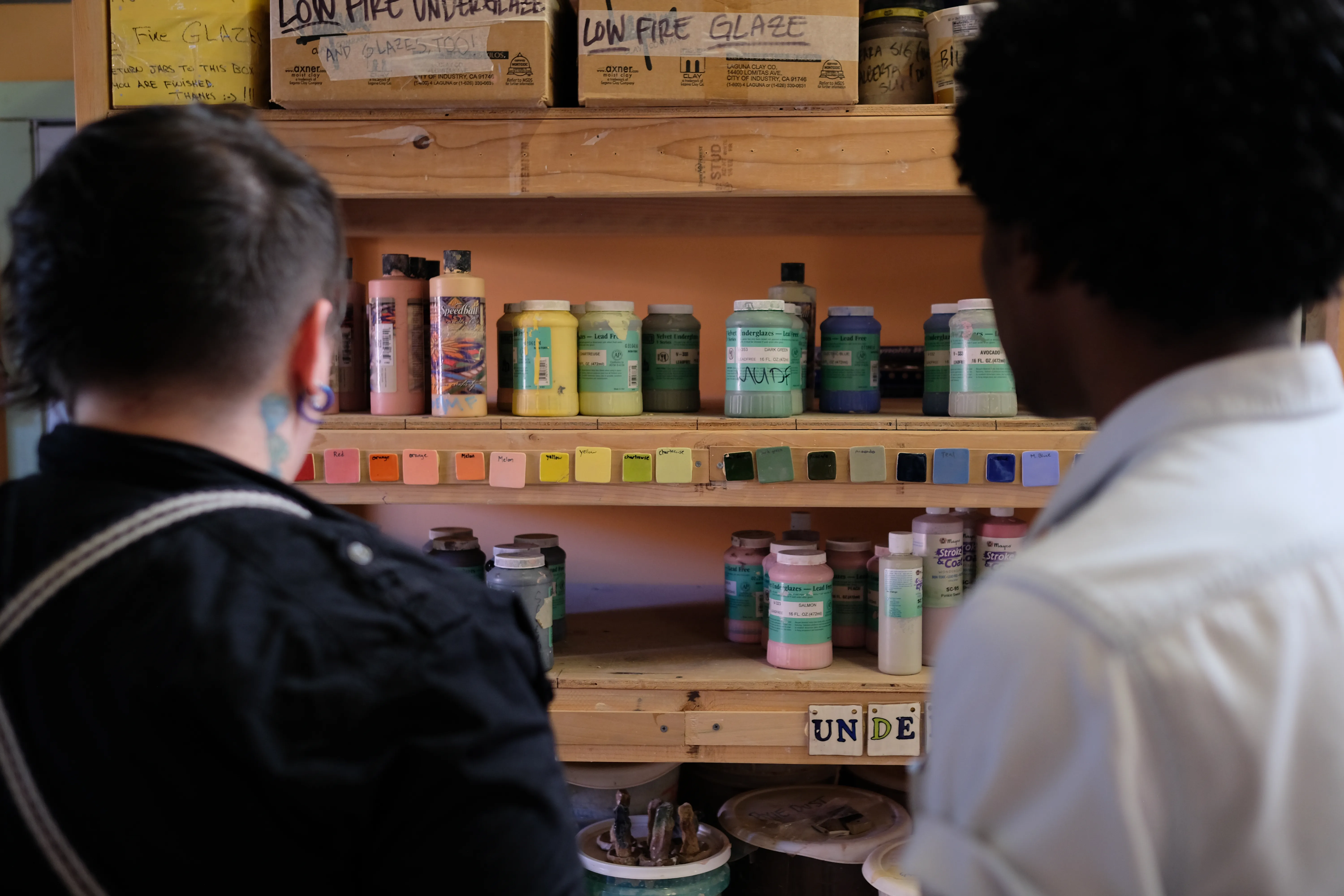 To realize such an ambitious mission, Ranlett had to make some serious bets in 2020. "The best thing, honestly, was realizing that the changes that we were making were directly resulting in numbers starting to rebound," says Ranlett. "I was willing to do literally anything not to lose the business."
Giving the community another way to support artists
Sales were up 160% during MudFire's socially distanced holiday sale, due in part to getting items set up on their online store. Ranlett attributes that success to going online, which allows a larger group of people to support the brand.
"It was definitely apparent that the people who were able to be at home and collecting paychecks understood that the artists that were here needed that cash infusion," says Ranlett. "And they came in, they bought a lot of work. It was really gratifying to be writing the checks to the artists that you knew was going to make rent a possibility or buying Christmas things for their families a possibility."
Ranlett revamped MudFire's online store, and also started putting their own handmade ceramics up for sale. But it was an emotional decision. "It was hard to be like, no, I'm going to take this chance. And I'm going to completely destroy this thing that was working and do this new thing," Ranlett remembers. "Sometimes you can't do everything yourself and you need another opinion. And it needs to not be yours."
The investment in selling online is working. "It is helping us get orders every week where we weren't seeing that kind of traffic before," Ranlett says. Despite some members having their own online presence where they sell their work, MudFire's online store is providing an additional revenue stream. "They're selling work here and on their own platform now."
Enabling instructors to manage availability
In the beginning, Ranlett didn't use appointment scheduling software because members could come when they wanted, like a gym. "That was the premise of our membership," explains Ranlett. In 2020, they tried out appointment booking software so they could control exactly how many people came into their studio at a given time.
"That just changed everything," says Ranlett. "And it was something we thought we just didn't need."
Now, appointments are letting instructors manage their own availability, freeing up Ranlett to focus on mission-driven priorities. "They're able to completely manage when they don't want to teach or when they do. It's not an extra thing on my to-do list." Ranlett also discovered a new way to use appointments with instructors instead of the members, so they can offer things like date-night classes on their own.
What's next for MudFire
For Ranlett, experimenting with new tools does double duty by expanding her mission of increasing access in the ceramics community. "Ceramics is a place where the good things are happening, but unfortunately, I feel like it's a split, as everything else." There is work to be done, and Ranlett is doing it.
Ranlett's community is what keeps her going, but she and Daphne are also the ones keeping their local ceramics community going. It's been crucial to accept that it's not a one-sided relationship — each side feeds the other. "I think if I could have told myself something on the first day of MudFire, it would have been to trust," says Ranlett. "Trust people. Accept help. Community is about giving and receiving."
About Square
Where others see challenges, business owners see possibilities. Square builds tools that let businesses bring those possibilities to life by enabling them to reach customers online and in person, manage their front- and back-of-house operations, and access financing. Square can help your business succeed — on your own terms. Learn more about Square.