Table of contents
There are over 2 billion active users on Facebook. So how is it possible to fine-tune your posts to make sure that you're reaching people at the right times? The answer: you can't.
The good news? Your goal probably isn't to reach everyone on Facebook, or even a majority of those 2 billion people — you want to reach and engage with your target audience.
Instead of optimizing posts for everyone, strategically plan to post on your page when your audience is online. Below are helpful ways to decide what times, days, and frequencies are best for reaching your community to drive maximum engagement and reach.
Use insights to your advantage
If one of your goals is to drive engagement, you want to ensure that you're actually publishing posts around the times that your followers are actively using Facebook.
Posts: If you check out the screenshot below from Facebook Insights, you can see what days and times the audience spends time scrolling. Try posting one to two hours before this time of day, and test from there. For example, after looking at the Insights graph below, you'd want to post several hours before the peak time at night.
Reach: This part of Insights shares the number of people who had any posts from your Page enter their screen. Take a peek at when it spiked for a look at what's working.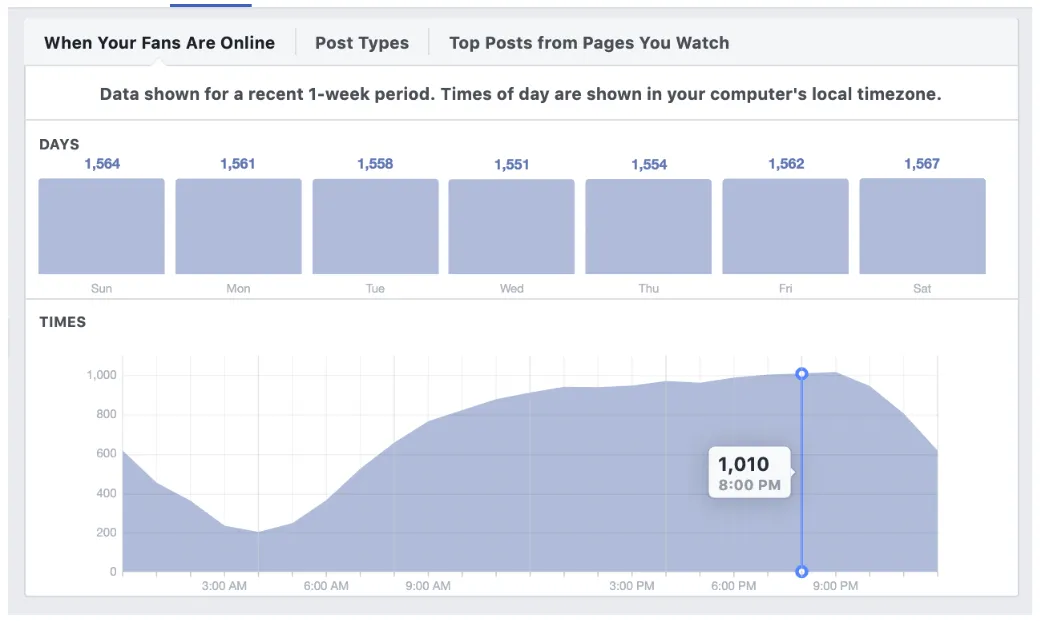 For further detail on how to utilize Insights to benefit your business, read more here.
Take a broad look at what works
It's helpful to prioritize when your community is going to be online, but for the most useful outcome, you definitely want to merge this knowledge with data that shows when most people's user behavior brings them to the platform.
Time of day: Research from HubSpot, Hootsuite, Falcon.io, and Unmetric all agree that the best time to schedule Facebook posts is between 12:00 noon and 4:00 p.m. According to some studies, 15 out of 18 reports showed that Facebook usage and engagement is at its highest during early to mid-afternoon hours, with the runners-up being 9:00 a.m. and 8:00 p.m. Of course, take your business's main time zone into consideration, too.
Day of the week: People's weeks tend to be hectic at the start on Monday or Tuesday, and maybe that's why data shows Wednesday, Thursday, and Friday have the highest user engagement with brands. It also shows that 17 percent of all Facebook comments and 16 percent of all likes and shares happen on Fridays. Highest overall user engagement occurs on Friday, with Thursday as the runner-up.
Optimize for your content.
Timely content can definitely lead to more engagement — especially if it's a special occasion worth celebrating, a social media holiday with a designated #hashtag, or an announcement from your business. Feel free to go against the grain and step outside your day-of-the-week guidelines when these occasions come up, and plan on maximizing them with follow-up recap content, too.