It's not a secret — you can't build a genuine brand following overnight. It takes a special enthusiasm and love from your customers for them to spread the word about your business. With the right tactics, your Facebook page can quickly become a marketing platform that encourages customers to spread "brand love" for your business.
There are two solid reasons why you should put time and effort into building your Facebook follower count on your page.
The first is that the people who "Like" your page have already taken an awesome action expressing that they like your business. They've decided that you're worth following because you provide them with something special or useful, so the chances of them utilizing your business are probably good.
The second reason is that these followers can be used to amplify your marketing messages by sharing your brand content on their newsfeeds with their friends.
Below, you'll find some straightforward tactics to help build up your Facebook community.
1. Leverage your existing community.
Tap into the community you have in your back pocket. These should be people who are already on board with your brand and its mission. Think: employees, family, friends, loyal customers. Encourage them to follow your page and share your posts with their friends. Here are some ways to spread the word:
Send a dedicated email blast with your social handles and a CTA to follow you. If you're utilizing Square Marketing, send a campaign email to your existing community solely dedicated to asking them to "Follow Us" and sharing your social channels.
Set up a physical sign in your storefront with your social handles and a "Follow Us" note.
Include an insert for shipped goods or in-store purchases that lists your Facebook Page URL, relevant tags, and requests that customers share them on their own accounts.
2. Build quality content that's shareable with new audiences in mind.
Think about what your existing community would actually hit the "Share" button on, and create posts that emulate that so your content reaches new people on their timelines. It may be a funny or relatable photo, a heartfelt story about a team member, or simply a BOGO promotion to share with friends.
For a straightforward way to make shareable promotions, utilize Square Marketing to create a specific email and/or Facebook campaign with a coupon-based discount. It can help you expand your audience, as these coupons are also accessible to new users when existing customers share the link with their family and friends.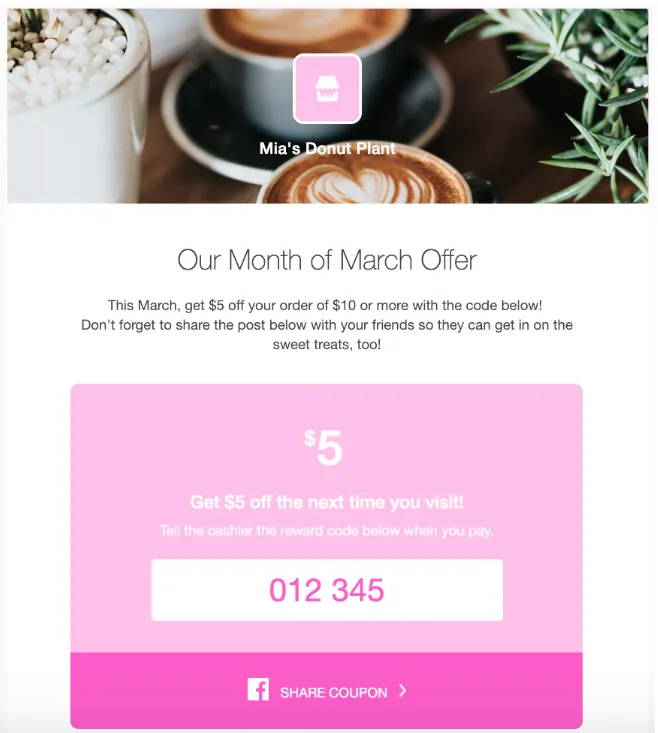 3. Build out contests or sweepstakes.
Contests may seem like an old-school tactic, but there's no denying that they work when it comes to pushing your community to share your posts and reach new audiences. Posts should have CTAs such as "Share this post to win XYZ" or "Comment and tag a friend for a chance to win XYZ."
Of course, these contests should comply with both your own company's legal policies (we'd recommend running it by your counsel, just to be safe) and Facebook's Promotional Terms & Conditions.
4. Test the waters by "boosting" published posts from your page.
You may have heard the phrase "pay to play" before. If you're curious about circulating content that can teach users about your business — or want it to reach untapped audiences — you can put a few dollars (even just $20 to start) behind posts and test out what resonates with people.
These posts can be tailored based on the audience's location and interests to make sure you're strategically reaching your desired audience, too.
Need some help getting started? Check out our guide for boosting your posts to your existing customers through your Square Marketing account here.