From mobile checkout to virtual reality, retailers are investing in ways to bring their stores to life. According to our 2023 Future of Commerce report, 94% of retailers reported that they're focused on enhancing their in-store customer experience. 
For many retailers, an enhanced experience is a more personal one. With insights into everything from how often a customer interacts with your business to the amount of their average spend, Square Customer Directory can help you more easily identify opportunities to create personalized experiences (at scale and on an individual basis) for your customers.
Here are seven kinds of information you can easily access within the tool and how you might use them to deepen the relationship and experience for your customers:
Where your customers live 
Understanding where your customers are located can help you better target your marketing efforts. For instance, if you notice that the majority of your customers reside in a particular neighborhood, you might plan a pop-up shop or sponsor a local charity event to keep your business top of mind. 
Customer location can also impact which store(s) they frequent. Knowing which store(s) shoppers spend their time in can be especially helpful when it comes to offering individual support or answering questions during outreach. If a customer complains about the lack of item availability or service they've experienced, your customer profiles show you which store(s) they've shopped at so that you can quickly make any necessary adjustments. This leaves you more time to focus on the relationship and less on having to ask logistical questions to an already frustrated shopper.
How much your customers spend
Knowing how much money your customers are spending at your store can tell you a lot about who they are as it relates to your business. Factors such as average spend and total amount spent give you an idea of the value each customer has for your business and offers that might resonate with them.
While each and every customer matters, shoppers that tend to have a higher average might be more open to upselling and cross-selling efforts or could benefit from a simple thank-you. Taking the time to say thank you to customers — especially those who aren't afraid to spend at your store — can create a positive experience and work to strengthen loyalty. On the other hand, shoppers with a lower average spend may benefit from more pronounced marketing efforts (don't skimp on the deals!) to encourage them to boost their spending.
If you use Square Loyalty, Square Customer Directory can also show you how loyalty shoppers are spending in comparison to non-loyalty shoppers, helping you shift your marketing appropriately.
Your most popular customer types
Customer Directory also helps you segment or group your customers based on their behavior toward your business. With the ability to create groups, you can filter subsets such as "reachable regulars" or "top spenders" so you can personalize your interactions, marketing, and other outreach efforts appropriately. This information can be especially useful if a customer reaches out with a complaint or a question because it gives you a frame of reference that can help steer the conversation and maintain (or grow) the relationship.
Understanding your customer type can also help you analyze how your customer base is growing. With an in-depth breakdown of customer behavior, you can take a look at new, returning, and lapsed customers to track customer retention and opportunities for engagement. Because each of the aforementioned customer types is different, you can tailor your message to the relationship accordingly, creating more opportunities to build and engage.
What your customers are buying
Perhaps one of the most important things that Square Customer Directory can show you is what shoppers are buying — and when and where. This can be especially useful when you want to understand how customers are responding to new products or when you want to upsell or cross-sell items in real time.
The directory also helps you push real-time offers to customers so that you can recommend they use deals they might've forgotten about or didn't know they had.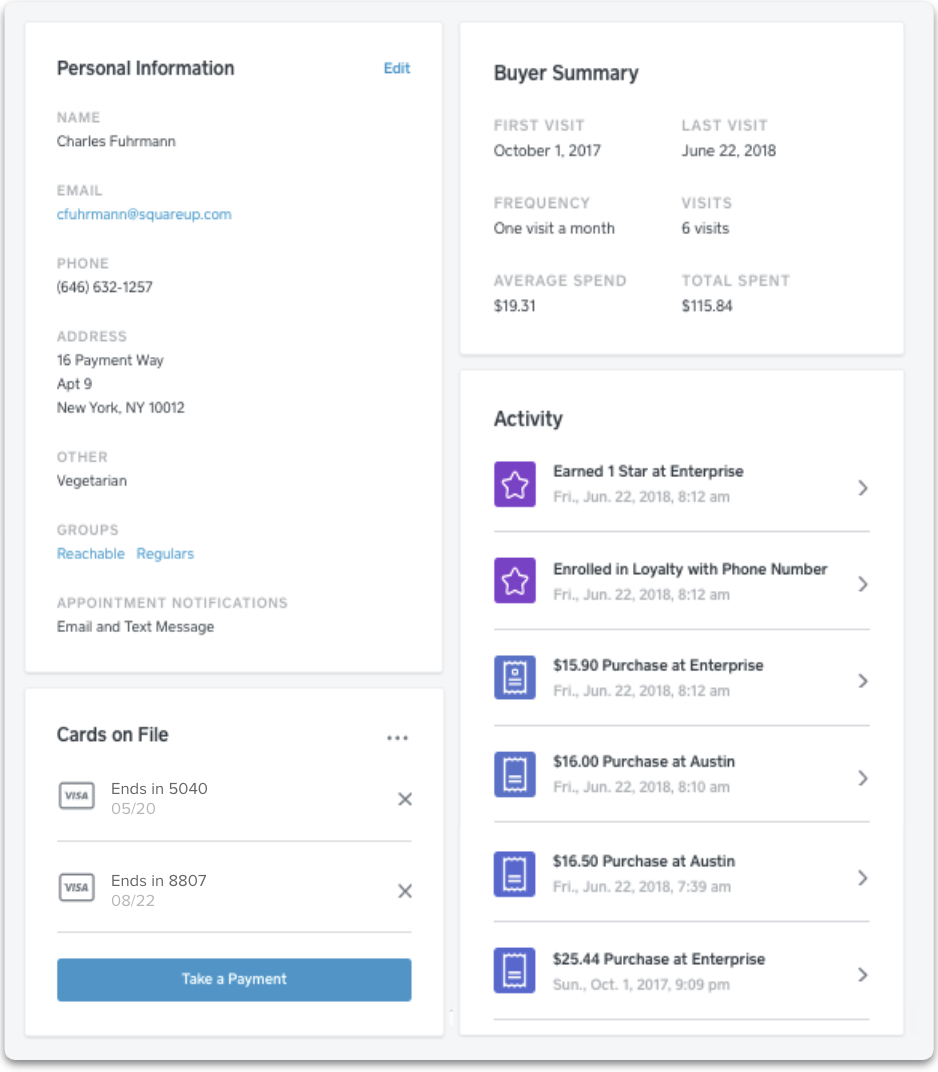 How your customers engage 
Customer profiles also show you how your customers interact with your business. In the personal information section of a shopper's profile, the appointment notifications lets you know how they can be reached, and the activity section lets you know all of the ways they've interacted with your business, from purchase date and time (and the subsequent loyalty points earned) to the location of the purchase itself. This information can help you spot trends and patterns in customer behavior in order to help guide your efforts. For example, if you notice low engagement via SMS marketing from your customers, it can help guide how you execute future marketing campaigns.
Your customers' satisfaction level
Having a full picture of customer feedback can also help boost the shopping experience. When a customer leaves a review on an item, you can gauge a sense of their relationship with your business by visiting their profile and seeing just how often they shop and how much they spend. Square Directory also shows a full picture of customer feedback by displaying the number of satisified customers and unsatisfied customers, with their areas of complaint, such as quality or price. 
Built-in messaging tools make it easy for you to reach out to individual customers when they leave a positive review, to continue the engagement, and prolong the shopping experience. Conversely, when a customer leaves an unflattering review, you can also reach out to them to apologize for the experience or send them a coupon for the inconvenience. 
Examining feedback can also be helpful in improving the shopping experience. For instance, if a number of customers have complaints about quality, wait time, or customer service, as shown in your directory, you can understand the areas of your business to tackle to create a more positive experience for customers.
Notes specific to certain customers
Remembering the little things that customers mention to you in conversation can go a long way toward building the relationship. For example, if you have a shoe store and a shopper mentioned that they often waver between sizes 7 and 7.5, you can note that on the customer profile in your Square Customer Directory. Taking a moment to jot down anecdotes that matter to the customer's shopping experience and using it during their future visits can make the experience more seamless for the customer, which can help build loyalty or increase their average spend amount.
Understanding who your customers are and how they interact with your business can help you take the shopping experience to an entirely new level. Investing in an ecosystem of tools that streamline your business makes it easy for you to personalize your relationship with customers and even easier for you to make your customers feel valued. Square Customer Directory is a free tool that grows with your business and our Customers API allows you to sync existing CRM software or build a more custom approach, making it seamless to manage your customer profile so you can focus on the customers themselves.