Table of contents
This article is for educational purposes and does not constitute legal, employment, or tax advice. For specific advice applicable to your business, please contact a professional.
Use of contactless payments surged at the onset of the pandemic, and 31% of consumers surveyed in Square's Future of Commerce 2022 Report say they want them to stick around in the future. In fact, 84% of customers surveyed said that measures put in place to make shopping more contactless have made the shopping experience more enjoyable. Contactless payment options can come in many forms, from mobile wallet payments to tap-to-pay transactions. These payments don't require any physical contact to complete a purchase. Both retailers and restaurateurs have adopted a range of contactless options that not only make the shopping experience touchless, but shorten wait times to check out as well. Business owners can connect with their customers on multiple platforms by leveraging an omnichannel strategy and allow them to pay where and how they prefer.
Consumers want more payment options
The separation between shopping online and shopping in-store is narrowing. Shoppers say they are looking for more of a hybrid experience. Adopting an omnichannel strategy as a part of your business growth plan enables you to capitalize on customers who want more of a hybrid experience. They may start by browsing your products online or booking an appointment before coming in person for that product or service. Once customers are in-store, they're looking for a seamless and integrated shopping experience.
For restaurants, tableside payments are often considered a part of those touchless payment options. The majority of restaurateurs surveyed also offer contactless payment options, with over half of those considering tableside payment options in addition to their current contactless offerings.
Pay at the table devices can at times facilitate higher tips as the device prompts customers with the option on the spot. These devices also offer a secure way to check out and an experience where they can pay with a card or mobile device without it ever leaving their side.
Wallets are evolving with customers
According to recent research by Boku and Juniper Research, there are over 2.8 billion people worldwide using mobile wallets today, a number that is expected to grow to 4.8 billion by 2025. Younger consumers are using mobile wallet apps to purchase goods and services. Of those Square surveyed, 21% of Gen Z consumers preferred mobile wallets to other alternatives. Gen Z has been adopting digital payments rapidly, in part due to the digital security mobile wallets provide over cash transactions.
Businesses are readying themselves with mobile wallet pay options so that customers can transact in the way they're most comfortable, increasing the likelihood of a sale. Of the 77% of retailers surveyed that offer contactless payment options, 63% offer mobile wallet app payments, 44% offer touchless card payments, and 25% offer QR code payments.
Apple Pay
Cash App Pay
Google Pay
PayPal
Samsung Pay
Venmo
QR codes for browsing and buying
Window shopping, or browsing products through shop windows or displays, is a term that has taken on new meaning as social distancing and safety protocols have shaped a new kind of window shopping experience. About 20% of customers are now interested in window shopping with QR codes. Among millennials, that number jumps to 27%.
QR codes can be used as an interactive tool in retail windows to promote special offers, scan-to-pay options, or follow your brand on social media. Retailers aren't the only ones leveraging QR codes for business. Restaurants have been increasingly turning to QR code menus for a touchless option that not only makes browsing and purchasing food and drinks more socially distant, but it also cuts down on hands-on time staff would have typically needed to bring a menu to customers, take the order, and returning with the check at the end of the meal.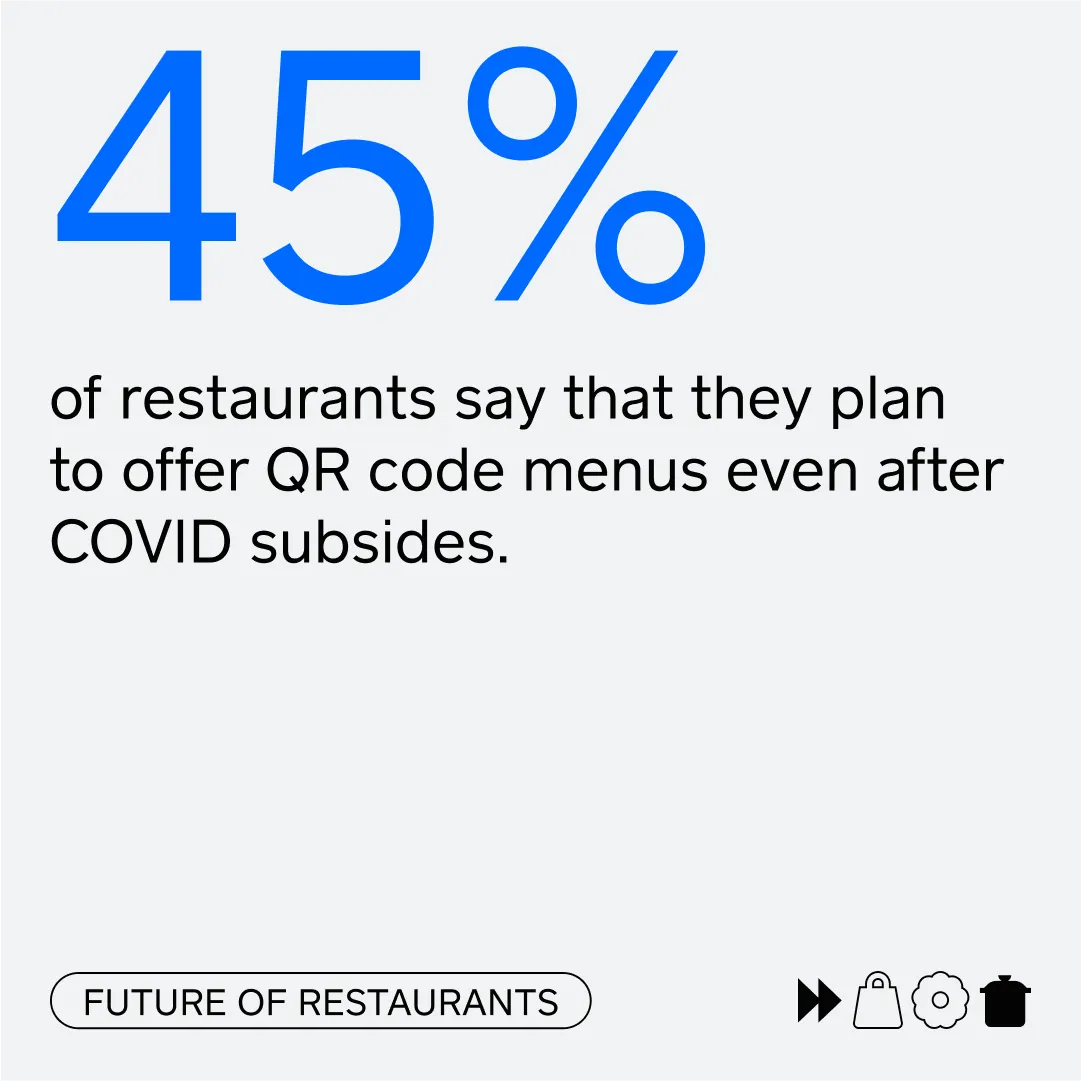 Offering different payment options that resonate with your customers can attract new customers and retain loyal ones. The added benefit of contactless payment methods like QR code related payments, mobile pay wallets, or tap to pay transactions is that they tie to a digital record so you can easily glimpse at your sales and from there see trends that can both inform your business decisions and help you better manage cash flow for your business.