Table of contents
Maria Luisa Benavides' mother loves to cook but has never been that interested in baking. That didn't always align with the tastes of Maria Luisa, who wanted desserts all the time growing up. In the afternoons a teenage Maria Luisa would go into her family's kitchen and work on perfecting her technique with pound cakes and other baked goods. She honed her skills with recipes passed on from her aunts and friends of her mother. As an adult she learned even more by diving into internet videos and eventually signing up for baking school in Miami.
When Maria Luisa got pregnant, she wanted to find an at-home business to work on with her daughter. She started to bake desserts with Peruvian-inspired flavors, at first selling treats to friends and family. For three years she worked on branching out with her own riffs on recipes for cakes and cookies, adding walnuts to merengues and mixing in dulce de leche with whipped cream and strawberries. Her business, which she named Piononos, took off through word of mouth, so much so that a neighbor complained about the amount of customers who came and went from the house.
Maria Luisa knew it was time to scale up her at-home business. Over the next 20 years, she learned the ins and outs of running a bake shop and a team, of spending less time working in the kitchen and more time on management, and of delegation and big picture strategy.
Finding a brick-and-mortar location
Since her children were in school, Maria Luisa prioritized finding a location nearby so she could drop them off in the morning and then bring them to the shop in the afternoon. She chose a space in Key Biscayne on the second floor of a shopping center driving distance from her home.
With the new location the menu expanded to include display desserts to entice walk-ins. She prioritized the full guest experience, offering small treats to customers who picked up preorders. She also took over an extra space in the mall to house storage items for the main bakery. The quality of the desserts mattered, but so did making sure customers felt a sense of warmth throughout their visits.
"You're going to Disney World," she said. "It's like, 'Oh, I want to go there.' This is a beautiful place to escape to because you come to this island through this ocean view. And it's an experience. It's the whole thing. I push on that with the ladies that work with me. I say, 'You have to be very friendly. They have to feel you on the phone.' That's the extra that we put on everything."
Maria Luisa's husband helped out by buying ingredients, making deliveries, and managing inventory and bills as the business took off. But eventually she needed more help.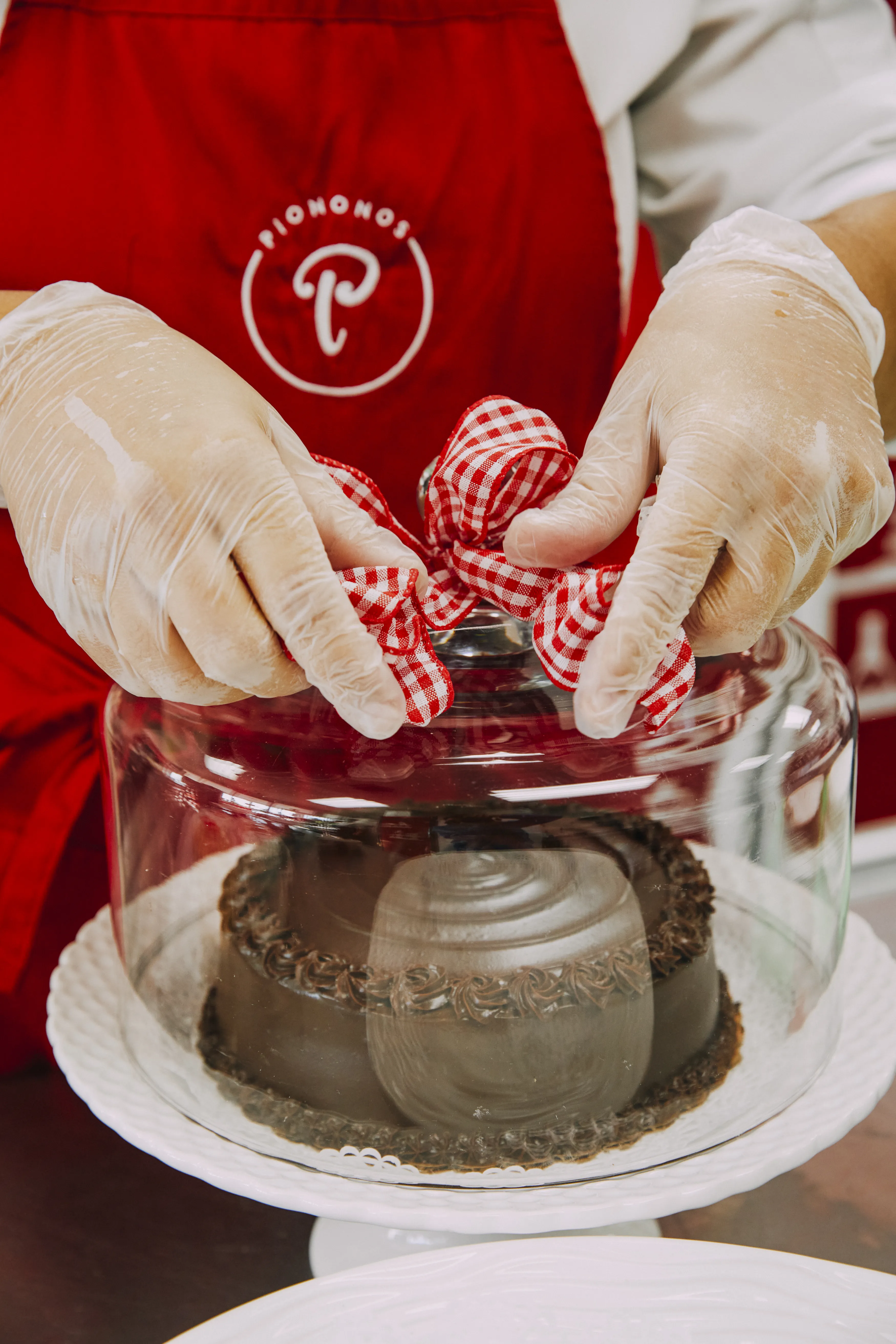 Building a staff and becoming a manager
Maria Luisa had two women helping her part-time during busy seasons, so she hired them at the new bakery location and recruited their friends to join the team. She now manages more than 20 people, including a whole delivery team and a shop manager — an idea that seemed intimidating when Maria Luisa first started out.
"It was very scary because it was something new for me," she said. "It requires so many skills. You have to be a psychologist.
"I was so afraid to train people. I told my husband, 'They are not going to do it like me.' And he said, 'No, they are going to fail one, two times. The third time they're going to get it. So I had to delegate, and that was very hard for me actually — to train people and to get to know them. You have to have that feeling in order to see if they're nice people, if they want to really work."
Maria Luisa built up her team by finding employees with patience, kindness, and a desire to learn. She instilled the lessons she learned from school about keeping a clean uniform and being punctual, reminding herself not to be judgmental if it takes time for someone to get caught up on how to do things.
Now she spends her time primarily working in the back office. She focuses on how to optimize the website, how to adjust the menu to the demands of supply chains and the pandemic, and how to maintain quality control across the business, trusting that her staff will execute her vision to deliver recipes that customers love.
When she first started out at home, she primarily took preorders over the phone. At the shop she used the Square Point of Sale system to help facilitate additional purchases from customers who were intrigued by the desserts on display. Lately she has focused on getting more customers to preorder online, advocating for how simple the process is and how clients can request custom designs with the same level of detail they need. She has also fine-tuned the technical aspects of the website, nailing the food photography and using Square Dashboard analytics to find the right price points for the shop's many custom options.
"It's a lot of work," she said. "I still have a lot of things to do. I don't bake because I used to be on the phone baking, taking care of a customer waiting, watching the timer. And I was all over. It was very stressful at the beginning because I didn't know how to do it. I never went to school for that. So I learned through the years, through experience."
Maria Luisa takes pride in that hard work and knowing that her business wasn't an overnight success. She doesn't know exactly what the next step will be — perhaps another store, finding the right product to ship to a broader audience, or teaching classes. She's enjoying the opportunity to relax after navigating the challenges of the pandemic while operating a business that can be an example for her community.
"When I started here in 1999, there weren't too many Latin people baking from home," she said. "Now it's a lot of people. A lot of people follow because they see they can have success doing the same thing with a big Latin community in Miami. 
"I want to really do something motivational, focused on being Latin in the United States and working hard and seeing the results. I love to share that we can do it. We can make it, and there's a lot of things we learn on the way to success."