Table of contents
Harry and Michelle Coleman grew up around passionate mom-and-pop businesses. 
Harry's father opened his first Miami bakery in 1991 in South Beach, and Harry worked at the shop throughout high school doing a little bit of everything — from making breads with his dad in the kitchen to helping his mother with front-of-house duties. As a child, Michelle watched her parents run a jewelry store, getting a sense of how a family business can operate successfully.
The couple met in college on the campus newspaper and found that they loved working together. Harry continued at the family bakery and Michelle joined him, quickly learning from Harry's grandmother that connecting with customers — prioritizing a great guest experience, remembering their favorite orders — is just as important as the quality of the food.
They graduated with a pair of journalism degrees during the 2008 recession, and decided to try taking over the family bakery business. It took them a year to find their footing, but they were successful in increasing sales and local awareness. By 2015, they were considering opening their own place.
"The great thing about starting in Harry's family business is that we were really able to learn the core traditional ways of doing things," Michelle said. "And then when we were able to open our own empanada shop, we were able to then take that and then also add in the modern and bring the bakery to the 21st century."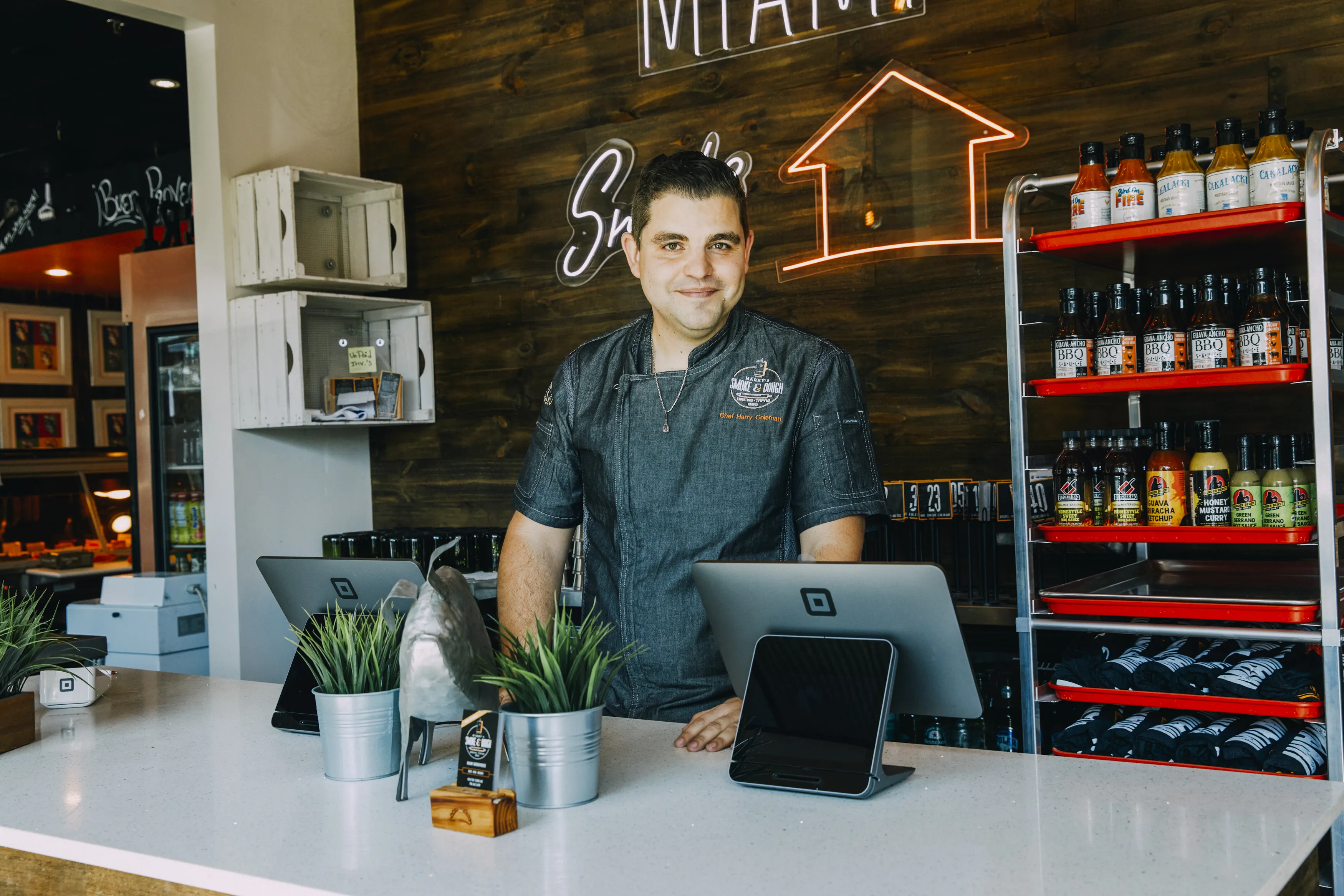 Opening Empanada Harry's
Harry and Michelle imagined their new restaurant as a modern empanada shop that excelled with classic flavors while getting more creative in ways that embraced the diverse community of Miami. To open Empanada Harry's in 2017, they had to take out a second loan on their home.
"We've always been somebody that feel strongly in our product," Harry said. "So we'll put anything on the line because we know we're going to succeed because there's no failure for us."
"We really pride ourselves in being a mom-and-pop. We give our all, we love our staff, we love our customers and we're super lucky to be doing something we love in our life," Michelle added. "And we're really proud of the work that we've done and hopefully will continue to do."
Harry expanded the menu with special empanada of the month offerings. One of Michelle's favorites: the paella negra, served with a black garlic aioli on the side.
"I could eat 10 of them," Michelle said.
"We did a burger and we called it the McHarry when it came out," Harry said. "And it's like eating a Big Mac in an empanada. Little by little people started getting used to us throwing you crazy flavors. Once we started introducing people to al pastor empanadas, paella negra, black garlic, the burger, pizza, people started realizing that you can make anything into an empanada."
Connecting with customers and staff
Michelle and Harry pride themselves on becoming a community staple in the West Kendall neighborhood since opening, working with local schools, donating their time and their food, and working hard to connect with customers.
"I'm always here and I get to know you and I ask how you like your coffee," Michelle said. "I can probably make everybody's coffee that walks in here Monday through Friday in the morning without even asking them. Seeing them come in with their kids, seeing their kids grow. We're really part of the community as well, we do work and live in the same community, so we get to see people and it's just that connection that we have with people is amazing."
Harry credits their reward system with building a loyal customer base.
"It keeps them coming back because they know that after their 10 visits, they're going to get a free empanada from us," he said. "And to be honest with you, not many places give you such good rewards or such quick rewards. Somebody could come in two weeks and already get a free empanada based on their visits."
Investing in a suite of connected tools has also helped the couple thrive as a modern mom-and-pop business, from starting off with the Square Stand to adding digital invoices and payroll software — all in one place and connected to their restaurant POS. They have also used Square loans to help grow their business.
"It's just us, there's no investors, there's no partners," Michelle said. "So in order to maintain a certain level of organization for us and for our staff, things like this are crucial. We do our payroll with Square, we do the rewards, we do our reporting and it just makes it easy for a mom-and-pop to modernize and to keep everything organized and to really run the business efficiently."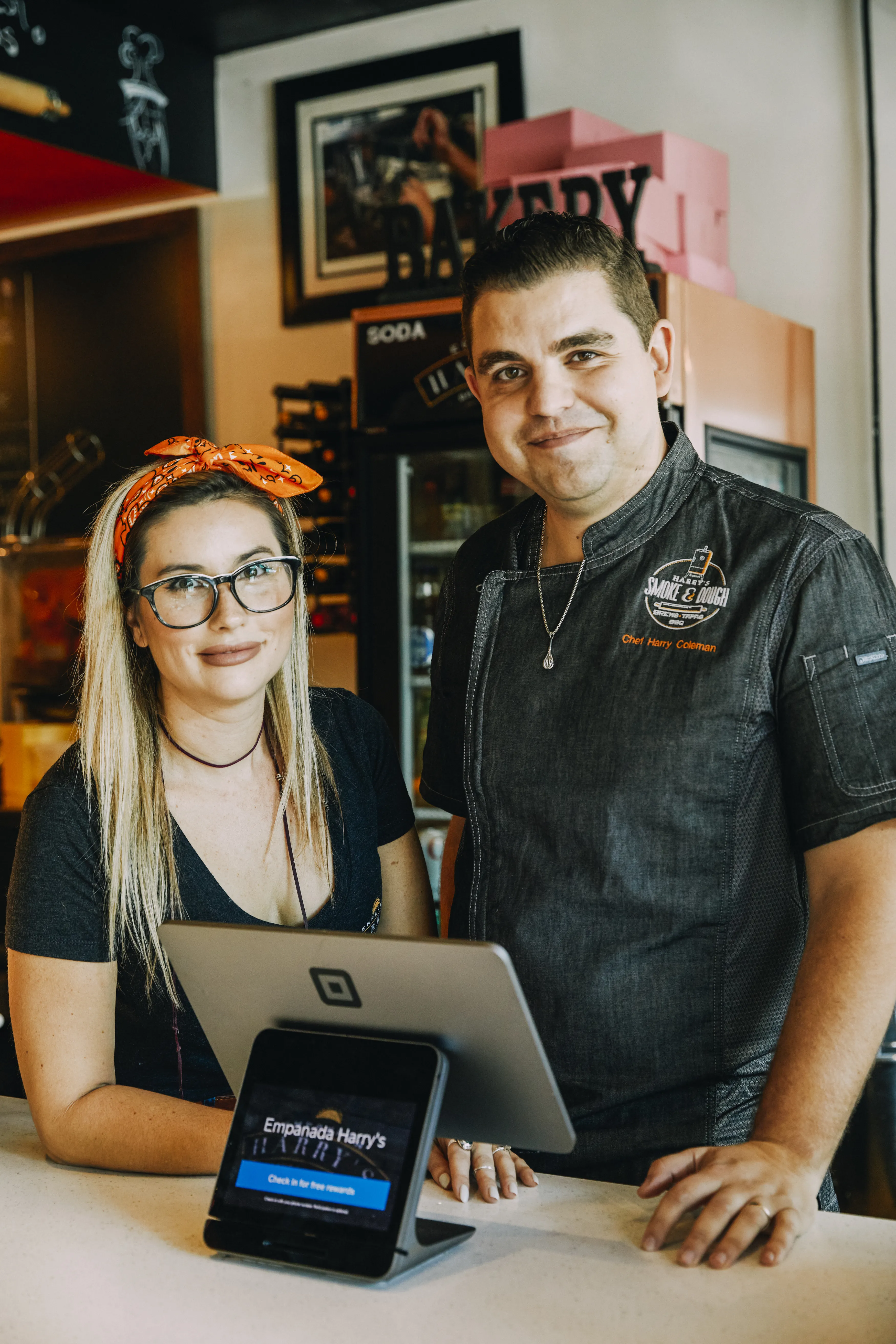 To get through the first year of the COVID-19 pandemic, the business pivoted to selling barbecue, with Harry sleeping at the restaurant at times to man the pit. The additional revenue kept them from having to lay off any employees, even leading to an additional hire. With occasional reductions in hours and food scarcity issues, they also made packages of chicken and pasta for staff to take home.
"Our whole point was, you stay with us and you've rewarded us in the past and we're going to make sure that we take care of you in the pandemic," Harry said. "And I think that resonated, especially with our staff, because our staff, we have members three, four, five years with us."
The success of the barbecue venture encouraged Michelle and Harry to open a second location, Smoke & Dough, dedicated to smoked meats that embrace the same diverse Miami flavor profile, including brisket infused with Cuban coffee spices and ribs with a guava sauce.
That second location required hiring nine new staff member, many of whom were drawn to the couple's dedication to taking care of their team and giving them room to grow.
"We were able to bring in three chefs and the reason they left their jobs to come here is because they want to work at a place where not only are they going to be respected and treated like human beings and paid well, but an environment of creativity," Michelle said. "What we're putting out there is something you can't find anywhere and we're super open about having different smoked items of the month, different plates. We like for people to give opinions, 'Hey, you know what? I made a killer ceviche.' And we'll be like, 'All right, let's do it.' You know what I mean? So that for a chef, I think, is really important for them to feel like they're in an environment where their opinions matter.
'We haven't made it'
Harry and Michelle were able to soft launch Smoke & Dough more quickly by operating it out of a shared kitchen with Empanada Harry's, syncing their kitchen display system and their management tools all in one place with Square. But they're hesitant to consider expanding any further for the timing being. 
"We're a family, we have two kids," Michelle said. "So this is nice, at least for now our kids are 10 and seven, so we need to also have some room for family time and the best way to do it is if we're in one place."
They also love the care they get to put into their food and customer service given the size of their operation.
"We're here, we're owners that work," Harry said. "I'm behind the saute pans, I'm behind the smokers, I'm making the doughs. And for us that's important, Michelle is in the front attending the customers, picking up the plates, cleaning the tables. I think that if the owners are present, your business is always going to succeed. And the moment you run yourself thin, I think it's tough and customers will notice the quality change."
"Our motto is, 'We haven't made it,'" Michelle added. "We wake up every morning and we say, 'We haven't made it.' We got to go in and we got to kick ass. We're going to grind through it and we're going to do well."
How does your business prioritize your local community? How do you utilize your Square tools? Let other sellers know by joining this conversation in the Seller Community.