Brick-and-mortar and eCommerce once provided consumers with two distinct ways to shop, where experiences and expectations were quite different. While omnichannel selling and marketing have grown in recent years, pandemic restrictions accelerated online commerce adoption, and their growth continues even as those restrictions have receded.
As consumers got used to convenience, personalization, and fast service, they came to expect it from physical merchants, too, setting the stage for industry disruption. Today, both retailers and restaurants are combining the best of both worlds, bridging the physical-digital divide and proving that online commerce is here to stay. 
To gather insights on the future of commerce, Square teamed up with Wakefield Research and conducted in-depth surveys with business owners and consumers to understand what they're thinking and doing. Here are the top eCommerce trends we uncovered that can help businesses stay on top of the latest marketplace trends and better meet customer expectations.
See the full 2023 Future of Commerce report for industry insights that can help your business thrive in the changing marketplace.
1. Digital sales channels drive business.
When it comes to meeting customers where they are, there's no better place than being in the palm of their hand. Seventy-nine percent of consumers make purchases directly from their mobile devices, using shopping apps, social media, and online shopping sites. In fact, an average of 22% of consumers' total purchases are made while they scroll.
To capture some of this revenue, businesses should focus on expanding digital sales channels. Retailers now sell their goods on an average of four different channels, and more than 80% plan to expand the number of digital channels on which they sell over the next 12 months. Using mobile commerce tools can help optimize sales and set your business up for this trend, ensuring your site is mobile-friendly and shoppable. 
2. Customer engagement happens across channels. 
Consumers purchase an average of four products directly from social media sites each month, and the number of retailers selling on social media has increased 10% year over year. The popularity of shopping by text has also risen slightly, with 19% of consumers wanting stores to offer ways to purchase directly through text or other chat messaging tools. This number is up two percent from 2021, and while the increase is small, it shows that conversational commerce and options for mobile shopping are gaining popularity. 
Social media and text messaging may be separate channels and streams of revenue, but they're changing how consumers interact with businesses and blurring the lines between forms of commerce. To encourage more purchases, business owners should integrate both social and text into their omnichannel commerce strategies for cross-channel consistency. Square Text Message Marketing and social commerce tools, for example, can help retailers easily accomplish both goals, growing their exposure and sales.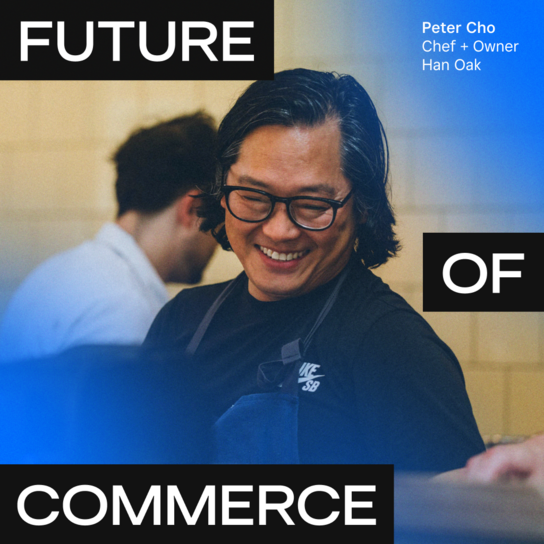 The Future of Commerce Report: 2024 Edition
Tell us a little more about yourself to gain access to the resource.
Thank you!
Check your email for your resource.
3. Retailers understand the importance of omnichannel commerce.
New technology and sales channels are helping businesses reach consumers, and business owners want to leverage these new ways to engage with consumers. But a full 96% of retailers say they find it difficult to stay on top of the many sales channels available. Their top challenges include knowing which selling channels are the right fit for their business, ensuring consistent information across channels, and determining the right metrics to monitor engagement and value.
The solution can be a centralized hub, such as an online store or a point-of-sale system, with integrated features that make it easy to sell across channels, track inventory, and manage communications. While new digital systems can be an upfront investment, they can help businesses meet and engage with customers where they are and how they want to interact. 
4. Technology is enhancing the in-store experience.
Online channels may be driving sales, but brick-and-mortar locations are getting attention, too, with modern ways of shopping that create a hybrid experience and unite physical and digital shopping. In fact, 70% of retailers are prioritizing the addition of new digital tools in their physical stores, such as mobile checkout, augmented reality (AR) and virtual reality (VR) technology VR/AR, and QR codes.
The leading-edge technology is welcome: 58% of consumers said they're interested in trying newer, digital methods of shopping if they were offered by a business. Twenty-two percent of shoppers are interested in virtual reality that allows them to experience products in a virtual shop, and 20% say they would enjoy window shopping purchases via QR codes. 
5. Customers are still shopping online.
Alongside a renewed focus on the in-store shopping experience, it's essential that businesses have a digital presence. ECommerce remains a top sales channel for business owners, even as in-store buying has become accessible again, and consumers report that 30% of all their purchases were made online in 2022. This number is down four percent from 2021; however, the decrease is slight when you consider there were more restrictions for in-person shopping at that time. 
Retailers report that 43% of business revenue currently comes from online sales, and restaurants report that more than 40% of their revenue comes from online or app-based orders. In fact, 23% of consumers say they won't patronize a business that doesn't offer online options, including a website or social media presence that allows them to view and purchase items.
6. Delivery options are key. 
When it comes to getting their goods, customers prefer to have options. Twenty-one percent of consumers say not having the option to buy online, pick up in-store BOPIS is a deal breaker. Offering in-store pickup is also a smart business decision, since consumers who visit a brick-and-mortar location may find something else that sparks their interest, adding to their purchase as they pick up their online order.
Like shoppers, diners also love delivery. More than 60% of restaurants offer delivery services directly, while 56% offer them through a third-party service. Most customers (68%) prefer to order directly from restaurants, so businesses who manage their own delivery should promote it on their home page to capture the highest margins.
7. Personalization helps retailers stand out.
Customers want to feel valued, and businesses that get that right often earn their repeat business. The key to demonstrating that you care is by delivering a more customized shopping experience. In fact, personalization is one of the fastest-growing and most important aspects of a retailer's omnichannel strategy. 
To stand out, 41% of stores are adding more unique and one-of-a-kind products and offerings, like the ability to place custom orders. In addition, 37% of retailers are opting for faster and easier communication channels, such as adding a chatbot that can quickly answer customer inquiries. And 35% are taking steps to enhance the digital shopping experience, like using technology that personalizes order screens, welcoming visitors back to their site by name.
8. Loyalty programs encourage sales.
Another way to encourage repeat business is to reward it. Thirty-eight percent of retailers say loyalty programs enhance their in-store customer experience. How business owners view their ability to bring in brick-and-mortar business, however, varies by generation. For example, 41% of boomers, 39% of Gen X, and 37% of Millennials say loyalty programs are an important part of creating a great on-site customer experience. However, just 27% of Gen Z agree, hinting that future generations may focus more attention on other in-store promotions.
Whether or not they impact the in-store experience, loyalty programs encourage sales. Eighty-three percent of customers say they're more likely to continue doing business with a brand that offers one. Square Loyalty makes that easy, allowing customers to sign up at the register or online by simply entering their mobile number when completing a purchase. 
9. eCommerce is expected to grow.
Being your own boss is a dream for many Americans — and technology is making it one that's within reach. Sixty-two percent of people agree that the tools currently available make it easier than ever to start a business. In fact, the latest U.S. Census Bureau data reveals that over 400,000 Americans filed for new business licenses in November 2022 alone.
Younger generations are the most optimistic about starting a business. Forty-six percent of Gen Z and Millennials say they're open to the idea of starting a company right now. For those who are considering the idea, 50% report they would start with an online store, compared to 36% who would choose a physical location and 13% with a mobile store, such as with an app or on social media. The strong preference for online options demonstrates the staying power of eCommerce.
10. Businesses should expect more change. 
Adding digital tools to brick-and-mortar locations opens the door to continued innovation for retailers and restauranteurs alike. By being open to the trends and adapting them to unique offerings, business owners can engage with customers in new and exciting ways. The businesses that have the best chance to thrive will be those that are willing to change to adapt to the new marketplace. 
FAQs on the top eCommerce trends 
From mCommerce to social commerce, these are some of the top commerce trends to look out for in 2023.
What are new eCommerce trends for 2023? 
As technology blurs the lines between digital and physical commerce, new opportunities to engage with consumers are bubbling up. And consumers are game: 58% are open to trying newer, digital methods of shopping. For example, 22% would consider virtual reality experiences, 20% would use QR codes to window shop, and 18% would participate in livestream events.
What are future trends in mCommerce? 
Mobile commerce, also called mCommerce, is when customers use mobile devices, such as a smartphone or watch, to complete a purchase. It's not too surprising that the most mobile media-savvy consumers are Gen Z, with 95% using their mobile devices to shop. Ninety-four percent of Millennials and 77% of Gen X also make purchases on mobile devices, as do 60% of boomers, proving that it's not just digital natives who are fans of digital commerce.
What about social commerce trends? 
While customers are embracing all forms of eCommerce, one of the fastest-growing areas that falls beneath this umbrella is social commerce. Ninety-one percent of retailers reported selling goods directly on social media platforms in 2022, specifically Facebook, Instagram, Twitter, and TikTok. In fact, a study by Accenture predicts that social commerce will grow three times as fast as traditional eCommerce, reaching $1.2 trillion by 2025.