When small-business owners Yolanda Owens, Chris Duncan, and Brandi and Jermail Shelton met up in Atlanta's Atlantic Square last month, they quickly fell into conversations about collaboration. Owens' skincare spa, iwi fresh, is getting ready to host its ninth annual Green Party this month, a potentially well-timed moment for partnership. Duncan mentioned that Honor Roll, the clothing brand he runs with his partners Blair Caffey and Darnell Shepherd, is planning to drop a new collection at an upcoming pop-up shop soon, prompting Owens to ask him if anything might be ready in time to feature at her event as well.
"Just let us know," Duncan said. "Even if we've got to get up in the kitchen and make something special, we've got you."
A few minutes later, Brandi Shelton and Owens started to discuss the possibility of making iwi fresh-branded custom scents for Shelton's just add honey tea company. The ideas kept flowing.
Owens captured all of this for iwi fresh on Instagram Live while wearing a T-shirt that read "Small Black Businesses Matter." Honor Roll, just add honey, and iwi fresh are three of many Black-owned businesses building the future in Atlanta and around the country. Embracing this spirit of partnership in thoughtful, intentional, and transparent ways is one of the biggest lessons from the past year that all three companies are taking with them.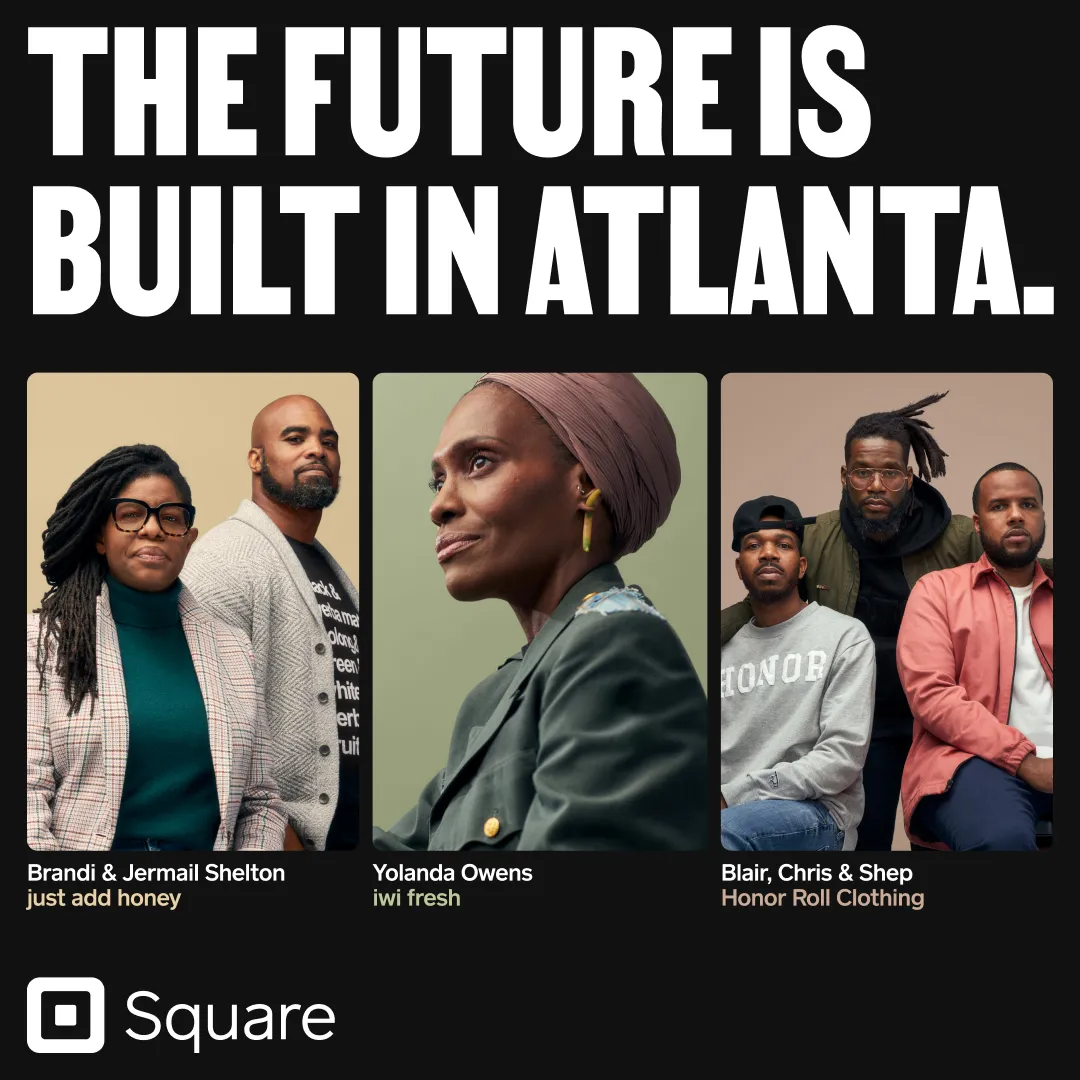 The Sheltons have proudly featured products from Black-, brown-, and women-owned small businesses since they opened. "We have CBD honey and agave that are by two LGBTQ women," Brandi Shelton said. "Our cookies are from a woman, our vegan macarons are from Black companies. Even on our website we have a self-care box, and the scrubs and bath salts and lotions are from another small women-owned business that we partner with.
"Before [the COVID-19 pandemic], it was something that we just did. It wasn't announced."
But when just add honey had to move all of its operations online last year, the Sheltons found that spotlighting what made these fellow small businesses special and future facing resonated both with their followers on social media and with their in-store community after reopening.
"Our customers now like hearing the story of the things that they always bought in the past," Brandi Shelton said. "Now it's just bringing them into the story, making it a more well-rounded conversation."
It's something that Duncan has been considering as he plans future in-person Honor Roll pop-ups. Reaching more people and converting sales are his two biggest focuses. Promoting these partnerships—both in Atlanta and nationwide—helps expand Honor Roll's reach while supporting small businesses that matter to him and his partners.
"We're just trying to see how we can coordinate the other brands into the pop-ups, so that we can be as authentic as possible to our brand but also allow for the other brands to reach that new audience," Duncan said.
When the pandemic hit, Owens took time to consider ways her business, iwi fresh, could be more impactful. She said that she wanted to find ways to empower the younger versions of herself to follow their own dreams. As the owner of a social wellness brand, she sees the benefits of elevating companies with similar business models, ones that focus on self-care and self-love—starting with her very own community in Atlanta.
"Now you've created a tribe," Owens said.
These sustained, organic partnerships have proven upside for all kinds of businesses. Teaming up with a company that connects with your mission can lead to targeted audience expansion, organic social promotion, cost-saving initiatives with products and events, inspiration for new ideas, and higher customer engagement.
Here are a few more lessons the Atlanta-based group shared from the past year:
Jermail Shelton: "Just being intentional with building your client base before you need it. We were fortunate enough to have a strong following before COVID, so when COVID happened we weren't scrambling to find new customer bases. Really our customers were existing customers, helping to keep us alive and well. As we worked to help them out, we were also able to pull a new customer base inside of our ecosystem."
Brandi Shelton: "Jermail is really intentional about documenting. So adding more education and value to the customer experience has been extremely important. Before we could sit and talk to you about the benefits of the tea and talk about the tea leaves and comparisons between the black and the green."
Chris Duncan: "We're holding our strategy with a loose grip, so to speak. Meaning that our pop-up shops historically have been our bread and butter, but we know we can reach so many people going the online route and pushing them to that. It's just finding that core audience, which we have already established here in the city of Atlanta, but just taking that and finding who those people are nationwide. In tandem, we're doing both."
Yolanda Owens: "Making sure we have time for self." Owens said she has become even more respectful and considerate of her time and her team's time.
Like iwi fresh, Honor Roll and just add honey in Atlanta, here are the Black-owned businesses making Chicago's future bolder, brighter, and more beautiful for all.