Our Story
A towing company at the top of its game.
Reynolds Towing Service has grown from one man with a truck in 1980 to Central Illinois' largest towing company today, with 50 vehicles, 26 employees, and several million in revenue.
The business provides excellent customer service, with 24/7 towing and roadside assistance to vehicles of all sizes. It provides top-notch service to customers in a tough situation, but that leads to operational challenges. With a team of 12 in the field at any given time, Reynolds Towing has to ensure its business can easily serve customers wherever they are.
Half of Reynolds' customers pay by credit card and as the company grew, taking payments became a big pain point for the business. The old payment system was slow and cumbersome—drivers had to call dispatch to process every credit card. Business was lost during peak times while dispatchers were tied up taking payments. 
So Reynolds switched to Square.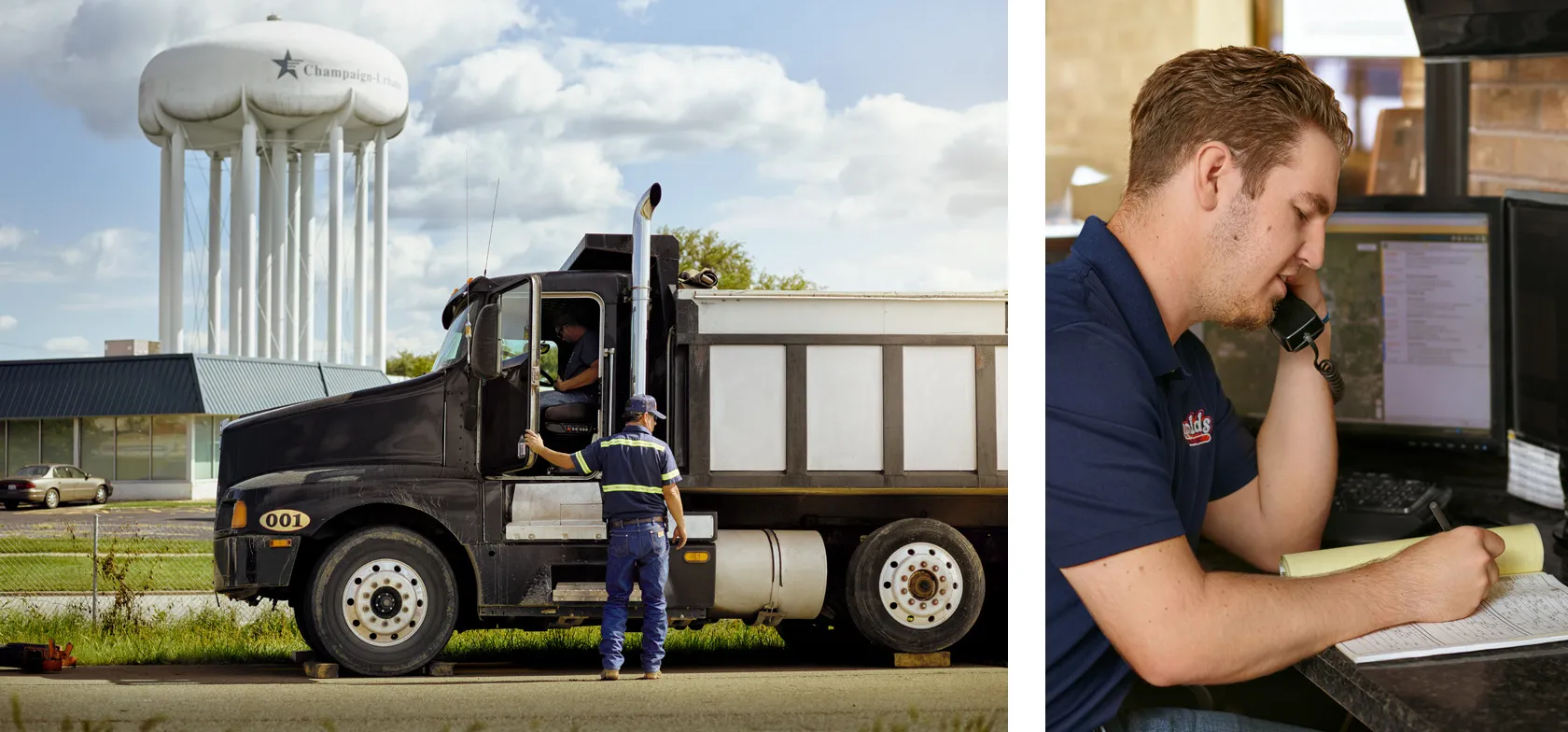 Business lost with a slow payment system.
Reynolds' old payment system was slow, inefficient, and stressful. Drivers calling in payments tied up phone lines, slowed down the transaction time, and lost the company business. Some payments couldn't be processed due to human error, resulting in lost revenue.
Credit card processing fees were too high—a significant concern for a business with 50 percent card payments. And the bookkeeping process of reconciling all of these called-in payments was tedious and time consuming.
The payment system was the company's biggest sticking point. To take roadside payments, drivers had to call dispatch on their two-way radios or mobile phones and relay each customer's credit card information. Dispatchers would write down the information, hang up, and key the card info into the office's traditional credit card reader. Then they'd call the driver back with confirmation that the payment went through and info for the next job.
This was further complicated by Reynolds' dedicated police line, which they need to answer right away. When the police called while a dispatcher was taking payment information, the driver and customer were left waiting longer while dispatch took the call.
The entire process was slow and inconvenient for customers, annoying for drivers, and stressful for dispatch. While dispatchers manually processed credit card payments, the business was at a standstill. They couldn't take calls from new customers who needed roadside assistance, or send drivers out to help them. Tied-up phone lines resulted in a loss of business during snowstorms and other busy times.
When things got really busy, drivers would jot down credit card information on an invoice to run back at the office.
"Now, 9 times out of 10, it worked," says Susan. "But then you get drivers who missed a number or got numbers reversed or something. So then you have this invoice that's not paid."
Dispatch did its best to track down the customers, which was time consuming, but some invoices never got paid.
All this, combined with high credit card processing fees and a time-consuming, manual bookkeeping process, meant Reynolds Towing was being let down by its payment system and POS. Susan was determined to find a better system.
"I had to keep up with technology and figure out a better way to do it."
"Biggest challenge we had was credit cards. You've got phones ringing and you're trying to dispatch drivers and you're trying to take all this credit card information. It became a nightmare." – Susan Jepsen, Chief Financial Officer
Before the switch
Inefficient payment system: Drivers had to call dispatch to run each credit card payment—a slow system that held up customers and drivers and kept dispatch from sending drivers to help new customers.
Lost business: Tied up processing payments, dispatchers couldn't take calls from new customers or give drivers new jobs, resulting in lost business during peak times like snowstorms and University of Illinois events.
Missing payments: During the busiest times, drivers took down credit card info by hand for processing later. But 10 percent of the time it was recorded incorrectly. Dispatch had to chase customers for payment and some invoices went unpaid.
High credit card fees: All card payments called into dispatch were manually keyed in (card not present), resulting in higher fees. Plus the old processing company charged higher rates for specialty cards.
Cumbersome bookkeeping: Manually run reports were confusing. A lot of time was spent balancing the books and chasing drivers for lost tickets.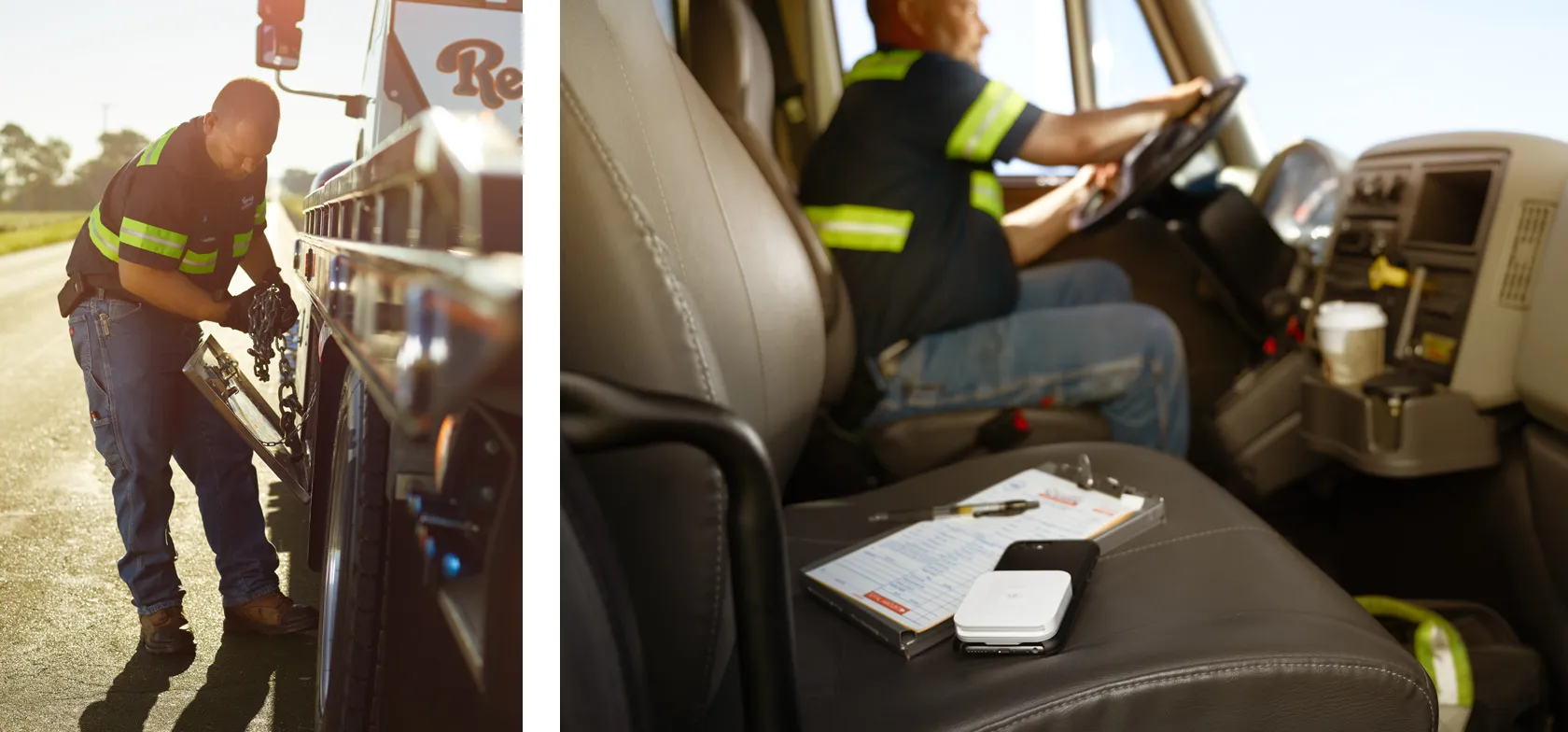 A solution for a mobile business.
In 2013, Reynolds Towing gave a few of its drivers Square Readers to see if Square's mobile payments would make sense for its business. The readers plugged into the drivers' smartphones, letting them swipe customers' credit cards roadside. Square's Offline Mode let them take payments even in remote places with no reception.
Power your business with Square
Millions of companies use Square to take payments, manage staff, and conduct business in-store and online.
Get started
"They liked it because they weren't on the phone calling. It was much quicker for them," says Susan. She was so impressed that Reynolds switched its whole system over to Square.
Security was a key factor in the decision.
"As technology has changed and chips have been added to credit cards, we've gotten chip readers for the drivers, so they are using those in the field, which makes it more secure."
"Square has reduced a lot of stress and frustration." – Susan Jepsen, Chief Financial Officer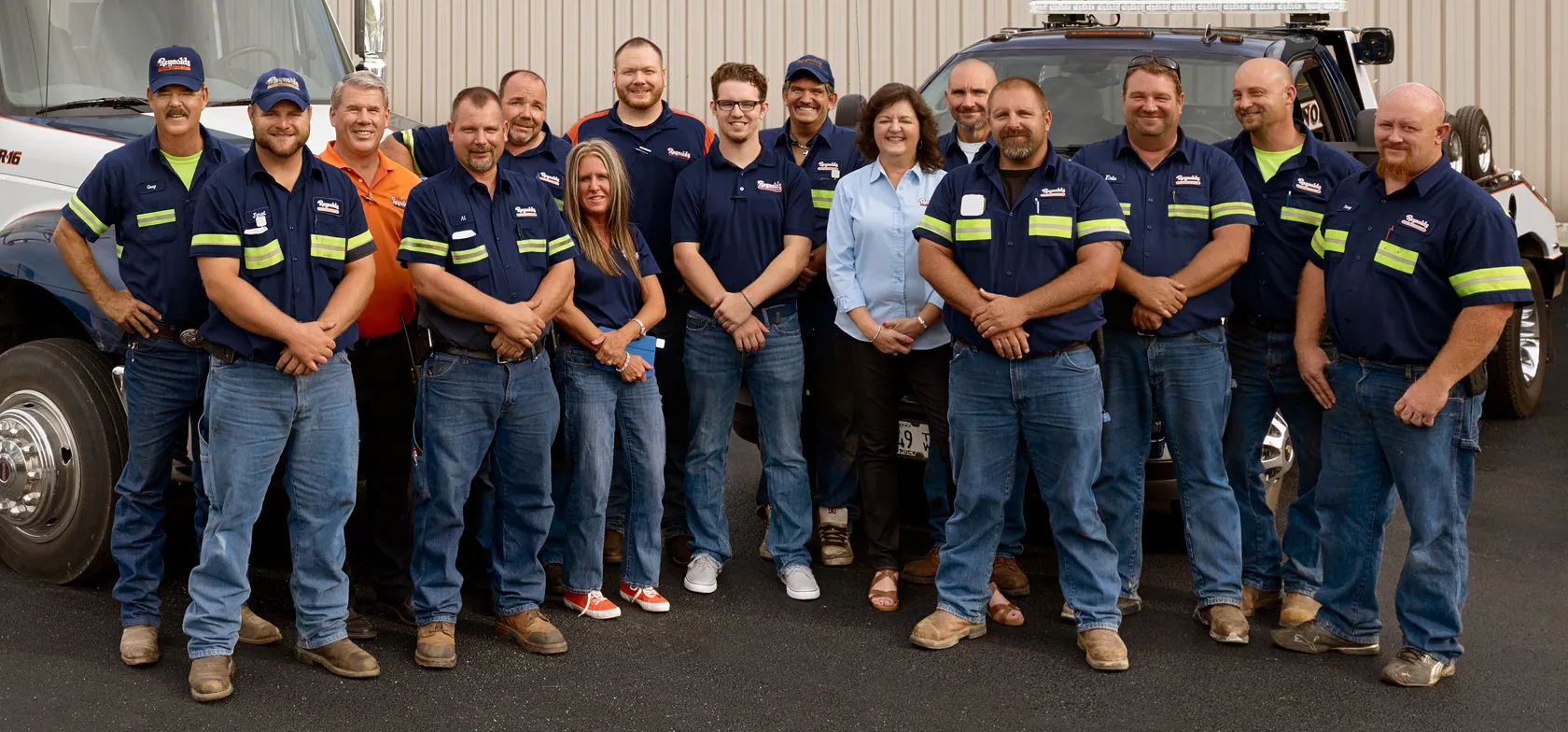 What happened next.
Thanks to Square's efficient mobile payment system, Reynolds' drivers can help 30 percent more customers each day. This means that Reynolds can answer calls faster and get more people back on the road, all of which leads to more revenue.
The old payment system took about five minutes to process each credit card. With Square, drivers handle the entire process themselves in seconds and each customer's digital receipt is emailed to them.
The payment process is now "so much less stressful for the dispatchers and less frustrating for the drivers."
But using Square hasn't just improved the payment process. Now Reynolds Towing analyzes the increase in business uses Square's Virtual Terminal and Point of Sale app and utilizes the Dashboard's rich analytics to run the business and make informed decisions.
"We've been a growing company for many years and it continues to grow. Square has definitely helped that growth, both in terms of technology and being more efficient. Because we're more efficient, customers are more satisfied with our business and tend to use us more often."
The switch to Square has also resulted in:
Huge savings
Square offers Reynolds a better credit card processing rate (one percent lower than its old card processor), which amounts to thousands of dollars a week in savings.
"Square has helped us keep our staffing needs down and reduced our overtime by not having to take all that information over the phone," says Susan. "We've been able to almost eliminate a person on the phones just for that purpose. It's been amazing what the drivers can do out in the field with a Square [Reader] that we were having to do for them in here."
More reliable cash flow
Square's more efficient payment system makes bookkeeping a more seamless experience. Reynolds now spends less time chasing payments and balancing books. Susan appreciates Square's fast, reliable deposits.
"Our Square deposits are daily and so we know that the money is there. I'm not moving money between accounts. It's always there right away."
A better customer experience
The faster roadside transaction time provides a much less frustrating experience for customers, which is good for Reynolds' brand, too.
"I think new and updated technology definitely makes our customers also feel like we are on top of what we're doing," says Susan. "It makes them feel comfortable with the situation and they're glad that they've called us."
After the switch
Efficient payment system: Drivers take customer credit card payments with their Square Reader and company-issued smartphone. They can even take payments without a connection with Square's Offline Mode. Dispatch is less stressed, customers go on their way faster, and drivers get to their next job more quickly.
More business: Dispatchers no longer take card payments over the phone so they can focus on dispatching drivers. The company now helps 30 percent more customers a day, which has been great for Reynolds' bottom line.
Reliable payments: Drivers take payments in the field, eliminating unpaid invoices. All payments are deposited daily into Reynolds Towing's bank account.
Money saved: Reynolds is a high volume business, so it got a custom credit card processing rate from Square. As with all Square sellers, there's one low rate for all swiped, dipped, and tapped payments, regardless of the credit card type. Square's more efficient payment system has helped Reynolds reduce its staffing needs and overtime.
Clear analytics and streamlined bookkeeping: Square Dashboard has up-to-the-minute sales information. It's quick and easy for Reynolds' bookkeeper to export everything and he has all the info he needs at his fingertips.
Running a business is no easy feat, but Square is here to help. We have all the tools you need to start, run, and grow your business, whether you're selling in person, online, or both. And we've made all our tools to work together as one system, saving you time and money — and making decisions easier. So you can get back to doing the work you love and focusing on whatever's next. See how Square works.