Elizabeth Weil is a partner at Silicon Valley venture capital firm Andreessen Horowitz, an ultramarathon runner, and a new mom. In her spare time, she runs Paperwheel — which has been turning out uber-popular "nerd-themed" letterpress cards since 2006. Paperwheel has sold with Square since our start in 2010 — first to accept credit cards, then using Square Cash, and now to streamline invoicing and customer management.
We recently caught up with Elizabeth to get her thoughts on custom crafting, its intersection with the tech world, and her one piece of advice for small-business owners. Here's our conversation:
Square: When did you first become enamored with letterpress?
Weil: My first job was as an analyst for Menlo Ventures. At a luncheon, someone handed me a letterpressed business card. I'd never seen anything like it before. I started Googling everything I could about letterpressing. I became obsessed with the history and art of it, and I quickly signed up for a class. My first project turned out really well. I was shocked — and hooked.
How did you get into doing it on your own?
I found an 85-year-old man in San Francisco who was selling a letterpress on Craigslist. My husband, Kevin, and I went over to check it out, and it was in really bad shape — literally. It was covered in red ink with old lumpy rollers. I turned to Kevin and said, "There's no way I'm buying this." And he said, "Write this man a check. I'm loading the press in the car. You'll regret if if you don't."
Did you start your business right away?
I actually never set out to start my own business. A friend of mine asked if I could do some Christmas cards for her. I had no idea how to do anything on my own — design in Illustrator, get photopolymer plates made, or any of the things that are now part of our process. I learned as I went, and they turned out great. Since then, our business has grown entirely through word of mouth — it's been very organic.
What sort of projects do you do now?
Most of our work is custom letterpress and design — wedding invitations, personal stationery, baby announcements, and business stationery. Our greeting cards are handmade — random, quirky ideas that I decide to print. I also letterpress a bunch of tech company stationery. We've worked with over 300 tech companies on projects. So many companies want to send handwritten notes to their customers.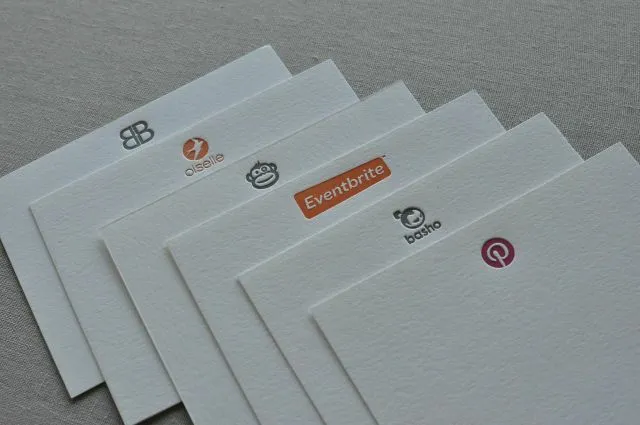 And you did projects for Twitter when you worked there?
I joined Twitter in 2009 and started the corporate development team. The head of the recruiting team asked if I could help out with welcome gifts for our new employees. So I thought, why don't we create letterpressed, handwritten cards for everybody? It was such a memorable touch. By the time I left Twitter, I'd handwritten more than 2,000 letterpress cards. Those cards are still on the desks of many people at Twitter.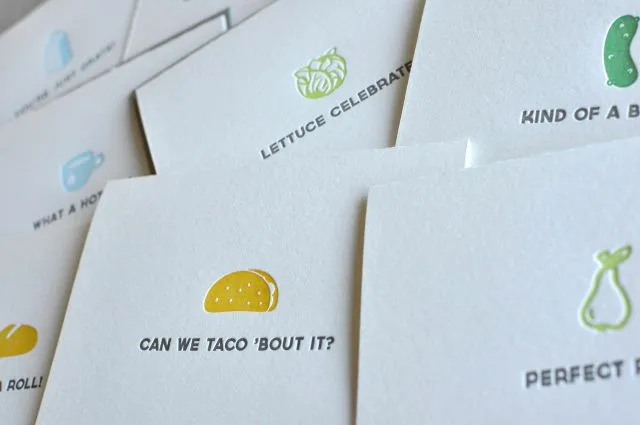 What's your most popular card?
The "I love you more than this" is our most popular card, which is funny because I made it as a joke for my husband seven years ago. It's been a favorite ever since. The ones that have been flying off the shelf recently are our food pun cards. It's all nerd humor. "Geeky-chic." We crack ourselves up as we make them.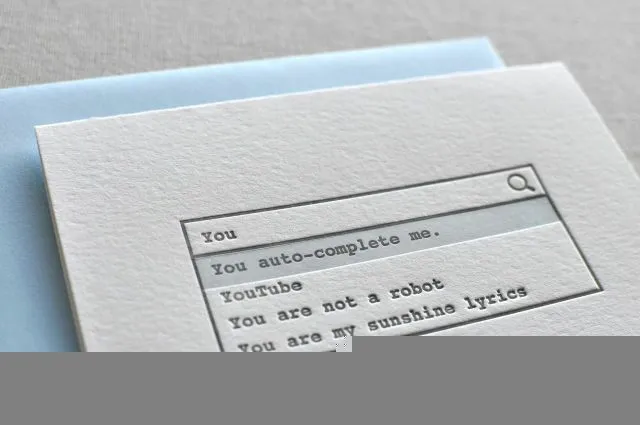 So much of our lives and work are online. Do you think that's creating a yearning for more physical, tangible products like letterpress cards?
That's one of the many reasons I've focused our cards on geeky online meets physical offline. I would never give up email, but I appreciate what an art the handmade card is. It might not be the most scalable or time-efficient process, but it means so much more because of that.
Do you sense there's a cultural shift towards handcrafted goods?
We're constantly trying to optimize and do things as quickly as possible, so I think we're looking for something to counterbalance that — a symbol of slowing things down. Craft goods tap into that. And I also think people are now wanting to buy things straight from the source. If you meet the farmer at the farmers market, you can actualize all the hard work that's behind the food. I think it's about bringing real people into your perspective.
Do you think that has woven its way back into tech?
It's absolutely swinging back to the tech side. We each want our own Uber driver. We want to order our original Munchery meal and have our spouse order something different. We want to know where and how our hand-stitched T-shirt was made. We want our experiences to feel like they were uniquely crafted.
Putting on both your venture capitalist and small-business owner hats, what do you think is the key to a running a successful business?
For one, hiring great people. Take on smart people whom you can help grow. We have a powerful, scrappy team at Paperwheel — and we work great together as a result of that. Maddie is our studio manager and our packing, shipping, and Etsy expert. Charlotte leads our customer experience team and is a children's book illustrator. She lends a new custom illustration twist to our letterpress offerings. The other thing is to always identify the low-hanging fruit for streamlining things. One of our core values at Paperwheel is "streamline." Take some time to figure out how to efficiently invoice, or use your CRM system. Square has been really helpful with that.
What's your one piece of advice for people who want to start their own business?
Just start. So many people get stuck in their boots. They think they need the perfect marketing plan, or to have purchased all the right domains. Just love what you're doing, get started, and never compromise on your brand.