Sean Vahey and Jake Godby are the founders of Humphry Slocombe, a gourmet ice cream shop made for adults. After opening their first location in San Francisco in 2008, they've grown the business to four locations in the Bay Area, with distribution in wholesalers across the country and partnerships with companies like Virgin America and Queer Eye. Here's the story of how they grew, as told to Square editor Alise Bailey.
Square: What inspired you to start your business?
Sean: Jake was a pastry chef at some of the best restaurants in the city, and I was a food and beverage manager at the Hyatt and the Four Seasons. Jake and I were friends, and he approached me with our first flavor, Secret Breakfast (a bourbon base with vanilla bean and extra crispy cornflakes). He told me that this is the style of ice cream we could do.
We thought, this is what we wanted to do with our lives — we would make and serve ice cream, have a neighborhood spot. We also thought starting something together would be easy. But it wasn't — we finally got things up and running in 2008.
Jake: Ultimately, I just wanted to do one thing and do it really well. I knew I didn't have enough money to start a full-service bakery, and I was trying to get out of restaurants. We went to ice cream because we thought you just need one piece of equipment and a couple of people. We were very naive.
Sean: When Jake makes a good flavor, the hair raises on my arm. The day after I tried Secret Breakfast, I liquidated my 401(k). It was amazing.
What were the first 100 days in business like?
Sean: They were filled with a lot of crying, a lot of yelling, a lot of cheering, and a lot of drinking. We were living off hot dogs we made out of a coffee pot in the back. It was daunting, challenging, and frightening, but we had no other option. We had no way to go but up.
Jake: Eventually, the money ran out. I called my mom a lot.
When was the moment that you knew Humphry Slocombe was going to work?
Sean: The first few months were super crazy busy. We'd gotten some press that had really driven some interest — we had a line out the door.
Jake: We purposefully were making interesting flavors to let people know who we were. Some of the first were Secret Breakfast, Blue Bottle vegan coffee, coconut, cinnamon roll, red hot banana. We didn't even make vanilla — which was an accident, but it worked out well.
People loved it, and we could tell they were reacting to something they'd never had before in their lives.
How do you differentiate yourself in the market?
Jake: Our brand really reflects us. We've been very fortunate; a lot of people seem to like who we are.
Sean: We bring ourselves to the game. Not only is the ice cream super-premium, delicious, and unique, but when you come in, you're getting our story, our creation. I think our fun part of translating that into wholesale was really fun, because the designer that we work with, she helped us translate our personality into our packaging, into our truck.
Jake: If you look at the freezer door, our ice cream pints jump out. It's really easy to make an ice cream shop cute. We don't want to be cute.
Sean: We're anti-cute.
How do you deal with competition?
Sean: I think there's room for everybody; the city is big enough to hold all the ice cream places that we want. We're lucky because ice cream is an affordable luxury — it will never go away. But no one does what we do: grown-up ice cream. We just keep being creative and reinventing ourselves — competition keeps you on your toes.
How did you learn to delegate as things grew?
Sean: I'm a control freak, and I want to know what's going on. Just because this is our baby. But at some point, you have to learn to trust people, let go, and let people be.
Jake: I learned to delegate just to end my exhaustion. When you have people around you that know the way you like something, you have to trust them. If our business is our baby, it's really grown up. She's in college now, and she has to be able to make her own decisions.
You're in grocery stores like Whole Foods and Safeway. How did you begin setting that up?
Sean: It was gradual — we've always done handpacked pints for our customers. When we began to be approached by wholesalers, we started packing pints during production. At first, Jake and I distributed everything ourselves. When we were approached by larger wholesale partners, we had to bring in production and packaging partners to help us distribute on an even larger scale.
When did you know it was time to open another location?
Sean: We've only opened up another shop when the opportunity to expand was presented to us. We got into the [San Francisco] Ferry Building since we had been at the farmers market on the weekends regularly, and they approached us for a permanent location — that was huge.
What are the challenges you've faced in running and growing your business?
Jake: Anything with an acronym — IRS, FTB. We were so busy from day one — we thought we'd have more time to set things up. Now that we have partners and brands, we have investors, and we have grown-ups in charge, but it wasn't easy at first to figure it all out.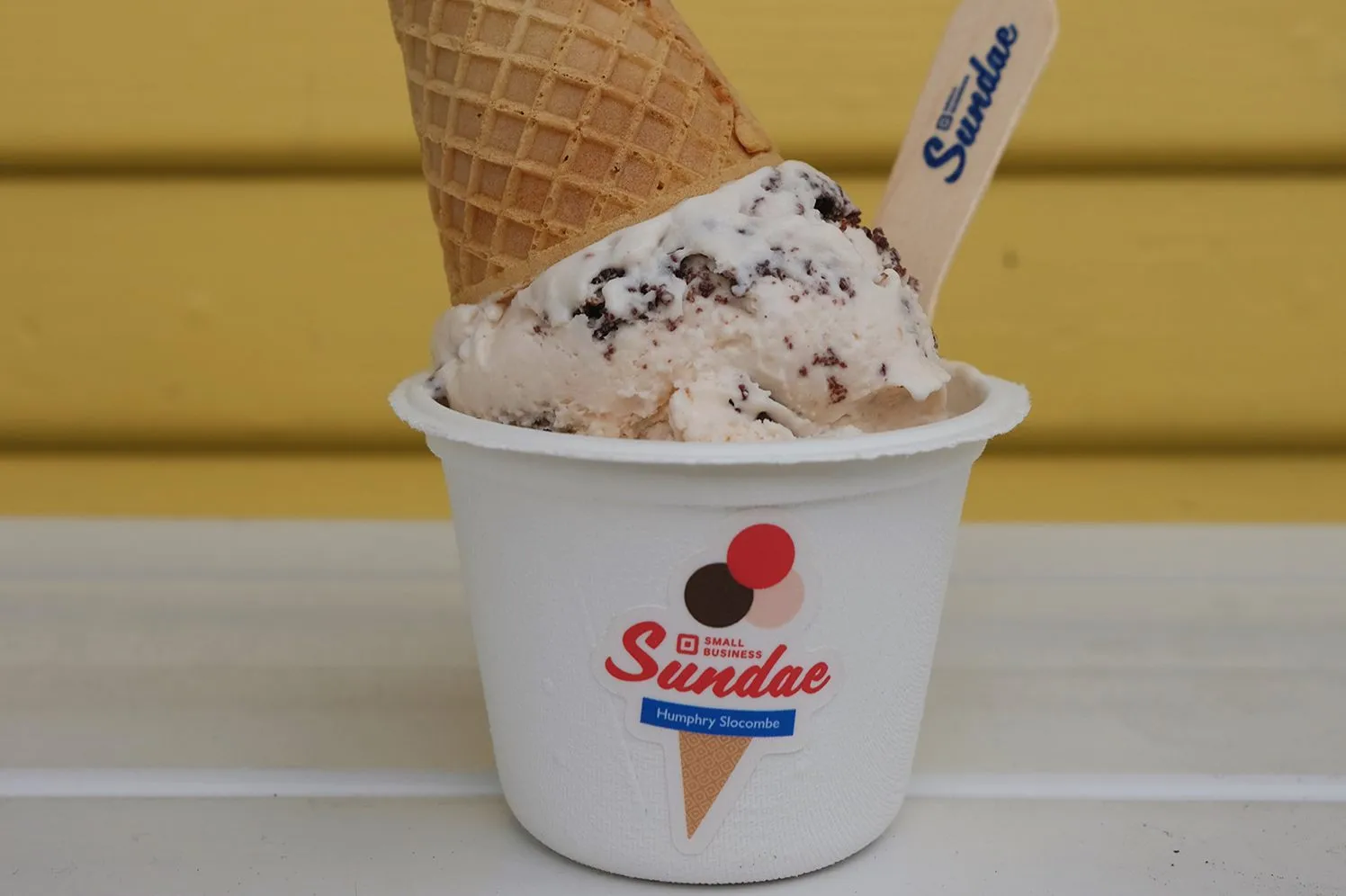 Sean: We thought we went in knowing everything. We didn't know anything. We had to learn to wear a lot of hats. I still learn so much each day — working with Whole Foods, working with HSN. When we did our flavor with Virgin America, we got to see a whole different side of marketing, food, and beverage that we'd never seen before.
What role has technology played in your growth?
Sean: When we started with Square, our first register was from Office Depot, and we were ringing people up in a fury. We had no idea what flavors we were selling — we had no idea how to make sense of it.
Then we got a Square Stand, and it was so easy to use, which was perfect for us — it was plug and play, and we were able to see immediately which flavors were doing better than other flavors. We were able to see reports right away. We could lay on the couch and watch sales live. We had to step away from Square when we opened up our second shop, because Square wasn't able to support two locations at that point. It was the worst year of our lives. We were so happy when we were able to bring Square back.
Square is really perfect for us, because we don't know how to use anything else. It looks good, and I remember when we first set it up, people were like whoa, what is that. For a business owner to be able to fire it up, put it on the counter, and use it — that's huge, since you have so many other things to worry about.
What do you look for in employees?
Sean: We're always looking for someone who has a great customer service background, but we're also looking for people who are passionate about food. That's what I demand when we hire anyone at our shops. You have to want to show up every day and want to talk about it.
What's your advice to aspiring entrepreneurs?
Sean: I always tell people I can tell you what not to do. But everybody's different, everyone has a different scenario. You have to be a little crazy, and super-naive.
Jake: It's twice as hard, costs twice as much [as you think it will], and you have to love what you do. It's not meant for everyone.
Sean: This is something we discuss a lot. Food and beverage is something we've done our entire lives. Make sure it's something you really want to do, that you're passionate about. I don't think it's smart to do something halfway, but there's a reason why people say blood, sweat, and tears go into opening a business, because that's exactly what it is.
Jake: Also, there are things you aren't going to like to do. You should know what you're not good at, as much as you know what you're good at, and hire people accordingly.
How do you see your business growing in the next five years? What's next for Humphry Slocombe?
Sean: We're expanding our wholesale offerings quite a bit.
Jake: Yes, we'll be nationwide by next year.
You can find Humphry Slocome at a retailer near you, and follow along on its journey online.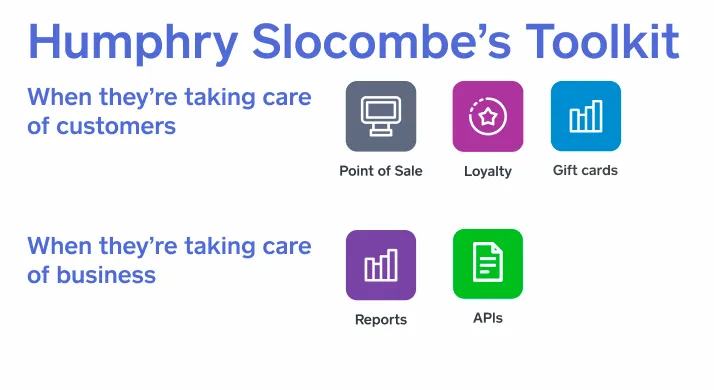 Running a business like Humphry Slocombe is no easy feat, but Square is here to help. We have all the tools you need to start, run, and grow your business, whether you're selling in person, online, or both. And we've made all our tools to work together as one system, saving you time and money — and making decisions easier. So you can get back to doing the work you love and focusing on whatever's next. See how Square works.