Coffee shops all over the world are now taking care of business with Square Point of Sale. Over the next few months, we'll be featuring conversations between Jordan Michelman, cofounder and senior editor of coffee news site Sprudge.com, and the owners of some of the planet's most boundary-pushing cafes. First up is an interview with Catherine Seay, owner of Curators Coffee in London.
Jordan: Let's start at the beginning. How did Curators Coffee get started?
Catherine: We started out in 2012 — our first cafe was Curators Coffee Studio. Curators Coffee Gallery, our second location, opened six months ago. I've worked in specialty cafes before, but this is my first experience as a business owner.
Talk to me about the evolution from Curators to Curators Coffee Gallery. Why the gallery approach?
The Gallery approach was a chance for us to explore the presentation side of our business. We wanted a cafe that had a clean and polished look where we could exhibit our products and services. The space allows us to source some amazing teas and coffees and present them in a beautiful way. The London coffee scene is full of cafes sporting a more industrial look — reclaimed timber, exposed brick work, etc., and we wanted to really step up the design and define ourselves in that way.
Who are your design inspirations? Any shoutouts?
Design is super important to us. Our first store, Studio, was designed by Jen Archer and our second, Gallery, was designed by Ana Foster-Adams. For Gallery, we wanted really clean lines and took quite a bit of inspiration from Scandinavian designs. One of the most beautiful coffee shops I've ever been to is Saint Frank Coffee in San Francisco (which also uses Square). They definitely deserve a shoutout.
How is the coffee scene in London different than in the rest of the world?
London's specialty coffee scene has come a long way in the past few years but still has so much more developing to do. In Australia, coffee culture is so ingrained that meeting a friend for coffee is second nature and the bar for quality is extremely high. By contrast, in the UK, loads of the people we serve every day are just learning about specialty coffee and trying it for the first time. Our whole mission at Curators is to try and create that coffee culture. We want people to say, "oh hey, let's meet at the coffee shop," and not "hey, let's meet at the pub."
What would you reckon is your most commonly ordered drink?
I can actually tell you for a fact, thanks to Square Register data, that our most commonly ordered drink is the flat white. Since we started using Square on November 18, 2014, Square Point of Sale's analytics tell us that we've served 3,708 of them.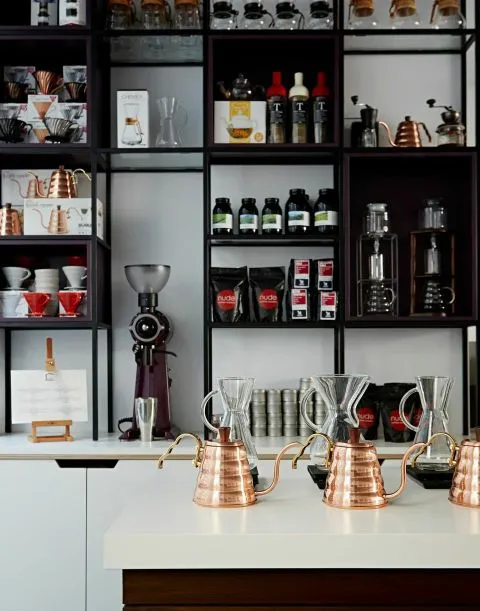 Can you talk a little more about how Square helps you run your cafe?
Square helps us run the front-of-house operational side efficiently and smoothly. The POS is intuitive, fast, and easy for staff to use. This helps minimize mistakes during the ordering process and keeps the customer flow moving. Importantly, Square is the most reliable POS I've ever used. It never breaks or even slows down.
Secondly, the detailed analytics data helps us to make informed business decisions. Knowing what your most commonly made drink is, or how popular soy milk is, or how many free coffees were redeemed from a promotion is so important.
What's the most surprising thing that happened in your first year?
How much support we received from the local community and others in the London specialty coffee scene. We had so much support from everyone, I was overwhelmed. It was just wonderful and is a real testament to how the independent and specialty coffee businesses are supporting each other in London.
If you could open another cafe in any city in the world, where would it be?
Tokyo! I recently visited Tokyo for the first time and fell in love. I'll do anything to get back there.
What's the most rewarding part of owning your own business?
Being able to see your ideas come to fruition and being part of a team that is passionate about the same things that you are.
Read more: How to Create a Coffee Shop Marketing Plan
Learn more about how Square Point of Sale can help you run your business in any corner of the globe.