Table of contents
Stoned Fine Jewelry is a one-stop shop for diamonds, precious stones, and fine jewelry that blends traditional diamond and gemstone concierge services with digital technologies. Founder Eve Gay started the company her junior year at Pepperdine University after a sustainable fashion internship fell through due to COVID. She founded Stoned Fine Jewelry as a sustainable, contactless jewelry business — something that was important to her not only because of the pandemic, but also to serve a rising demand for online shopping, especially among younger adults.
"I love my brand so much and I'm in it for the long haul. I joke all the time that I'm trying to make a generational business, but backwards," said Gay joking that her mom and grandma work for her. "Everyone's working, they're all working in the office, and it's just so fun. I love being with my family." She hopes the business will grow enough that one day her kids might want to join it. 
Bootstrapping the business
With no family ties to the industry, Gay started her journey of launching a business by learning everything she could about the diamond industry. A google search led her to social media, which led her to the possible next steps she could take after graduation. Through this search she found a mentor in her hometown of Jacksonville, Florida, who helped show her the way.
"I spent three to four months with him learning all about the diamond industry and jewelry design and that really helped," said Gay, adding that she did this all while attending Pepperdine, but is now on the East Coast campus, turning her daytime classes into nighttime ones. "I graduated and decided to go to the Gemological Institute of America to become a graduate gemologist so I could be really formally educated on gemstones and diamonds and everything I needed to know," said Gay. 
A newly certified gemologist, Gay started meeting people one-on-one during COVID, then she started a website and met people and sourced things as they needed them. Today, she feels freed from the rigid COVID restrictions that made it harder for her to operate her business at its start. She travels around the world, attending trunk shows and selling in person, wholesale, and to jewelry stores that feature her lines in their cases. Gay prioritizes a valuable experience for her clients. Not only are her diamond concierge services available 24/7, but the line prioritizes sourcing sustainable diamonds and gemstones.
There are a lot of hard parts. Your business is like your baby. I think burnout and stress, that's very tolling, it is very stressful, especially once you get more and more money invested — it can keep you up at night so taking care of yourself is really important. "

Eve Gay

→

founder of Stoned Fine Jewelry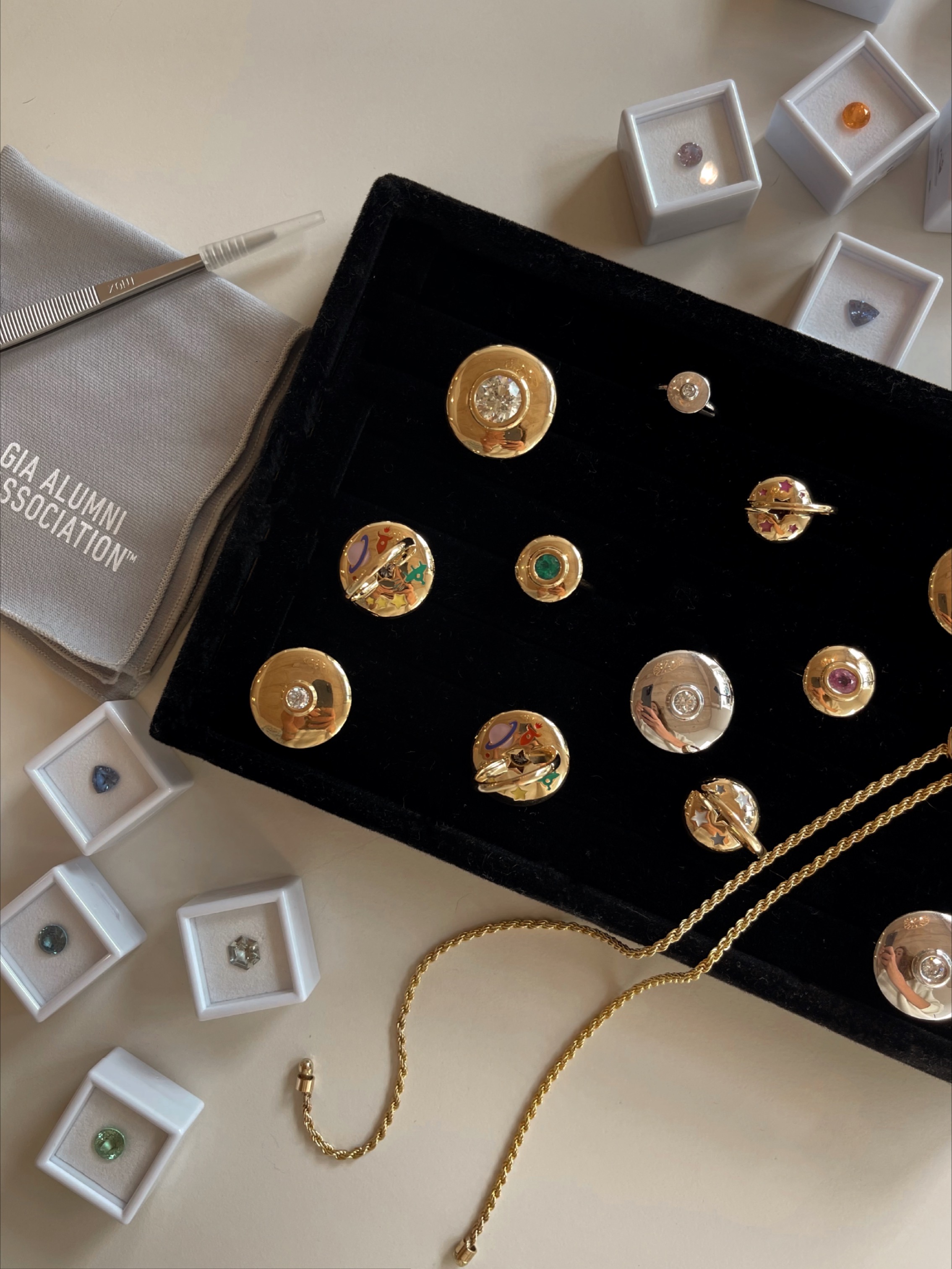 Building a brand organically
Stoned Fine Jewelry is worn by celebrity VIP clients like Kendall Jenner and Ireland Baldwin. The brand gained traction quickly online after its inception, which was a combination of hard work, good timing, and a stroke of luck. Gay's jewelry was featured on the cover of Playboy South Africa after an acquaintance from Pepperdine, who was shooting the cover, saw that she had recently launched her brand. And after a model dropped out last minute from Stoned Fine Jewelry's first campaign, Gay's mom (who was Googling models) found Ireland Baldwin (who really liked the brand) happened to be in L.A that weekend. A kismet moment which would lead to her feature in the campaign. 
"A lot of things were really lucky. I'm doing everything myself and I invested in a little PR at the beginning, but now I'm trying to do everything organically. If people organically like my stuff, they're going to talk about it, they're going to like it." said Gay "If people organically like me, they're going to want to work with me. I feel like that's the best kind of relationship to make and to have. So I know I'm on the right path, you just have to stick through it and be able to pivot."  
From the beginning she's taken a hands-on approach — building the website from scratch herself and creating terms of service forms for an online business, which were tasks she made a part of a final project for her business class at the time. She says she just hired an accountant to take on the tax element of her business, but she still takes on the majority of business operations, from designing to sourcing and running her marketing as well. 
Gay uses a range of Square tools, likeSquare for Invoices, for businesses she works with and payments for trunk shows or consultations. She says she always has a reader on her. "I've been at bars, out with my friends and run into people who will buy stuff off me. People will be like 'Oh my god, I'm so happy I ran into you, I want to buy my girlfriend a pair of earrings', and I'm like, 'I got you,'" said Gay, adding she's always ready to sell her jewelry when the opportunity arises, even and especially if it just happens to be with her at the time.
Read more about Gen Z entrepreneurs in the Square Gen Z Entrepreneur report.