Table of contents
"When I first started, the hardest part was figuring out the operations and financial side of things. I kept asking myself how I was going to logistically run a business and track everything," said Savanna Boda Aesthetics Founder, Savanna Boda. "I wasn't taught any of this at aesthetician school, so I had to learn as I went. But I knew in my heart I could make it if I believed in myself."
Boda was about a year and a half into college when she decided to go to beauty school instead. Her first exposure to the beauty industry included working with a dermatologist, a med spa, and a plastic surgeon. She had gone through skin troubles herself, such as acne, and as a customer felt that she was being sold products. She wanted a different experience for customers at her business.
Although she was comfortable with the skin care part of her aesthetician practice, the business piece had to be learned as she went. 
Building a strong financial foundation
As a newfound entrepreneur, everyone looked to Boda as the decision-maker, which meant a lot of pressure to make the right call. It also meant the benefit of having the autonomy to make those calls. She grew as a leader and a business owner alongside her burgeoning business.
Finances, she says, were the hardest part of growing the med spa, and a lot of learning how to operate it was trial and error. "My biggest eye-opener was when I hit my first year in business and had to pay sales taxes. … I found out I wasn't charging sales tax, so I had to pay that out of my savings, which wasn't fun," said Boda. "I now have an account. I also didn't take out any loans or credit cards because I was scared of spending money I didn't have. I reinvested every cent back into my business." She adds that she didn't pay herself at all in the first two years.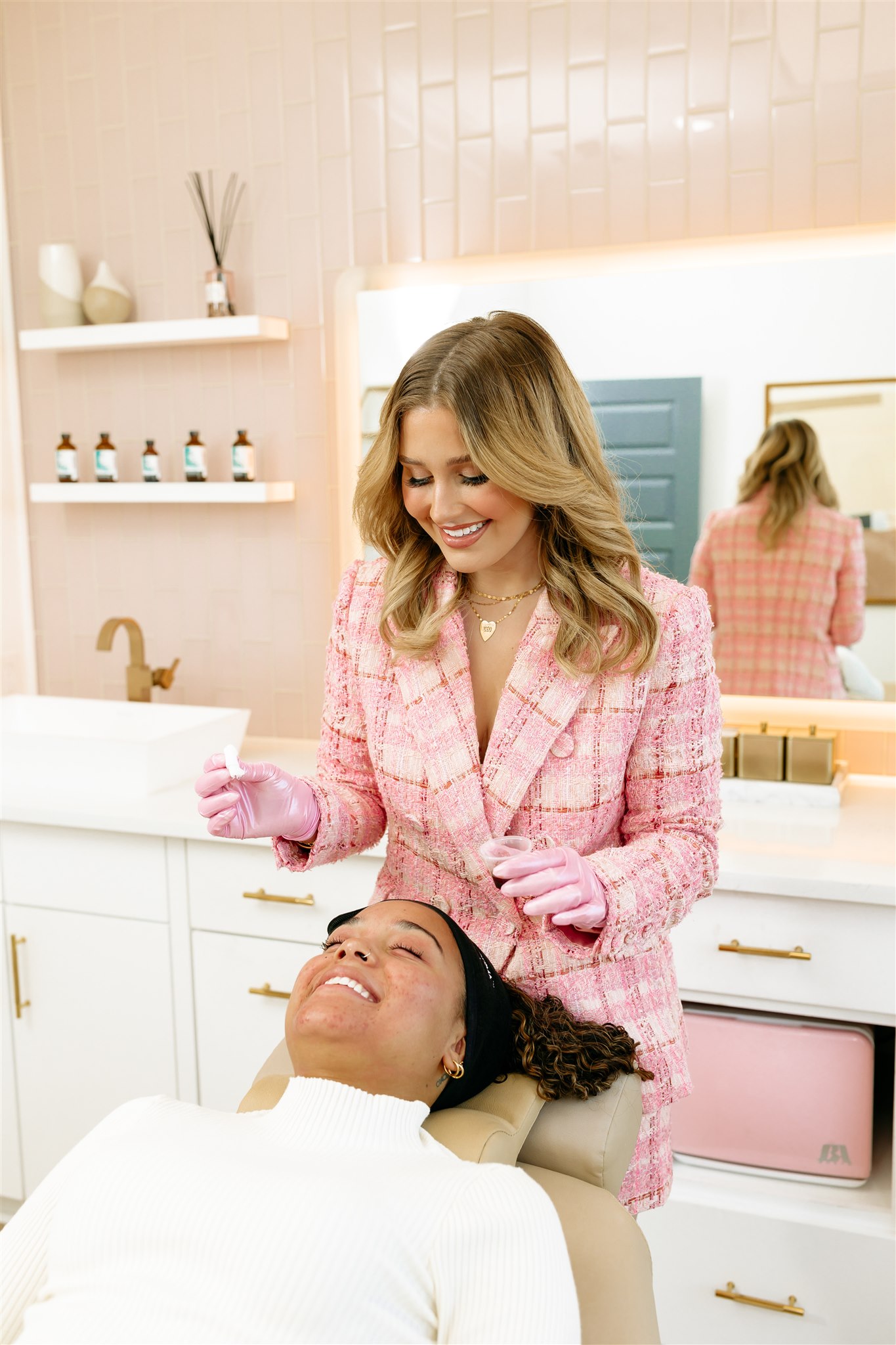 Speaking with other business owners now, she says that having systems in place is critical to scaling a business. She learned the hard way that initially she grew too fast. Ultimately, she had to work backward to relay a solid foundation that she didn't have time to build slowly due to the success of the business. For Savanna Boda Aesthetics, this meant creating new-hire paperwork, checklists, and more.
Leveraging social media to grow the brand and the business
"My journey was a bit of a hot mess to be honest. I was 21 years old and had no mentors or family to help me start my business," said Boda. "The first thing I did was get a salon suite and a booking site. From there things grew fast as I marketed myself on Instagram and Facebook."
She adds that not much has changed from how the brand started on social media to today. While Boda does a lot of the same things she did in the beginning, she's becoming more efficient and quicker in creating that content. One thing that has remained the same, however, is that consistency goes a long way with her followers. Using a range of social platforms has allowed the business to connect virtually with her community and draw in clinics from the metroplex. 
Social media is 70% of my business!""

Savanna Boda → Savanna Boda AestheticsFounder
One of the most important marketing lessons she's learned along the way is that when you are being your brand, everything markets itself. So much of Boda's life, whether it's a daily bath, a fragrance of the day, or a nightly routine, shows her customers and followers that what she practices in her professional life she also does in her personal life. 
For Boda and her customers, understanding and buying into her as a person and a brand is almost as important, if not more important, than buying into the business. "People buy from people, not things," said Boda. As part of a new generation of entrepreneurs, Boda sees herself within that generation of innovative business owners who do things for themselves and are more hands-on. Moving forward she hopes that the business will expand into larger locations in the next few years, with more staff to support a growing clientele.
Read more about Gen Z entrepreneurs in the Square Gen Z Entrepreneur report.