Table of contents
SMS marketing has proven to be one of the more successful marketing tactics of the last few years. In comparison to email marketing campaigns, SMS marketing campaigns can be set up easily, sent to your entire marketing list quickly, and provide support for your entire business with less effort.
If you're looking to create impactful SMS marketing campaigns but aren't sure where to start, here are five SMS marketing best practices that can help take your text message campaigns to the next level.
1. Building your list
The first step to any SMS marketing campaign is building your list of opt-in subscribers. Asking your customers to opt in to text messages from your business can be a quick and easy process, whether it's at your POS through a prompt, a text-to-join option in your online checkout, or even included within your email campaigns. 
A great place to add text message sign-up forms would be on your website. Opt-in opportunities can be integrated within your website in pop-up forms, embedded forms, floating buttons, or your online checkout page when a customer makes a purchase.
No matter what type of form you choose, make sure that it creates a seamless and easy experience for the visitor. For example, while pop-up forms can be effective, make sure that the form is not distracting them from performing an important call to action, like adding an item to their cart.
Before you create a brand-new signup form for SMS, take a look at the high-converting contact forms you already have in place. If you have the ability to, add a phone number field and an opt-in check box to those forms. These high-traffic forms have already proven successful to you, so make the most out of them.
If you're looking to build new forms, it's important to design them with the consumer in mind. Create an experience that's seamless for the user. Within these new forms, you'll want to include:
Text about the type of information you'll be collecting/sending
Their default country/calling code
Phone number
SMS marketing consent (opt in)
Looking to target consumers that are already in your audience? Your email subscribers and social media followers already have interest in your business. Take that opportunity and ask them to sign up for SMS marketing to find out more details about your offerings. If you want to incentivize sign ups, consider sharing insider information in your text messages that they may not see through email or on your social channels.
2. Crafting the message
Messaging within SMS marketing varies quite a bit from your standard email or ad copy. The messaging should be light and conversational, while also incorporating your branding and tone of voice.
Message length
Keep the message short and sweet. No one wants to read an entire paragraph within their text message. A recommended length for standard SMS marketing messages is between 220 and 300 characters.
Links
Get to the point and give them a reason to act quickly. Include the links they'll need to drive the action you're trying to influence. These calls to action should be persuasive and clear cut. Send them to your website or menu if applicable. If your website isn't set up to make sales, you can use Square Online Checkout to direct customers to an online checkout page for the specific product or service you're promoting.
Disclaimers
While the tone should be conversational, it's critical to be transparent and professional from the beginning by clearly communicating your business name and why you are contacting them. It's also important to include any disclaimers or critical information, including instructions for how to opt out of receiving further text messages from your business and how text messaging rates may apply. Your text message marketing provider will often automate these instructions, so you may not have to independently include them in every message.
Images
Sometimes it can be more personal and engaging to include images or GIFs within your messaging. Known as an MMS message, these messages include high-resolution media. If you're having a sale or a big event, include images of the products on sale or a party GIF to get your audience excited. Sending MMS messages also allows you to incorporate more branding, such as your logo or colorways. However, be aware that not only do different phones display these images differently, but they can cost more than sending a regular SMS message.
3. Sending campaigns
Campaign timing
Just as you most likely wouldn't send your friends or family a text message in the middle of the night, you want to be careful when choosing times to send your text messages. For example, sending your marketing messages between 9 a.m. and 8 p.m. in the recipient's time zone will likely lead you to see more immediate engagement during those times. A best practice is to test different send times that will work for you and your audience, just as you do with your email marketing.
Frequency
While there's no hard and fast rule around how many messages you should be sending your audience, it's a good practice to reach out at least two to four times per month to stay top of mind. Similar to your email marketing, it may help to stick to a regular schedule so your audience can expect when they'll be hearing from you and can look forward to the latest news and events. It's a good idea to keep an eye on your unsubscribe rates and adjust your frequency based on how your customers are responding. 
Pair with email campaigns
Just because you adopted SMS marketing doesn't mean you should forget about your email marketing. In fact, pairing your SMS and email marketing campaigns can increase their effectiveness. While email marketing leans toward long-form content with all the details included, your SMS campaign can ensure your audience has seen your latest newsletter or can send them straight to your landing page through a call to action. SMS messages may be more convenient for your audience to interact with, so use that channel to get the point across quickly and learn more about your audience's preferences. Through those insights, you can tailor your email campaigns to better target their needs.
Automated campaigns
Another way you can build your SMS marketing campaigns with lower effort is by scheduling and automating repeat messages. For example, schedule a birthday message that includes a discount for your customer to use. For those lapsed customers, re-engage with them by scheduling and automating campaigns to go out to them if they haven't interacted with your business or purchased from you in a certain amount of time. With some effort on the front end, these automated tactics can make your customers feel like VIPs.
4. SMS marketing examples
Interested in thinking about sending your first SMS marketing campaign soon? Here are eight text message marketing examples that can get you started.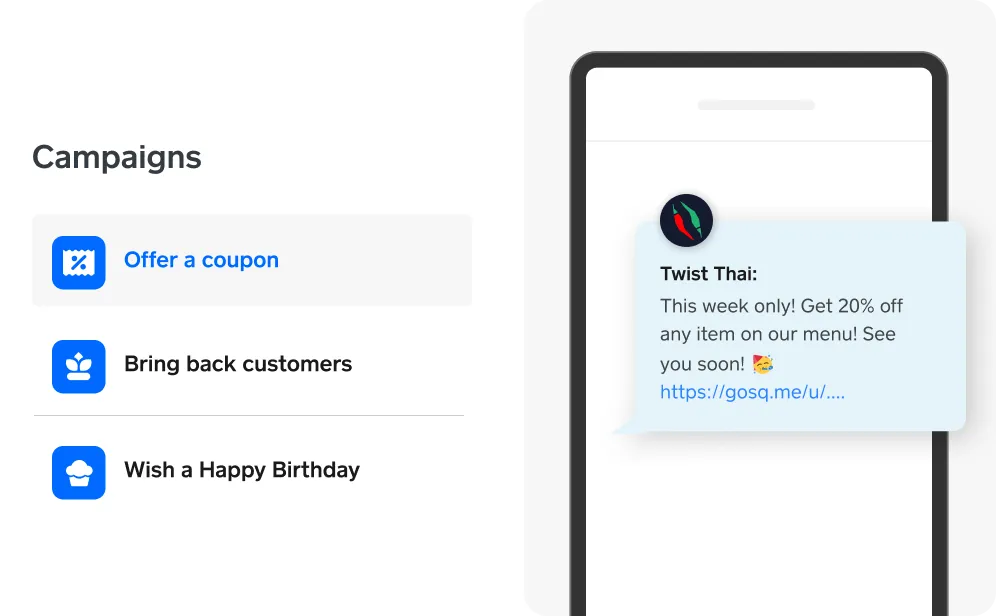 Welcome campaigns
When a consumer first signs up for your SMS marketing, you will want to have a welcome message automated and ready to go. Your welcome campaign should list who you are, your business name, what type of content they can expect to receive, and how they can opt out. As well, a best practice for an SMS marketing welcome message is to thank them for joining and offering them something in return, such as a discount.
Flash sales and promotions
Because SMS marketing messages are seen by a majority of your audience within minutes and have a much higher open rate than emails, send your flash sale announcements and promotions via text message. Be sure to include the direct link to the sale as your primary CTA.
Special occasions
You can make your customers feel like VIPs by sending personalized birthday or anniversary campaigns letting them know you're thinking of them. These are great SMS marketing message examples to use with a fun image or GIF.
Abandoned cart
Abandoned carts are common with eCommerce businesses, but SMS can be an effective way to give your customers a nudge and increase online conversions. To get your audience to take that final step, send them an abandoned cart SMS campaign. Remind them that they might have forgotten to finalize the checkout process and offer them a discount code to use on their purchase immediately.
Get customers to come back to buy more
Gain more recurring customers and repeat purchases by interacting with your lapsed SMS contacts. Personalize a message to them with a discount code that can only be used in a certain amount of time to trigger impulse purchases. Remind them of a product they purchased last time that they may either need to refill or replace. Ask them to rate their last purchase for a discount code. There are endless ways you can use SMS marketing to bring in those repeat customers.
New product or service announcements
If you've added a new product or service to your offerings, let your customers know right away. SMS marketing can be a great way to let your subscribers know that you've finally released that product they've been waiting for or brought on that service that they've been missing out on.
Price-drop alert
Nothing says urgency more than a price-drop alert. Whatever the reason is for the price drop — low inventory, sale, etc. — share this with your subscribers so they can take advantage of the break in price. Your customers will thank you and will be more likely to shop with you again in the future.
In-stock notifications
You may find that your customers have staples that they can't live without from your business. If these staples tend to sell out fast, use text message marketing to let them know within minutes that you've restocked. Chances are you may sell out again just from sending an in-stock notification campaign for a staple item.
5. Bonus tips
Once you send your first SMS campaign and begin to master these best practices for SMS marketing, there are some bonus tips you can use to take your marketing to the next level. Go beyond marketing and use SMS to provide a real-time help desk or customer service option for your subscribers. They'll get their questions answered right away without having to wait for a call center to open or be put on hold.
Additionally, you can offer after-purchase customer care, such as updating them with their billing information or sending shipment and tracking updates. If your business requires appointments, send notifications of your subscribers' upcoming appointments to remind them of the time and date and give them options to reschedule or cancel if need be.
Lastly, as you grow your SMS marketing subscriber list, work at segmenting your customers so that you can later target them with relevant and personalized campaigns. Just as you've seen in email marketing, segmenting and targeting SMS campaigns can increase your click-through rate and purchasing likelihood.
Get started with these text message marketing best practices and make your next outreach the best it can be.