Table of contents
As restaurants have adapted and adopted new technology in recent years, tactics that were once used as a means to accommodate safety and customer needs during the pandemic, are proving to have real staying power. 
While plastic dividers may be gone and indoor dining has returned in many places, technology solutions that streamline operations and bring a better customer experience might be the future. One example is QR codes, which have become a leader in the way customers order and pay at restaurants. 
QR code ordering is here to stay
QR codes are becoming increasingly popular as a means for dine-in ordering from a restaurant. Typically, when customers are seated at a table, or seat themselves, they sit down to find a QR code already placed on their table with some straightforward instructions on how to use it to place an order and pay. 
By using their phone camera, customers can then pull up a menu and place their order directly. For restaurants, this streamlined way of ordering brings a number of benefits. 
The Junction, located in Mill Valley, California has seen significant benefits to their business after implementing Self-Serve Ordering, and now orders placed through QR codes account for 56% of all orders they receive. "QR codes have revolutionized the industry and I can't see anyone going back," says Liz Fielder, Owner of The Junction. Square also found that on average, businesses see a 35% increase in sales within the first 30 days after implementing Self-Serve Ordering with QR codes.
An increase in orders isn't the only benefit for Self-Serve Ordering. QR codes give customers more control and independence that has proven to be a positive for most. "Self-Serve ordering is available on all Square Online plans—including the free plan—so by setting it up, you get tons of other features like pickup, delivery, and pre-ordering too. It's a win-win for everybody," continued Fielder. 
Lower staffing costs
With the power of placing an order in the hands of the customer, your staff can focus on other tasks. During rush times, your restaurant staff has more time to manage and maintain guest experience and food quality when they aren't focused on the more transactional aspects of taking orders and payments. 
This was especially true for The Junction. In their own words, "Our labor cost percentage for an entire beer garden is 150% less than it was when I owned a 300 square foot shop, and that's entirely because of QR code ordering."
This can also be an especially helpful solution to supplement labor if you're struggling to find enough staff.
Higher sales
We've all experienced that moment of feeling inexplicably flustered when a waiter walks up to your table and asks what you would like to order. You might be deciding between two items, or even want both, but for whatever reason you order an item you might not even want. Other times you might decide halfway through your meal that you wanted to order something additional but didn't want to go through the hassle of flagging down your waiter or waiting for them to come by and check on you. 
With digital menus and Self Serve Ordering, situations like ordering anxiety can easily be remedied for your customers, and they might even mean that customers who held back on ordering are feeling more confident to order what they want and more. Businesses using Square that have enabled open tabs on Self-Serve Ordering see 42% higher average ticket sizes because guests can easily keep ordering more on the same pre-authorized tab.
Another contributing factor to restaurants seeing higher sales after implementing QR codes is that with immediate access to the menu and the bill, customers are ordering and paying faster so you can turn your tables over more often. This allows restaurants to serve more customers per day, and staff to collect tips from more parties.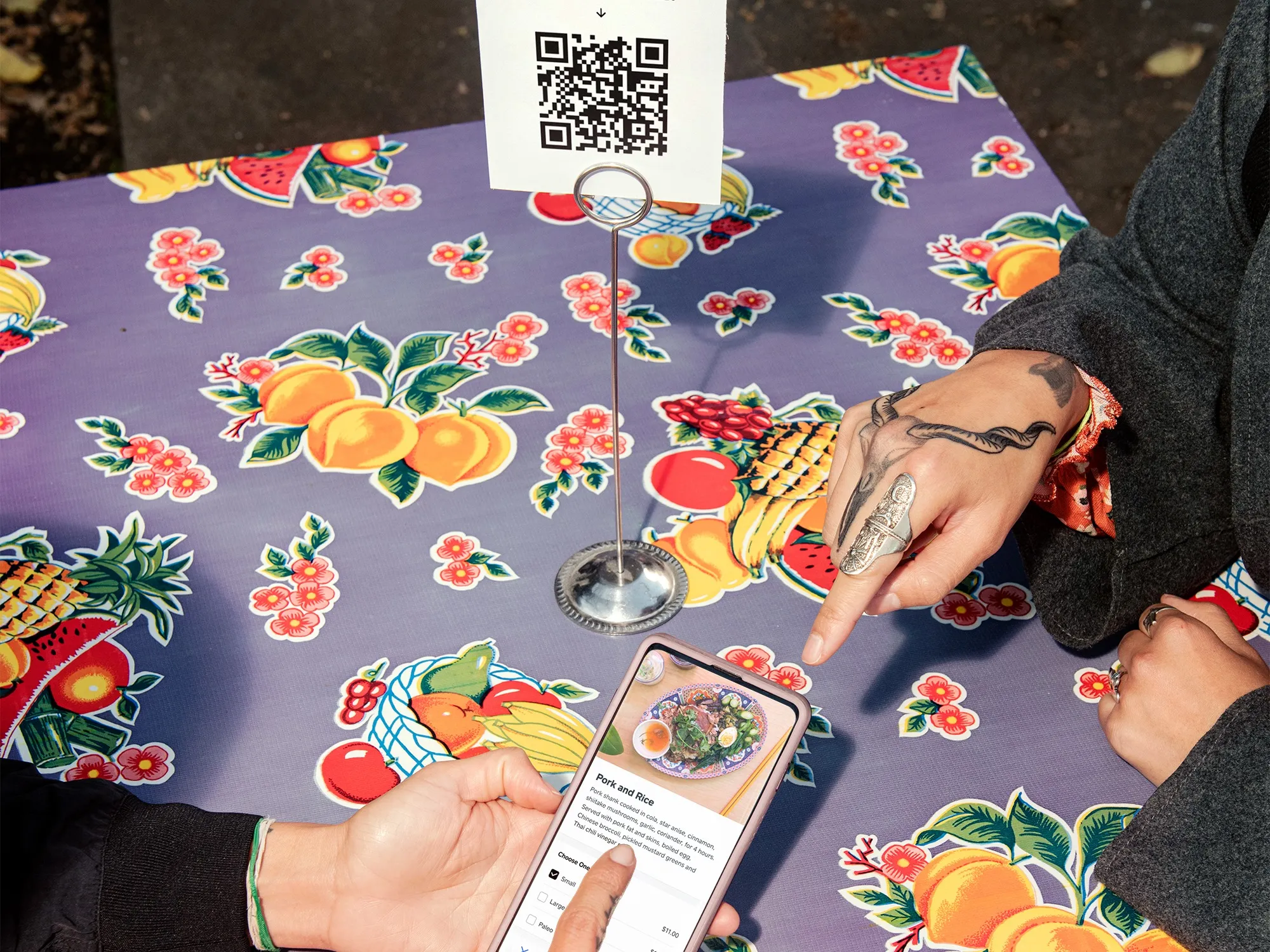 More ordering insights for customer retention
QR codes enable more freedom, and in turn, you might notice customer ordering behavior changing slightly. Customers feel more comfortable exploring your menu, helping you get a more genuine understanding of what your customers are looking for. 
Using a digital solution for your ordering also allows you to collect more valuable information that helps to build strong customer relationships and drive loyalty. With the email addresses that The Junction received through customers placing self-serve orders, they were able to alert those same customers about upcoming events through marketing emails, which they found to be even more effective than anticipated.
"You collect information from every guest transaction, so we have over 15,000 contacts we can email or text using Square Marketing. We actually had to stop sending out emails for some of our bigger live music events because so many guests were showing up!" says Fielder. 
A better customer experience
For concerns about customers getting enough attention and receiving the right orders, with digital ordering solutions that are integrated with your POS and kitchen management system, restaurants have been able to become even more efficient and provide a better experience for guests. 
"Each QR code is uniquely mapped to one of our tables or other seating areas, so when a ticket prints, it's easy for the bartender to fill and for the runner to know exactly where to deliver food, drinks, or merchandise," explains Fielder. 
Overall, restaurants like The Junction have seen overwhelmingly positive results by providing more ordering channels like QR codes, and their customers are happy with the technology, too.  
"We've gotten nothing but amazing feedback on QR code ordering. Regardless of the pandemic, this is a model our customers prefer. It's faster, it's easier, and guests still feel like they're getting a lot of personal interaction."