Table of contents
Just a few years ago, Ice Cream Social owners Victoria Roedel and Mike Weiss set out to restore a Good Humor truck, a fun project meant to serve as a promotional element of their ice cream-themed digital agency. What was meant to be a side hustle became a full-blown business. Today, they have multiple trucks in their fleet, service two cities, and regularly expand their season from summer to fall.
Now, they're exploring the event space.
How one business became tw
o
"I see us as a multihyphenate [business] because of the nature of our business. We started as a media agency with an ice cream truck to promote it," said Roedel. She added that within a few years, the ice cream truck was so successful that it became a business in itself. "We were able to diversify our revenue streams between the ice cream truck as a seasonal business and the media agency as a year-round business."
Although the truck started first in the Detroit area, the duo has since expanded operations to serve Chicago as well. Growing up in Detroit, Weiss always dreamed of living in the Windy City, and when the pandemic happened, a happenstance visit to Chicago became an unofficial move to the city. Today, Ice Cream Social uses the new office space for both the truck business and digital agency. Having these multiple locations allows them to explore new extensions to the business. Although Chicago is the second city for the ice cream truck, it is the home base for the ad agency, and their hopes are to emulate the success they've had in Detroit.
Navigating the events industry
"The events are really, really significant for us. When we first started the ice cream truck business, it was focused mostly on neighborhood routes and street sales," said Roedel. "This year we have events going on in both Michigan and Chicago, we've expanded in two cities, and we have promotions happening in both cities." 
Moving into the events space helped increase their profits, and in the last few years, Roedel and Weiss have increased the business's ad budget, optimized creative across social media, and ventured into partnerships to promote themselves. 
For Ice Cream Social, the first step to moving beyond smaller events, like birthday parties, was getting involved in local events and street festivals. Using these smaller events as a test run, the team began preparing for a large-scale event this August.
Scooping

up new customers at Lollapalooza

Lollapalooza has always been an aspiration for Roedel and Weiss. This year, when the applications opened, they were quick to apply. Once they were accepted, they leaned on a local ice cream shop partner, Pretty Cool, who had experience at Lollapalooza themselves. Using Pretty Cool's advice, they started planning ahead. With an estimated 125,000 people a day frequenting the event, they prepared for about $5,000 in sales a day over a four-day stint.

The largest event Ice Cream Social served was around 2,000 people, until Lollapalooza. They set to work curating a wide variety of modern to novelty pops and ice creams while mapping out how to store and move that inventory from an onsite freezer.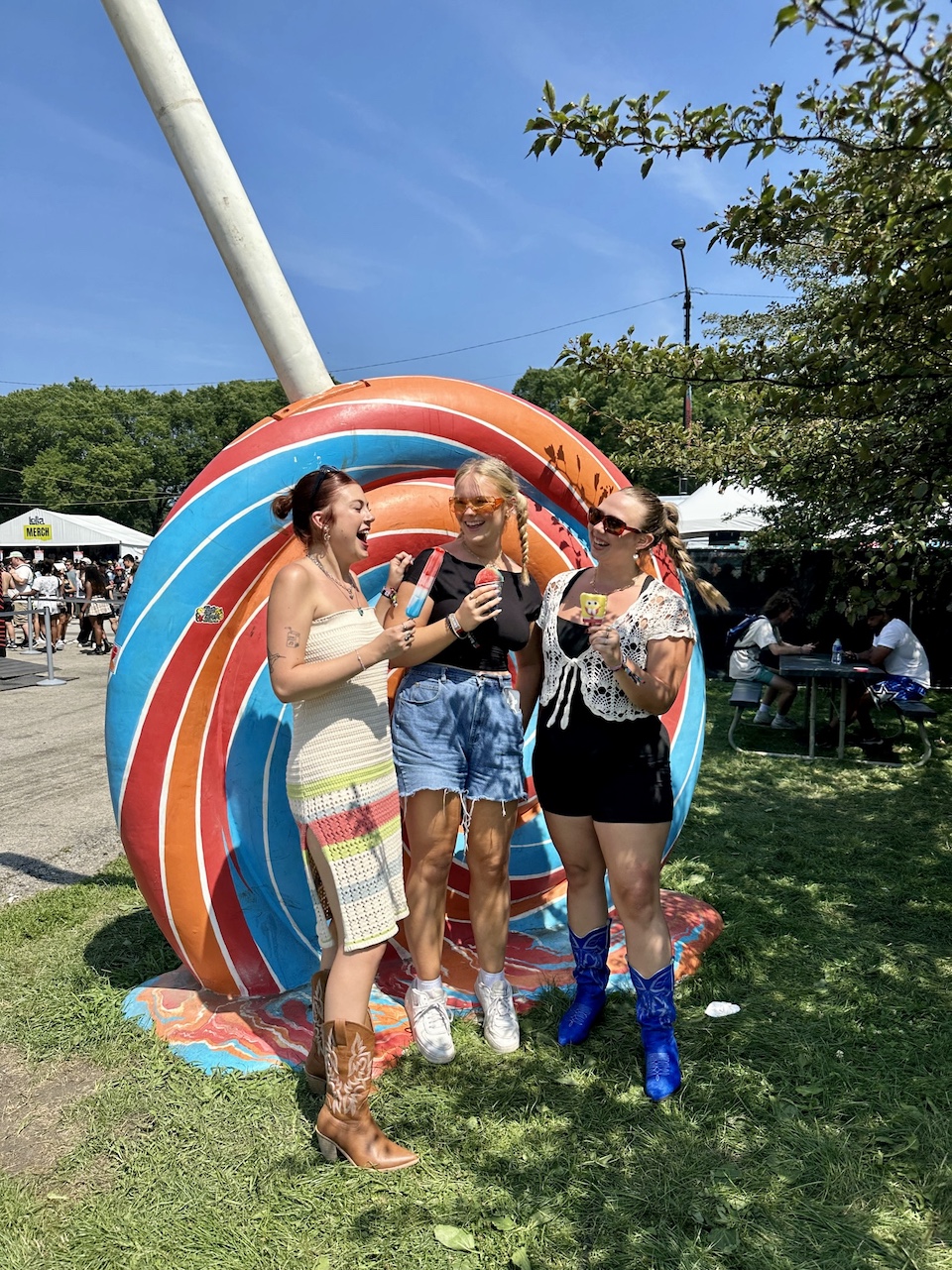 Ahead of Lollapalooza, Ice Cream Social worked with a designer to create its first custom merchandise for the event as a test to see if they could eventually expand these designs to more apparel in the future. 
Reinvesting in the future
A few weeks later we caught up with the Ice Cream Social team after the event. The bet on merch paid off. "We received tons of positive feedback in our DMs (direct messages), comments, and in-person at the festival," said Weiss. "Lollapalooza was the perfect setting to tease our online merch store, which is launching this fall." After four days at the festival, the duo says they beat their benchmark by a mile and saw 120 transactions an hour during busy times. They ultimately made about as much money as they would in an entire summer's worth of business. The team also saw a 200% increase in organic Instagram engagement, with features from fans, content creators, and brands.
Weiss says their philosophy remains the same. "We take the profit from our business ventures and reinvest into that business venture and then invest into new ones. The success of our business in Michigan led to the expansion in Chicago, and we were able to use our profits to drive that expansion." He says that those agency profits are also being reinvested to produce a documentary about ice cream trucks in America.
As for the future, not only is Ice Cream Social starting to hire more staff, they're working towards a new goal — opening a brick-and-mortar location.