Table of contents
Instagram is one of the best social media platforms to engage and connect with your customers. And with over 1 billion users on the platform, it's likely the most-used social media platform by your customers. 
Getting started with Instagram for your business is your first step, but once you're up and running you need to really think about the content that you post and how to best optimize it to boost your brand. You can, and should, build a strategy, but as with all social media, be prepared to adapt based on what performs the best with your audience. 
We spoke with Ice Cream Social, a social media agency and ice cream truck business all in one, about what a business needs to know to optimize its Instagram. Mike Weiss and Victoria Roedel are business partners and social media experts and, as small business owners themselves, they have a deep understanding of what to look for to make the most out of your Instagram content. 
1. Invest in creative content
Instagram is the most visual social media platform and it requires businesses to put their best foot forward when creating eye-catching content. "Instagram of all the platforms is the one that demands the most creative attention. It's the one where you want to have your aesthetically curated feed," says Mike Weiss, Partner at Ice Cream Social. "One of the biggest pieces of advice that we give to clients is investing in creative should be a top priority because that is the way that the world experiences your brand and you want to make sure that they're getting the right feelings, the right emotions, the right desires to buy if that's what people are looking for." 
2. Create an open community
Instagram provides an opportunity to connect with your audience and build a strong community of people who support your business." Social media is where people go to talk and be social. Just having an open dialogue with your fans, your customers, is really important," says Victoria Roedel, partner at Ice Cream Social. Comments aren't the only opportunity to interact with your audience either — as a business you can utilize your DMs. "We do a lot of our business through Instagram comments and Instagram DMs. So people will ask about our business, ask where we go in the neighborhood, ask us if we want to do events or parties."
3. Find your aesthetic
When it comes to Instagram, you might feel like you need to create an aesthetic that is similar to your competitor's or one that is super trendy. While it's important to keep a pulse on what's popular and what's resonating in your industry, it's more important to create an aesthetic that is true to your brand and feels genuine. "Focus on what makes you different, what makes you unique and eye-catching," says Weiss. Finding your style is an opportunity to experiment and play around with what feels authentic and resonates with your audience. 
4. Be flexible and lean on your insights
With an Instagram Business account, you can view analytics and promotional tools. These will help you get a deeper view of how your content performs and, subsequently, what resonates with your followers. But don't just look at the numbers — the sentiment in your comments can give you more insight into what your customers do and don't like than likes and comment counts. "Looking at the comments is really important because that's how you know that people are engaged and that they really care about what you're sharing." says Roedel.
5. Explore different content mediums
One of the best parts about Instagram is that you have the ability to explore different content mediums and experiment with what works best for your business. Try out static images, in-feed videos, carousels, stories, Reels, and IGTV to find what resonates the most with your community and what you like the best for your brand. "We started off with static images because we were just starting off with Instagram and just wanted to get content out there on our feed," says Roedel. "As we got more comfortable and got more followers on Instagram we started getting more comfortable posting videos and experimenting with Reels. Reels have been really great for us as a tool. In terms of the algorithm, Instagram prioritizes Reels so you get more views and reach, even if you're a small business like us, so we've found Reels to be super valuable. Tiktok and Reels are really similar, so if you already have a TikTok you can repurpose your content for Reels, and vice versa."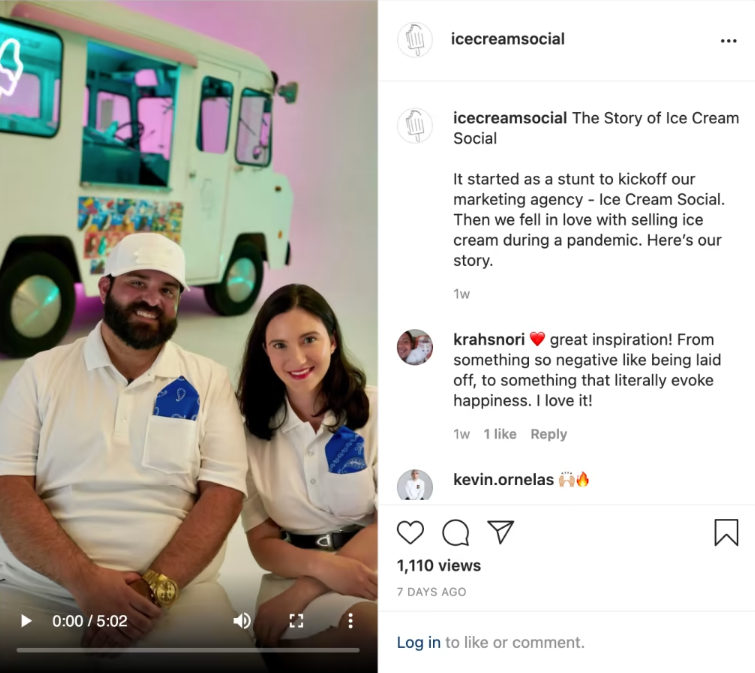 6. Keep Stories in the moment
As you're learning the different types of content across Instagram, Ice Cream Social has a good rule of thumb to remember for Stories in particular — keep them in the moment. "Instagram stories should be real-time. Anything you're doing at that moment or that day. Us, for example, since we're an ice cream truck, we'll post the neighborhood that we're heading to or the neighborhood that we're in at that moment" says Roedel, with Weiss adding that "Stories, since that content only lives for 24 hours, is a great place to give a peek behind the curtains. Content that's a little less polished or premium can live on Instagram Stories because it's not going to be everlasting on the feed and it gives followers that behind-he-scenes look."
7. Utilize social listening for content
When Ice Cream Social noticed that ice cream truck-related Tweets were performing well on Twitter, they came up with the idea of visually sharing tweets on their Instagram. "Around 2017/2018 it was discovered that Tweets were being widely shared on Instagram and that's how they were gaining traction," says Weiss. "We leaned on that insight, that Instagram users were craving Tweet content and we also discovered that there was a lot  of conversation volume around ice cream trucks on Twitter and we wanted to bring that conversation to our Instagram."
By being aware of broader social media trends, and what customers and followers are saying about your industry and brand, you can capitalize on user-generated content. "If you're a business that has a lot of people talking about you or your products, definitely take advantage of that, because that's content that's already being made for you," advises Roedel. "People who already have the creative or are already being funny, you should highlight that."
8. Be realistic about your resources
You might feel pressure to do everything across all of the social channels all at once, but that is likely not the best strategy, especially if you have a small team. "It's definitely important to consider up front how many resources that any given brand is willing to dedicate to social. Social is a full-time job and it's important to have the appropriate resources dedicated to the platforms you're running so that everything can function efficiently," Weiss notes, adding that when it comes to running social accounts for your brand, there isn't just one way of going about it. "There are different ways you can go about every different thing. You can have a community manager to stay on top of trends. There are also lots of tools out there that do that. The most robust ones can be Sprinklr all the way down to The Later Blog, who is really helpful in understanding the aesthetic changes on Instagram and also helps for scheduling posts and things like that.  There are free tools, there are robust tools, and you can even get a lot of insights just by Googling or searching Tweets on Twitter and seeing what kind of results come up."
9. Explore paid options
If you have the budget available, paid promotion of your Instagram can be a valuable option to explore for expanding the reach of your content.  On the benefit of paid promotion of Instagram ads, Weiss notes, "There's a lot of value in [paid promotion], especially for awareness. Even as a small business owner you can run Instagram ads through the app with a credit card for as low as $5 and those can help you get engagement, they can help your reach, they can help with follower growth. If you want to spend more money, you can get into Facebook Sds Manager, where you can spend thousands of dollars. There are a lot of tools and resources out there for paid and there's a lot of value in it." 
10. Be authentic,  be consistent, and focus on quality over quantity
Above all, Ice Cream Social encourages businesses to focus on being true to who they are. "Be patient, Instagram is one of those slower to grow platforms, it's super saturated, and there's a lot of competition. You need to know your audience, know what they like, know what they want, and know how to talk to them. Trends are good, but only join trends that make sense for your brand. Be authentic and be consistent," says Roebel.