When it comes to choosing a new salon for a haircut or a barber shop for a shave, it's no secret that customers have a lot of options. What exactly serves as the tipping point to bring them in the door?
According to our recent survey, nearly 40 percent of consumers depend on recommendations from friends or family members when it comes to deciding to try a salon. After that, 17 percent cite positive online reviews, and another 10 percent say that taking credit cards is the deciding factor.
Our survey of 1,800 U.S. consumers — which highlights trends in how they discover, choose, and recommend new businesses — also found that a promotion or referral bonus is another crucial factor for customers to schedule their first appointment.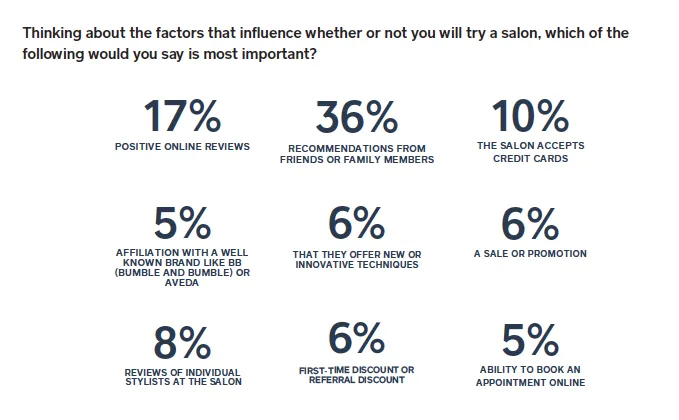 Here are a few steps to target the most influential factors that bring customers through your salon's door.
Encourage friend and family recommendations
Customers are strongly influenced by recommendations from friends and family. In fact, friends and family are the recommendation go-to for customers looking for a salon. You can encourage personal referrals using tactics like referral programs and user-generated content.
Bring in positive online reviews
Almost 20 percent of consumers reported positive online reviews as the most important factor in deciding on a salon. Consumers are most likely to seek out online reviews on Google Reviews, so ensure your business has a strong presence on Google's business platform. Be proactive by claiming your business listing and having a strategy for responding to reviews, both positive and negative.
Accept credit cards
Eighty-four percent of survey respondents said it's important to have the ability to pay with a credit card. This is particularly the case at certain types of businesses such as salons and retail. Accepting credit cards can also help you appeal to a younger set of customers, and help your business innovate. More on why you should accept a credit card here.
Offer a promotion or a referral bonus
Everyone loves a deal. You can always bring in new customers if you offer a first-time promotion, sale, or referral discount. Just be strategic about when and how you offer deals to ensure that consumers get a favorable impression of your business.
Online appointment bookings
An online salon booking system is key. Sixty-one percent of consumers expect online appointment booking from a business, or think it sets them apart, according to Yodle Insights. Respondents in our survey also marked it as an important feature. If you don't have online appointments yet, consider setting up appointment software for your business. If you're an individual, Square Appointments is free.
Want to see more of the survey results? Download our Salon Playbook: Finding and Winning New Customers.