Table of contents
Malena Vasquez has been interested in photography all of her life. She's had a camera for as long as she can remember, starting off with a point-and-shoot, but she didn't grow up considering her passion as a potential profession.
"In Latin America, you don't see any type of art as a career," Vasquez said. "So I never thought about it as a way to have a business and make money."
That changed when her sons were leaving for college, and she was looking for a career option with a flexible schedule, which led her to real estate. After getting her license, Vasquez looked into headshot photographers referred to her by her real estate company, but all of them were busy.
"And I realized they were charging a lot of money for headshots," she said. "And I was like, 'Why? Why is somebody going to pay that much money for a picture? I can do it myself. I have a professional camera, I have a professional lens. I'll do it myself.'"
Six years into her successful new career, Vasquez shares her tips for breaking into the headshot photography industry, connecting with clients, and growing a professional services business.
1. Do your research
Vasquez started searching online for anything about headshots and came across the expert Peter Hurley, who offers online videos and in-person workshops.
"When I started watching his videos and how he connected with people, it was not just about taking a picture," she said. "You are more like a therapist than a photographer. When you have the technical skills, it's just all about connection with the person that you work with. And it just clicked. And I was like, 'Oh, I want to do this. This is it.'"
Vasquez tried taking her own headshot with the help of a friend but the first batch didn't come out the way she wanted. She considered stretching her budget and going to one of Hurley's workshops, but before charging it to her credit card she sent Hurley an email asking for advice.
"He emailed me back right away," she said. "I was surprised."
Hurley suggested getting started with his video courses first and saving the workshops for later on. She also joined a community of headshot photographers that helped her learn and make connections. She started practicing more, asking anyone who stepped foot in her doorway to let her take their headshot portrait to build out her portfolio.
2. Make clients comfortable
Vasquez said the most important thing about her work is the way she connects with clients.
"I treat them all equally," she said. "I don't care if it's the CEO of a huge company or it is the secretary or the receptionist. I don't care. I treat them all like human beings and try to make them look the best as possible. And I always tell them, 'If you're not a CEO, I want to make you look like one.' Like, fake it 'till you make it."
If a new client walks in who appears uncomfortable with being photographed, Vasquez will quickly make small talk to distract them from any stress about being in front of a camera.
"After I do that first connection, I get a feeling of how they react," she said. "You see when the people are shy, when they're outgoing, if they're uncomfortable. Most people, the first thing they say when they walk into the door is, 'Just to warn you, I'm not photogenic. I'm going to be a problem. You're not going to get a good picture out of me.' And I laugh and say, 'Yeah, yeah, 99% of my clients say that. I'm going to prove you wrong.'"
Vasquez also likes to talk to clients about their business and how they're going to use the headshots. She asks clients to bring multiple outfits and helps consult on which items make the most sense for different audiences.
She starts shooting, encouraging her clients to play along if she asks them to pose in weird ways, until she gets one good shot.
"When I get a shot, the pictures are popping up on my screen in real time," Vasquez said. "So I make them come to see, and I show them the difference, and that makes the switch. If they were still hesitant by then, all the fear's gone, because they see a picture and they're like, 'Oh my gosh, is that me? Oh, wow.'"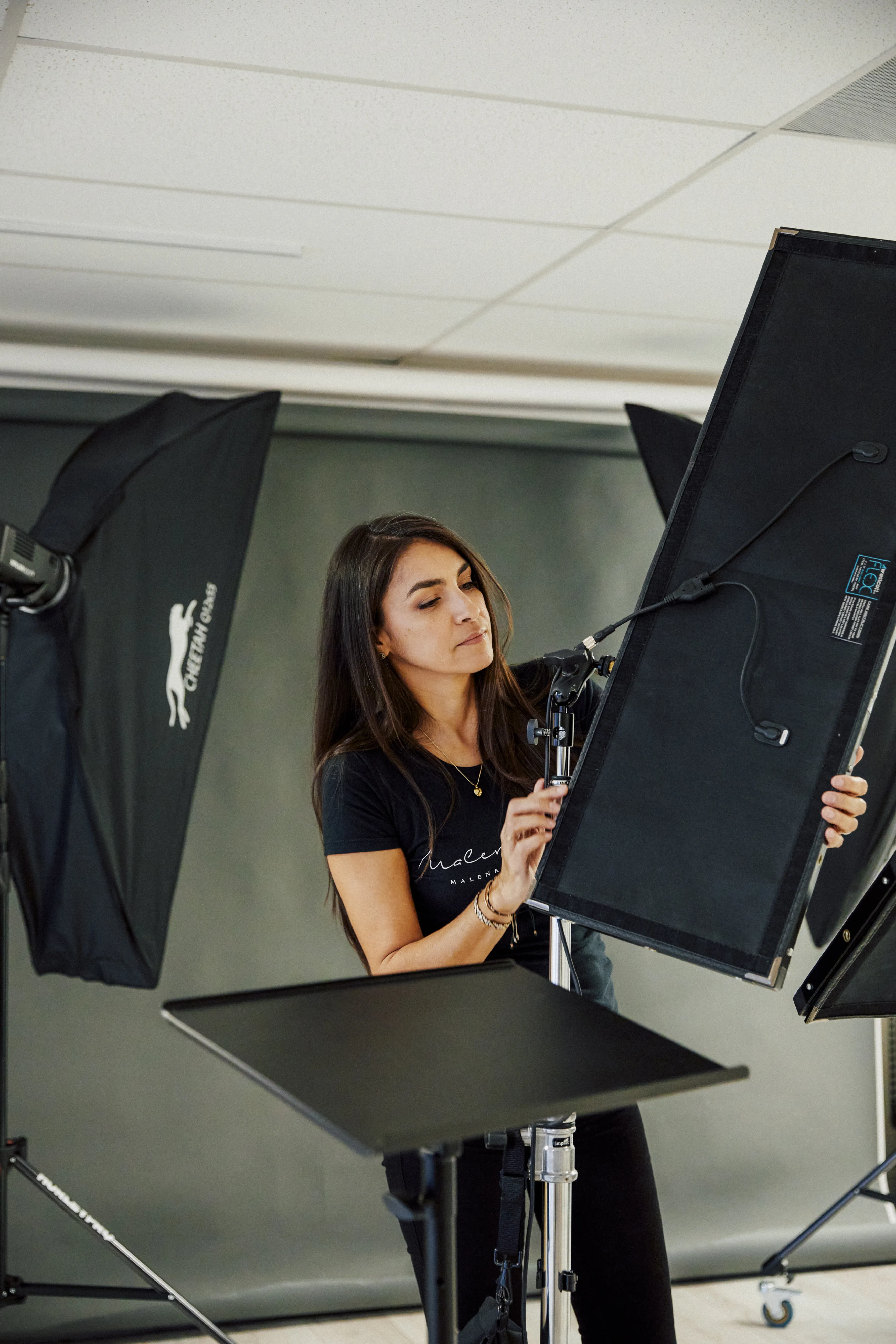 3. Take your time
With every client having different needs to get the right shot, Vasquez said that patience is key to having a successful appointment.
"If I have somebody that has more difficulties getting comfortable, I just give the same energy. I don't become impatient. I tell them not to worry. That that happens to a lot of people and it's normal, nobody's used to being in front of the camera. Especially if they're corporate clients, they hate to be in front of a camera. And I tell them, 'That's my work. I shoot regular people every day, I don't shoot models, I don't shoot perfect people that are in front of the camera all the time. I shoot regular people out on the street and I try to make them look perfect.'" 
"It's more like falling in love with themselves again and getting a confidence boost about themselves, and it works. When people feel that in the first few shots, then the rest of the session goes smoothly."
4. Focus on growth
Vasquez started with a home studio and began charging clients about a year later, after she felt comfortable with how much she had learned. That eventually led to an office space and regularly doubling her income year-over-year.
Taking on corporate clients and working at big conferences has been one key growth area.
"At big conferences with a lot of people, I have like five or 10 minutes per person," she said. "That is not difficult, because when they are waiting for their turn, they see the pictures of the other people. So it's actually easier. They already know that I can take good pictures. And then once the first two or three are done and they see their pictures, they go and tell everybody to do it too."
While the price of Vasquez's bookings comes with one headshot, she keeps a Square Reader on hand at all of her sessions. Many clients end up liking multiple pictures when they go through selects at the end of a shoot. They want options for different audiences and business scenarios, which helps Vasquez generate more revenue from each session.
Here are a few more ways Vasquez has been able to grow her business and her client base since starting out: