Slapping a PDF of your menu on your website might be easy, but it isn't the most elegant solution (cough, 2001 called). But upgrading to an interactive version can seem like a daunting task. Will I have to learn HTML? Hire a developer? How much will that cost? Is it even worth it?
If you've struggled with these questions, we have some good news. We've refreshed our free menu embeds feature to be as simple and easy as possible, even for the non-tech savvy. What's more, the feature comes equipped with pre-order and online checkout so you can get ahead of the curve for your customers. Which means less time on phone orders and more time for you.
The design is also super-slick. You can even customize it to fit your site's look and feel. Check out how San Francisco's Boba Guys did it. (Mmmm, milk teas).
If you're set up on Square Market, all you have to do is sign in to your Square account and choose Menu Embed under the Promote tab. (If you're not set up on Square Market, click here to get up and running in just a few minutes). You can find more information on how embedded menus work here.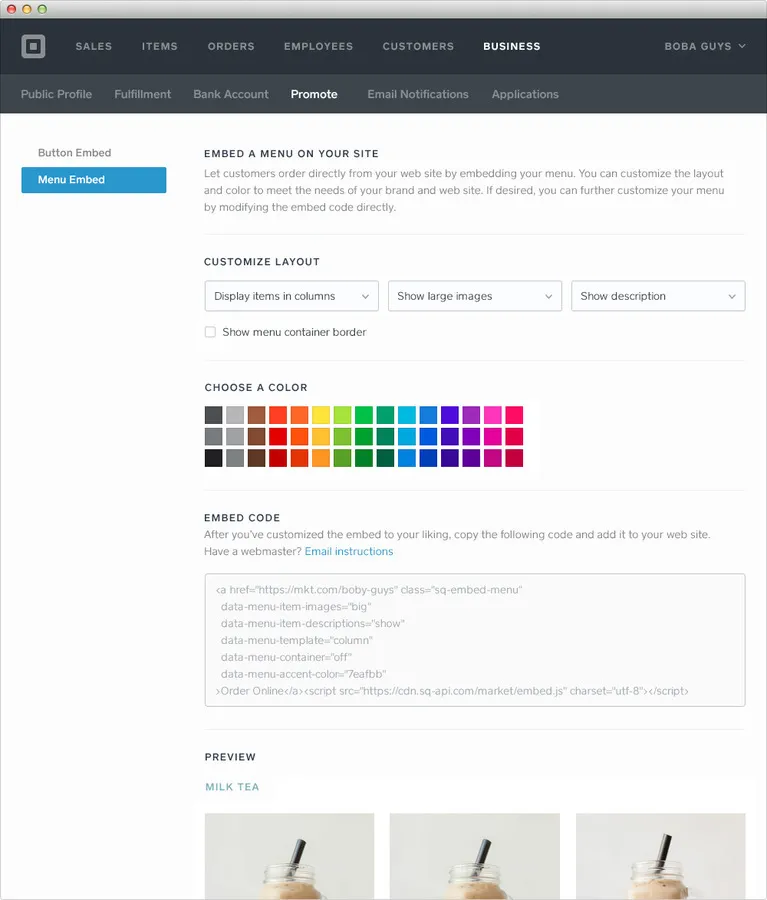 If you are interested in adding an interactive menu to your website, please log in to your Square Dashboard to schedule time to speak with a Square Business Services Representative.