When Mary, a school teacher for 26 years, wanted to earn extra income for her daughter's college education, shaving ice over the summer wasn't initially what she had in mind. After working for a local Kona Ice truck for one summer, Mary fell in love with the popular franchise. And when the opportunity arose to buy a truck from the woman she worked for, she jumped at the chance to become a business owner herself.
"Shortly after buying my own truck, I bought the territory I lived in and everything fell into place. I was scared to death at first but I really dove in headfirst after watching videos on the Kona Ice web page. I truly fell in love with Kona Ice and the mission."
What started out as a seasonal business that would fill Mary's time from April to late fall is now her full-time job. She has three separate Kona Ice trucks and seven employees who work for her during her busy season. We talked to Mary about growing her business.
Square: How do you prepare for your busy season?
Mary: My busiest month is May, and I have all three units rolling every day of the month. I have to mentally prepare for it, and I have to prepare everyone around me. My friends and family know that they won't see much of me April through November. That's a sacrifice I make running my own business.
As far as preparing my business for the busy season, I train my employees and spend time getting extra supplies like flower leis, flavors, cups, napkins, sugar, and a lot of ice. However, you're just coming off winter so money is tight. I worked really hard in April to save up for May so I would have the supplies I needed.
We also have to prepare our trucks to make sure they're clean inside and out and that our equipment is in good operating shape. I just know I'm so busy during this time that I worry about making a mistake. I'm a perfectionist so I double-check everything.
As I gain experience, it's easier to predict the supplies and staff I'll need, but sometimes you do run out of ice or spoons and you need to have a backup plan. For those times I always have someone on standby, just in case.
What was your biggest challenge in growing your business?
Cloning myself. Meaning, I was trying to work a full-time job and run my Kona Ice business, and I couldn't do both with just myself, so I relied on my family and friends often for help. Eventually, though, it became too much, and I needed to hire employees. I needed to get help before I burned out or got overwhelmed.
Hiring employees is like leaving your baby with a babysitter for the first time. You worry, you tear up as you watch the truck roll out of the driveway all by itself with a new driver, but you just have to let go. It's hard, but you just kind of do it.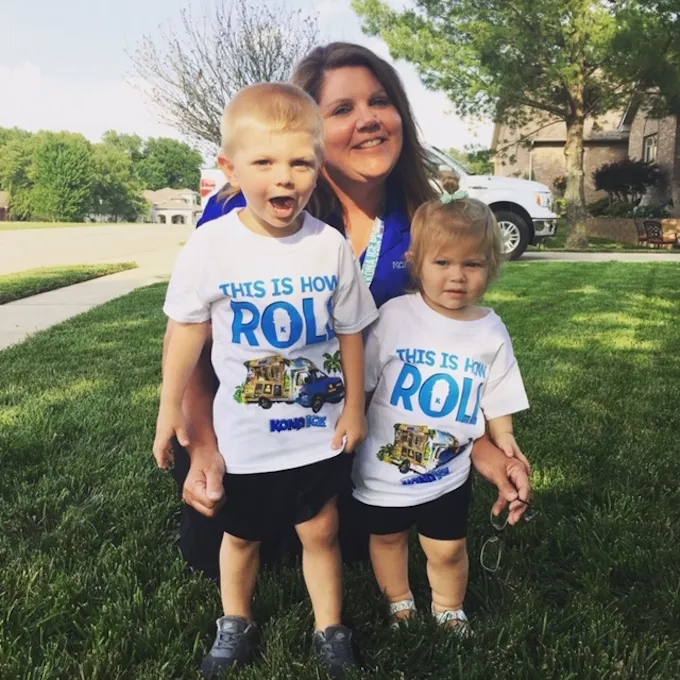 How do you find good seasonal employees?
My best hires have all been referrals. I have a teacher friend that has been with me since day one. I also have two daycare workers I met visiting the daycare centers with Kona Ice. A lot of these girls work four days a week, and so when they get a day off, they'll work Kona for me. I also have three young girls that I taught in grade school now working for me. They have farming backgrounds, and they are such hard workers.
There are times when I'm in an extreme bind, and I'll have a friend or my family come help me and save the day.
How did you go about navigating payroll and taxes for your business when you didn't know anything about that part of running a business?
Once I had real employees, I had the challenge of figuring out how to pay these people. I didn't know anything about payroll, taxes, W-2s, or any of that stuff. I didn't even do my own taxes before I started my Kona Ice business. My husband paid our bills and we have a tax man, but this was something I knew I wanted to do myself.
I knew about Square because I had started with the card reader. I knew that if we wanted to break into the market and be able to have everyone buy Konas, we had to take debit and credit cards. As that started to ease us into the market, I knew I was going to use Square Payroll once I brought my employees on.
Getting started was so easy. I figured it out mostly by myself with a little help from Square. I even remember running payroll not knowing if I had done it right because it was so simple. Running payroll only takes about five minutes. When it's time to run it, I get a reminder by phone and email. I log in, look at timecards, import timecards, hit "Pay my employees," and I'm done! I'm totally done! It's that easy.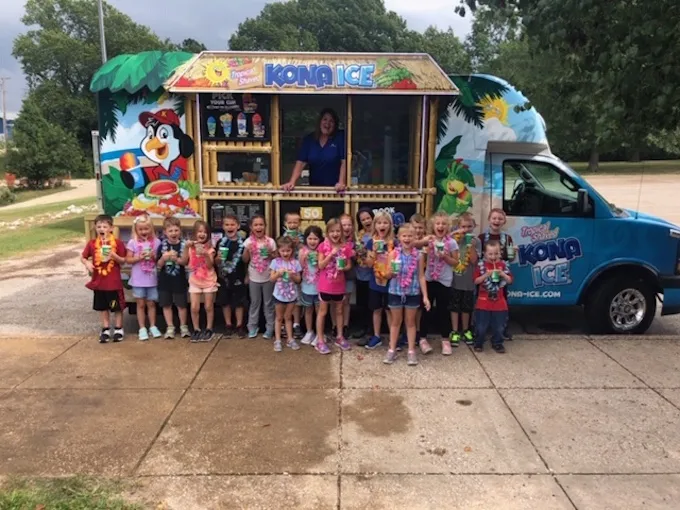 In your fifth season, what advice do you have for other seasonal business owners?
In the beginning I overextended myself because I just wanted everyone to have the Kona experience. I had a hard time saying no. But my advice would be to take a day off, don't work 12- and 18-hour days every day — try and give yourself a day off a week. And when people offer help, take it.
Finding a balance between personal life and work is my biggest concern. For example, my niece is getting married, and I chose work instead of going with her to pick her wedding dress, and I missed a moment I can never get back. I regret missing something so special, but that's the thing about owning your own business, you don't have a lot of people to rely on.
You need a lot of understanding friends and family, but it also can't be your whole life. But that's easier said than done.
What's the most rewarding part of owning your Kona Ice business?
I was always a mom. My kids came first, my husband came first, and I never really did a whole lot for myself. I didn't intend to retire — I'm only 53 — but I felt compelled to do something more. And my husband said, "We can't do this," and I said, "We can." He asked me to show him with a pen and paper how we could do it, and I said, "I can't," because I'm not a number cruncher, but I just knew I could do it. I put my name on everything, and with my husband's help, I bought our first truck and he said, "Well, I'll be darned, you did it."
It's crazy that when I started this adventure five years ago, I struggled to find a local banker and now people are calling me wanting to be a business partner, and I say, "I'm doing this by myself, with the help of Kona Korporate, of course." Looking back, this is the coolest thing I've ever done.