In retail, packaging has become more than an eye-catching vehicle for your product — it's now a huge part of the customer experience.
As more retailers turn to eCommerce and sell across channels, there's an opportunity to differentiate your products through eco-friendly packaging that's eye-catching and personalized. Data from Square and Wakefield Research shows that 79% of retailers are planning on making changes in 2021 to improve shoppers' experience opening packages, and 26% are planning on offering eco-friendly packaging. Shoppers are driving these trends, with 27% saying they want to see environmentally friendly packaging materials in their orders.
It's a good idea to start by sourcing eco-friendly materials and reducing packaging wherever possible, but you can only reduce so much before you hit a limit.
5 sustainable packaging strategies for your store
Sustainable packaging is when you use wrapping materials that allow you to lower your store's environmental impact, which typically means using packaging that's biodegradable or recyclable. But you can also limit the amount of materials you use overall to help reduce your carbon footprint and show customers your commitment to the environment.
Try these five strategies to minimize your need for packaging while making the materials you do use more sustainable.
Sell items in bulk to reduce the amount of product packaging needed
Consider selling products in bulk, like three bottles of hand soap instead of one, giving shoppers a deal for making a larger purchase while reducing the packaging needed to ship. This can be a triple-win for your bottom line, as selling bulk orders often brings higher profit margins. You can also see if there are any products in your lineup that you can sell by weight, which can help reduce the amount of packaging needed.
Another approach is to pair up products going to the same address in one package. Add messaging on your checkout page, encouraging online shoppers to cluster their items together in one order. You can even offer a discount for shoppers who surpass a certain purchase threshold or buy multiple items, compelling them to stock up and limit the number of orders, and therefore, their packaging. This can make your customers feel good about their decision while adding a positive touchpoint with your brand.
Offer pickup in addition to delivery
Giving your customers more than one way to get their goods not only improves the customer experience, but it can also help you reduce your packaging footprint. Our Future of Retail report found that nearly three out of 10 shoppers prefer curbside or in-store pickup over delivery with their online orders. And almost half of those shoppers prefer pickup since they can get their items more quickly.
If you have a physical location, consider expanding your pickup options by offering curbside pickup or in-store pickup, and — if your store is open — encourage in-person shopping. Offering multiple in-person options helps you and your customers save on shipping costs while lowering or eliminating the need for packaging materials for items picked up in store.
Encourage customers to bring in their own bags
Entice customers to shop consciously by offering a special discount for those who bring their own shopping bags when they come to your store.
This not only showcases your brand's eco-friendly values, but it can also help motivate people who want to come shop in your store. Ninety-two percent of consumers miss in-person shopping, but are combating guilt and decision fatigue. Offering a reward for bringing their own bags can give shoppers a reason to come and help them feel good about doing their part to help the environment.
Reuse shipping materials from shoppers and vendors
Make your brand's unboxing experience memorable, convenient, and eco-friendly all at the same time by allowing customers to return shipping materials (by mail or in-person) for you to reuse and recycle. You can also repurpose the packaging received from vendors, a smart strategy used by the owners of Botanic and Luxe, a lifestyle boutique in Santa Cruz, California.
"When you lift up the nice piece of tissue paper that we put on top, we have reused packaging below," explains co-founder Ariel Stirm. "We have a little custom card explaining that our packaging is reused because we want people to understand why it looks like that," she says.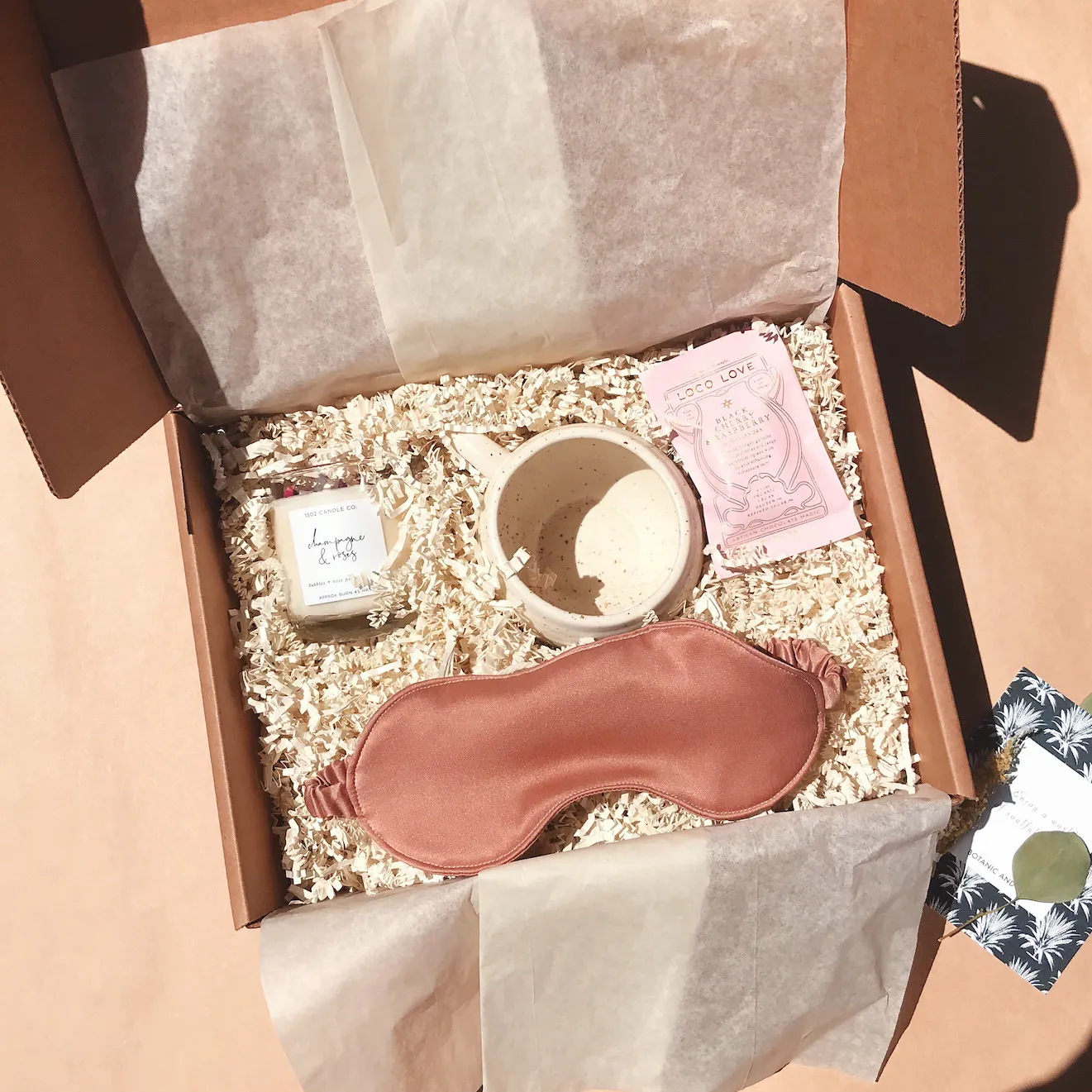 An eco-friendly package from Botanic and Luxe.
This strategy gives customers the satisfaction of participating in your sustainability efforts while also making product returns smoother, as shoppers won't have to re-package a product with new materials. You can also use it as an opportunity to bring customers back to your physical location if offering in-store drop-off.
Consider including a special deal or reward for those who do return shipping materials. Nearly 50% of consumers say they want more samples and coupons included with their packages, and 31% of retailers plan to add coupons to their unboxing experience, according to our research.
If your shipping materials aren't easily recycled, can you create packaging that customers can repurpose in creative ways? For example, beauty brand Glossier proudly highlights the many ways shoppers can reuse the pink pouches their products are shipped in. This showcases their commitment to sustainability and encourages shoppers to keep the brand top of mind by keeping their packaging around.
Offset your emissions based on the amount of retail packaging materials you use
As a retailer, you can't completely avoid the need for shipping materials and packaging. But you can balance your use of these materials by looking into a carbon offset program.
Through a carbon offset program, your business pays to remove greenhouse gases from the atmosphere (through efforts like financing wind turbine generators or tropical forest restoration) in correlation with your store's estimated carbon footprint. This can help your brand get closer to net-zero emissions and show consumers that you're willing to put your money where your values are.
Counteracting your carbon footprint on a large scale can significantly differentiate your brand from competitors, as shoppers care more about giving their dollars to brands who commit to sustainability.
Think outside the package to be more eco-friendly
We may strive to not judge a book by its cover, but most of us count on being able to judge a product by its packaging.
Your customers want eye-catching and eco-friendly packaging that personalizes their experience and shows that you care about the environment. Over the coming years, it's likely that sustainable packaging will become a major differentiator for retail businesses.
Use creative and eco-friendly packaging strategies to lower your carbon footprint and show customers your commitment to sustainability — this Earth Day and beyond.