Table of contents
Augie's Montreal Deli may be based in the Bay Area, but its menu reflects Canadian staples like a Montreal-style brisket pastrami, a whole smoked and cured brisket pastrami. "We say it's like pastrami and corned beef had a baby," said Augie's Montreal Deli owner and founder Lex Gopnik-Lewinski. In addition to this, Augie's offers a Quebecois poutine, french fries laden with cheese curds and gravy, pastrami sausage, and Montreal-style turkey breast.
The deli-market combo is beloved by locals, but has had a tough time managing changing cash flow as fluctuating beef prices and labor issues have impacted the business this year.
Navigating rising brisket prices
As beef prices surged this year, Augie's Montreal Deli made the difficult decision to close down the shop temporarily rather than raise prices for customers. Instead, the restaurant is focusing on its wholesale business in the meantime.
"We would have to charge about $32 for a sandwich — an 8-ounce sandwich. It just didn't feel right," said Gopnik-Lewinski. "It's kind of a numbers game, right? You can only charge so much for a sandwich in general. Maybe you can charge more and your customers will still come, but they're not going to come as often. So, the economics of it just didn't really work with what was going on." The restaurant communicates directly with customers on social media, keeping them abreast of changes to the business.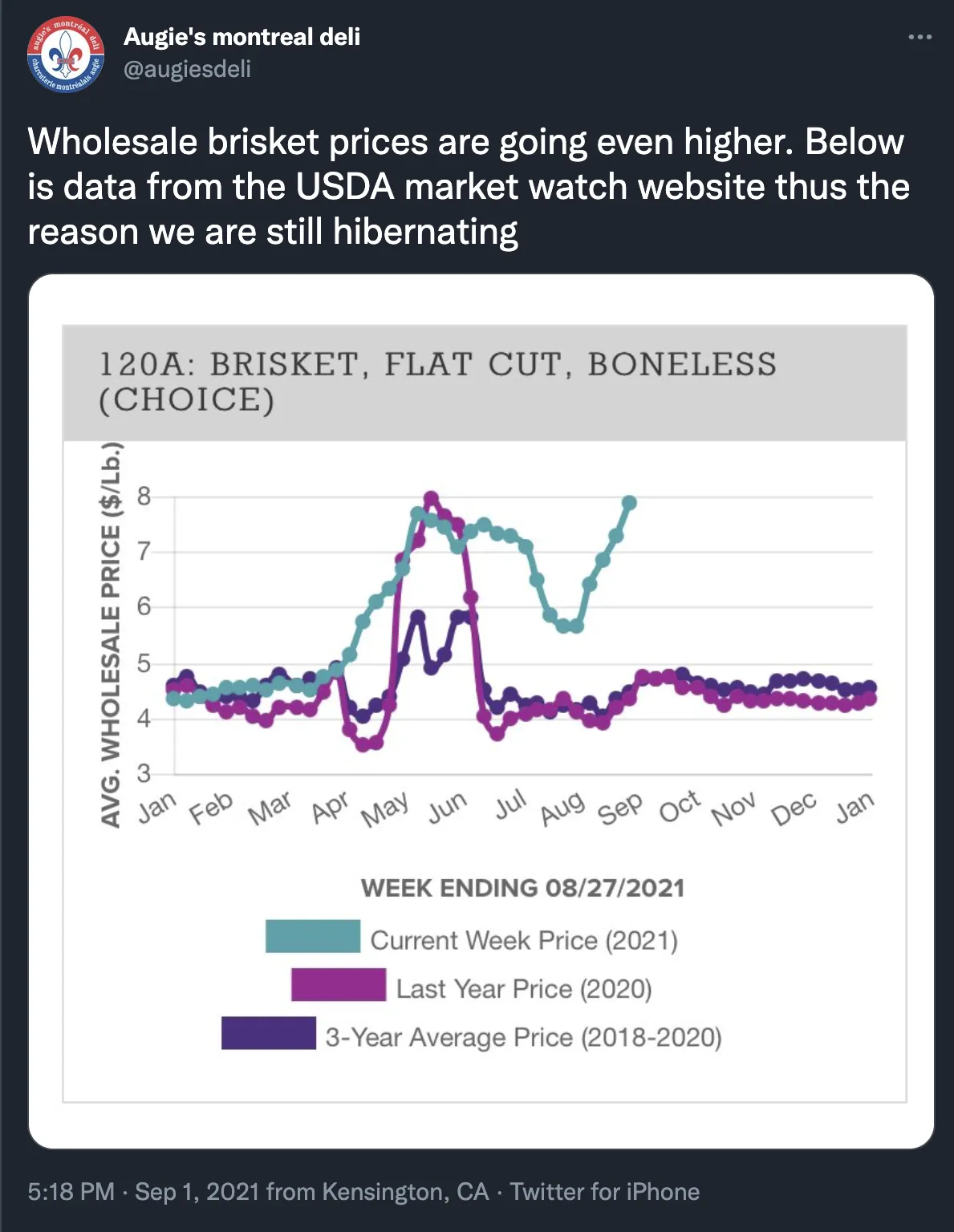 Gopnik-Lewinski says while some larger restaurant businesses can afford to eat the costs, others cut corners or lower quality to keep prices affordable for customers, something he is unwilling to do. 
Filling labor shortage gaps
Fluctuating beef prices were not the only contributing factor to Gopnik-Lewinski's decision to temporarily close its brick-and-mortar business. Labor shortages also made a big impact on the business this year.
Gopnik-Lewinski's great grandfather came to the U.S. from Russia. He considers his great grandfather, who started at a restaurant bussing tables and doing dishes, a part of a history of immigrants who took on jobs that others might not. 
"I was doing dishes in the back when we were still open," said Gopnik-Lewinski on having trouble finding staff. "I don't even wash dishes at home. I'm the cook at home and everybody else does the cleaning 'cause I do the cooking. So, the last thing I want to do is to be stuck doing dishes." He says he's not alone, he knows of several other restaurant owners who haven't been able to find a dishwasher and are doing the dishes themselves to keep their restaurants open. 
"You can pay people money," said Gopnik-Lewinski of the labor shortage. The issue, he says, is finding people who would like to do this type of work. From meat processing to co-packing, he's heard firsthand of labor issues. A co-packer he knows in Redding was offering $21 an hour to pack meat. Despite a lower cost of living than the Bay Area, he wasn' able to retain employees for very long. He says the issue is quite complicated. With alternatives like Uber or Lyft, people can make similar pay with more flexible hours and he doesn't blame them for seizing those opportunities.
Opening new doors
Although the path forward for Augie's Montreal Deli is still being paved, the recent closure has also been an unexpected opportunity for the business. As of right now, Gopnik-Lewinski is unsure when he will reopen the brick-and-mortar restaurant business, if at all. A difficult time has shown him how resilient he and the business can be. The wholesale business, which includes selling packaged goods at grocery stores like Berkeley Bowl and Mollie Stone's Markets, has been easier to manage. In addition to this, Augie's will soon be making its debut at San Jose Sharks games.
"I just encourage people to start learning a bit more about how the process works. Understand supply chains, especially in the restaurant business," said Gopnik-Lewinski of advice he would give. "It's been a tough time for everybody, but restaurants have been hit more than any other industry —a lot of them aren't going to come back." He says the best support customers can give is having a little bit of patience as restaurants navigate the changing business landscape.