Table of contents
This article is for educational purposes and does not constitute legal, financial, or tax advice. For specific advice applicable to your business, please contact a professional.
According to a recent Small Business Recovery Report by Kabbage and American Express, 83% of respondents are concerned a U.S. economic recession is coming soon. Despite record level inflation in 2022, the majority (80%) of those same businesses feel confident they can withstand a recession, citing the pandemic as the number-one reason why they felt this way. Having found more resilience and preparedness during a volatile period throughout the pandemic, they feel more capable of weathering future economic pressures. 
Business owners are focused on planning ahead and setting business goals to support growth as well as employees this year.  We took a look back at how Square Banking customers managed money last year by setting aside savings, growing their business through loans, and managing cash flow.
Setting

aside savings

"As a bookseller you know when every book is coming out, some books are going to be huge and some books …not so huge. So, you want to make sure you have enough inventory of that huge book because we've got to have the books that people are looking for when they're looking for them," said Danielle Mullen, owner of Semicolon Bookstore & Gallery "I like to do 50% off the top of any current excess to savings because we're always going to need it, and savings saves us when we did not do enough sales to make rent."

Square Banking customers saved an average of $700 in their Square savings accounts this year. From October 2021 to October 2022, the top priority for Square Banking business owners was saving for taxes, followed by rainy day savings and business expenses such as rent, payroll, and bills.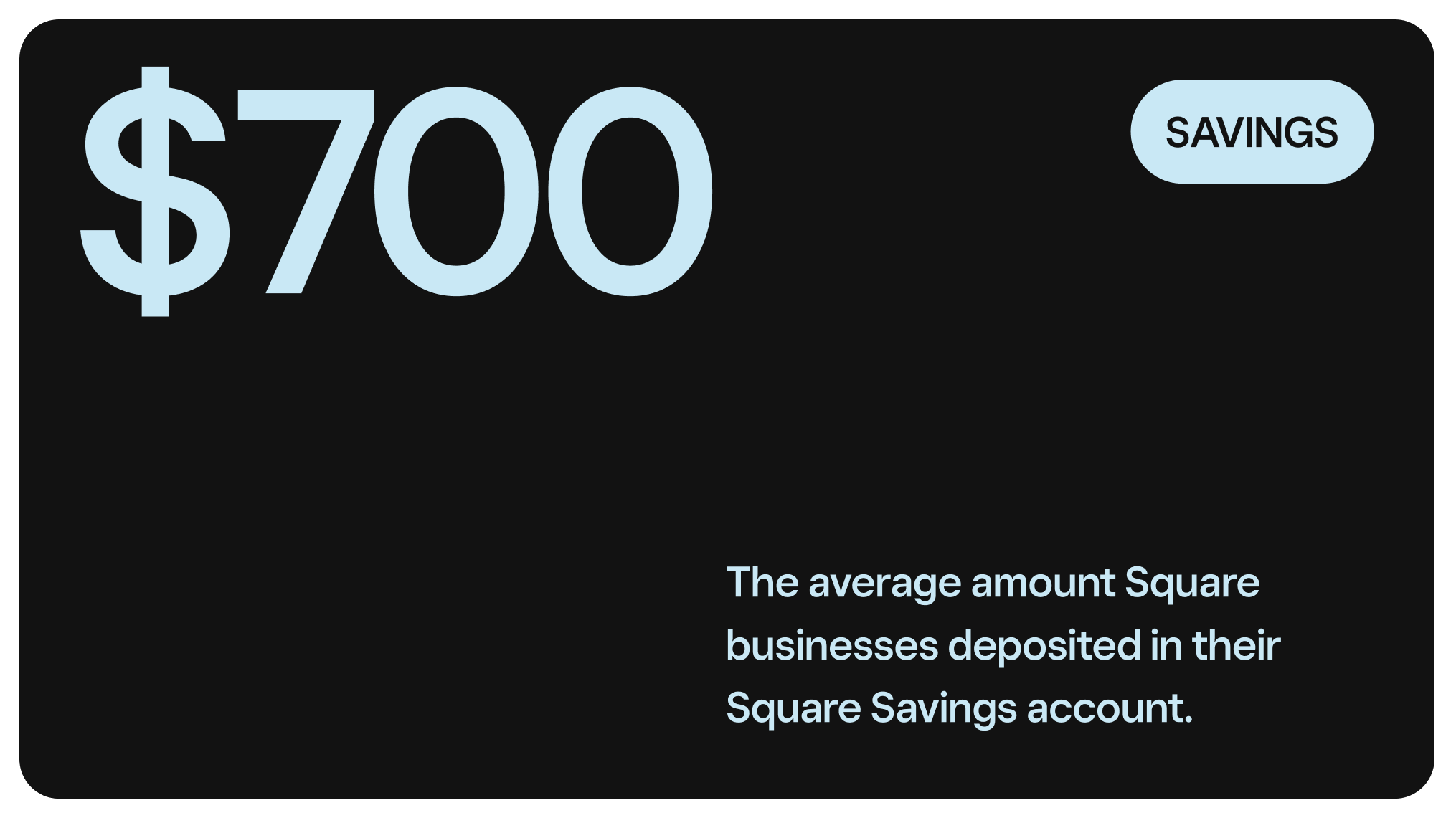 Instant access to funds
Having instant access to funds from sales reduced time otherwise spent moving cash from one account to another. "Before Square checking, I had to transfer out to my other business checking account. And now because I can do it all in the same place, it's so much easier for us," said Roxanne Crisp, owner of Crispy Brows. She adds that she's always wanted to have her own business, working odd jobs toward this moment. Crisp says she's always done better being able to follow her own direction and has been managing the shop's finances by using tools like Square Debit Card. "I can try to keep all my purchases and all my automatic payments going through that. Having the checking and routing number has been amazing," said Crisp.
If you process payments with Square, you can instantly access and manage your sales through your Square Checking account. You can also automatically set aside a portion of every Square sale and earn a high-yield APY.
Managing
debt
"I'm so thankful for Square and Square Loans because I was able to receive a loan. It is super easy to obtain it and to pay it back. It makes a world of difference — I was able to pay my bills, purchase product to sell during the pandemic, and keep myself afloat as well," said Megan Marron, owner of Salon Madison James, adding that not only was she able to cover basic costs to keep the lights on, she also reinvested in new revenue streams ."The repayment plan, you don't even think about it it's just so easy to repay. I was able to pay my mortgage, pay my utility bills, and I was able to purchase products that I could use for retail." 
Whether you have a loan today, are considering taking a loan on, or consolidating debt, consider ways you can actively manage it. Ninety-five percent of businesses using Square loans say they've been able to grow their business as a result.* Square loans range from $300 to $250,000. Customized offers are based on card sales through Square. It is up to you what loan size you'd like to take on and how you manage the debt going forward. You can repay it automatically with a percentage of your daily card sales through square.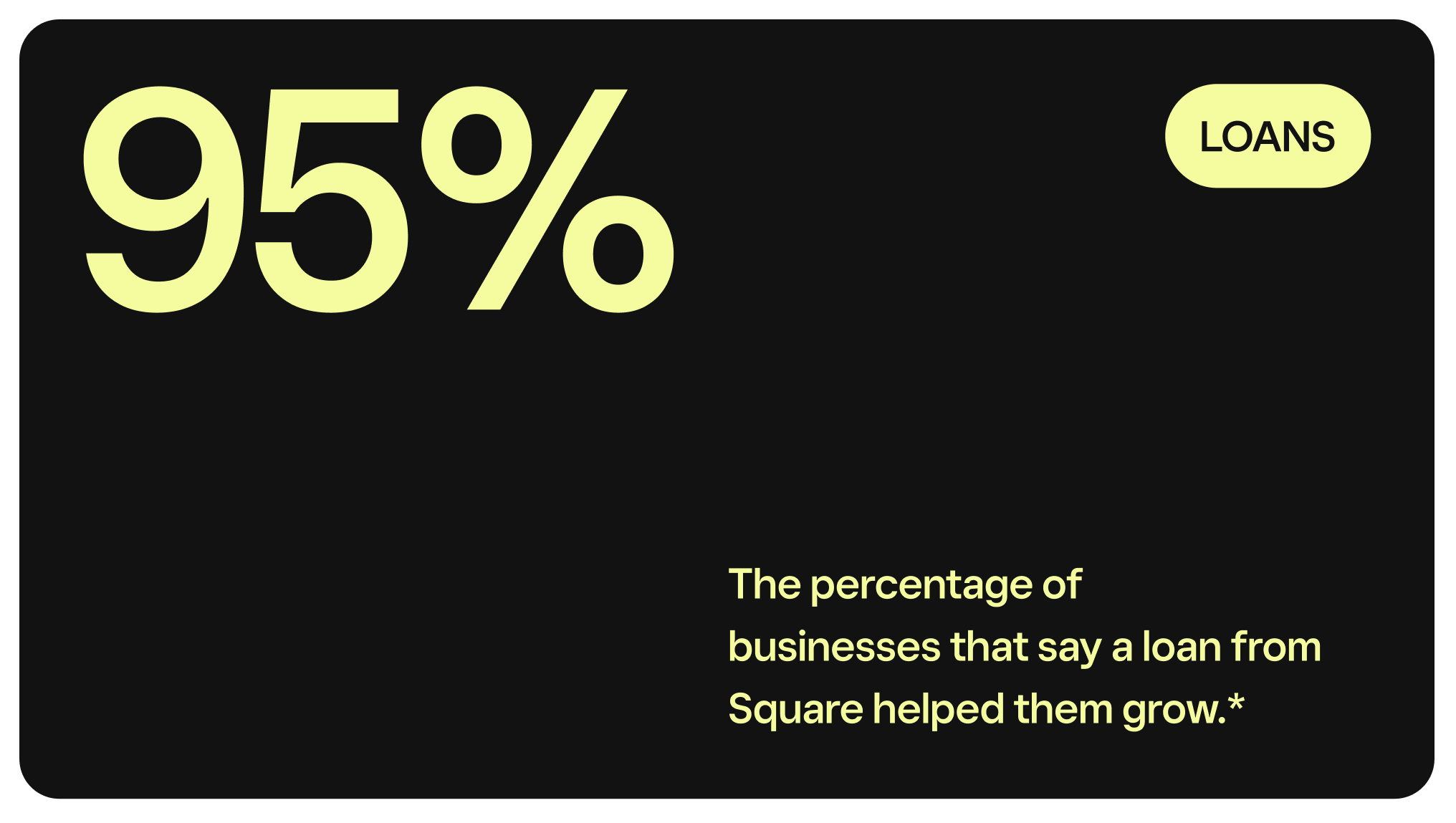 *Based on an April 2019 survey of 5,655 respondents who have accepted a loan through Square.
Year In Money insights are based on data from 2021–22 available to Square. 
1 Square and Block, Inc. are financial services companies, not banks. Square Checking is provided by Sutton Bank, Member FDIC; Savings accounts are provided by Square Financial Services, Inc. Member FDIC. All loans are issued by Square Financial Services, Inc., Member FDIC. Actual fees and offers depend on payment card processing history, loan amount, and other eligibility factors. Loan eligibility is not guaranteed. All loans are subject to credit approval.
Square Debit Card is issued by Sutton Bank, Member FDIC, pursuant to a license from Mastercard International Incorporated, and may be used wherever Mastercard is accepted. Accounts are FDIC-insured up to $250,000. Funds generated through Square payment processing services are generally available in the Square checking account balance immediately after a payment is processed. Fund availability times may vary due to technical issues.