Table of contents
This article is for educational purposes and does not constitute legal, financial, or tax advice. For specific advice applicable to your business, please contact a professional.
Setting aside savings for small business owners has become more of a focus than ever before. According to a 2020 Federal Reserve report, 66% of businesses faced financial challenges in the prior year, with 43% citing paying operating expenses as a top challenge. 
As businesses reopen, how are some small business owners thinking about savings now? On the heels of the Square Banking launch, we dug into some of the top savings needs business owners are planning ahead for. Square Savings customers have the option to organize, fine-tune, and separate their funds within their savings account by dedicating folders with their intended plan. Here is a look at the top goals for those business owners: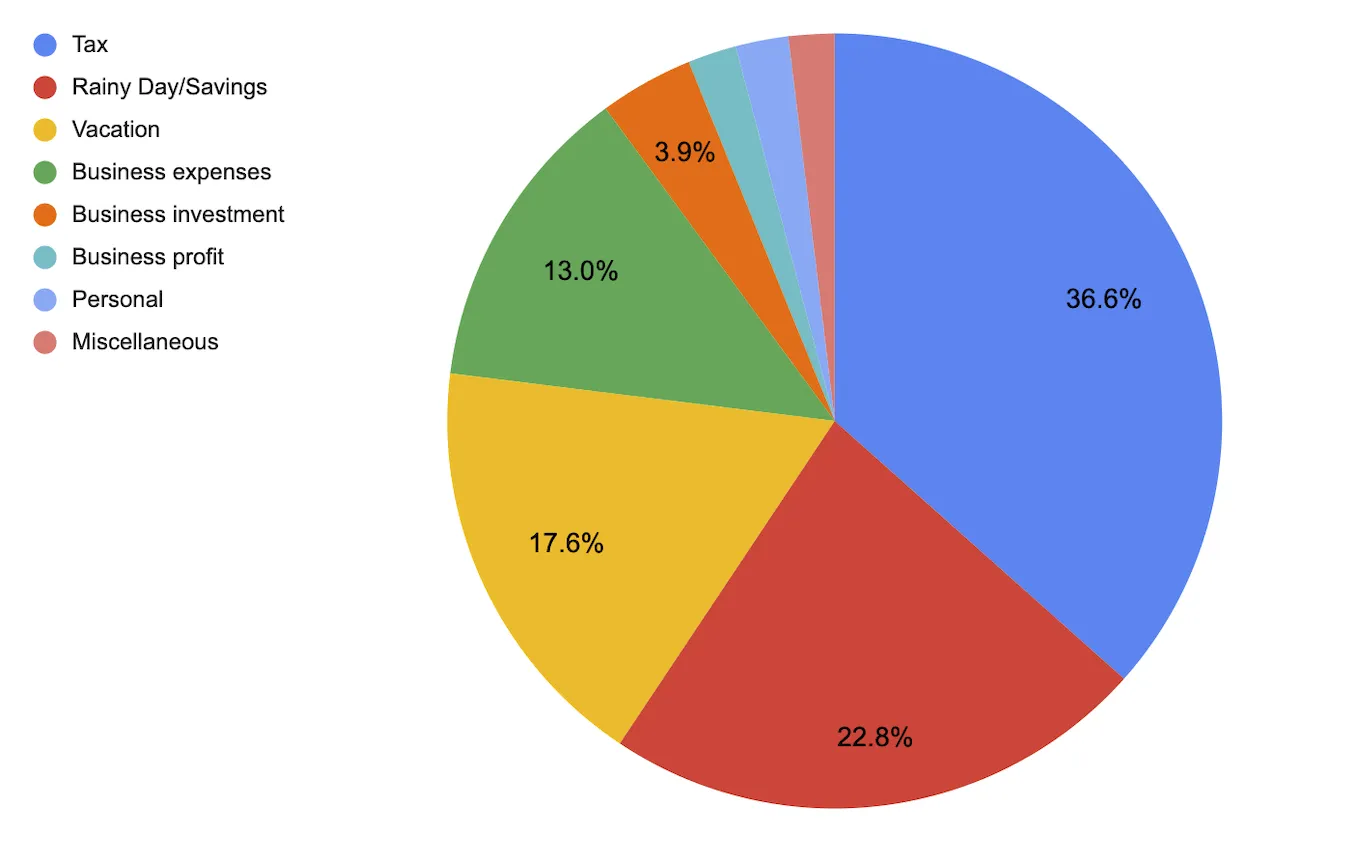 1. Taxes
The largest amount of folders for Square Banking customers were dedicated to taxes.
According to the Small Business Administration (SBA), the average effective tax rate of small businesses in the U.S. is 19.8%. As small business owners navigate business operations throughout the year, they keep this in mind when tax day rolls around. Small business owners have a multitude of taxes that they need to file, from industry-specific taxes to business entity-specific taxes. Within tax savings, some kept the folder broad to simply "Tax", while others set funds aside for sales taxes, annual taxes, state taxes, and self-employment taxes.
2. Rainy Day Savings
Many business owners found themselves with little buffer room as the pandemic changed the way businesses could operate. Only one in five businesses felt they had sufficient cash reserves to continue operations if they experienced even a two-month revenue loss.
Looking ahead to 2021, the Square survey showed that 67% of respondents were planning to set aside some of their sales in a business savings account. Of this group, 20% were planning on opening a new savings account to do so.
Rainy day savings were split into two categories: First, rainy day savings for emergencies or an unexpected business occurrence and, second, for savings like retirement. These savings folders saw a range of labels like "BTC" for bitcoin or "IRA" to put towards an IRA for retirement. 
3. Vacation
Often, small businesses are open on holidays, catering to shoppers looking for last-minute groceries for Thanksgiving, holiday presents, or Mother's Day flowers. One study by OnDeck showed only 57% of small business owners take vacation and of those, 67% still check in at work at least once a day. But small business owners have been navigating changing ways of doing commerce.
Square data shows that these business owners are now prioritizing taking some time off. Many have set aside vacation savings goals for Christmas — or trips to New Orleans, Mexico, and Italy to name a few. 
4. Business Expenses
Although business expenses featured a range of savings goals, there were a few top-ranking expenses business owners were saving for. 
Rent: This category was most active for retailers and salon owners. Store rent and salon or booth rent were some of the top savings folders.
Payroll: From payroll software to paycheck or labor savings folders, these business owners were setting aside money to put back into their employees.
Bills: These types of folders featured internet and cable providers, such as Comcast, as well as utilities like electric or water bills.
Supplies: Those saving for supplies set aside money for inventory as well as shop supplies, for example. Supplies as a savings goal was the smallest category of named business expenses folders.
Overall business expenses focused on setting funds aside for ongoing costs and costs associated with running the business, like insurance, electricity, or rent.
5. Business Investments
The business investments savings folders folders were focused on reinvestments into the business that would help grow the business. Set-asides in this folder included investment goals, like a tattoo machine, a new truck, a pedicure chair, a buzzer system, or even a new salon. 
6. Business Profit
Business profit savings goals were neatly split between profit and owners' salaries. This category sits at number six as business owners might move this money or rename the folder when they decide what they may want to do with their set-aside profit. Setting aside an owner's salary within your savings account can be a good way to make sure that you are paying yourself as you grow your business.
7. Personal
Personal savings folders ranged from money set aside for mortgage payments to student loans, or even event-focused personal goals, like weddings or a luxury car. For small business owners, benefits can vary from business to business with their savings folders reflecting these nuances. Some business owners are setting aside money for maternity leave and many for child care. Another popular trend among the personal savings goals included funds set-aside for retirement. 
In our final episode of Paying It Forward, hear financial expert Priya Malani walk through the difference between APR, APY, and how interest rates can impact decisions, from what savings account you might pick to business credit cards. Then you'll hear from Wasi Clothing owner Vanessa Acosta. When it comes to her small business, setting aside savings has meant being able to reinvest in her business, buying new equipment, and, this year, hiring new employees.
Listen to Square's Paying it Forward podcast and hear firsthand from a small business owner who has taken out a loan and some of the unexpected obstacles she encountered along the way.