Table of contents
As you're planning for the year ahead and how your company will meet its goals, be aware that your employees may be making plans, too.
Nearly four in 10 U.S. workers are at risk of leaving their job in the next year, according to a global leadership study from consulting firm Dale Carnegie and MSW Research.
The study, which surveyed nearly 3,300 workers in 13 countries, found that 26 percent of U.S. workers will begin to search for a new job within 12 months. Fifteen percent said they are already looking.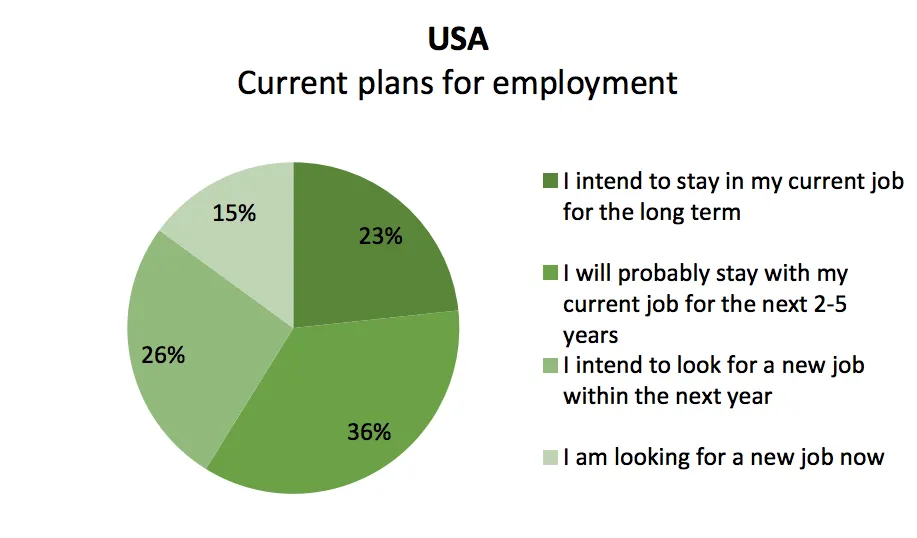 The Dale Carnegie Training Global Leadership Study 2016</sub>
Why are so many workers looking to jump ship? The study cited poor management as the primary reason for employees feeling antsy in their current roles.
Poor management is driven by a couple of factors. A lack of integrity, for one — the study found that when employees think managers lack integrity, they are four times more likely to leave. On the flip side, employees are nearly 10 times more likely to be very satisfied with their job when their leader is always honest and trustworthy. (This isn't too surprising.)
But the study also found that the gap between how employees wish their managers would behave and how they actually do is key in employee satisfaction (or dissatisfaction, in this case). A good example of this gap is that 84 percent of employees surveyed want their managers to admit when they are wrong, but only 51 percent of their managers do this regularly.
But if management can be a main driver for employees leaving their jobs, it can also be the reason that employees stay in a job. If your business hasn't already thought about retention tactics — outlining growth paths, promoting from within, perks — that's one place to start. But changing behavior and how you interact with employees also plays an important role in employee retention.
Now don't get overwhelmed. The Dale Carnegie survey also outlines the qualities and behaviors respondents said best motivate and inspire them. Try to make these part of your interactions with your employees and you should see a positive effect on how they engage with your business.
Encourage your employees to improve
The best employers think of themselves as coaches. Instead of just dictating tasks, they try to help their employees grow professionally by pushing their employees to improve skill sets and take on new responsibilities. When you coach your employees to be better, you show them that you value them as employees and people.
Recognize improvements
When employees do improve, you need to show them that you see it. You can send them an email or pull them aside for a quick conversation, or you could set up a more formal process for tracking improvements. But however you do it, it's important to validate their progress so they stay motivated.
Give praise and appreciation
It's easy to forget to do, but praise and thank-yous are motivating for employees. If they feel valued by you, they are more likely to want to stick around. It's important when giving praise to be specific (so employees know why they're being recognized) and consistent (so one employee doesn't receive more attention than the others).
Acknowledge your own mistakes before pointing out others'
Everyone — you included — makes mistakes. You set the example at your business for how everyone should deal with mistakes. If you need to discuss a mistake an employee has made, either recognize your role in the issue or talk about a similar mistake first. This makes the employee feel less singled out and defensive.
Allow employees to save face
You shouldn't ignore when your employees make mistakes. But instead of publicizing those mistakes or missteps, let your employees have the chance to fix the issue or recover for themselves. Try talking about the issue after they've recovered and discuss how to do better in the future.
Photo credit: "Women In Tech – 72" by WOCinTech Chat, Flickr, CC by 2.0, cropped from original.