About Miette
Meg Ray is the founder of Miette Patisserie & Confiserie, a San-Francisco-based pastry business. Miette was already using Square Point of Sale to process payments in-store, but Ray wanted to harmonize the shopping experience for customers both in-store and online. Unfortunately, their existing eCommerce platform made it impossible. Their online inventory did not sync with the POS, and she had limited control over the website, which was managed by an external vendor.
Power your business with Square
Millions of companies use Square to take payments, manage staff, and conduct business in-store and online.
Get started
Building an online store with Square addressed the challenges she faced with her existing website: Ray was able to unify product information in-store and online and provide customers with a better shopping experience and more delivery options. Overall, these changes translated to a significant growth in sales—up to 100% for some product categories.
New possibilities and results with Square Online
Real-time inventory syncing between the POS and online store
Once Miette switched to Square Online, they were able to sync products and inventory in real time. They could sync product details, images, and prices. This significantly reduced the amount of manual inventory work performed by the Miette team.
"The most important thing is that Square Online Store integrated completely with the Square POS system. Now I can look at my phone and see how much each store has made, including online sales. Before, they were almost two separate businesses. Now it operates as one comprehensive business."
With automatic syncing in place, Miette could then offer same-day, in-store pickup for online orders, which meant even more revenue for the business.
"The area where we've seen the most growth is the same-day orders. Before, customers had to visit the store to see what we had available. But now they can order online and go pick up the product in-store."
Complete website control and consistent branding across all online platforms
Square Online put Miette's website directly under the team's control, eliminating the need for an outside vendor to make changes. They could now update the homepage to reflect their latest offers and promotions and create additional pages, such as a FAQ page to answer important customer questions. In fact, they connected their Instagram account to their website and set up a full-page Instagram feed, making it easy for customers to discover their latest activity on social media without leaving the online store.
For Ray, a major pain point with their previous eCommerce provider was the website branding. With Square Online, Ray was able to change the look and feel of their website to match that of their physical stores.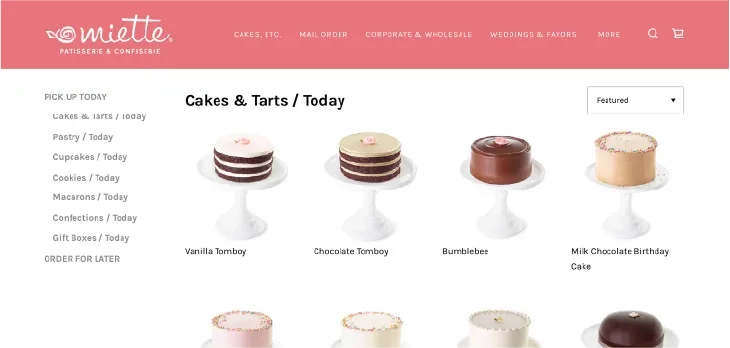 "What I love most about the new website is that it's so beautiful. I feel like it's the first time we've been able to extend the brand to the website. It allows us to not just do a transaction, but actually have shoppers be part of the brand when they're not able to come into the store. It provides the in-store experience — online."
Beyond the website, Square Marketing features allowed Miette to customize their marketing emails and maintain consistent branding across all communication channels.
Centralized 360-degree view of the customer
With their Square POS and online store tightly integrated, the Miette team could now get a single, central view of each customer. Through Customer Directory, Square's built-in customer relationship management system, they could track in-store and online sales and generate instant customer profiles. By combining data from Customer Directory with Square Marketing, Miette could separate customers into relevant groups and run targeted promotions based on their past activities or purchase history.
Key Data Points
Cake sales increased by 105%
Cupcake sales increased by 25%
Holiday candy crush sales increased by 53%
Building an efficient omnichannel business
As a small business owner, Meg Ray knew that she needed to leverage technology to effectively manage and scale her pastry business. This is why one of her first steps was to invest in a website when the business first launched. But when the website didn't live up to expectations, she had to find an eCommerce solution that could support her business.
Since she already had a great experience using Square POS for more than seven years, using Square Online for her eCommerce business was a no-brainer. Now, with Square Online, Miette's online presence is fully under control, she's able to customize the online shopping experience for her customers, and can offer same-day pickups for online orders across multiple locations. Plus, Ray has all the business stats and insights she needs at her fingertips to make smarter business decisions .
"Square has been part of our growth all along. It's a partnership where we're important to Square. They're one step ahead of us in having the solutions and features we need as our business grows."
Square empowers sellers large and small with tools that work together, saving time and resources. See how Square can work for your business.