Are you ready to deck the halls?
The countdown to the holidays has begun. From hiring seasonal help to organizing inventory, there's a lot to do as a business owner preparing for the holiday season.
That's why Square, in partnership with the National Christmas Tree Association, has created a Christmas Tree Calculator to help you determine the best time to buy a tree (or two) for your home or business. It can help you select the best day to buy your tree, based on your region, how long you plan to keep it, and your desired budget.
The calculator utilizes Square sales from thousands of Christmas tree farmers and sellers across the country. Whether you're a procrastinator or an impulse buyer, you'll find the perfect time to buy a tree.
Overall, Christmas tree prices increased 23% from 2015 to 2018, according to Square sales data. The average price rose from $62 to $76.
Industry experts from the National Christmas Tree Association note that the price increase stems from strong consumer demand for real Christmas trees, particularly from millennials, coupled with a tight tree supply and little motivation for retailers and growers to offer deep discounts.
That said, every family seeking a real tree this season will certainly be able to buy one, Tim O'Connor, executive director of the National Christmas Tree Association, says.
Square data shows that the Christmas tree buying season kicks into high gear on Black Friday with an average price of $79, and prices spike on Cyber Monday, reaching $84. For customers seeking a deal, holding out until the week before Christmas could save you up to 29%. Prices for procrastinators hit an all-time low on Christmas Eve at $50.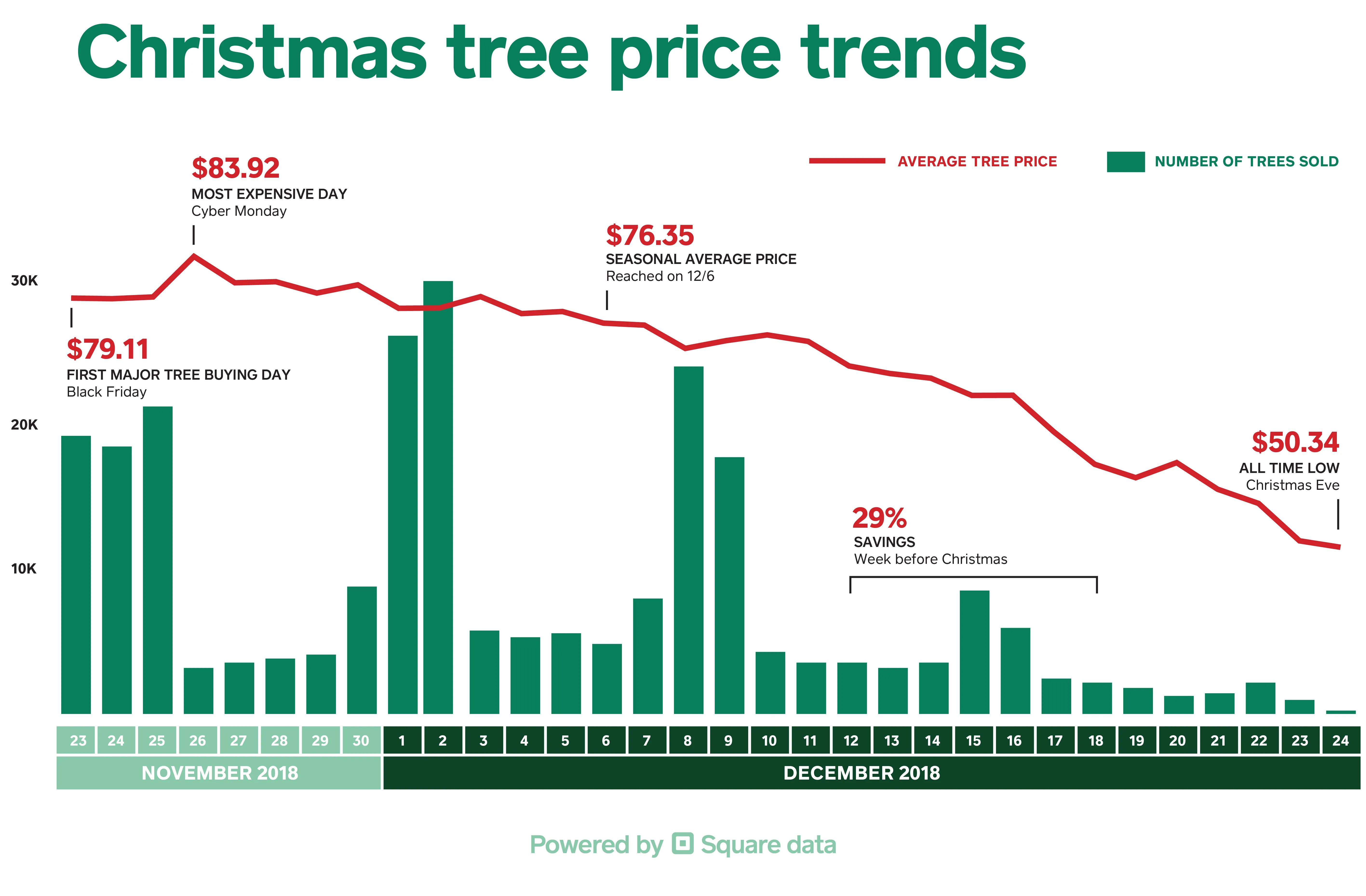 Besides buying a tree, there are plenty of ways to prepare your business for the holiday season (without fa-la-losing your mind). Here's how to get started:
Get ready
Start early and educate yourself on your customers' holiday buying personas. Create a holiday marketing strategy, update your sales strategy with holiday specials, and consider implementing a buy online, pick up in store system to simplify purchases for customers. You can learn how other Square sellers are beginning to prepare for the holidays here.
Get set
Spend time preparing your inventory and hiring holiday help, and set your holiday hours. Consider new online and in-store promotions to attract new customers, and implement a solid customer service experience for both in-person and online shoppers. Prepare for the inevitable returns and exchanges of holiday purchases and beyond.
Sell
After all your hard work, you'll surely sleigh the holiday shopping season. Spread holiday cheer and consider giving back with a holiday charity drive or fundraiser. Also, be sure to implement a plan for getting last-minute shoppers through the door, and take care of yourself with our holiday stress management tips for business owners.