*Unless you sell pies or turkeys, it's likely that next week will be a slow period. So how do you connect with your customers during the lull? Our friends over at ShipStation have some great tips. And to get ahead of all your holiday shipping tasks, be sure to link up your Square account to their app. It'll make the impending holiday craze so much easier.
*Here's what they suggest doing over the holiday:
1. Send a "Do Not Open on Thanksgiving" Message
There can be backlash against stores being open on Thanksgiving, and the media has started listing stores NOT open on Thanksgiving. "If you think Thanksgiving is for family, not shopping, these stores agree," announces this article on the Today Show website. If you agree with this concept, why not connect with like-minded customers by letting them know? You could even consider including a coupon that they can use when you're back open on Black Friday!
While it's pretty hard to shut down your online store, if you don't plan on working on Thanksgiving Day, here's an email message you could send out:
Subject Line: We're taking Thanksgiving Day off
Body: Yep, we want to enjoy our family, friends and downtime as much as you do. So while our online store is always open, we won't be taking calls, processing orders or doing any "work" in honor of the holiday and those we love most. Happy Thanksgiving and we'll catch up with you on Friday!
2. Share (Different) Photos on Thanksgiving Day
Thanksgiving was Instagram's busiest day ever two years in a row, with everyone sharing photos of turkey and family. But do you have to share Thanksgiving dinner photos? Michael Kors didn't, and still made an impression. They increased their standard one post per day and posted twice on Thanksgiving; neither of which involved turkey, and both of which outperformed average engagement.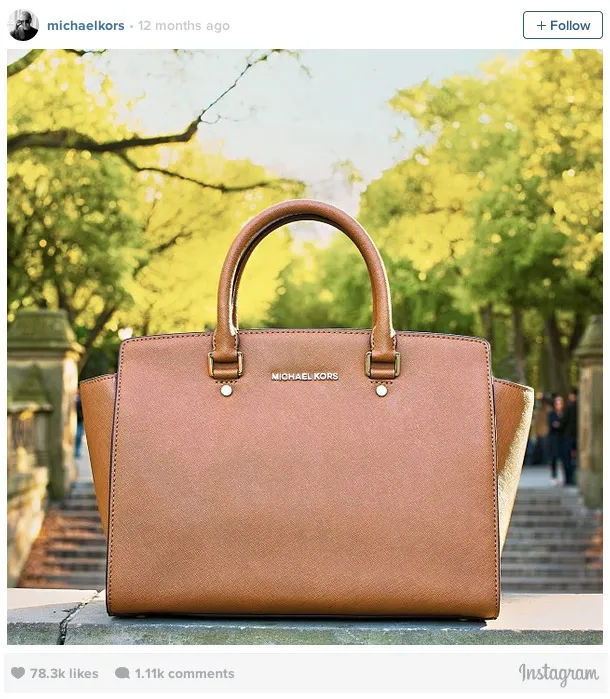 3. Create a Week of Thank You Gifts
From the Monday before Thanksgiving, until the Sunday after, offer "Thank You for Being a Great Customer" sweepstakes or giveaways each day, through social media, emails, and blogs. Everyone likes something for free, and this will keep you top of mind when customers are ready to buy.
4. Create a Unique Thanksgiving Infographic
Last year, according to Shoutlet, the NFL released this timely infographic that gained nearly 42,000 likes.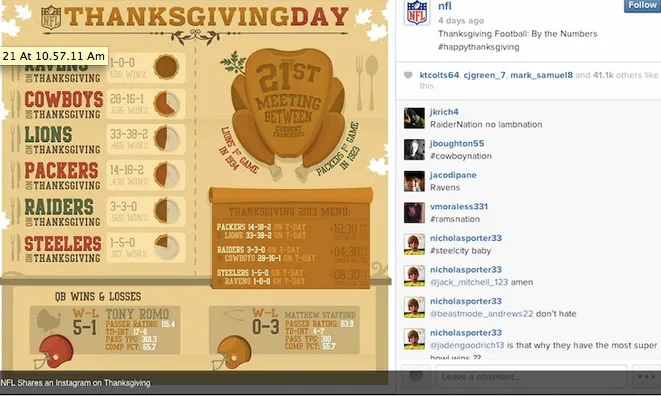 While you can find hundreds of "perfect Thanksgiving dinner" infographics, you can produce an infographic that creatively ties into your company. For example, if you sell fitness products, you could create an infographic describing how many calories are in a typical Thanksgiving dish, or what types of exercises can work off those calories. Not a designer? There are several free infographic tools you can use to make creating an infographic much easier.
These infographics are more of a branding message than a sales message, as you are providing data in a visual format. However, any time you communicate with customers via emails, social media, and blogs, including when you share an infographic, you are reminding customers about your business, at a time when they are in buying mode.
This article was originally published on ShipStation. To learn how to link up ShipStation to your Square account, check out our Square App Marketplace.