Table of contents
When you sell products and services in the health and beauty space, your website needs to speak to the personal and transformative nature of what you provide. You want to give clients a feel for the services you offer and build trust for the products you sell, all while making their online experience as stress-free as possible.
To accomplish that delicate balancing act, there are a few key website features and tools that can help.
Top health and beauty website features
We talked to business owners who run a barbershop, spa, and store to identify the top website features that are driving customers — and building their health and beauty brands along the way.
Booking button
"Most times, our guests are trying to quickly book before another guest grabs an appointment slot," explains Asia Owens, the owner of Monet Obree, a waxing and wellness spa in Columbus, Ohio.
Clients flock to Monet Obree for eyelash extensions, makeup applications, facials, and waxing, and most are repeat customers. That's why Owens uses both a booking button and shopping button in the header of her site to make it easy for visitors to schedule appointments and buy from her online store.
"Putting the 'book now' and 'shop now' buttons in the top part of the website makes it quick and convenient for guests," she explains.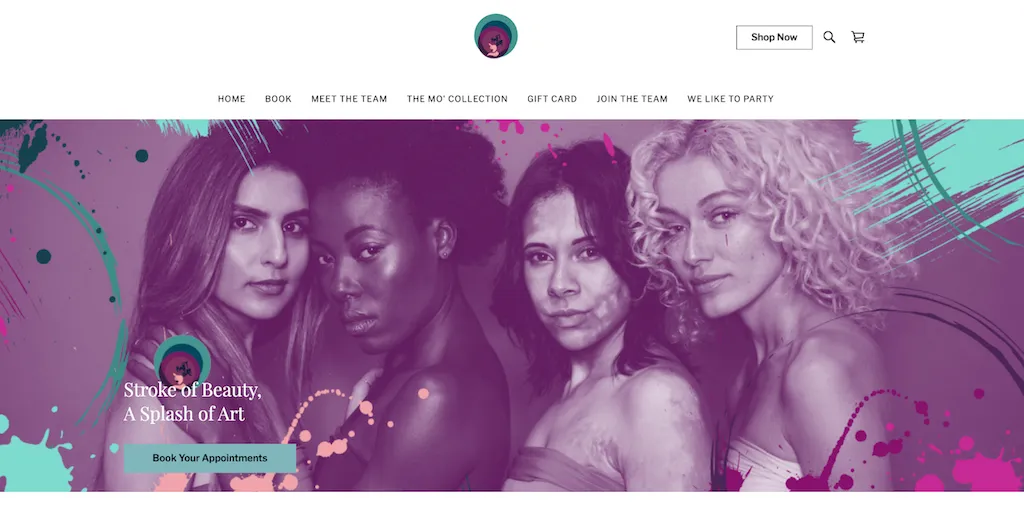 Because of Owens' website, customers can schedule an appointment without having to call in. This gives her more time to build relationships when customers do come into her spa. "We really value our relationship with each guest that walks through our doors," says Owens. "It's communicated throughout our entire website. We build relationships. It's that simple."
Add it to your website
Services page with the ability to book directly
A page detailing the services you provide is another important website section that can encourage visitors to schedule appointments, especially if they're able to book each service directly. Think of this page like a menu, allowing clients to easily glance at the option they'd like to order up, saving them time before they walk into your spa or salon — and during the appointment itself.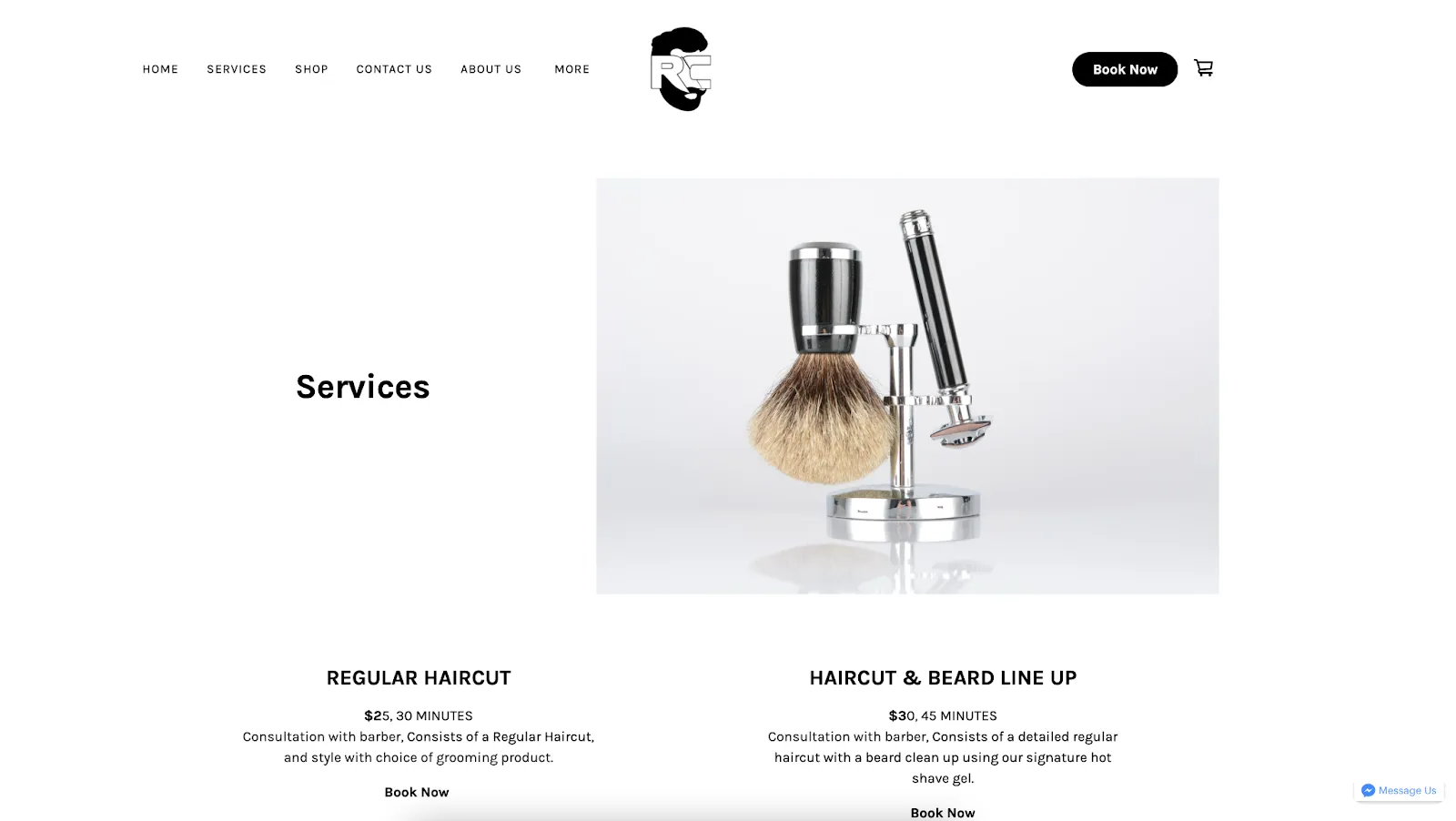 "Having such a detailed service page within our website has helped us greatly," says Raylin Reyes, the owner of Ray's Cutz, a modern barbershop in Union City, New Jersey, that pays homage to the classic barbershop experience. "Thanks to this, before making an appointment or entering our location, our clients already know a little more about what we do and what service they can schedule," Reyes says. "Each service has a description, cost, and time. That way the client can manage their time when visiting us."
By explaining what your appointment includes and the benefits clients will get out of it, it motivates people to try it out, especially if you offer more unique services. For instance, if you provide specialized services inspired by beauty trends, like root smudges or beard grooming, customers might not know what the service includes. Customers are typically more inclined to reserve an appointment when they know exactly what they'll get out of it.
Add it to your website
Updated online store
For many businesses that provide services, selling retail can be an effective way to bring in more revenue.
At Ray's Cutz, clients have the option of purchasing branded merchandise tagged with their logo, like shirts and hats, along with hair products they may have tried while getting a cut. While Reyes' clients buy more products in his barbershop, adding an online store to his website gives customers another option in case they want to restock, try something new, or support his brand by sporting his goods.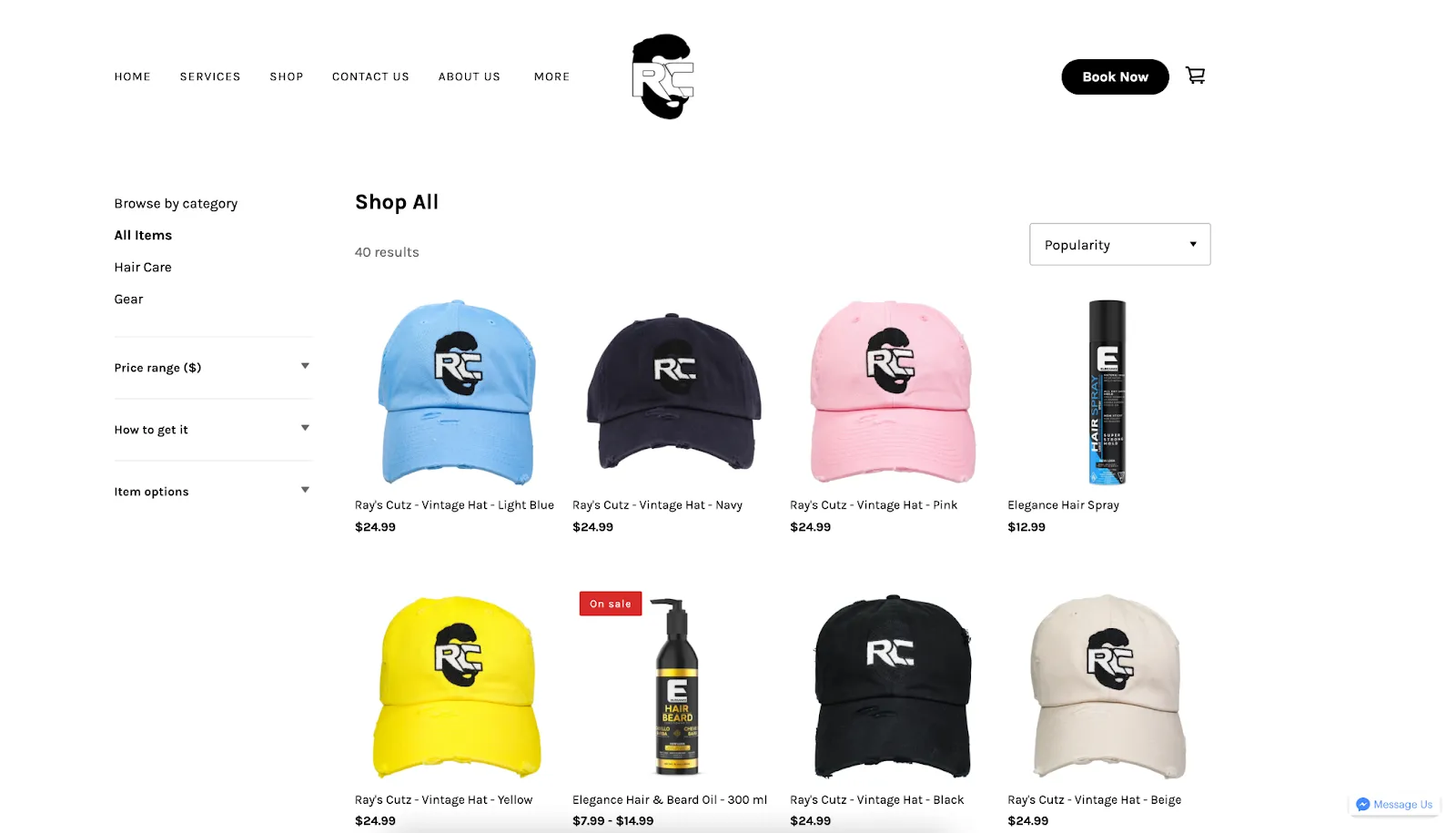 Owens' online store strategy is similar to Reyes' and includes products that help with aftercare for the beauty services she offers, giving clients another way to get what they need if they can't come into the spa right away and buy the item.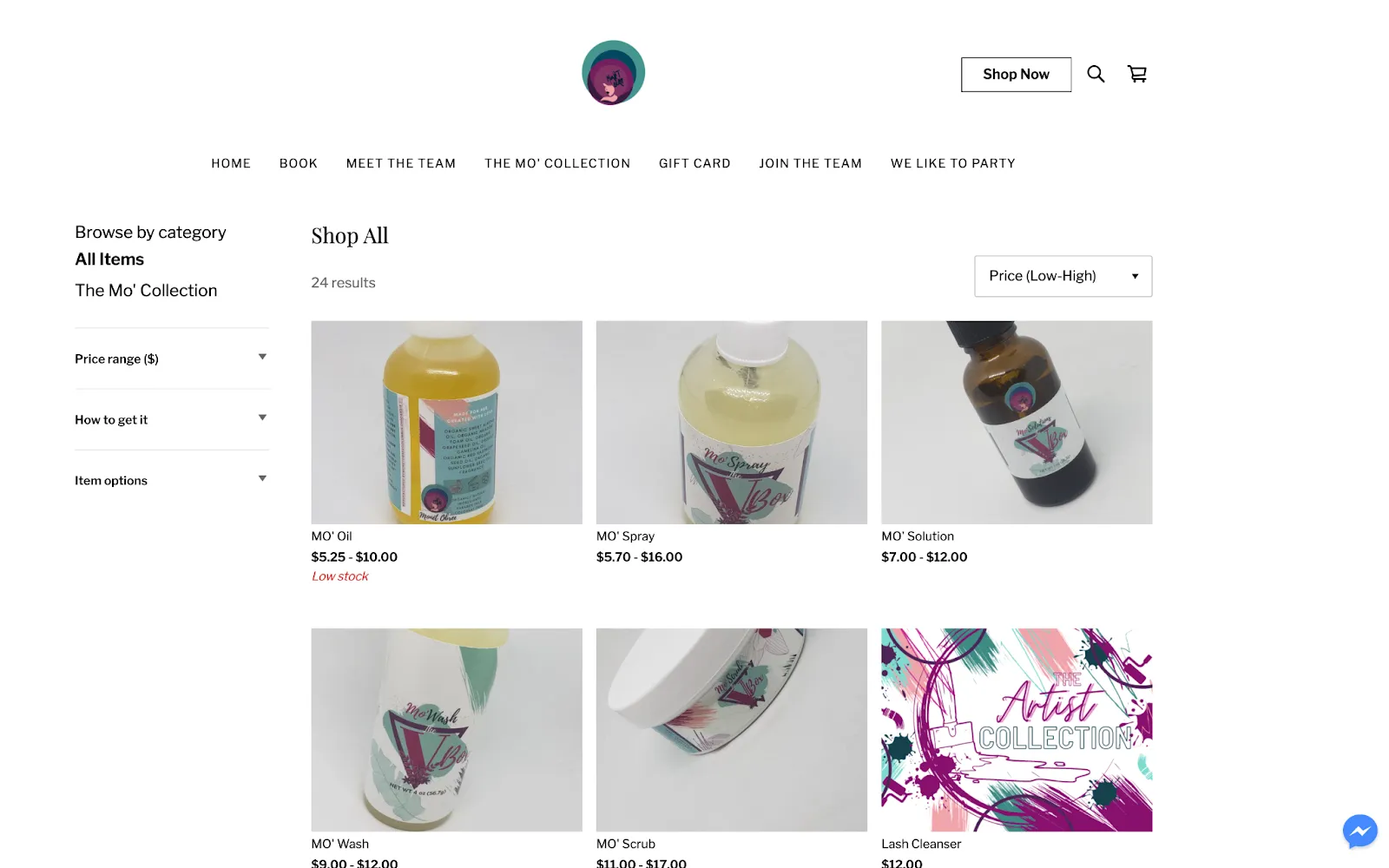 Add it to your website
Detailed product descriptions and photographs
For Botanic & Luxe, a boutique carrying health and wellness products, their website features the same highly curated brands they carry in their physical store, located in downtown Santa Cruz, California. Beauty and wellness products are inherently personal since you apply them to your skin and hair. According to Ariel Stirm, the co-founder of Botanic & Luxe, customers are more likely to buy those items because of their detailed product descriptions and photos.
"We put a lot of information in our product descriptions, as much information we can get in there for people who may have an allergy to something or are looking for vegan products," Stirm explains.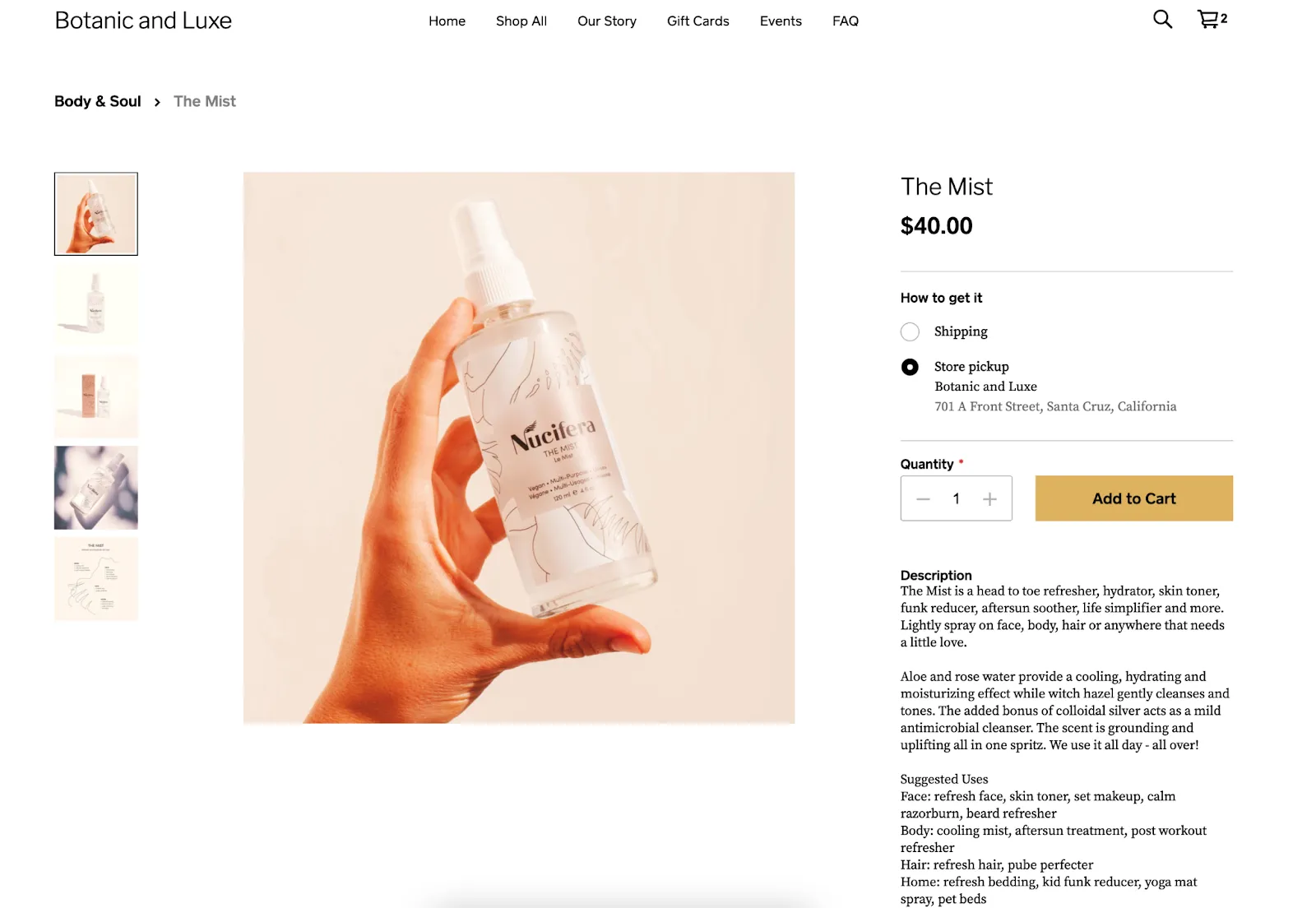 There's no try-before-you-buy option with beauty and personal care products, so in addition to the comprehensive product descriptions, Stirm also includes multiple photos showing her products at various angles, giving customers a clear idea of what they're going to get.
"We only use vendors who have a similar aesthetic to us," explains Stirm. "So everything kind of has a similar, warmer feel to it, on our Instagram, website, throughout everything."
Incorporate it into your website
About us page
At Ray's Cutz, owner Raylin Reyes uses his About Us page to share his story and appreciation for the age-old barbershop experience. It also explains who he and his business partner are and the type of services they specialize in, compelling potential customers to give them a try.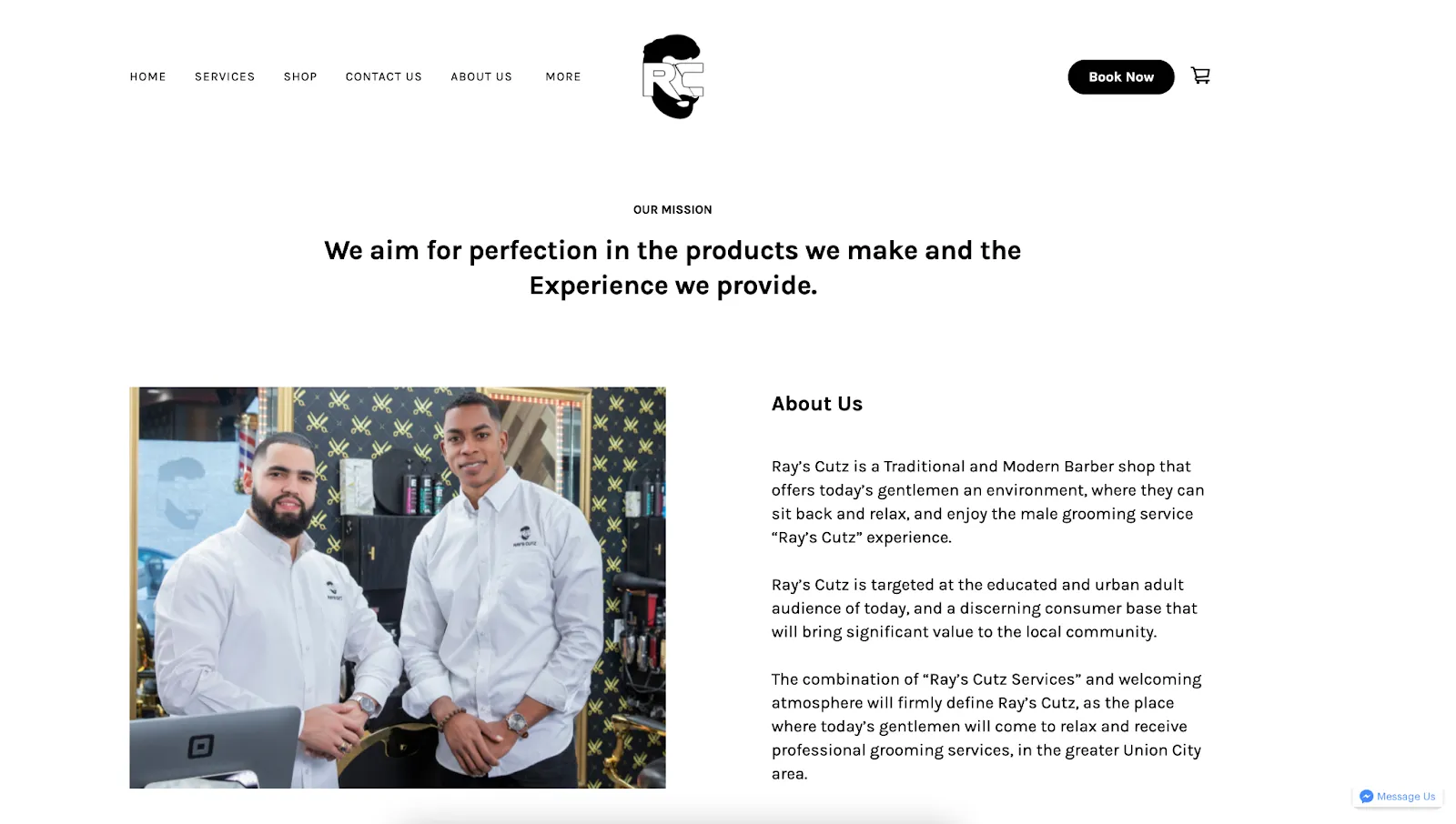 "At Ray's Cutz we have a motto, 'Not just a cut … an experience,'" explains Reyes. The photo of the duo in the shop lets visitors get a sense of the clean and stylish space where they'll redeem their service, making them feel more comfortable to book.
Customer reviews section
Adding a customer reviews section to your site can give new clients and shoppers the confidence to take the plunge and book an appointment, or add a new product to their cart. "The reviews section within our website serves as a bridge so that our potential customers who browse our site are encouraged to leave us their reviews," explains Reyes.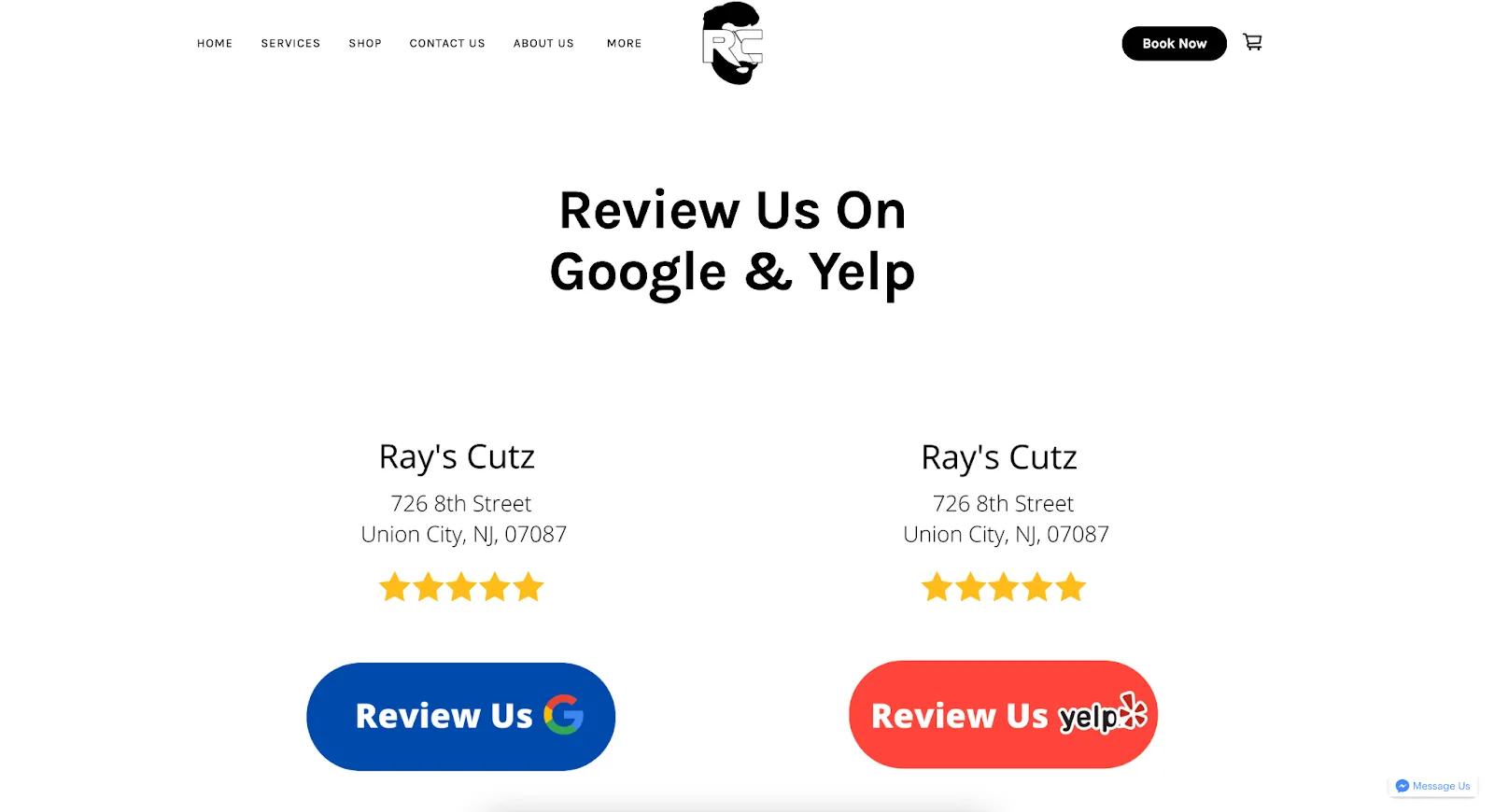 Whether you embed reviews on the page directly or send visitors to external review sites like Yelp or Google, having a website section where people can easily check out what customers are saying about you helps build trust in your business.
A dedicated section or page also increases your review count, since new and returning customers have an easy way to review your business without having to search. And reviews signal to Google that your site is trustworthy, enabling you to drive even more traffic to your website.
Social media feed integration
A social media section on your website is a simple way to connect customers with your brand and give a peek into what they may experience, which can ultimately lead to more sales.
"Showing our thread of Instagram posts on the homepage gives our guests a quick visual of what we are working on in our storefront, what we have cooking behind the scenes, and what positive message they may receive," explains Owens of Monet Obree. Placing the feed on her homepage also encourages more followers, since they can browse individual posts and follow her directly on Instagram.
You can also make your social media feeds shoppable, which is another way to encourage customers to shop and book, generating more sales.
Add it to your website
The health and beauty website features above create more opportunities for clients to take action while browsing your page. Whether you want customers to quickly book an appointment, buy a product, or learn more about why they can trust you, each of these features can be incorporated in lightweight ways while bringing people deeper into your business.