Getting your original product or service featured in a gift guide can bring a boost in sales, broaden awareness of your business, and lead to new, happy customers who are eager to share how much they adored the gift from your store. It also gives you a nice piece of press to post on your website, share with your fans on social media, or use in email marketing to validate that yes, what you are selling is unique, in high demand, and gift-guide worthy.
If you're on the hunt for an original gift, don't worry, we've compiled our top 10 favorite products from our Square and Weebly sellers across the country. From bespoke chocolate in Atlanta to sustainable frames made from fence wood in Santa Cruz, these ten items will help you gift a surprise, all while supporting a fellow small business owner.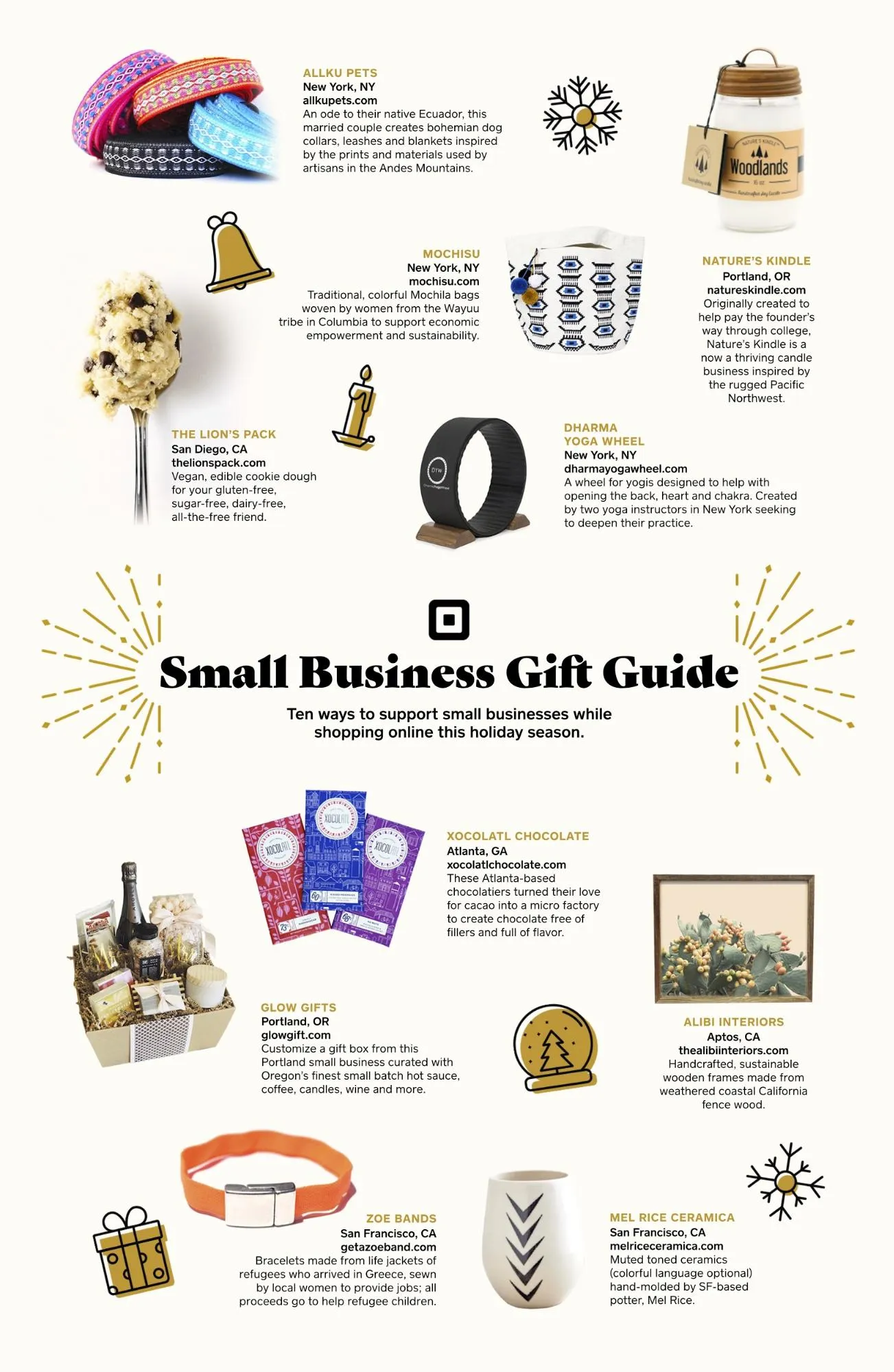 For those of you taking notes on how to get into a gift guide, here are five tips from Square to help you break through the holiday noise and land in a gift-guide roundup.
1. Your online store MUST be ready.
Every gift guide we could find, from Refinery29 to the New York Times, featured a hyperlinked item that allowed shoppers to get immediate satisfaction and purchase within seconds. A gift-guide placement is only powerful if it can lead to sales, so make sure your featured item is ready to sell in your online store.
Even if you offer services, you can create digital gift cards on Square to target holiday-specific sales like a New Year's Eve updo, post-holiday massage, or 2019 interior design refresh. Making the services feel more timely could drive more digital gift card sales online.
Also, don't miss the opportunity to turn those new visitors into repeat customers by optimizing your email lead-capture pop-up and maybe even enticing them with a coupon for signing up.
2. Get specific. Like, really specific.
You will be hard pressed to find a gift guide titled something generic like "Top 10 Gifts." It's too broad and doesn't help a reporter get the clicks they need. It's all about hypertargeting to a specific audience. For example, on Buzzfeed, the gift guides are targeted to "people who travel," "edible gifts," "gifts under $10," or "gifts for someone who is always drinking coffee."
Basically figure out for whom, specifically, your product would be a good gift, then pitch it to gift guides with a specific audience in mind. It might be just the inspiration the reporter needs to find other gifts that fit your specific audience.
3. HARO: Help a Reporter Out.
A good way to back into a gift-guide list that is already in the works is to join the service called HARO, which sends twice-daily emails seeking content to help fill reporter inquiries. It's a paid service around $20 a month but worth it during the holiday grind to help get your product into the hands of journalists looking for a new gift to feature. Reader's Digest, Bustle, and dozens of other outlets rely on HARO to help find new sources for content.
4. Team up with other small businesses.
We know the small business community is a pretty tight one, ready to help one another out at a moment's notice. If you know of some companies that have products that might fit well into a gift guide with your product, use the power of numbers to wiggle your way together into a list of gifts.
Think about the items that are similar or complementary to yours: the friends from the craft show, the business you've supported with your own money online. Then pitch a reporter with three to five items that fit into a gift guide. It might help them get the momentum going to make it an official gift-guide article.
5. Flag the gift guides this year. Then send free stuff next year.
If you simply don't have the bandwidth to jump into the gift-guide game this holiday season, don't worry. You can do a post-holiday search to strategize for 2019. When you come up for air after the holidays, do some good, old-fashioned Googling to find the gift guides where you product would have been a good fit if you'd had the time.
Make a list of the media outlet and reporter, and try to find an email address or Twitter handle. Next year in early November, reach out to these reporters and, if it's financially doable, send them free product so they can see, feel, and love your item — and then write about it in their next gift guide.