Table of contents
You pour your blood, sweat, tears, and a whole lot of money into building and growing your business. When you're building a business with your significant other, the stakes are even higher. Your personal and professional lives are completely intertwined. But while there is risk, the reward for many couples can be enormous.
"We made a really great team and one of our shared dreams was to open a bakery and a patisserie," said David de Betelu, who runs San Francisco-based patisserie and tea salon Maison Danel with his husband Danel. "Realizing this dream together has made it that much more memorable and exciting."
We spoke with four couples who run their businesses together to get their thoughts on what they wish they knew early on in their journeys, the lessons they've learned along the way, and how they maintain the health of their businesses and their relationships. Here are the words of wisdom they shared:
Build a strong foundation.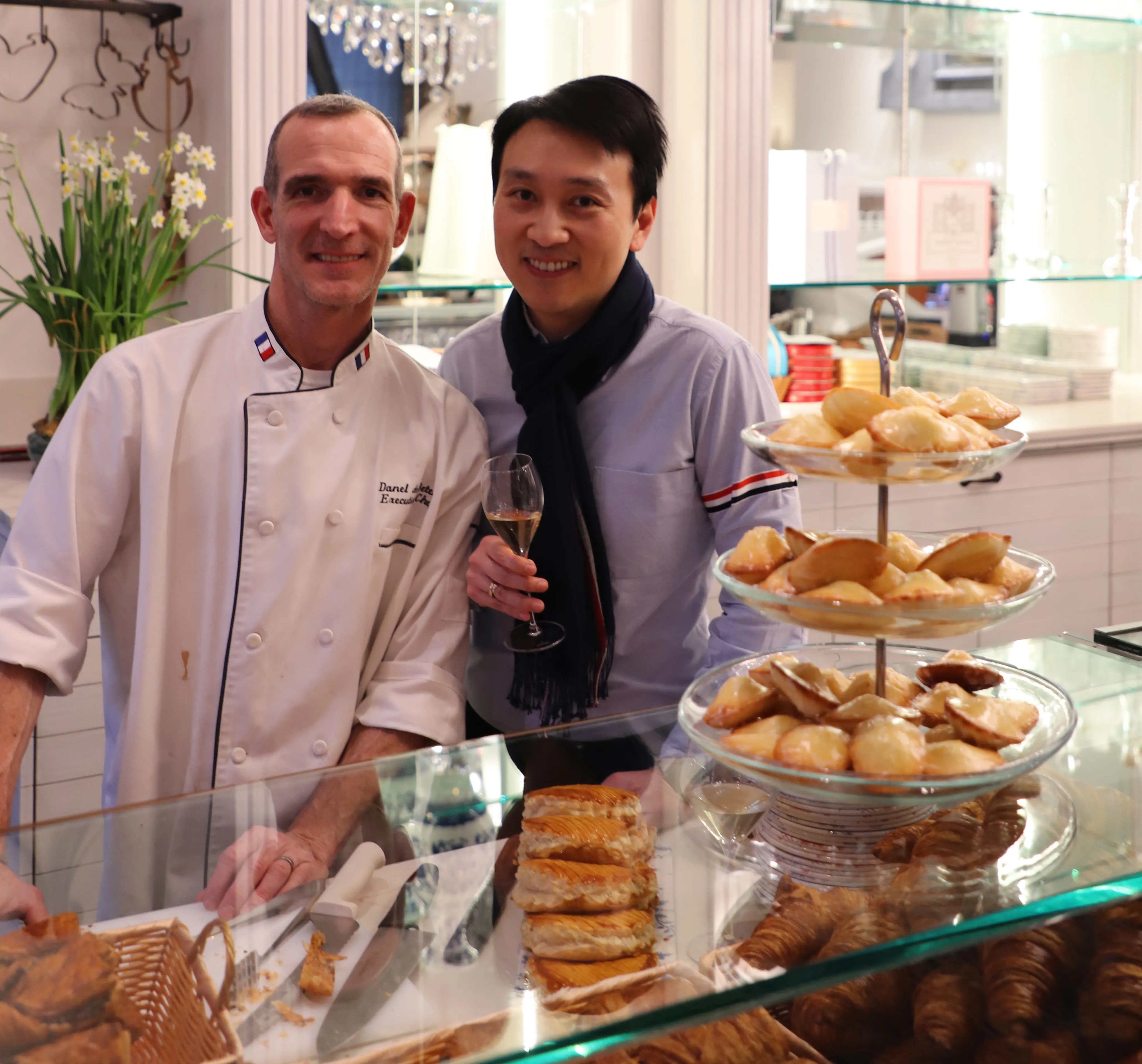 Danel and David de Betelu were inspired to build their patisserie Maison Danel after their wedding.
First and foremost, make sure your relationship is solid before you decide to start a business together. "You have to really like each other because there's going to be conflict and there are going to be disagreements," said de Betelu. "It's a bad idea to get into business with someone you have a volatile relationship with."
Petrushka Bazin Larsen, who owns ice cream shop Sugar Hill Creamery in New York City's Harlem neighborhood with her husband Nick Larsen, said that being open and honest with your partner about your homelife is key to harmony in your business.
"Everything starts in your own home. A lot of couples wouldn't dare work with their partner because they don't even like talking about their personal money," she said. "I think that if you're not clear about what your personal finances are, what your lifestyle is — or what you would like it to be — or how it might be impacted deciding to work on your own business, you're really setting yourself up for failure."
Get on the same page about your goals.
No matter where you are in your business journey, make time to discuss and document long-term goals for your business and your family. Having a shared vision can help you both determine what's important and what isn't. Doing this when times are good can prevent pent-up anxiety or disagreements down the road.
"We have the same end goal in mind," said Larsen. "We're on the same page when it comes to where we want to be five years, 10 years from now. We know what we want for our lives. We understand how this business is going to provide that for us. And so that kind of prevents us from arguing about stuff that doesn't matter as much."
Figure out how best to communicate about day-to-day issues.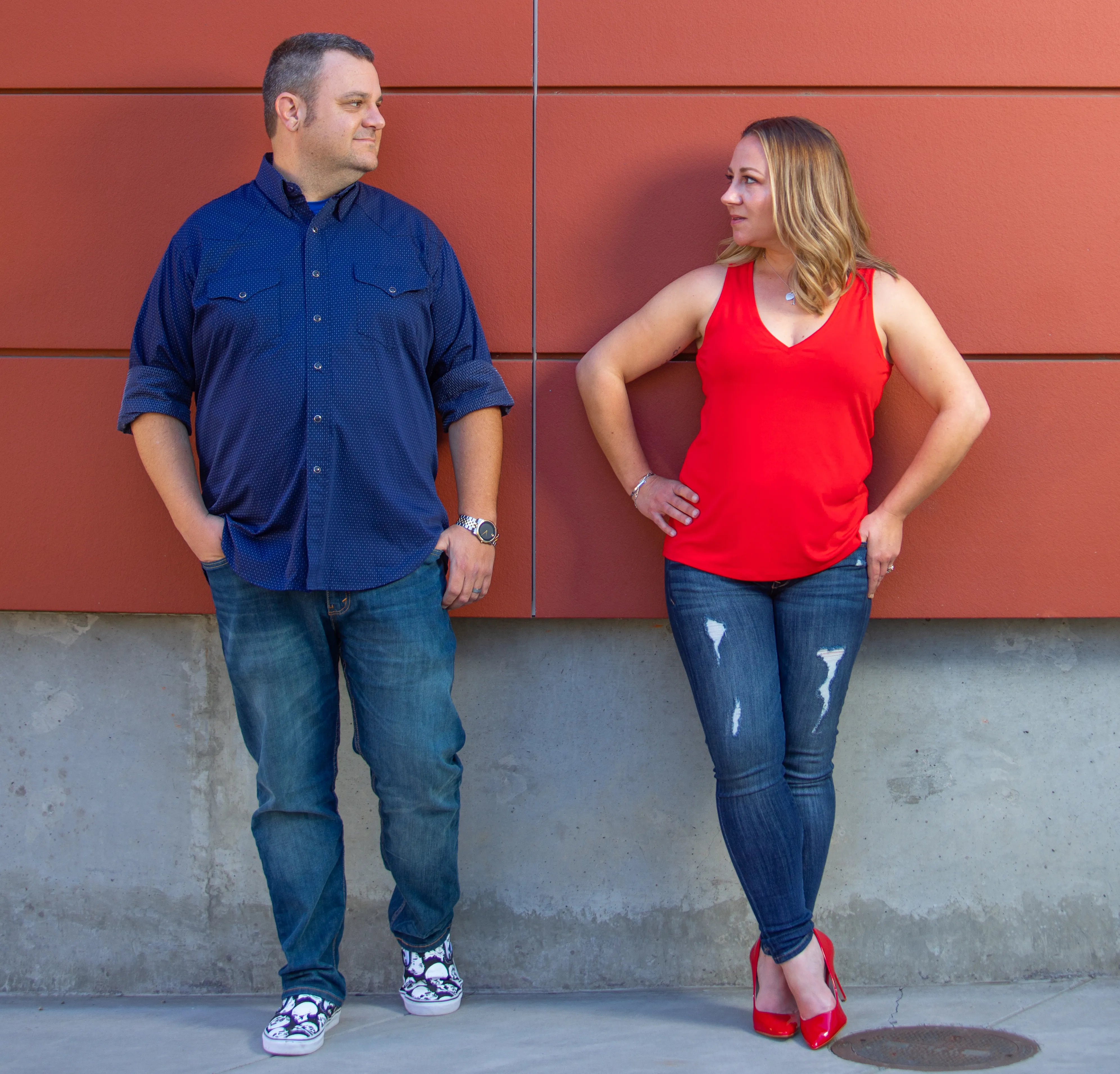 Greg Hansen and Krista Abel run Dream Home Images, a luxury real estate marketing firm.
"Greg and I have much different communication languages in ways," said Krista Abel, who runs the digital real estate marketing firm Dream Home Images with her husband Greg Hansen. "So we set up some ground rules [for] how to speak to each other, how to kind of translate what we say, how to not take things personally, and so forth. And so that's been instrumental."
David and Danel de Betelu say they text constantly to keep each other abreast of updates.
"[Danel] wakes up super early. I go to bed super late. So at night I just make a whole list of things that I need him to weigh in on and text him," said David. "So then when he wakes up in the morning, he has that list."
There are lots of tools to help you communicate, but figure out together what works for your situation.
"It's about finding a way that works for both of you," said David.
When things get tense, call a time-out.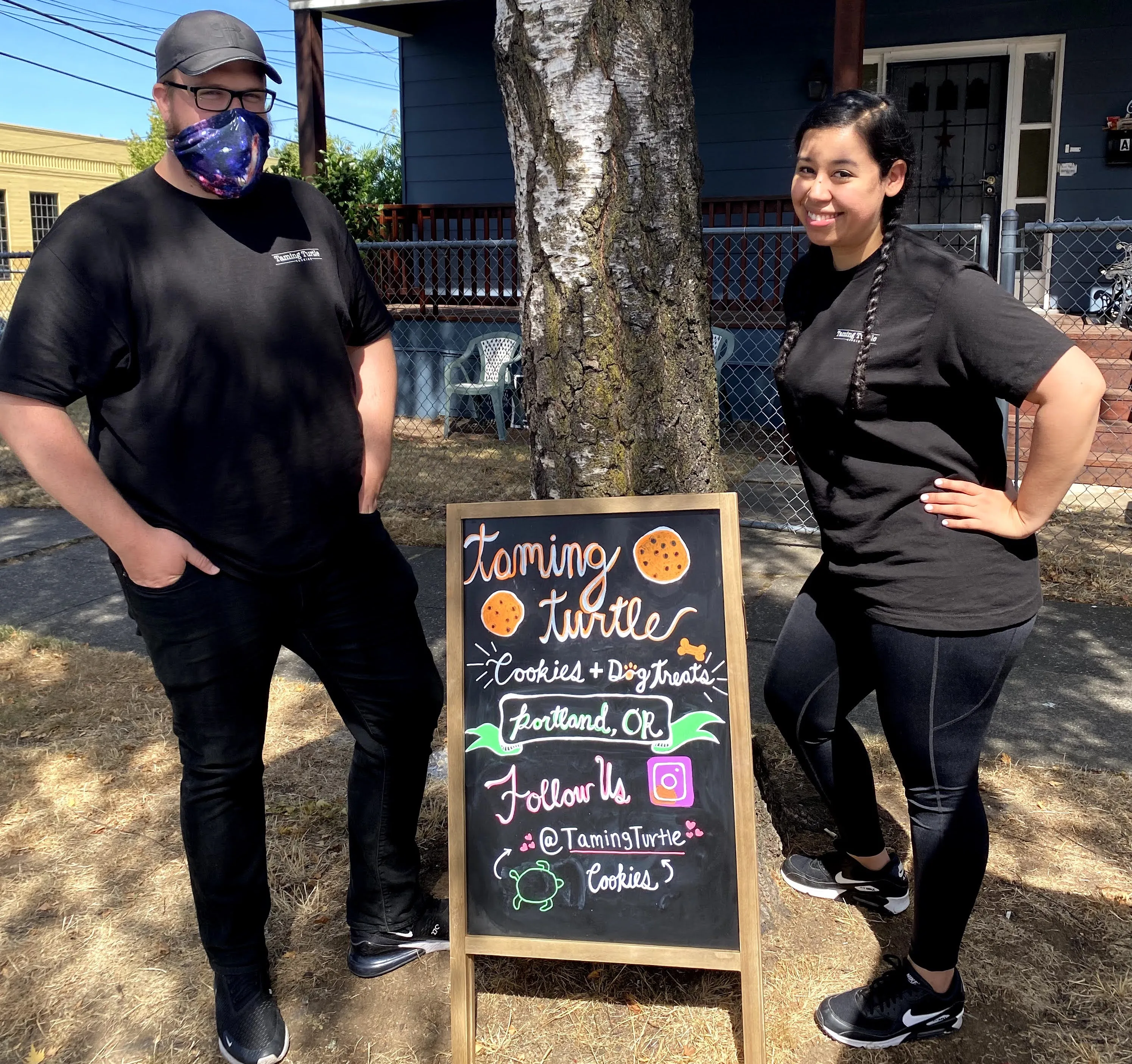 Zech Campbell and Astrid Rivera launched their cookie shop together in the midst of the pandemic.
For many people, working with their partner leads to heightened emotions, especially when things get stressful. It may feel awkward the first few times, but having a phrase that keeps you both from spiraling in tense moments can help you reset and refocus on the work.
"I don't know how it started, but if either one of us is feeling overwhelmed or we need a game plan, we'll just say, 'stand up!' explained Zech Campbell, a Square engineer who started Taming Turtle Cookies with his girlfriend Astrid Rivera. "That's been really helpful when it's super chaotic," Rivera added. "I'll just be like 'stand up!'" and he knows that we need to talk some stuff out."
Create a division of labor.
The couples we spoke to said friction early on came from not having defined roles. Not only is it more efficient to split up the work, but it allows each person to flex their skills.
"Initially, we weren't sure how to work together. And so we were stepping on each other's toes quite a bit," said Campell. "And then we started to figure out what we were each interested in and kind of give up control in a sense. Astrid's really good at marketing and social media. And so initially I was posting just to get the thing going, but now she makes all decisions on social media."
Read more: 7 Adorable Valentine's Day Marketing Ideas

"It's so important to recognize and understand each other's strengths and weaknesses," said Abel. "For example, I'm a creative and Greg is more business."
Be intentional about time away from work.
Across the board, couples we spoke to said the biggest challenge was taking a break from talking about, thinking about, or doing work.
"We learned early on that we needed to set time away from work," said Abel. "Quite literally, my phone would be ringing with texts and calls until 2 a.m. Now, my phone turns into a brick at 6 p.m." Abel said she's since learned the importance of setting aside non-work time with each other, and for individual hobbies and friends. "Square actually helps us do that — everything is in one place and it's so accessible that we're able to have our admin take care of a lot of tasks, freeing us up to have down time."
Depending on the type of business you run, drawing a line in the sand might not be possible, but every little bit helps.
"It doesn't stop!" said Larsen. While it will always be a work in progress, she said that the couple makes it a point not to talk about work at the dinner table and late at night. "It's harder to set boundaries when you're working with your life partner," she confessed.
Savor the experience.
As stressful as it is, the couples we spoke to all said they'd take this journey with their partners all over again if given the choice. We asked them what they enjoyed most about working together, and here's what they said. Ready for the warm fuzzies?
"I like the time together that we have and that we are able to also have our kids be a part of it. That has been, I think, my greatest joy."
-Petrushka Bazin Larsen, Sugar Hill Creamery
"Being able to share in those fun, exciting work moments. Before, Astrid would tell me something going on at work. And it was a big moment for her and I'm like, okay, that's awesome, but I didn't understand why it's a big moment. And now, when there's a comment on our Instagram, we get to both share in that excitement, the same amount, which brings us closer."
-Zech Campbell, Taming Turtle Cookies
"I'm working with my best friend and the person who always has my back. It's fun! Cause we get to know each other's quirks, like my loud singing in the car, or just amusing each other and really being able to read each other."
-Krista Abel, Dream Home Images
"For us, it's very personal. Our business is inspired by our wedding. You have someone you can share the successes and the burdens with, and you never have to worry about whether you can trust your business partner."
-David de Betelu, Maison Danel