If you own a restaurant, chances are that you reach customers beyond your brick and mortar. So today we're introducing a solution to simplify how you do business: a new set of order management integrations for Square for Restaurants.
Square for Restaurants already offers integrations directly with Caviar. Now Postmates, DoorDash, and POS integration solution Chowly orders can appear directly in your restaurant's POS. These integrations give your restaurant a more streamlined, efficient, and faster experience when accepting delivery and takeout requests. And you'll gain access to 23+ online ordering partners and over 70 percent of US households to boost your top line.
"Square for Restaurants integrations allow for any delivery partner to become a seamless part of our day-to-day operations," said Jacob Cohen, managing partner and co-owner of dell'anima in New York City, NY.
"With a click of a button, the ticket is now sent directly to the kitchen, where the back-of-house team can prepare the meal as if it were any other order. And best of all, it allows us to have another source of business with no additional workload on our end."
Square for Restaurants integrations allow you to see all in-store, online, and delivery orders in one view. With a streamlined process to accept off-premises orders, like delivery or takeout requests, you can eliminate the use of multiple tablets and manual entry of online orders into your point of sale.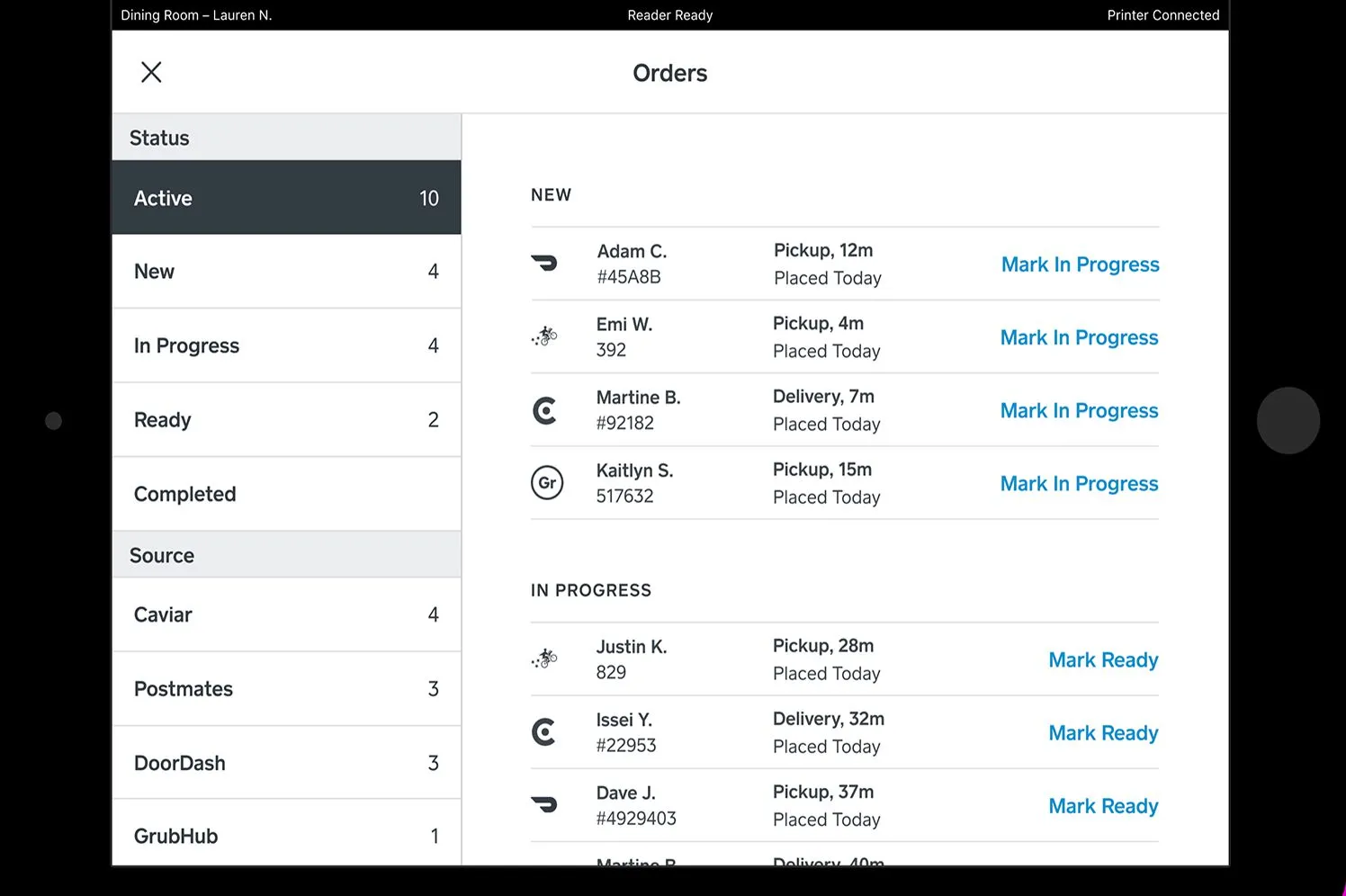 All delivery orders via Caviar, Postmates, DoorDash, or Chowly are automatically sent to your Square for Restaurants POS and routed directly to the kitchen.
All of this allows your restaurant to increase productivity. And with better insight into all your sales, you can actively lower labor costs and reduce food waste.
If you already use Square for Restaurants, you won't pay any extra fees to unlock direct integrations with Caviar, DoorDash, Postmates, Chowly, or any future partners that may integrate with Square. If you don't have Square for Restaurants, these integrations are coming soon to the free Square Point of Sale app.
For more information on Square for Restaurants and to get started, visit our website.