Table of contents
For businesses in virtually all industries, fraud has the potential to be a significant cost. According to a PwC survey, 47% of companies experienced fraud in the past 24 months. With high risks and high costs, it's essential for businesses of all sizes to take reasonable steps for fraud mitigation. As the holiday season approaches, it's the perfect time to step up your fraud mitigation efforts to support your goals for a profitable end to the year.
Train yourself and your staff to avoid phishing schemes
Modern cybercriminals are very savvy, so it's important to stay alert and train yourself and your staff on what to look out for in malicious emails. Staying educated on the latest schemes is your first line of defense against fraud and data breaches.
One recent scam uses the free Google Voice service to make phone calls using someone else's phone number. In this scam, the cybercriminals may call your business to ask about your products or services, and at some point ask for a verification code that allows them to make calls from your number. Phishing schemes constantly evolve, and can come from text, email, or voice calls, so it's important to stay educated and aware.
The FBI offers tips to protect yourself from phishing, such as avoiding clicking links in unsolicited emails, paying close attention to spelling and email addresses, and taking extreme care if downloading a file from your email or the web. Using multi-factor authentication anywhere it's available and requiring it for your team is another effective strategy in keeping your systems safe and secure.
Also, keep in mind that you should never give out your user ID, password, or multi-factor verification code. If you're working with a legitimate company and customer service representative, they already have full access to your account. Odds are, someone trying to get this information from you is up to no good.
The 2021 Data Breach Investigations Report from Verizon found that 94% of malware attacks begin with an email. A brief training session can help employees know what to watch for to avoid scams in their inbox. Here's a look at simple ways you can protect your business from phishing scams.
Implement tools to catch fraudulent transactions
Modern fraudsters use a variety of techniques to steal products and money from individuals and businesses. Payment fraud and fraudulent orders can be extremely costly, and the risks have only increased with the rapid shift to eCommerce since the start of COVID-19.
Some signs of fraudulent orders include:
Failed verification of card or billing details
Mismatched billing and IP address locations
Multiple purchases from the same buyer or IP address in rapid succession
Irregular orders (e.g., huge orders, multiple purchases of the same item)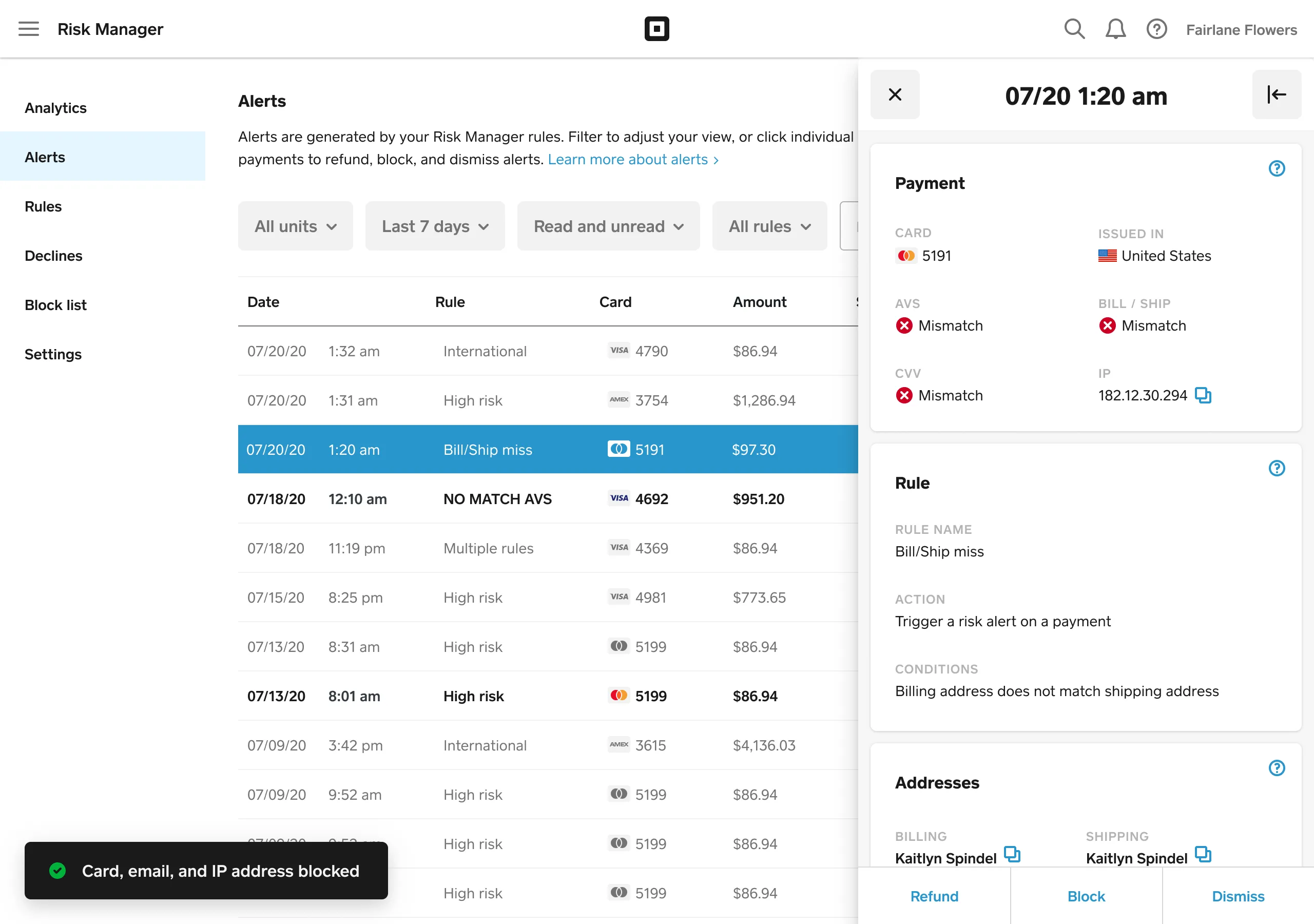 Square Risk Manager helps businesses by automatically monitoring every debit and credit transaction for signs of suspicious activity. Risk Manager uses machine learning to evaluate transactions and block fraud before it hits your bank account. Fraud monitoring is included for free with every Square business account. Advanced Risk Manager tools are available for a modest fee after a free 90-day trial.
Get proactive about chargebacks
When a customer makes a card payment and believes you didn't hold up your end of the bargain, they can file a dispute with their credit card issuer, known as a chargeback. If you've been in business for a while, you've likely experienced an occasional chargeback, even when you believe your company didn't do anything wrong.
Even worse, however, is chargeback fraud. Friendly fraud is one common type of chargeback fraud. It happens when a customer makes a purchase with a card and files a dispute with their card provider even though there was no legitimate reason for a chargeback.
Clear customer communication around purchase and return policies or providing a signed contract for services delivered or goods purchased can help you avoid legitimate chargebacks. Providing good customer service, sales receipts, and clear product descriptions are also helpful.
Restaurants and other businesses looking to prevent chargeback fraud should also:
Track customers. Using a system that tracks customers and past orders helps you identify irregular purchase patterns from a customer, a sign of potential chargeback fraud.
Monitor abnormal orders. Very large orders, multiple orders from the same customer in a short period, and orders with a large number of the same item are common red flags.
Require a signature. When a customer signs that they've received the order, you have proof that it's been delivered and accepted. In the event of a chargeback, this record may help you win your case.
Read more: Preventing chargebacks in your restaurant business
Staying one step ahead of holiday season scams
The holiday season is the busiest sales season of the year, and cybercriminals are standing by, ready to attack unsuspecting businesses. But when you take advantage of the best tools and maintain a proactive approach, you're taking action to stay one step ahead of scammers year-round.
Risk Manager is one of the best ways for small businesses to minimize fraud costs. Adding this AI-driven system to your toolset will help you avoid fraud and maximize profits. Learn more and get started here.