Table of contents
A quick review: Cash flow is defined as the total amount of money that's going in and out of your business, and it affects your overall liquidity.
Without cash coming in from customers, you can't spend money on things like inventory, payroll processing, or everyday expenses. Without paying for new inventory, employees, or expenses, your business will cease to exist. Cash flow can be a catch-22. In fact, 82 percent of businesses fail as a result of cash flow issues.
But don't worry. With a few tools and some planning ahead, you can ensure your cash flow game is strong. One of the most essential of those tools? Transfers (since transfers determine when you have that cash in the bank).
With Square, you can time when transfers hit your bank account, giving you the freedom to choose when you have cash for spending.
Square's transfer options
Square has several different types of transfers: next-business-day, instant, same-day, and add money (with Square Debit Card).
Next-business-day transfer
Square's default next-business-day option transfers money into your bank account in one to two business days. Square groups and sends payments based on the time you choose to end your day. By default, your close of day is 5 p.m. PT/8 p.m. ET, but you can customize your close of day if your business stays open later.
As shown below, if your business closes at 5 p.m., transactions completed before close are transferred on the next business day. Transactions completed after 5 p.m. are transferred on the second business day. Next-business-day transfer is free of charge. Here's more information about setting up your next-business-day schedule.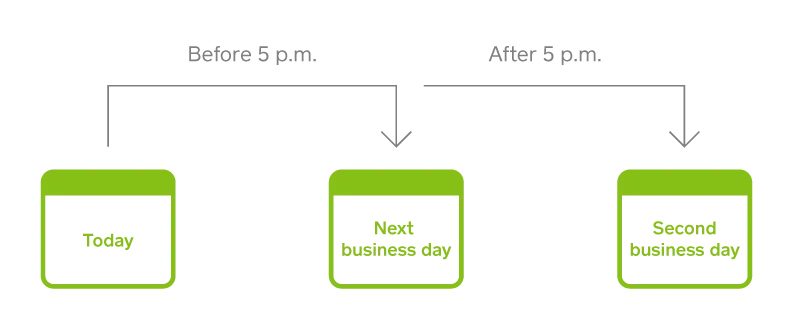 Instant transfer
If you want the money to hit your account even faster than the next business day (as in instantly), you can use instant transfers. Whether it's late at night or over the weekend, an instant bank transfer lets you transfer your sales into your bank account with just a tap.
For each transfer, the fee is just 1.75% of the amount transferred. You can learn more about how to get started with instant transfer here.
Same-day transfer
If you want to set a specific time at which each day's sales are transferred, same-day transfers make that easy.
You can customize your same-day money transfer to occur just after the close of your business day. That way, if you're open until 6 p.m. on weekdays and 8 p.m. over the weekend, you can assign each day's transfers to hit your account right after each day's close, when it makes sense for your business. And you can set it and forget it. You just need to customize it once and then the feature goes on autopilot.
Same-day transfers cost just 1.75% of the transfer amount per same-day transfer. Learn more about setting up same-day transfers.
Transfers in real life
So here's how transfers may play out in your day-to-day work.
You may utilize instant transfer to pay for a one-time inventory delivery. For example, a photographer may shoot an event on Friday and use Instant Transfers to print those photos for a weekend delivery.
If you have weekly bills that you pay on a regular basis, like a restaurant may pay for food deliveries and supplies, scheduled transfer is a great way to ensure you have cash in your linked bank account readily available.
A bar owner with fairly set operating costs may utilize next-business-day transfers to keep a regular influx of cash transferred into their account during the business week.
If you have a Square Debit Card and manage funds from your Square Balance, you can use Add Money to transfer funds to your balance. For example, if you're at the store and have $50 in your Square Balance, but your purchase will total $75, you can add the additional $25 needed to your Balance. You'll be able to cover the expense right away by paying with your Square Debit Card.
Whatever your business's needs, Square has a transfer setting that can help you run, grow, and succeed.