Table of contents
You may recognize the little white reader, but did you know that Square has tools and software to power your eCommerce empire, to open your next location, to invoice that very first client, or to send a personalized payment link to your biggest catering client? From your local coffee shop to SoFi Stadium, our technology is built to grow with your business. 
In this article we will explore how Square can power everything your retail business needs, almost. 
Square for Retail 101
A suite of tools made for retailers. From syncing an online store to counting stock with your phone, Square for Retail can manage your inventory with a scalable catalog and help you sell in-store and online from one place. Here are some Square for Retail features that you might not have heard of. 
Square can help you with bulk editing — but entering prices correctly is on you.
Let's be real, we don't all excel at Excel. Spreadsheets can be time-consuming and riddled with errors. As a busy business leader, you don't have the time. They say to work smarter, not harder, right? Say hello to Bulk Edit on Square Dashboard, an intuitive tool that allows you to select multiple inventory items and make mass changes to details such as name, size, category, price, and description; to allocate a store; or to add custom attributions. Learn more here or check it out in action below.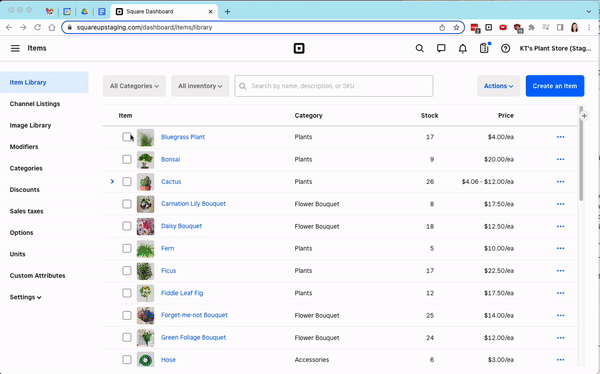 Square can help you know what's selling — but creating your next viral product is your department.
You've just delivered your best sales pitch to a primed customer who is ready to buy when you realize that the item — which was in stock last week — has sold out. Don't fret. With a daily Inventory Sell-Through Report, you can rest easy knowing that you have stocked according to what is selling well. You could even offer a discount, a special buy-one, get-one (BOGO) offer, or a marketing campaign on the stock that isn't moving. Learn more here. 
Square can help you create inventory items automatically — but deciding where to display them is a you thing.
Did you know your phone can scan barcodes and create inventory items automatically? When you scan an unrecognized barcode using any smart camera, you'll have the option to create an item on the spot. How?
Scan a new barcode in the Square Retail POS app. You take this action from your cart view or while adding stock.
You'll see a message notifying you that the item is not recognized. Tap Create Item.
Enter the item details. The barcode will automatically populate in the GTIN field, along with any available product info, such as an image and name.
Tap Save.
Square can make stocktake easier — but getting staff to arrive early to help is your department. 
Counting inventory can be a time-consuming task. When divided into a team, the space for human error only increases. With Square for Retail Inventory Counting, you can allow multiple employees to count in tandem in the same system with either an iPhone or an iPad. You also have the ability to pause your count and save it for later. No more forgetting where you were up to or messy paper records. To prevent any errors you can implement permissions for employee stock counts to be reviewed. You can also check the manager review report to see whether there are any stock variances before you make the changes to your catalog.
Square can pull up transaction history with a customer's card — but we can't help with the awkwardness of a customer returning something you recommended. 
Have you ever wanted to locate an old sale for a customer who needs to process a return or exchange without a receipt? Scrolling through transactions can be timely, especially if they don't remember when they purchased. With Square for Retail you can simply tap, dip, or manually enter their card's last four digits and instantly view their entire purchase history with your business. 
Square for Retail has plans for every stage of business — but jumping in and getting started is all you.
Square for Retail has three plans designed to grow with your business. Whether you're just starting out or already operating multiple stores, you can find a plan that suits you. Here's the lowdown. 
Square for Retail Free
For businesses getting started in-person and online
Cost: $0 with Square standard processing fees
Highlighted features: Access unlimited items, free online store, exchanges, category creation, cross-location stock counts, camera barcode scanning, automatic discounts, and Afterpay payments 
Square for Retail Plus
For expanding businesses that need in-depth retail features
Cost: $60 per month, per location
Highlighted features: In addition to everything in the Free plan, you can access the full inventory counting tool mentioned above, barcode printing, automatic purchase orders, cross-location returns, stock adjustment history, and profit margin reports. 
Square for Retail Premium
For businesses looking to scale with everything in one place
Cost: Custom pricing is available.
Highlighted features: In addition to everything available in the Plus plan, you can access custom pricing on unique domain names and includes Square Payroll, Square Loyalty, and Square Marketing.
These are just a few of the features that Square sellers love in Square for Retail. Learn more here.