The pandemic has been an inflection point for businesses across industries for many reasons. This includes the current labor shortage — which is proving to be an ongoing reality that business owners need to face head on, with a plan.
According to the Square Future of Commerce report, 73% of restaurants say they are experiencing a labor shortage, with an average of 21% of open positions going unfilled. Among retailers, 31% say they are worried about being able to attract and retain staff. Being understaffed not only puts undue stress on existing staff, but also affects the customer experience. In fact, 41% of consumers say that they are likely to avoid businesses that don't have employees onsite to assist them.
As employees reassess opportunities and benefits, businesses may have to shift how they operate. Key strategies to address this challenge include making strategic use of current staff and assessing the work environment with an eye toward attracting and retaining employees.
One solution many businesses are turning to is automation for everyday tasks, which can allow existing employees to take on more impactful work for the business and for their own career development. Automating tasks like payroll, inventory, and customer loyalty programs can help free up staff to take on work like in-store customer engagement and launching new sales channels.
Nearly three-quarters of retailers say they use or plan to use automation to decrease staff members' hands-on time, while 90% of restaurants agree that increased automation for back-of-house operations would allow staff to focus on more important tasks. Restaurants aren't just thinking about automation for back of house: 91% also say that automating front-of-house tasks, like accepting payments, managing orders across platforms, and making reservations, would fill critical gaps in staffing.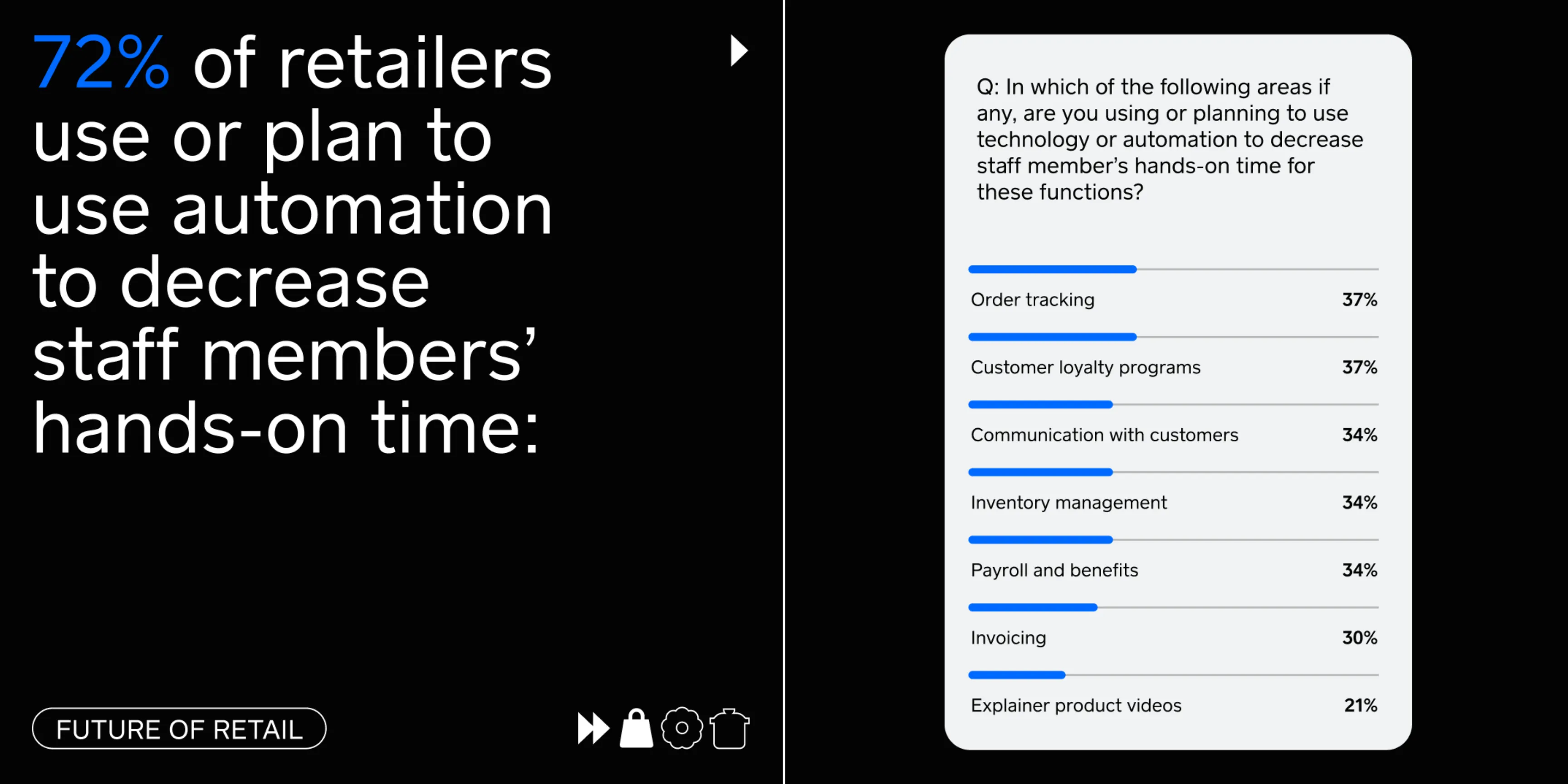 Liz Fielder, co-owner of The Junction in Mill Valley, California, says that incorporating automation for ordering and paying through QR codes dramatically reduced her need for staffing for those tasks.
"Our labor cost percentage for an entire beer garden is 150% less than it was when I owned a 300-square-foot [frozen yogurt] shop, and that's entirely because of QR code ordering," she explains.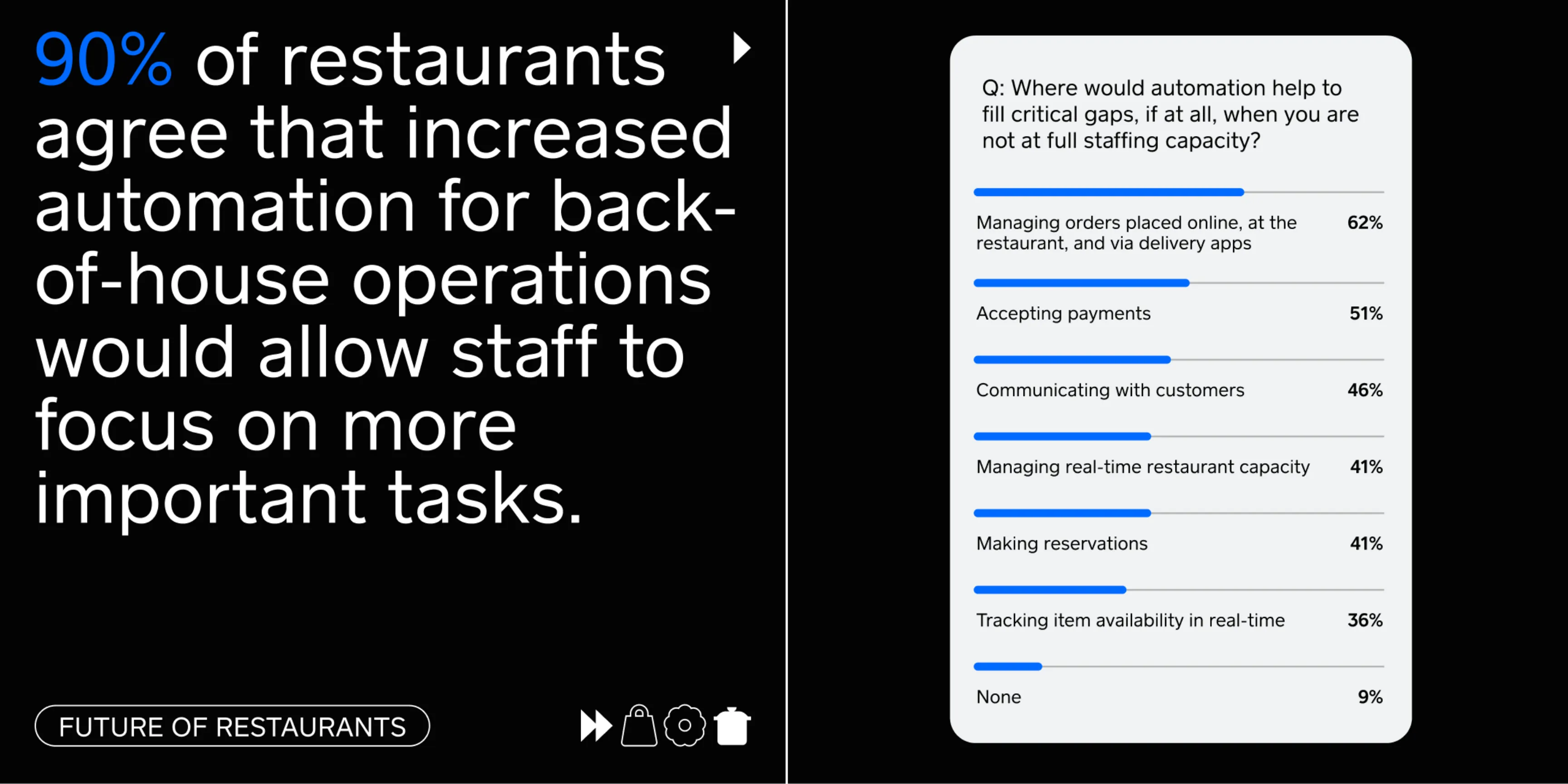 While automation may have seemed like a bad word in the past, now it's proving to be critical for many businesses. If you're thinking about automation or dealing with being understaffed, consider the following tips:
Scheduling software, like Square Team Management, can empower your team to make the schedule work for them and the rest of the staff by allowing for shift trading and picking up open shifts.
Scheduling software can help you analyze statistics to keep track of how efficiently you and your staff are using your hours, making better staffing decisions based on demand and business needs.
Using technology can speed up tedious, time-consuming tasks, like inventory counting, which can be done on the go with your iPhone or iPad.
Consider ways to help staff be more efficient with their time. For example, incorporating QR code ordering, tableside ordering, and tableside payments can cut down on time servers spend going back and forth from the customer to the POS. An integrated kitchen display system can also help with back-of-house efficiency, making the kitchen staff feel less overwhelmed with incoming tickets.
Learn more about how different industries are using automation and more by downloading the Square Future of Retail, Future of Restaurants, and Future of Beauty reports.