About Sabor Latin Street Grill
Dalton and Miriam Espaillat opened the first Sabor Latin Street Grill in 2013, fueled by the desire to bring authentic Latin American street food to Charlotte, North Carolina. Building on the success of their first restaurant, Three Amigos Mexican Grill & Cantina, Dalton Espaillat decided to pivot away from fine dining to a fast-casual restaurant concept. The idea was a hit, and with the help of Square Online, Sabor now has 18 locations — and is still growing.
Power your business with Square
Millions of companies use Square to take payments, manage staff, and conduct business in-store and online.
Get started
The challenge: pivoting to a scalable operation
The idea for Sabor Latin Street Grill sprouted from Espaillat's full-service restaurant, Three Amigos Mexican Grill & Cantina. Three Amigos opened in 2010 and quickly became a well-known establishment and local favorite in Charlotte. 
But when Dalton Espaillat attempted to replicate the thriving Three Amigos, he realized that scaling the full-service restaurant presented some major operational challenges. The Espaillats would need to pivot to a more scalable fast-casual restaurant concept that would allow them to continue their expansion and needed a point of sale, online ordering, and delivery system that would grow with them.
The solution: Square Online
The Espaillats turned to Square Online to help them streamline their new fast-casual restaurant operations. Square Online tools helped them speed up the checkout process and simplify ordering, delivery, and pickup. During peak hours, the Sabor team leverages Square Online's order limiting tool to sequence orders and avoid overwhelming the kitchen. Square Online also sends text notifications to customers when orders are ready, keeping them updated in real time.
Having Square Online allows us to keep the number of interacting systems to a minimum. In addition, it allows us to provide our customers the same experience online and in-store when it relates to the loyalty program, promotional codes, and gift cards. "

Edgar Hernandez

→

CTO, Sabor Latin Street Grill
The biggest impact on Sabor's sales has been driven by loyalty and marketing features. With Square Marketing they can create, send, and track email marketing campaigns in minutes to increase repeat customers at all locations, with notable sales driven by their loyalty program customers.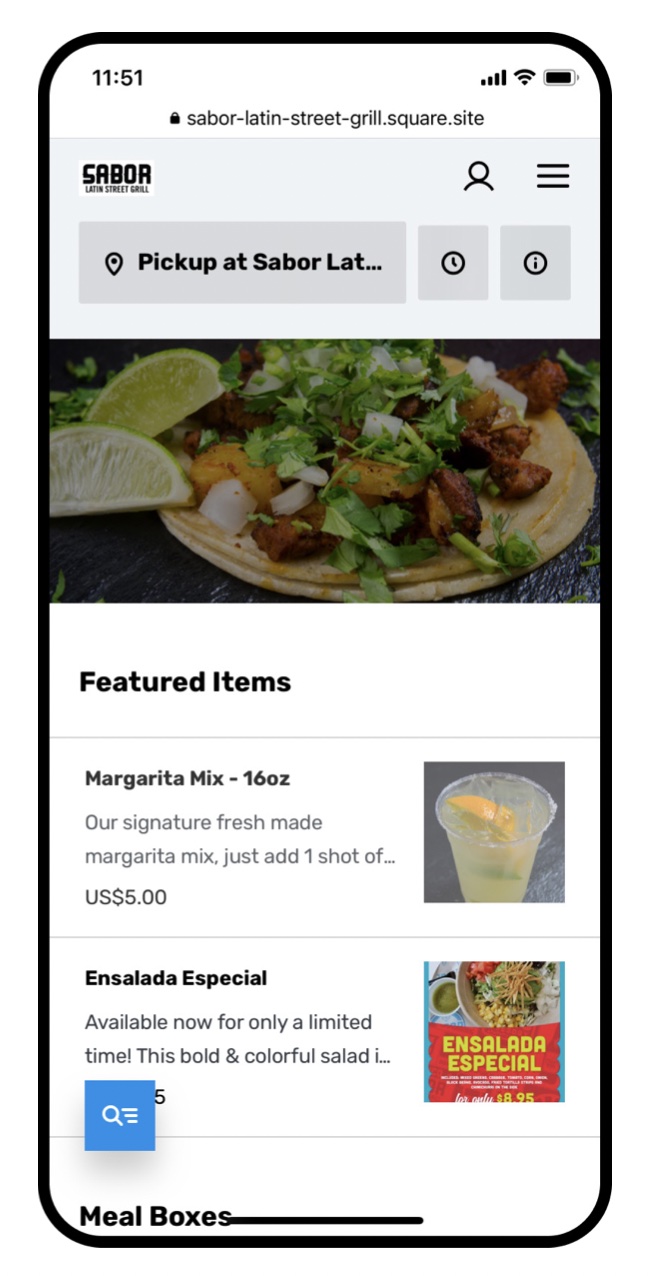 The results: customer loyalty-driven sales 
Leaning into loyalty and email marketing has paid off. Now, 24% of sales come from loyalty program customers: These repeat diners spend 30% more on average than non-loyalty customers. Email campaigns benefitted from an impressive 40% open rate and resulted in more than $40,000 in attributable sales during the first quarter of 2022.
In addition, Square Online pickup and delivery accounts for 33% of Sabor Latin Street Grill's total order volume. The Sabor team also plans to test the Square Online self-serve ordering feature and deploy QR codes across their locations, allowing customers to scan the code, review the menu, and place orders immediately without standing in line or waiting for a server.
Online ordering is here to stay. Square plays a big role in keeping us competitive. "

Edgar Hernandez

→

CTO, Sabor Latin Street Grill
Square empowers sellers large and small with tools that work together, saving time and resources. See how Square can work for your business.