Welcome to Small Business Cent$, a new series where we ask business owners to share what they spent their money on for a week. First up: the owner of a vintage flower truck in the Midwest opens her business for the spring.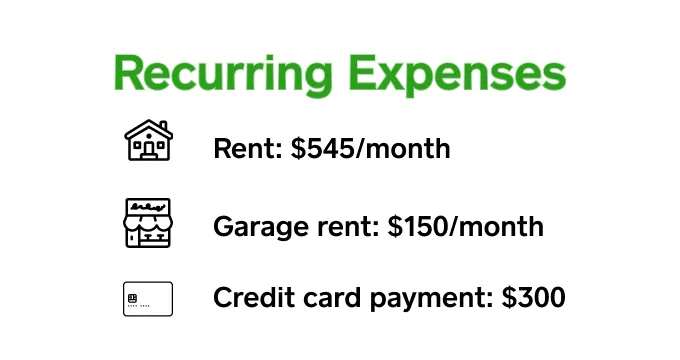 Day One
6:45 a.m.: I hit snooze twice before getting up to do a 10-minute workout. Still trying to lose the baby weight from my two-year-old (insert eye roll). I post the services my business is offering for the day on Instagram and Facebook, since what we offer varies by day. Social media is how we tell our customers what we've got going on.
7:30 a.m.: My oldest daughter comes home from her dad's. My ex and I share custody, which is really helpful. She comes in not feeling well and decides to lay down before school.
8:00 a.m.: My partner and youngest daughter get up and make breakfast.
9:00 a.m.: I check on my oldest — she's still sleeping, so she must not be feeling well. I was supposed to leave for work by now but have decided to wait until my grandma gets to our house. I'm fortunate to be surrounded by family that helps with child care. We tried a day care recently and I was not a fan.
10:00 a.m.: My partner and I both head out for the day. He's a waiter at a restaurant and won't be back until after the girls are sleeping. I head to the bank to deposit some birthday money into my personal checking account, then head to the flower market. I spend $50 on filler flowers needed for my deliveries today.
11:30 a.m.: I've finished with the flower market and have everything I need for making bouquets. I text a friend that works nearby to see if she can help with some photo taking. I have an idea for the first day of spring, and I need an extra hand to man the iPhone.
12:30 p.m.: All of the bouquets are made, and photos have been taken. I'm headed out for deliveries.
12:30–4:00 p.m.: I finish up deliveries and head to Trader Joe's for some grocery shopping (dangerous, because everything is so good). I had no clue what I was going to get for dinner, until I realize we have leftovers still from my birthday dinner. I just pick up the essentials — cheese, chocolate, and milk. I pay $51, using my credit card.
5:00 p.m.: My grandma stays to have dinner. Any time she watches the girls for me, she stays. It's nice because evenings can get lonely without my partner around. After dinner, we clean up and head out for a walk. The kids play at the park next to our house.
7:30 p.m.: We start the bedtime routine. While the girls play, I work a little on emails and social media stuff.
9:00–10:30 p.m.: We head upstairs to read books. I don't actually get my youngest down til after 10 p.m. She's restless and needs a bigger bedtime snack — this puts a wrench in my work plans.
11:00 p.m.: My partner gets home. We talk until 1:00 a.m. Not uncommon, but I know I'll regret this in the morning.
Daily total: $101
Day Two
8:00 a.m.: We wake up late — this puts us in a time crunch to get my oldest to school.
8:45–10:30 a.m.: We have breakfast, then I get myself ready for the day and fire off some work emails.
10:30 a.m.–12:00 noon: Head to speech therapy for my youngest. We end up going over time, since the therapist and I start discussing the issues that kids in our community face. It's great to have these conversations — one of the things I miss most about having a desk job is having people to talk to.
12:00 noon–3:15 p.m.: My youngest and I play and eat lunch. She goes down for her nap. I catch up on the little details I need for the business' season opening this weekend. I purchase little business supplies — paper for bouquets, film for our Polaroid we're using at our season opening online ($106) — review my social media strategy, publish our monthly location calendar, and mess around with the website. This gets me excited for the weekend. It's been three months since the truck has been out consistently. I can't wait to see all of our customers again, and hopefully meet some new ones.
3:00–6:00 p.m.: I fit in a short workout and clean up the house. We cook dinner and get the girls ready for my sister to come over and watch them. I have a meeting tonight for a creative group in the city that I recently started and co-lead.
7:00–9:30 p.m.: We have our meeting at a new wedding workshop space in the area. It's really interesting, and the turnout is better than usual. I'm able to network with some new faces, which is great, because I've been dreaming up more ideas for the city, and I definitely want to involve more local makers and creatives.
10:00 p.m.–12:00 midnight: I get home. My partner and I do a little dancing. He's from Mexico and we met at a salsa club. We don't go out dancing anymore, we like to dance at home. It's a way to keep connected and get steps in. After dancing we head to bed.
Daily total: $106
Day Three
7:45 a.m.: Wake up, post on social media, get my oldest ready for school.
9:00–10:00 a.m.: My partner is off on Wednesdays so we usually do a small date. My grandma comes over to watch the youngest.
10:00 a.m.–1:00 p.m.: We head out for the day — my partner is teaching me how to drive the truck we use for the business. We've been in business for a year, and so far I've had help transporting the truck. Now it's up to me to get it where it needs to go.
The truck is a 1958 manual, so can be a little scary to drive. There's no power steering, and getting the mechanics down of when to push the clutch, brake, gas, and change gears is intimidating. I've been out three times with it now, and I feel more comfortable each time.
We head to a great new Asian fusion restaurant, Lona's Lil Eats, for lunch. St. Louis was just named #1 place for foodies by Yelp and it's easy to see why — every corner seems to have a new spot, full of deliciousness! We splurge a little by getting two cookies to share with the girls when we get home. Lunch is $35.
1:00–3:00 p.m.: We head to the flower market to prep for a styled shoot that I'm helping a fellow business owner with tomorrow. I end up spending $74 on flowers. I have leftover greens and fillers from Monday that can be incorporated into this bouquet, which saves money. Later, I call around for parts for the truck. We need new mirrors, and tracking down someone that has the kind we need has been difficult. Finally, I find someone nearby that can order some for us, which is a relief.
3:00–5:00 p.m.: Go for a run, which is nice. Then, homework and dinner time.
7:00–9:00 p.m.: I respond to emails and social media comments from the day. I have a project I want to work on with another, more well-known, business in the area, and I just heard back from the owner that it may be possible, which is exciting!
10:30–11:30 p.m: I work on the bouquet for tomorrow's shoot, then we rest on the couch and watch a travel series. After that, we head to bed.
Daily total: $109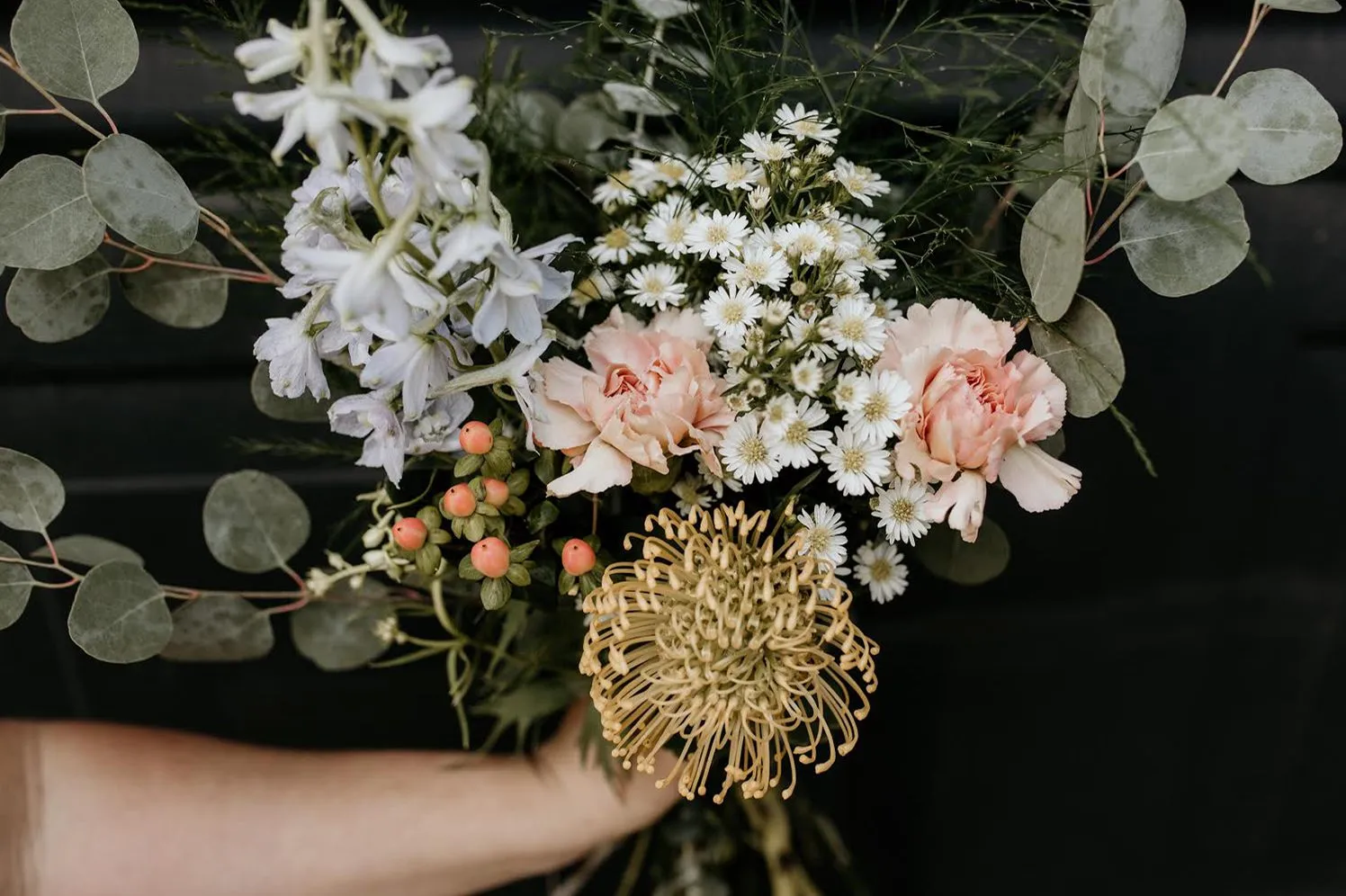 Photo by Delaney Jean Photography
Day Four
7:30–8:45 a.m.: We wake up, and end up walking to school because it's so nice out.
9:00 a.m.: I come home and eat breakfast with my partner and youngest. We have a busy morning — usually we head to the library for story time, but today my youngest will be accompanying me on work errands.
9:30 a.m.: We leave the house and head for the flower market.
10:00–11:00 a.m.: At the flower shop, I grab some ribbon I forgot to pick up yesterday. I also invest in ribbon-cutting scissors ($35). Then we head to the warehouse to put the finishing touches on the bouquet. While I'm working, my daughter finds joy in the wind blowing her crazy curls, and jumping in puddles in the warehouse parking lot. We deliver the bouquet, and head to the grocery store.
11:00 a.m.–12:30 p.m.: I pick up food for dinner and spend $30. On our way home my youngest falls asleep, and stays asleep when I get her into her bed — such a big mom win!
12:30–2:30 p.m.: While she's asleep, I catch up on emails, draft social media posts, fit in a quick yoga sesh, plan my day tomorrow, and check up on deliveries. Right now I'm the only one doing deliveries, but I'm hoping to hire some women to help me with deliveries and the truck this season.
6:00 p.m.: We do homework, make dinner, and sit down to watch a movie. I respond to some more work emails and do some more planning for opening weekend. There are a lot of little details, and I can be really forgetful, so this planning is crucial for me.
9:30–11:00 p.m.: I was planning on working more after my youngest went to bed, but she won't sleep by herself, which means I'm lying down with her. I end up doing some 2020 presidential candidate research while she falls asleep, then I fall asleep.
Daily total: $65
Day Five
7:45–10:00 a.m.: I wake up and post on social media, then start getting stuff ready for the day. I don't have an office space, so everything is done at home. I pack up shopping, delivery lists, and extra flowers for deliveries. Then we head to the bakery in town to pick up cookies I had made for the season opening. These cost $53 with tip.
10:00–11:00 a.m.: I drop my youngest off, then head to the flower shop to pick up fillers for deliveries. I'll be headed back later to pick up flowers for the truck.
11:00 a.m.–1:00 p.m.: I make up bouquets, then head out for deliveries. I love doing deliveries because I've discovered so many places in the city I wouldn't have known about otherwise.
1:00–2:00 p.m.: Head to a meeting with a bride. She's having the truck at her wedding next month for her guests and we finalize flower colors and types. We grab lunch at a new Mediterranean place downtown. Lunch is $14.
2:00–3:00 p.m.: I head back to the flower market to purchase all the flowers we will need for the weekend. I did go a bit over what I needed, but I'm expecting it to be busy and I'm also just not in the mindset to think about all the details. It totals $457.
3:00–4:30 p.m.: I meet my friend for coffee. I'm feeling extra stressed lately with things outside of work. Sometimes you just need a friend that gets you. My handful of girlfriends are the best. They each have their own experiences and can relate to all the different aspects of my life. This particular friend is very dear to my heart and today I'm so grateful we made time for each other. I buy drinks for $15.
5:00–7:00 p.m.: We come home and eat dinner. I'm feeling a bit overwhelmed because I'm responsible for the girls tonight by myself and have a ton of stuff to get ready for tomorrow still. To calm down, I clean. Vacuuming is very relaxing for me, and always resets my mood.
7:00–8:30 p.m.: My youngest and I head to the garage and prep for tomorrow. She plays with broken flowers while I prepare all the buckets and items we'll need for the weekend..
8:30–9:30 p.m.: We settle down to watch a movie. I'm totally guilty of scrolling through Insta and prepping for tomorrow's post. My partner gets home and then we get the girls ready for bed. Then, we chat and head to bed.
Daily total: $539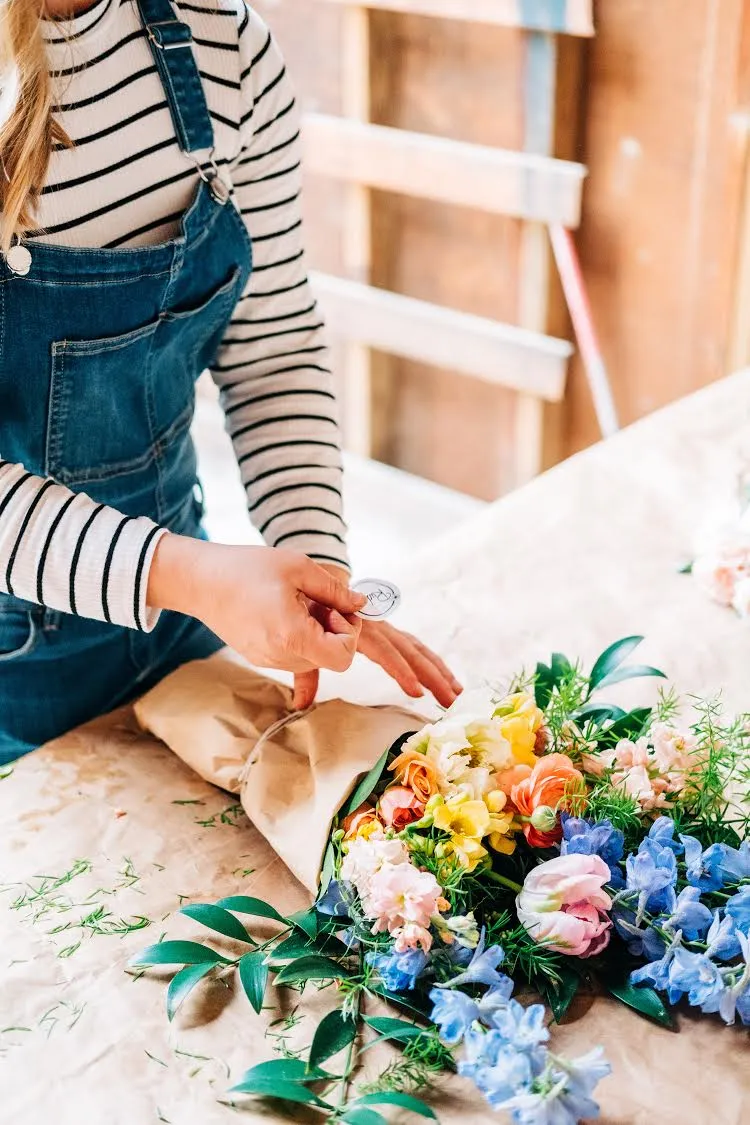 Photo by Ashley Pieper Photography
Day Six
6:45 a.m.: Wake up and shower. After I'm ready, I get the car packed up and get my oldest ready. She's coming to help with opening weekend.
8:00 a.m.: The whole family heads out to the city — a 35-minute drive for us.
8:45–10:00 a.m.: We arrive at the garage and head out with the truck — I make it to our location for the day, a local coffee stop, with only one stall. Pretty successful if you ask me. We get everything set up, and open the truck for the season!
10:00 a.m.–2:00 p.m.: My oldest and I tend to the truck. We help customers pick out bouquets and take pictures with our Polaroid camera. We also snack on some goodies from the coffee shop, Fiddlehead Fern Café, which cost $16.
2:00–4:00 p.m.: After we're done for the day, we pack up the flowers and leave the truck overnight since we'll be back tomorrow. To celebrate, we head to La Pâtisserie Choquette for National Macaron day. We wait for about 40 minutes, but it's so worth it ($25).
4:30–8:00 p.m.: We head back to have dinner at home, then take the girls to the park to play for a bit.
9:00–10:00 p.m.: My partner helps me clean out the flower buckets while the girls watch a movie. We'll prep tomorrow because right now I'm so tired I just fall asleep when putting my youngest down.
Daily total: $41
Day Seven
7:30 a.m.: I'm lucky I get to sleep in a bit. I get up and start getting ready for the day. I fill all the buckets and get the car packed.
8:30 a.m.: We all eat breakfast together.
9:00 a.m.: I head out to drop off my cousin's daughter and then go straight to the city.
10:00 a.m.–2:30 p.m.: I work the truck, helping customers make bouquets and take pictures. It's really fun to get to meet all of the people that stop by. Some want to buy flowers, some are just curious about the truck.
2:30–3:00 p.m.: I meet with a girl to discuss a job opening we have. She's really sweet. I'm so glad she reached out — I was nervous about not being able to find anyone to help this season. I buy a tea for $6 with tip.
3:30–4:30 p.m.: My friend meets me at the coffee shop to follow me while I drive the truck back to the garage. I get stuck at a stop sign for a solid three minutes. The entire experience is stress inducing, but at least she's behind me, directing traffic. We finally make it back to the garage and get the truck all nestled in. She drops me off at my car back at the coffee shop — I'm so grateful for her.
5:00 p.m.: I pick up both girls from my mom's. My partner dropped them off in the morning since he had to leave for work around 10 a.m.
7:00–9:00 p.m.: I'm exhausted and turn on a movie to calm these kiddos down. Luckily, it works — thank goodness. I'm exhausted and fall asleep soon after.
Total: $6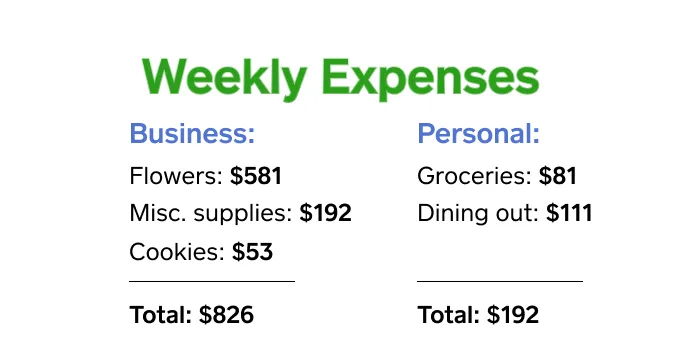 Running a business isn't an easy feat, but Square is here to help. We have all the tools you need to start, run, and grow your business, whether you're selling in person, online, or both. And we've made all our tools work together as one system, saving you time, money, and effort. So you can get back to doing the work you love and focusing on whatever's next. See how Square works.