Table of contents
In 2018, Square teamed up with Blue Bottle to tell the story of how it's grown and expanded from a community coffee shop into an international brand.
In 2019, we wrote and shot an editorial article, video, and photo series. We aimed to not only tell Blue Bottle's story, but also the story of so many businesses like theirs.
In March of 2020, the world faced unprecedented times that caused everybody to take pause and businesses to cease operations as they knew them. For business owners everywhere, all plans and expectations were paused or thrown out the window. Everyone went into survival mode and put all of their energy into adapting for a world forever changed by a pandemic. For Blue Bottle, and Square, where cultivating an exceptional customer experience is an integral part of their core values, this was a new challenge.
In order to protect customers and employees, Blue Bottle temporarily closed all of its stores in March. In May of 2020, Blue Bottle opened its stores, utilizing the Order Ahead app they built with Square, just months before the pandemic hit.
Below is the original story we developed with Blue Bottle.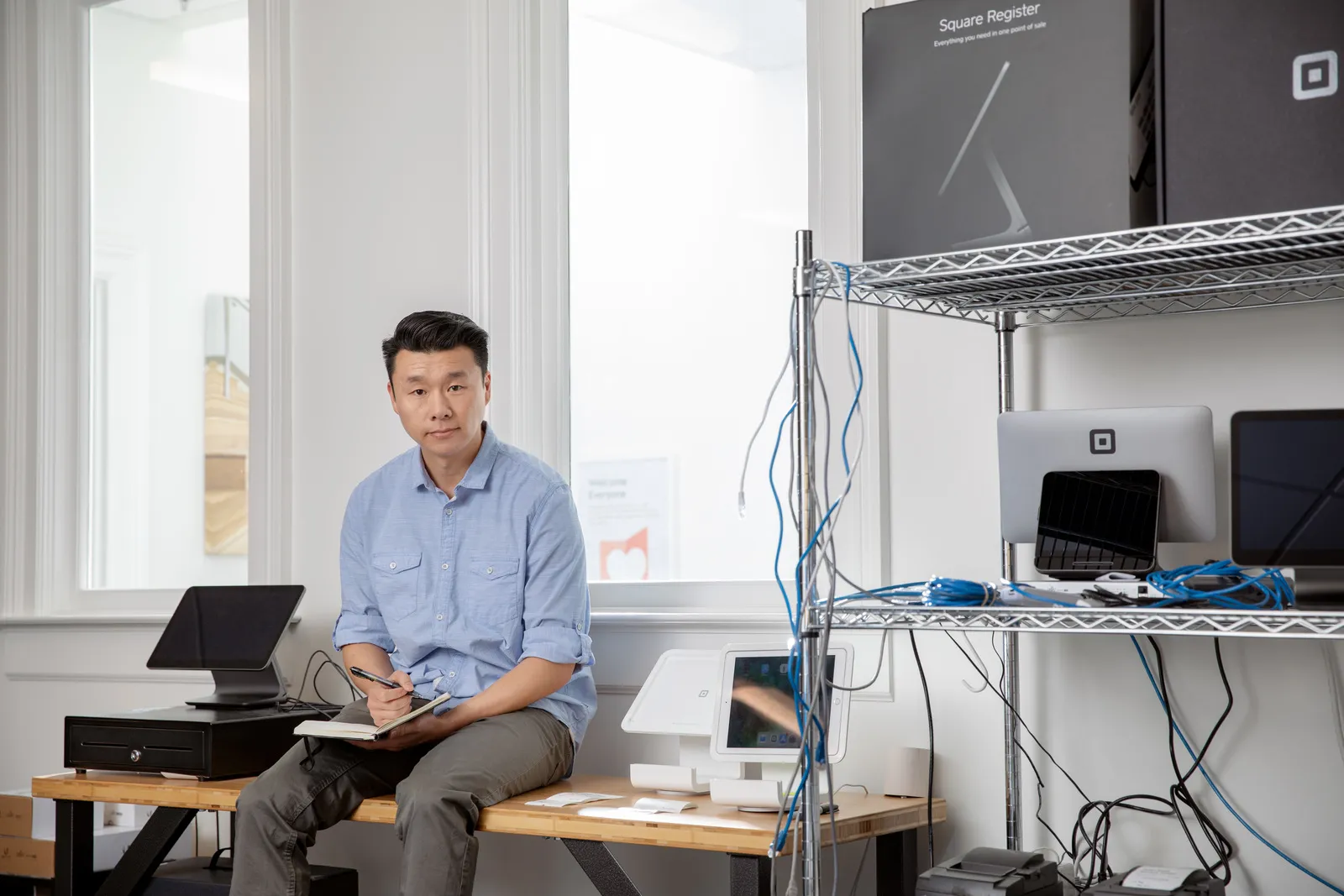 The Original Story
Blue Bottle Coffee's expertly roasted coffee beans, perfect pour-overs, impeccably designed cafes, and passionate employees make up a brand that allows people to enjoy coffee at its peak flavor. This focus has allowed them to grow into a network of cafes across the U.S., Japan, Korea, and Hong Kong.
The seed was planted in 2002 — in the back of a Peugeot 505 wagon in Oakland, CA. Founder James Freeman saw a commercial coffee market that focused more on serving coffee fast, to as many people as possible, and less on coffee as a craft and experience.
In the beginning, Blue Bottle's business model was highly individualized. Customers would call to have a conversation about coffee — what they liked, how much they drank — then Blue Bottle would write down their credit card information, load up the wagon, and deliver coffee straight to their doorstep.
Although they put aside the wagon when demand increased, the idea of delivering superior coffee and providing an authentic experience endured.
Along these same lines, Square co-founder and CEO, Jack Dorsey, wanted to solve issues and remove barriers he saw in the payments industry. First headquartered in San Francisco's Mint Plaza across from a Blue Bottle, Square employees couldn't stop talking about the quality of the coffee and how the staff always remembered them when they came in. Blue Bottle quickly became the coffee shop of choice for Square employees.
By the time Square was getting ready to launch its second hardware product, the Square Stand, in 2013, the perfect place to unveil the product was obvious: Blue Bottle.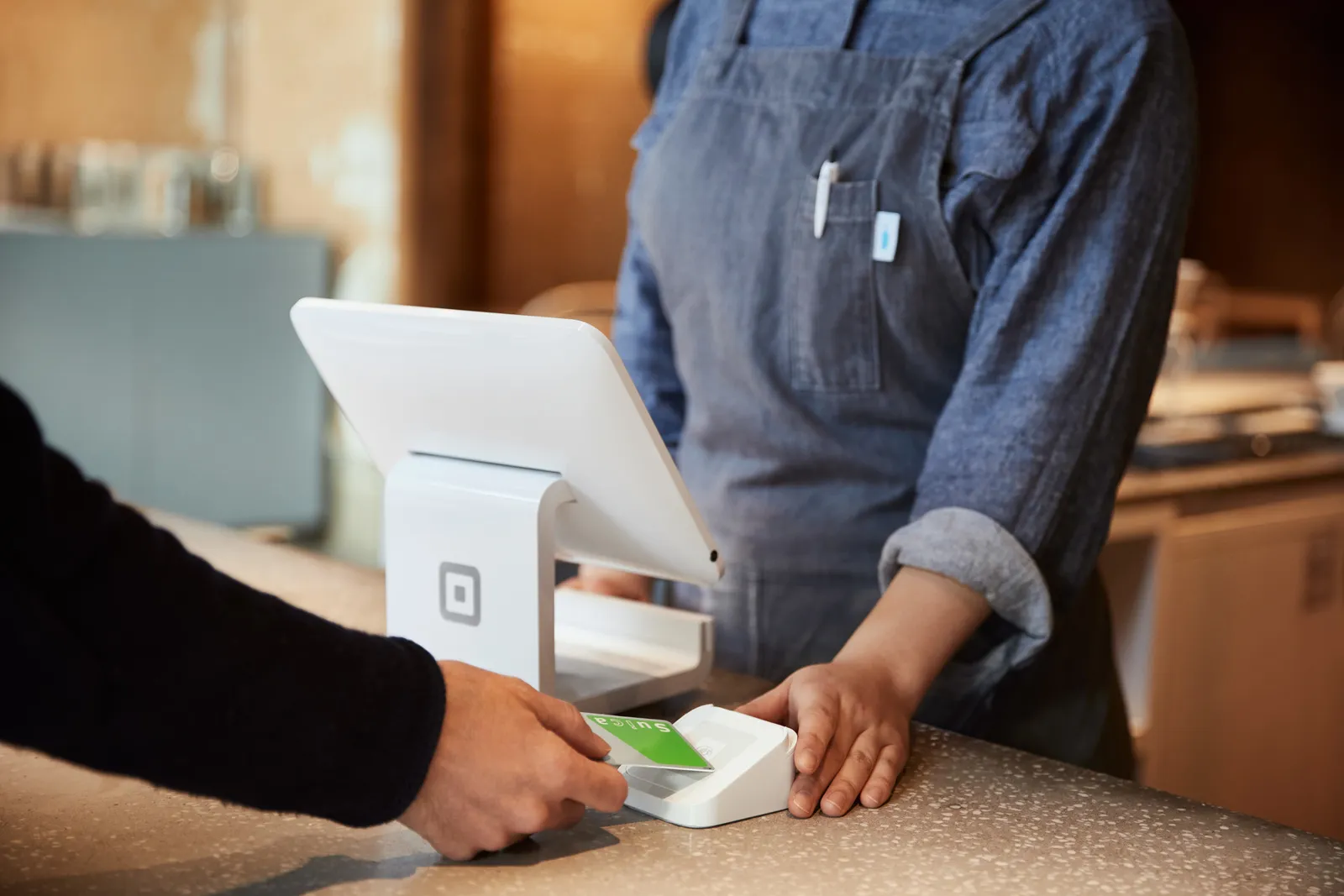 "That's what I love about our relationship with Square. You were in the offices across the way from Mint Plaza and [Blue Bottle] is where you came for coffee," says Bryan Meehan, CEO of Blue Bottle. "You understood our brand, and you created this beautiful point of sale, which you're evolving every year and it just fits. It's beautiful."
For Meehan, having Square as a partner in growth has been paramount. "I think if I was to describe our relationship with Square, they try and step into our shoes and think how we're thinking. So, it's not like off the shelf, 'This is how we do it, take it or leave it.' We're growing together and I like that."
Today, Blue Bottle uses six different Square hardware and software products across their 92 locations in North America, Japan, South Korea, and Hong Kong.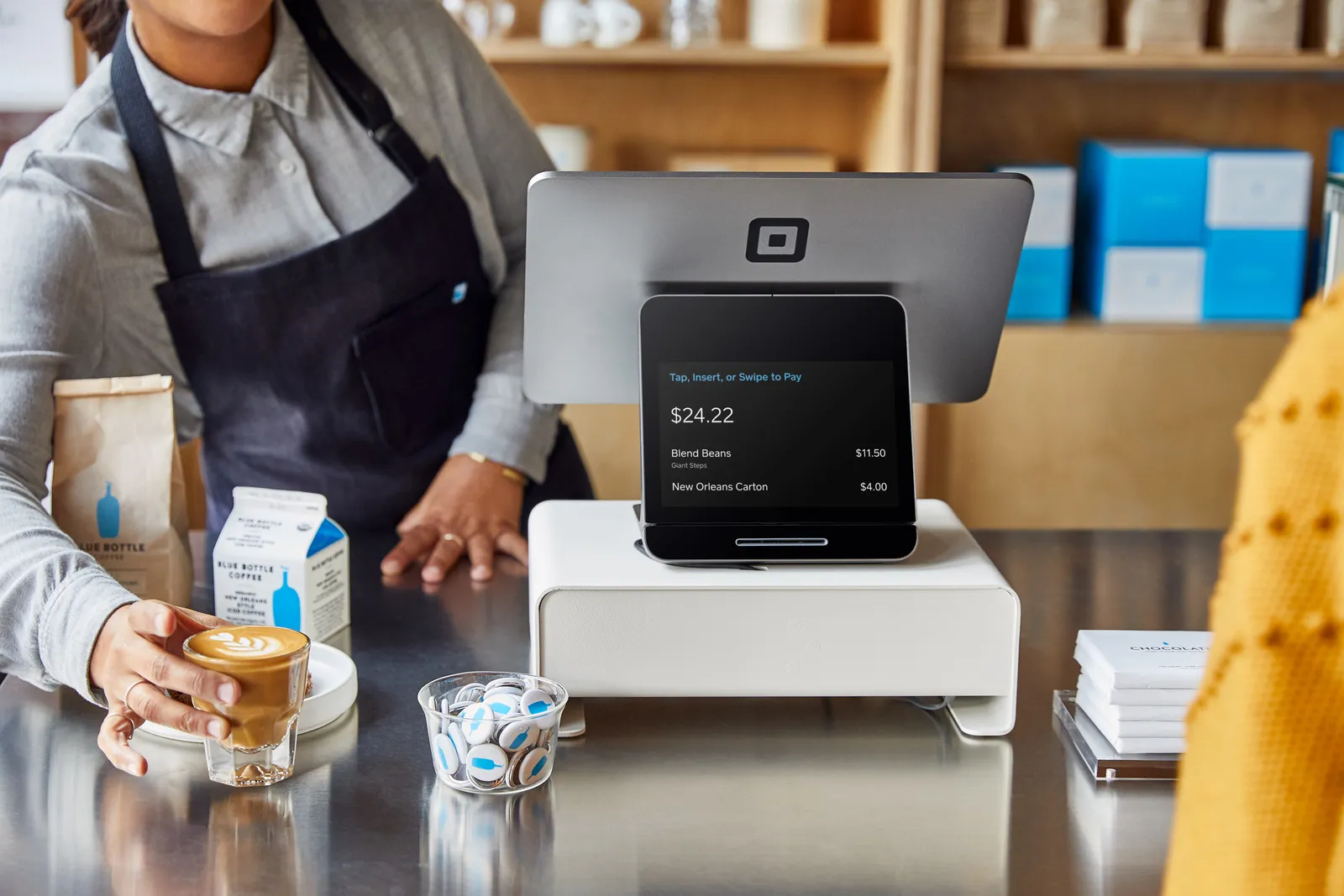 Whether it's planning the footprint of a new cafe, deciding which new products to add to the menu, or building an app for customers, Blue Bottle executes every detail through its core pillars of community, innovation, and sustainability. It's this 360 degree approach to its business that has allowed Blue Bottle to go up against coffee giants and emerge as a brand that is setting trends and creating an experience that sets them apart.
The perfect pour-over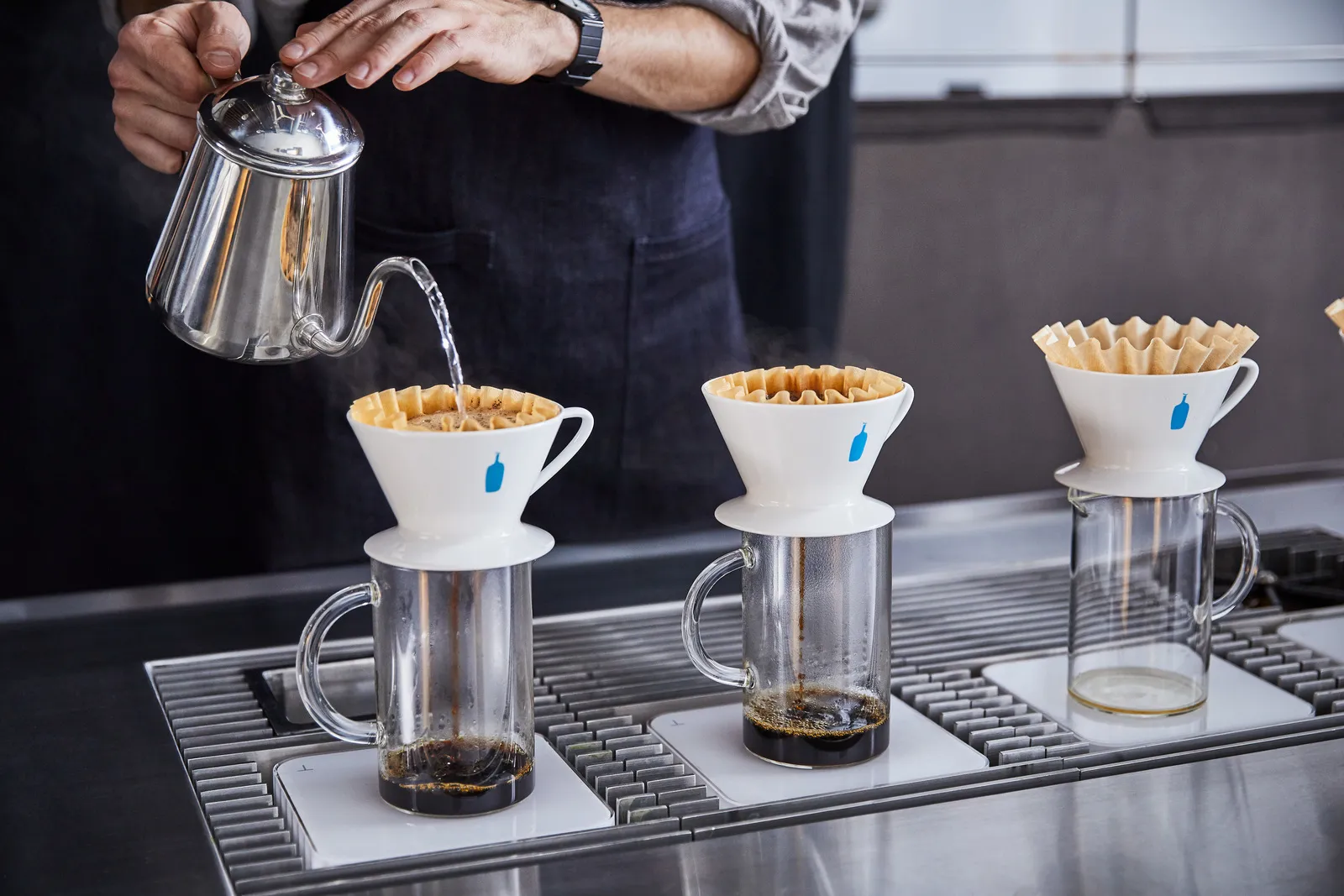 From the very start, Blue Bottle's emphasis on connecting with customers has set it apart from competitors.
"We realized that you could have the most beautiful product in the world, but if you get bad service when you order it, that's what you remember," says Meehan.
At the root of service are employees, and Blue Bottle's approach to employee onboarding and training serves to embed the core of the business and it's pillars into every individual. They require that every employee, regardless of their job function, learns how to make the perfect Blue Bottle pour-over.
Doing this instills knowledge and pride in what they are creating for every Blue Bottle customer.
"Once people are trained, there's just an appreciation of the craft of Blue Bottle," says Meehan. "Deliciousness is the key to the success of Blue Bottle. If people take shortcuts on how that product is made or how that product should taste, then I don't think we have a future. So everybody in the company needs to know how to make the perfect cup of coffee."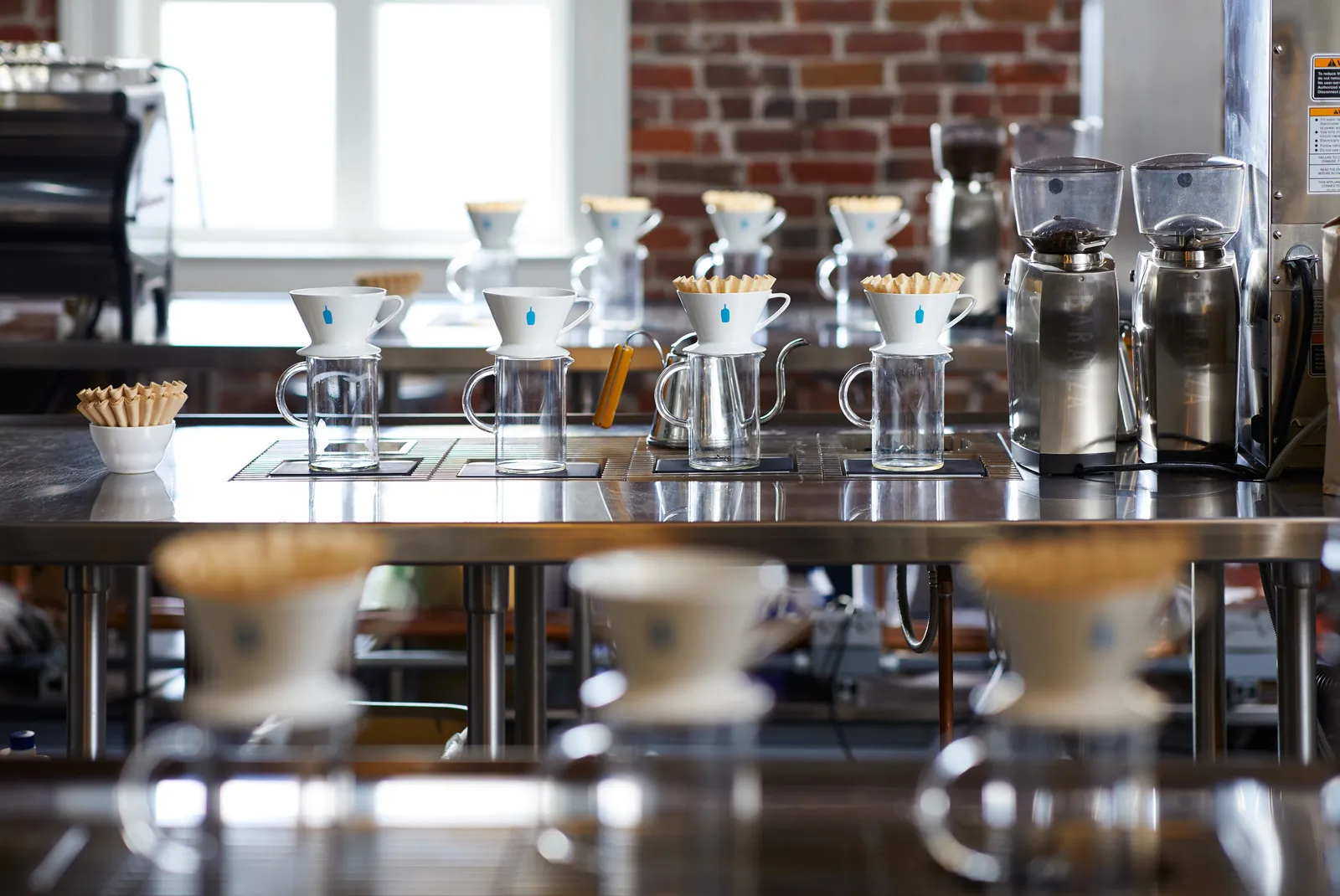 This kind of hands-on training doesn't stop there. Blue Bottle employees who don't work in the cafes are required to pick up a cafe shift every six months and take turns working different stations behind the counter in addition to working the register.
This practice enables employees, like Blue Bottle's Beverage and Equipment manager Matt Longwell, to become more attune to how the work on the back end is reflected in the cafe.
"I work on the standards and prototypes. There's always room for improvement, so by working the pour-over station, I always think of new ideas to increase efficiency or increase a sort of ergonomic comfort for our baristas," says Longwell.
"It's challenging trying to do one, two, three pour-overs at the same time and still be able to engage with the customers. So [I think], 'What can we do at a design level that's going to allow the baristas to sort of focus less on here, but with the customers?'"
Watch to learn more about Blue Bottle's approach to employee training.
The canvas for artful preparation of coffee
Even when Blue Bottle is designing for the baristas, they are thinking about the ultimate impact of those design elements on the customers. Everything about the design of Blue Bottle cafes revolves around providing customers with what they came to Blue Bottle for.
As a nod to when the company first started — talking about coffee and taking orders directly over the phone — there's a continued emphasis on limiting barriers between customers and employees in the design of every Blue Bottle cafe. This creates an open space that allows for connection and conversation that deepens their ties to their community and brings that pillar to life. *This has been one of the more challenging elements for Blue Bottle to navigate this year. *
"If we're creating barriers for our customers — be it queuing up [to order] or waiting for their coffee — it's not very hospitable, so we think about that in terms of layout and design, and the flow of the space," says Cary Cheng, Prototype and Standards Design Manager. "We want to make sure that customers come back and remember Blue Bottle."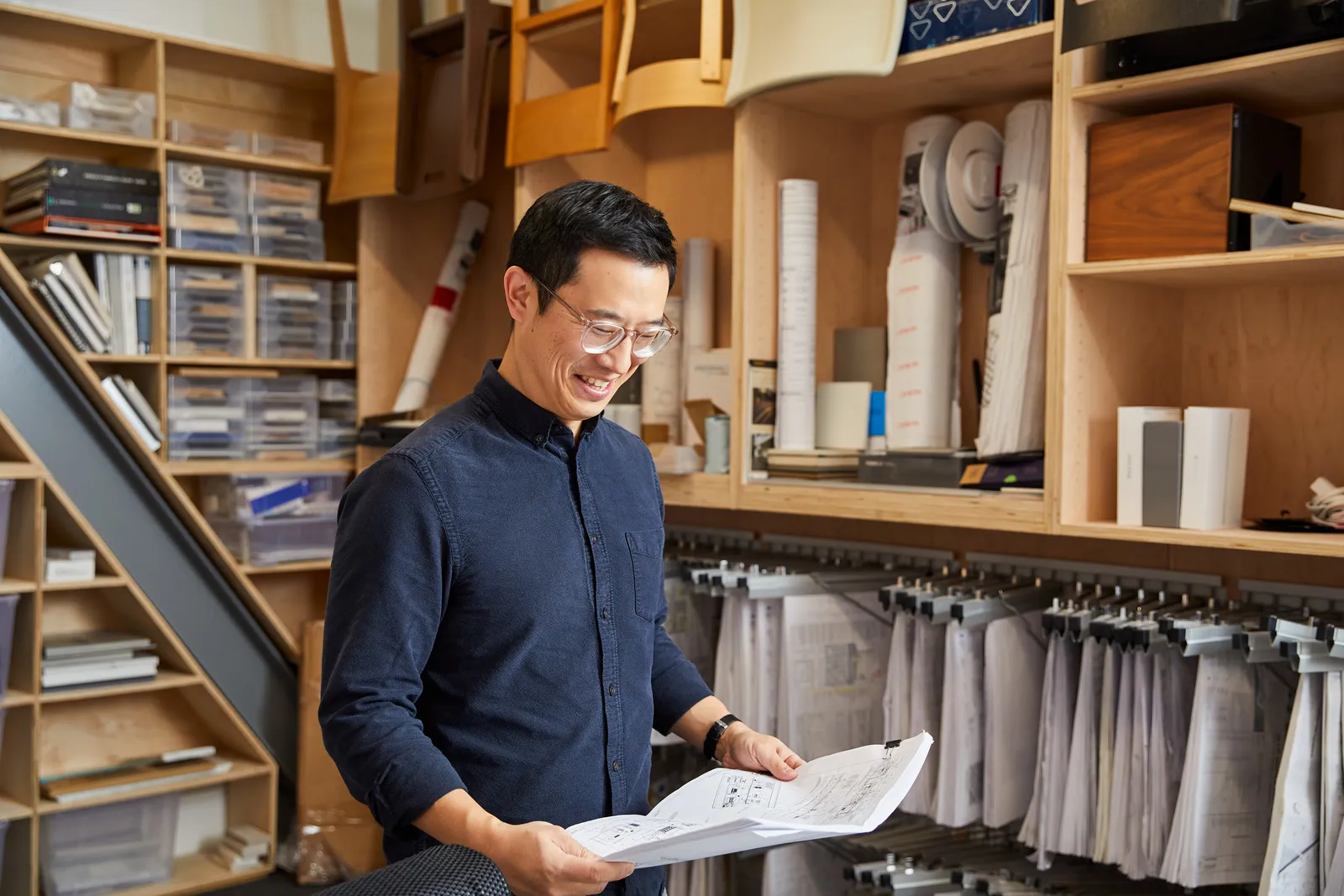 *While Blue Bottle had to implement physical barriers this year for the health and safety of their customers and employees, they've never lost sight of their prioritization of their customer experience. *
This thinking and prioritization of customer experience also applies to the way Cheng approaches integrating POS systems in Blue Bottle's spatial design.
"The Square hardware is sort of just in the plumbing. It's an integral component to our cafe and the POS experience," says Cheng. "It's located in the same location in every single cafe and it's something that is always part of the design."
This foundational understanding of how to utilize the cafe space allows Blue Bottle to make design decisions that not only look good, but encourage easy, safe interaction between the employees behind the counter and the customers in front of them.
Finding the needle in the haystack of customer data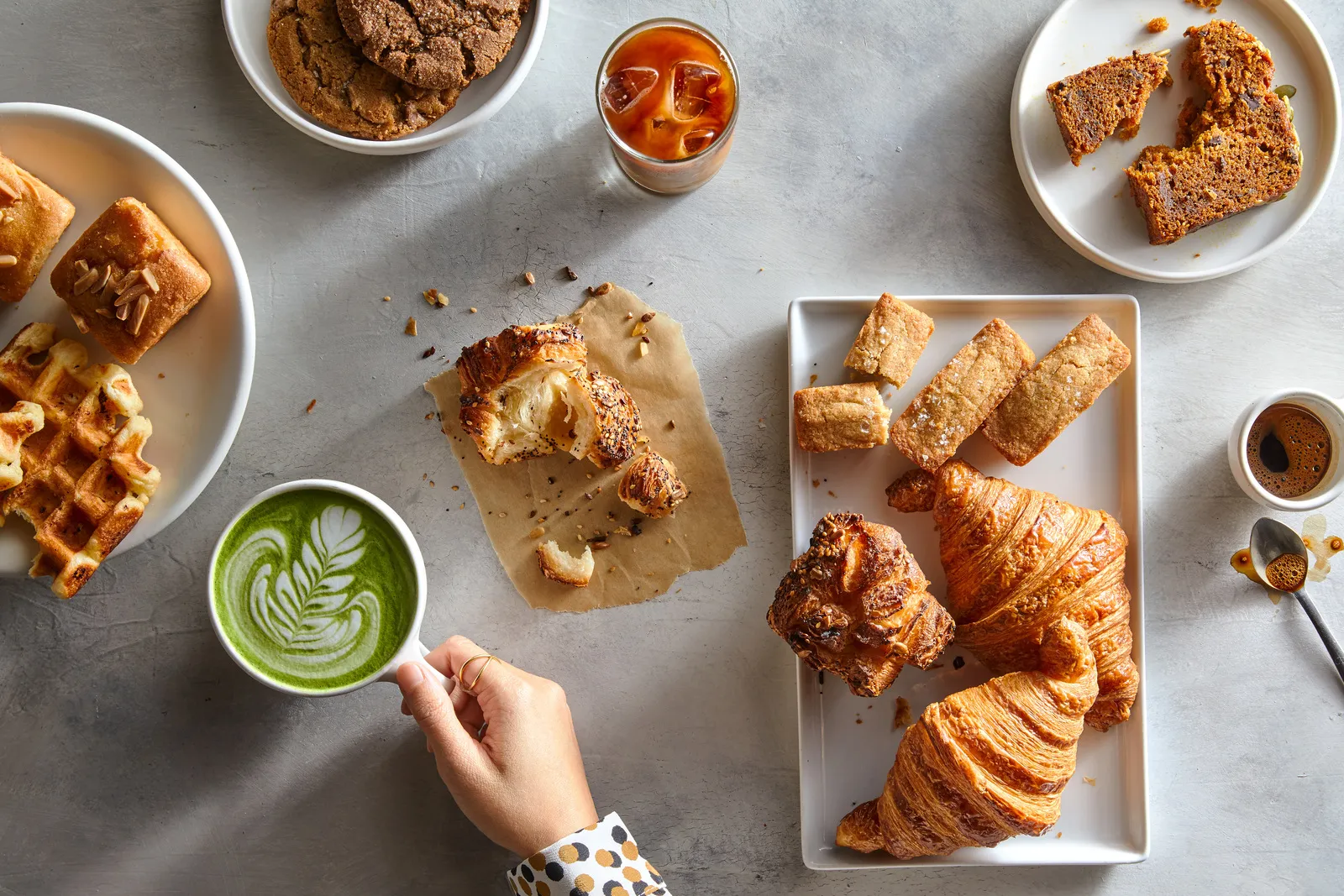 In addition to spatial design that leads with the customer experience, Blue Bottle is approaching product innovation and development with the same mindset.
With a core pillar focused on continued innovation, Blue Bottle pays close attention to what customers are buying and how they are buying it, and they listen to customer feedback. These data points and insights are an integral part of Blue Bottle's understanding of their customers.
In the case of testing or launching new products in cafes, Longwell relies on data in the Square Dashboard to quantify the success of a release or product test, rather than solely relying on anecdotal feedback from customers in-store or online.
"I can launch a product, pull out my phone, and get a snapshot for the sales for all the stores and what percentage of sales are from this new product. I can track when it's happening throughout the day, so I can see when the product is successful and when people aren't buying it, and [how] that changes every single day," says Longwell.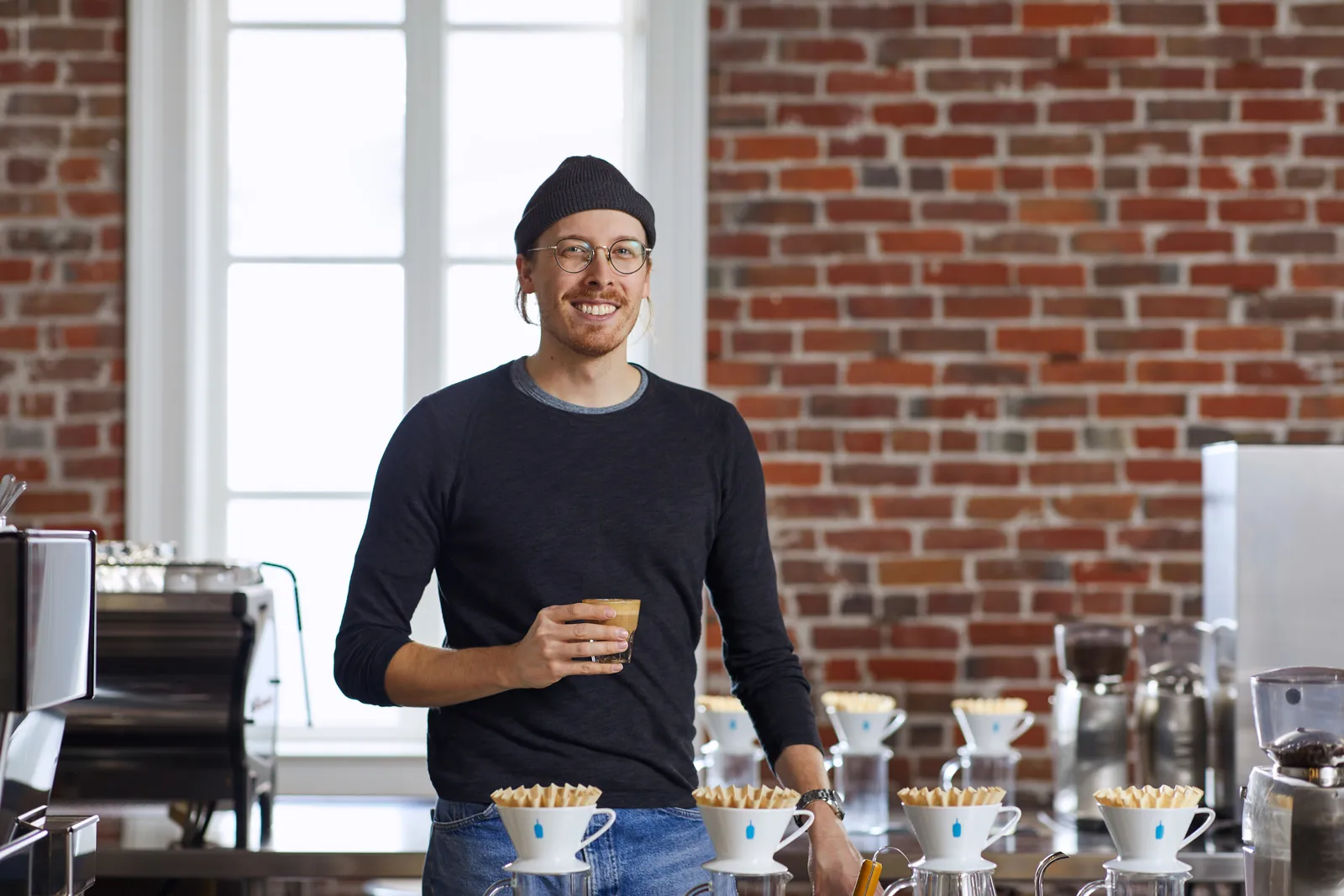 Blue Bottle also uses data to understand product performance across its cafe and retail offerings — which differ slightly from each other — and where there are opportunities for innovation in products across all channels.
At one point, Blue Bottle was considering expanding their iced drink options in cafes. At the time, they offered a cold brew and their famous New Orleans-style iced coffee. Two popular, but very different, takes on iced coffee. For retail cold brew offerings, they offered both Bright and Bold options. Longwell was able to reference the data from retail cold brew sales and deduce that both options sold equally as well. As a result, Blue Bottle began testing both Bright and Bold cold brew in cafes alongside their famous New Orleans iced coffee and adjusted their cafe offerings from there.
"That's why I really like to go through Square and look for all of these different ways of presenting the data because I'm trying to find that little needle in a haystack and they're always there. And I guarantee you right now there's 10 of them that I haven't found yet," says Longwell.
Watch to learn more about Blue Bottle's approach to product development.
Crafting the order-ahead experience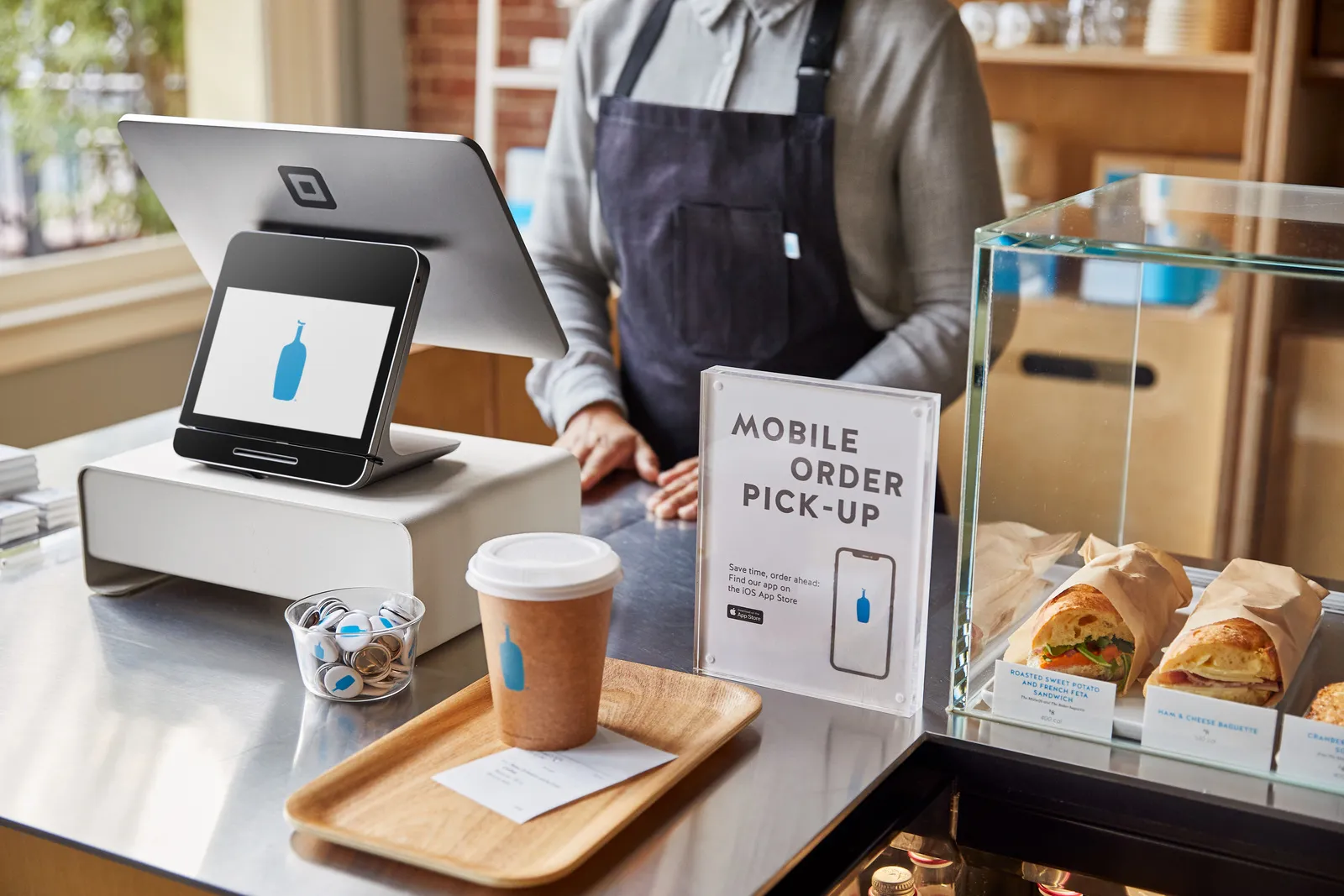 Another opportunity for innovation lay in opening up the order experience to another channel.
"Square had just released the in-app payment SDK, and that would enable us to better understand how our guests behave in cafes. There's definitely this problem of waiting for a long time in cafes," says Oriena Wen, Mobile Product Manager.
Armed with the insight that some customers don't have the time to wait for a pour-over coffee to be crafted in front of them, and not wanting to exclude anyone from being able to experience Blue Bottle with quality intact, the team built and launched an app with order-ahead functionality built into it.
"[We were] able to solve a problem that we knew was always looming in the back of our minds," says Wen.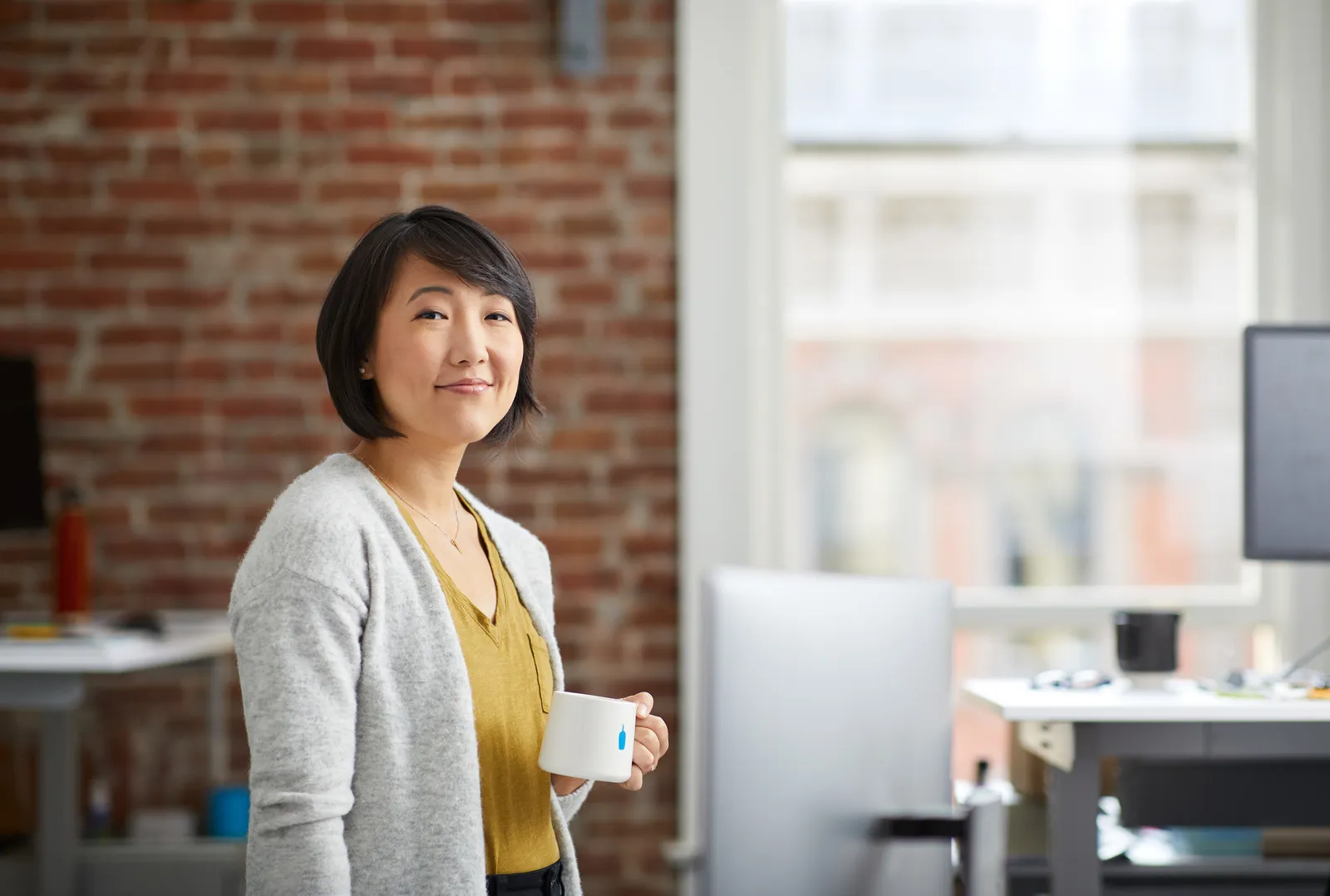 Blue Bottle's commitment to craftsmanship was also a leading motivator behind the in-house development of its app with Square.
"There's definitely a sense of pride with the way that we write code and build technology. We take craftsmanship pretty seriously on our digital team," says Wen.
By keeping the process in-house, Blue Bottle was able to apply all of its customer knowledge — who they are and what they are looking for — toward building an app that they would use.
"We understood the experience that we were trying to create. We knew the technology that was already existing within Blue Bottle. We had so much of this embedded knowledge on our team," says Wen.
The result is an app that allows customers to place an order, arrive at a cafe ten minutes later, pick up their items, and be on their way. The app also helps to reduce wait times for customers who prefer to keep their phone in their pocket and order at the counter, in addition to providing Blue Bottle with a new channel to create an expanded customer experience and learn more about them.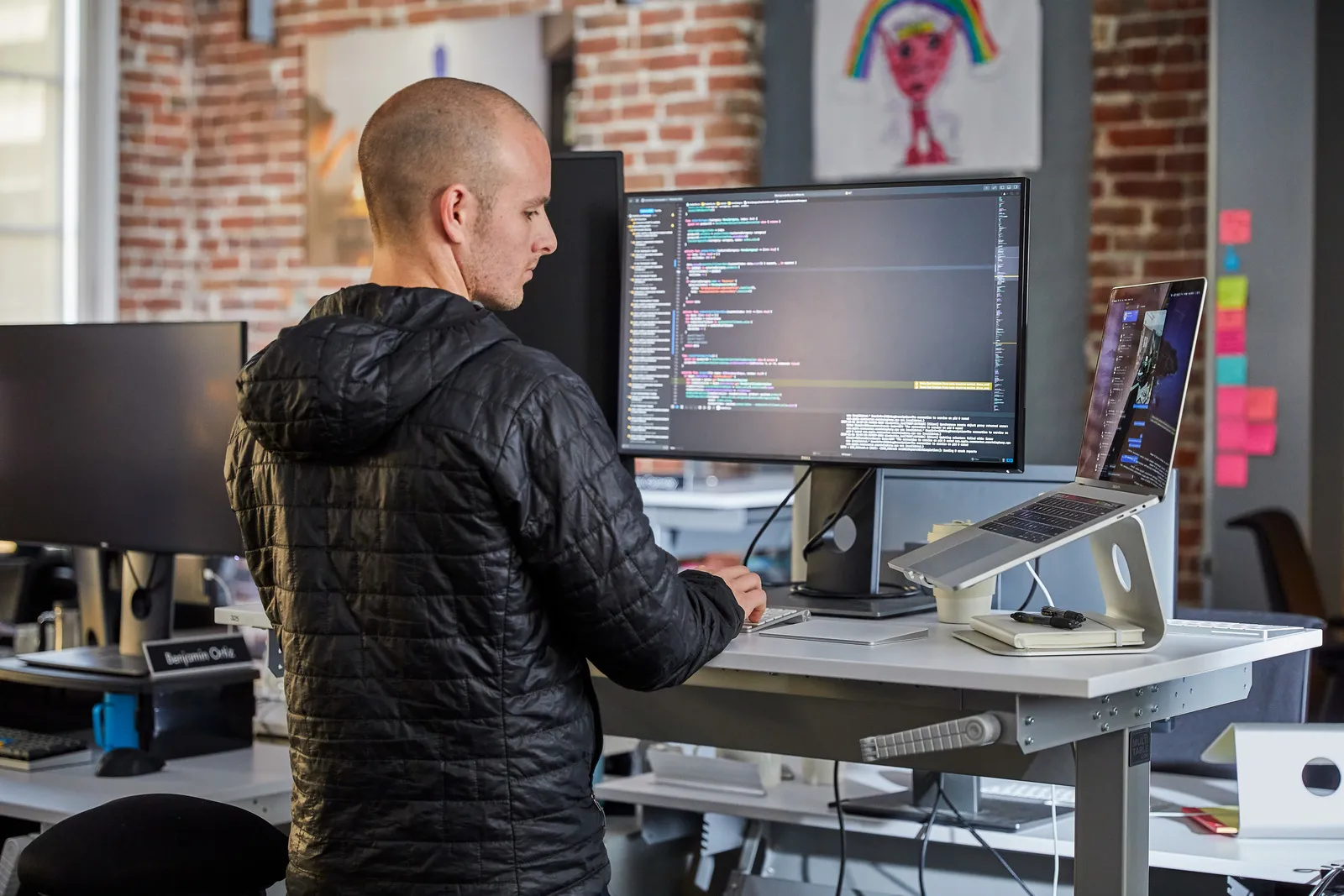 "I'll look through the mobile sales to determine not only what products have been most successful through the app, but also when are those sales happening," says Longwell. Once we figure out exactly what the demand is for guests that are using the app, then that's going to inform the way that we staff our cafes."
*On top of that, Blue Bottle's innovative thinking to incorporate Order Ahead into their customer experience came at just the right time. When the pandemic hit, Blue Bottle had already done the majority of the legwork to provide an Order Ahead experience for customers, and they've continued to build out that experience throughout the year. *
Setting the standards for sustainability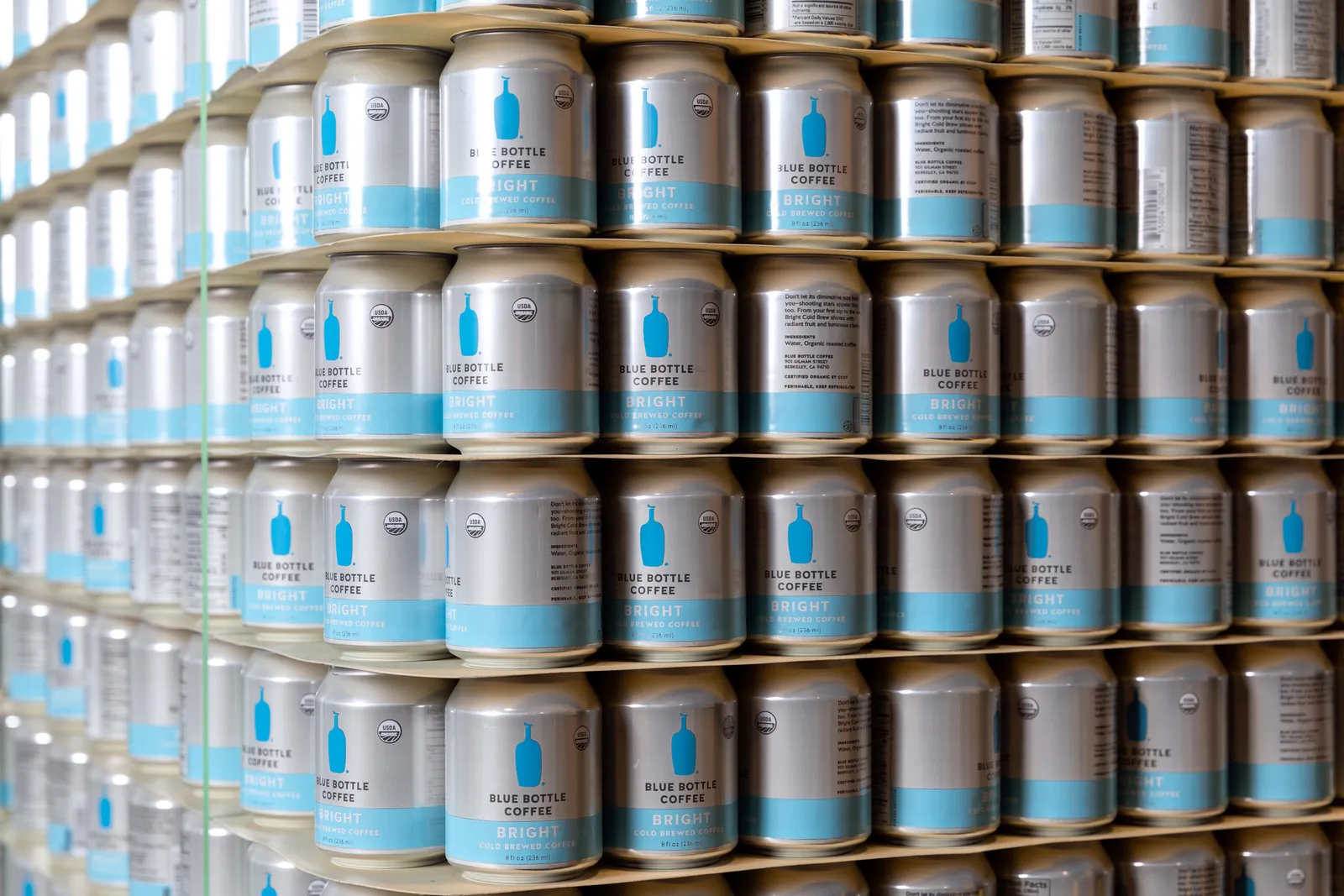 When it came time to create a product that would be distributed by a partner (and not by Blue Bottle themselves), the same pillars and values were considered as when developing their cafes and cafe offerings.
In 2016, Blue Bottle introduced its canned cold brew to join its cartons of New Orleans iced coffee in grocery store aisles. They put as much care into the production and design of the cold brew can as they do for drinks made in their cafes.
Furthermore, Blue Bottle worked to ensure the production process for the retail cold brew met their standards and pillar for sustainability.
"We go through a ton of coffee grounds every week," says Meehan. "And our neighbors, Frog Hollow Farms who make delicious jams, we give them the coffee grinds as compost. It's a great way of reusing and recycling our waste."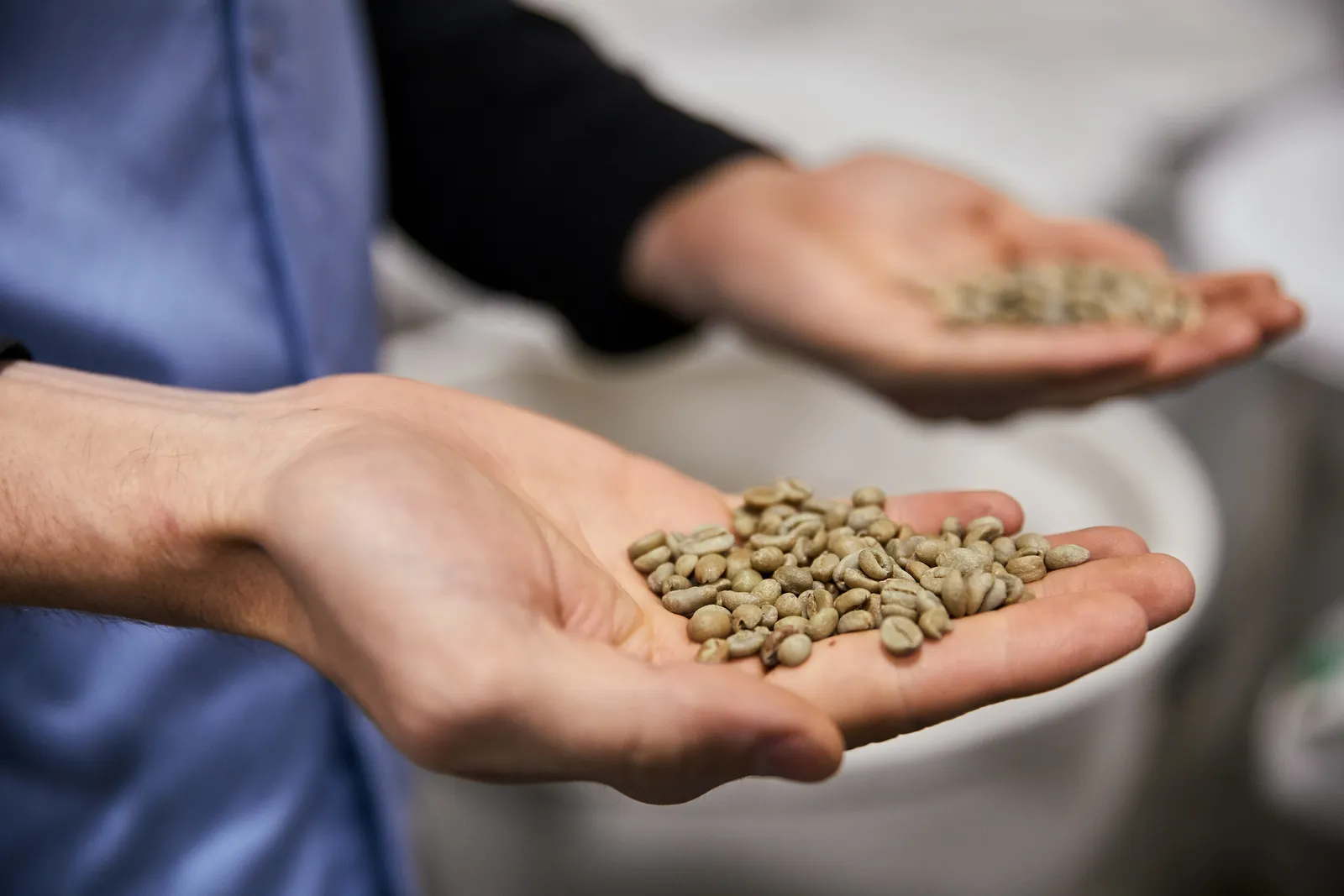 Setting standards for sustainability and upholding them is no small feat for a business the size of Blue Bottle. The coffee industry as a whole has a big challenge ahead of it when it comes to reducing waste. With 16 billion disposable coffee cups being used every year, finding a solution that can keep up with the scale of coffee being consumed but won't further add to pollution, is not an easy problem to solve. Blue Bottle is more than aware of the problem around coffee material waste, and is making efforts to help reduce it.
"This year we switched out the bioplastic ice coffee cups for a sugarcane cup, which is made from sugarcane and it's more paper-based than plastic based. Those are the things that we're doing to try and push ourselves to work harder to have less impact [on climate change]," says Meehan.
Blue Bottle also announced that they would be working towards a reusable-cup-only program and begin selling their coffee beans in bulk instead of in single-use bags.
"This cup that you will drink from for five minutes is still a material that needs to degrade," says Meehan.
From the very beginning, Blue Bottle has been a leader and they hope to continue setting trends in sustainability. In addition to doing their part, they aim to inspire other companies to be more aggressive with their sustainability goals and show other large, international companies how it can be done.
Staying ahead of the curve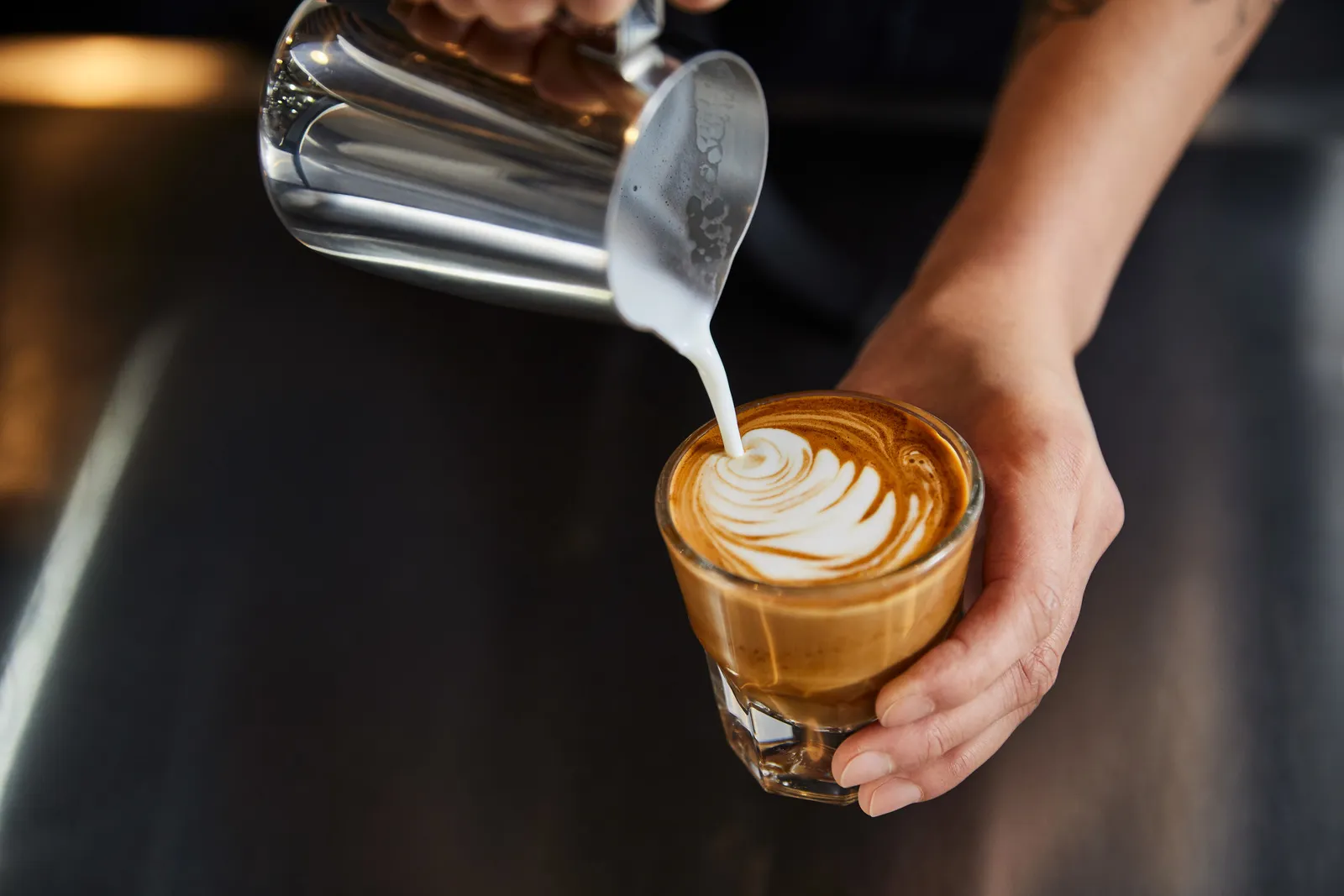 What started as a small neighborhood cafe has grown into an international brand with a dedicated customer base. Blue Bottle has transcended coffee to become a notable and recognizable brand — something brands in every industry strive for. By embodying the core pillars of community, innovation, and sustainability, Blue Bottle has become a pioneer in customer experience. They continue to be a thought leader in their industry and are paving the way for brands with big dreams to follow in their footsteps.
"We've got to constantly keep innovating our design, our products, the hospitality, and keep ahead of the curve rather than behind the curve," says Meehan.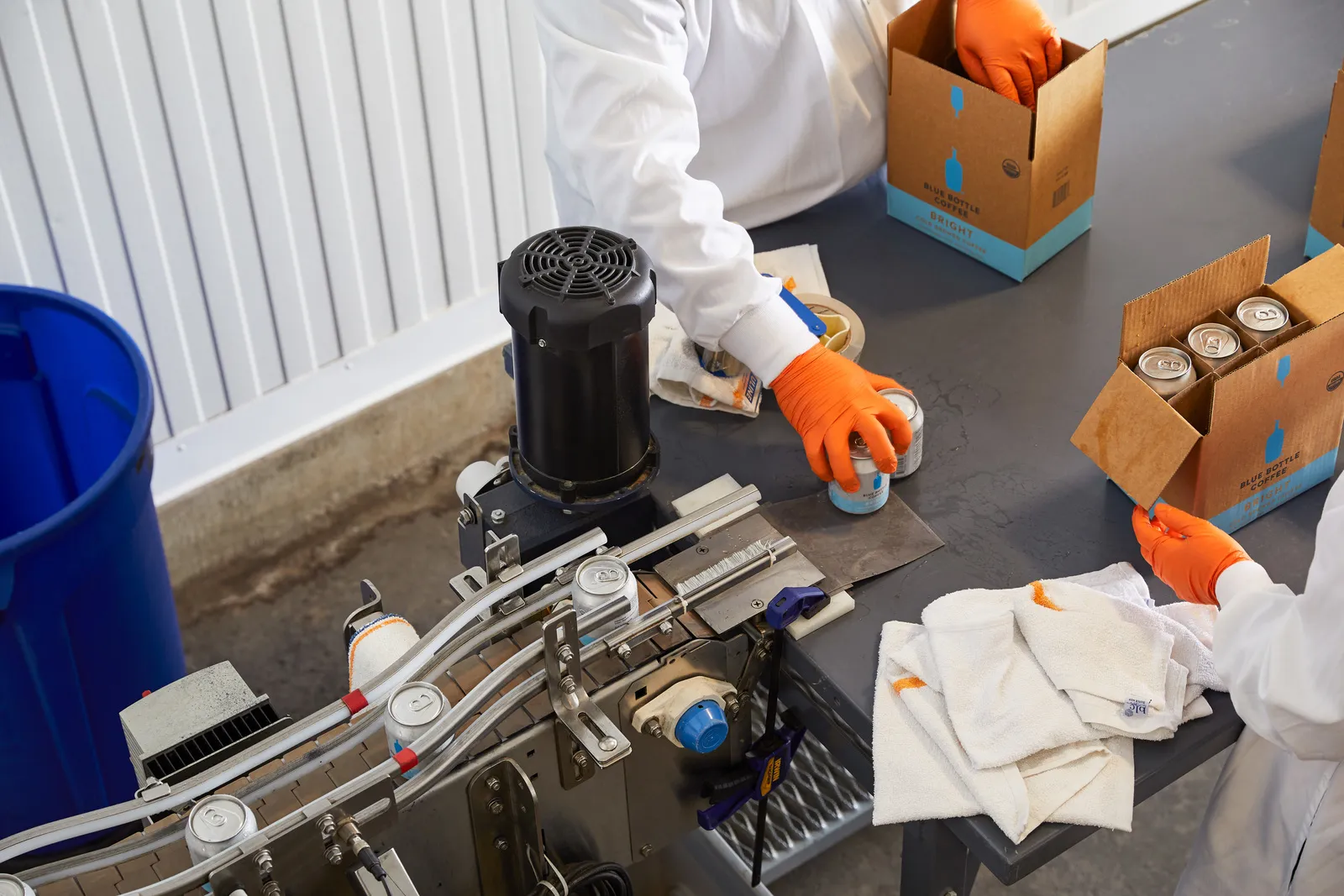 They have swapped out the Peugeot for almost 100 cafes, and instead of taking credit card numbers over the phone they now use Square. But they are still the same brand that they were in 2002, with the same principles and drive to create the best-possible customer experience.
Now they have the tools and technology to adapt to whatever challenges they face and to keep setting that bar even higher.