Table of contents
Overwhelmed consumers who used to equate Black Friday shopping with big-box stores often turn their attention to Small Business Saturday, when they can enjoy a more personal experience.
Small Business Saturday was started by American Express in 2010, as a way to support local businesses on the Saturday between Black Friday and Cyber Monday. This year, Small Business Saturday has never been more important.
Shoppers spent $19.8 billion on the holiday in 2020, an increase from $19.6 billion the year before. While some consumers frequent neighborhood stores to show their support, eCommerce retailers are also an important part of the Small Business Saturday movement, which falls on November 27th this year. And as more brick-and-mortar stores sell online, virtual Small Business Saturday celebrations are going to become increasingly popular. 
To help you start planning, here are five Small Business Saturday ideas for 2021.
Create an online Small Business Saturday community
Small businesses have an advantage online — they can build an engaged community. Nurture a feeling of camaraderie by creating connections with your online followers on Small Business Saturday.
Take to social media to encourage engagement by asking your followers to share cherished holiday traditions or their biggest gift fails. Or host an online chat where participants chime in with shopping tips or ideas for virtual holiday celebrations.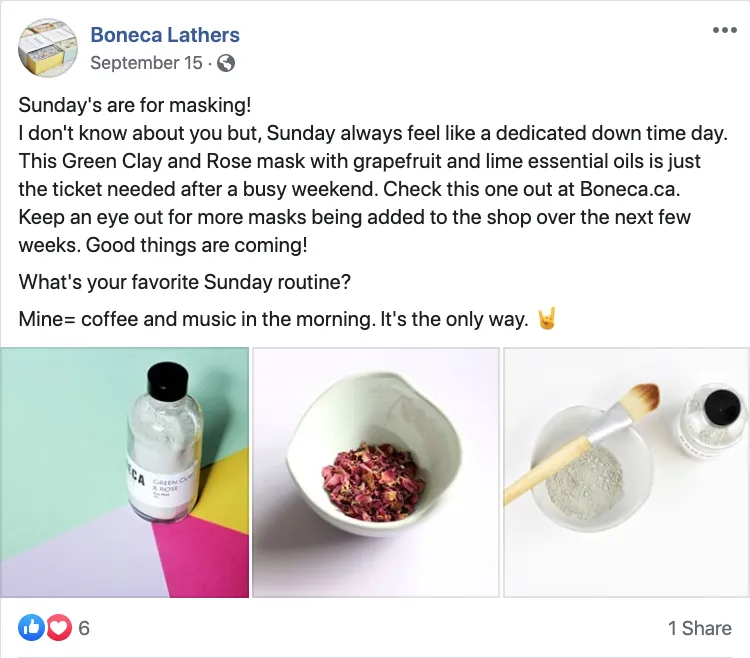 Boneca Lathers shares its Sunday skincare routine and asks followers to highlight their best practices.
Combine forces with fellow sellers
Small Business Saturday is all about building relationships, and lots of brick-and-mortar stores celebrate their community ties by cohosting events.
But there's no reason in-store and eCommerce retailers can't throw a virtual Small Business Saturday event, where you and a complementary business (or businesses) promote one another and offer special discounts or promotions to each other's fan base. Cross-post on social media to create a neighborhood feel that's not bound by geography.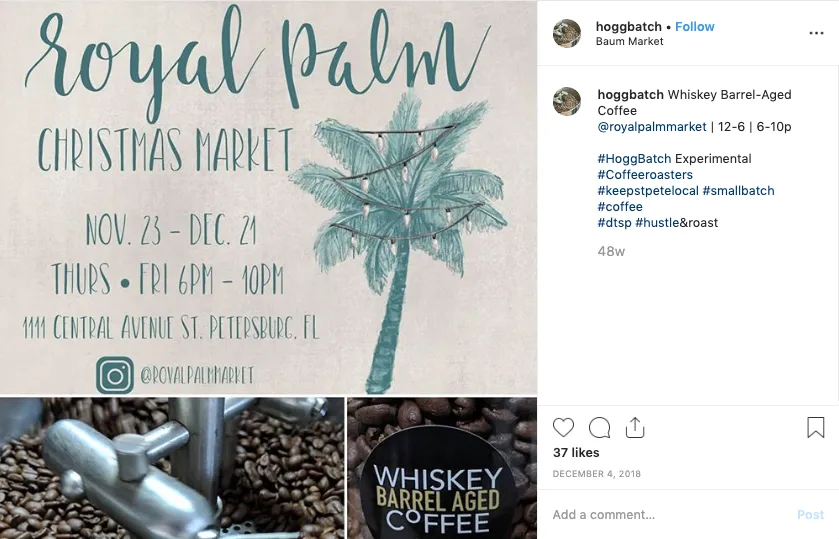 Hogg Batch Coffee advertises a local Christmas Market in which it is participating.
Tell your brand's story
One of the best ways to connect with your customers and emphasize your roots is to tell your personal story.
Part of the allure of Small Business Saturday is supporting business owners as people, rather than spending at a large, monolithic company. Use your website and social media to open up and share what makes you unique — maybe it's the story behind why you started your business, your philanthropic goals, or the fact that you have a pet "coworker" that hangs out with you while you ship orders. Or maybe it's about the hard decisions you had to make recently.
Whatever your story, it's yours, and it will bring your customers even closer when you share it.
Showcase your product sources
Shopping small often means shopping locally, but customers don't necessarily only focus on the merchant next door; often they're more concerned with where your goods are sourced.
So a skateboard seller in Seattle could showcase how they upcycle materials from the local forest. Or if you sell a variety of accessories produced by a local knitting circle, invite the crafters to share their background and the benefits they find in sharing their creations with others.
The goal is to make the local roots of your eCommerce store shine through on Small Business Saturday — even if it's not local to your customer.

Poor George showcases its one-of-a-kind clothing items on Instagram
Participate on social media
Whatever you decide to do for Small Business Saturday, make sure you're part of the larger conversation by using hashtags so customers know where to find you. Here are a few suggestions:
#ShopSmall
#ShopSmallBusiness
#ShopLocal
#SmallBusiness
#SmallBusinessSaturday
#SmallBizSat
To reach more local customers, you may want to check if there are any city-specific Small Business Saturday hashtags that neighborhood businesses are using.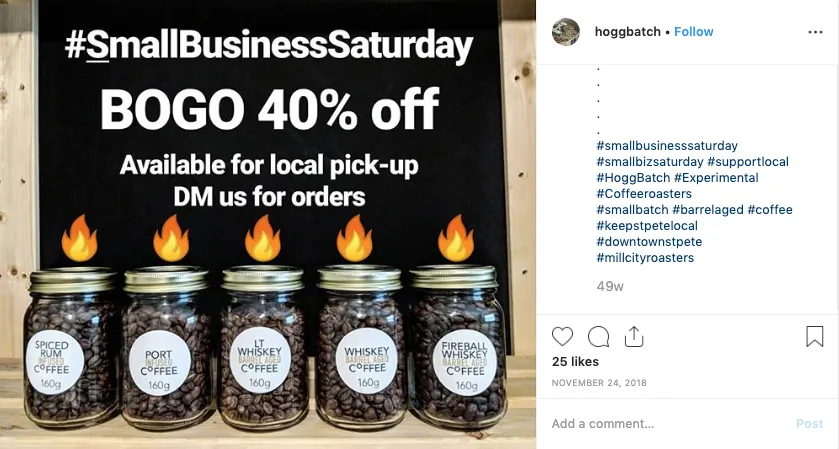 Hogg Batch Coffee took advantage of Small Business Saturday by launching a Buy One Get One Free sale.
As more small businesses sell online, customers have expanded their definition of "stores in their backyard." With these tips to connect with customers looking to shop small online, you'll have them feeling right at home this Small Business Saturday.
Having the right tools is essential for minimizing holiday shopping season chaos. From inventory management to eCommerce solutions, Square has all the tools you need to start, run, and grow your business — whether you're selling in person, online, or both. And we've made all our tools to work together as one system, saving you time and money — and making decisions easier. Give yourself the gift of a unified business ecosystem and get started with Square today.