If you don't already have a loyalty program for your business, it might be time to start — especially if you live in one of America's most loyal states.
Seventy-eight percent of consumers say they are more likely to choose a business that offers a loyalty program over one that does not, according to a study by Visa. In fact, 65 percent of consumers look to see if a business has a loyalty program prior to shopping at a store, visiting a restaurant, or trying out a service. And according to our insights, customers enrolled in a Square Loyalty program spend, on average, 37 percent more after they join than they did before.
There are thousands of businesses using Square Loyalty, and over 14 million customers who have enrolled in a Square Loyalty program. Recently, we used insights from these customers to learn more about how loyalty programs are used in the U.S.
Our findings told us where the most loyal and recurring customers are in the U.S., and which day of the week customers are most likely to redeem their reward. Read on.
Louisiana has the most loyal customers in the U.S.
Louisiana leads the way when it comes to loyal customers. Customers in the Pelican State average the most loyalty-related transactions. Customers in Washington, D.C., Kansas, Washington, and New Mexico rounded out the top-five most loyal states.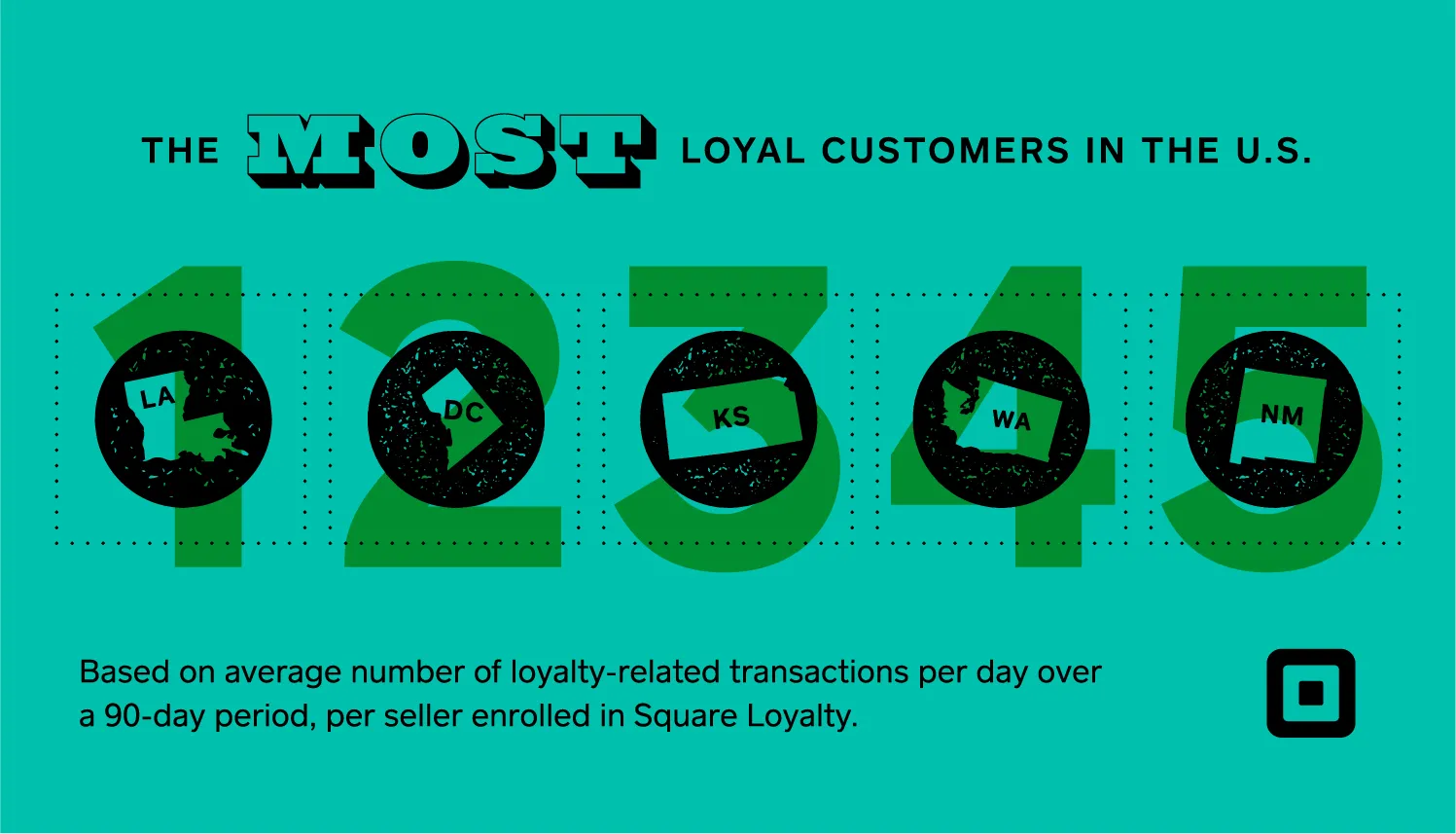 Iowa has the least loyal customers in the U.S.
Iowa ranks lowest in loyalty participation. However, consumers in Iowa should enroll in loyalty programs more often, since that's where Square sellers give out loyalty rewards most frequently.
The states behind Iowa are Maryland, New Hampshire, West Virginia, and Delaware.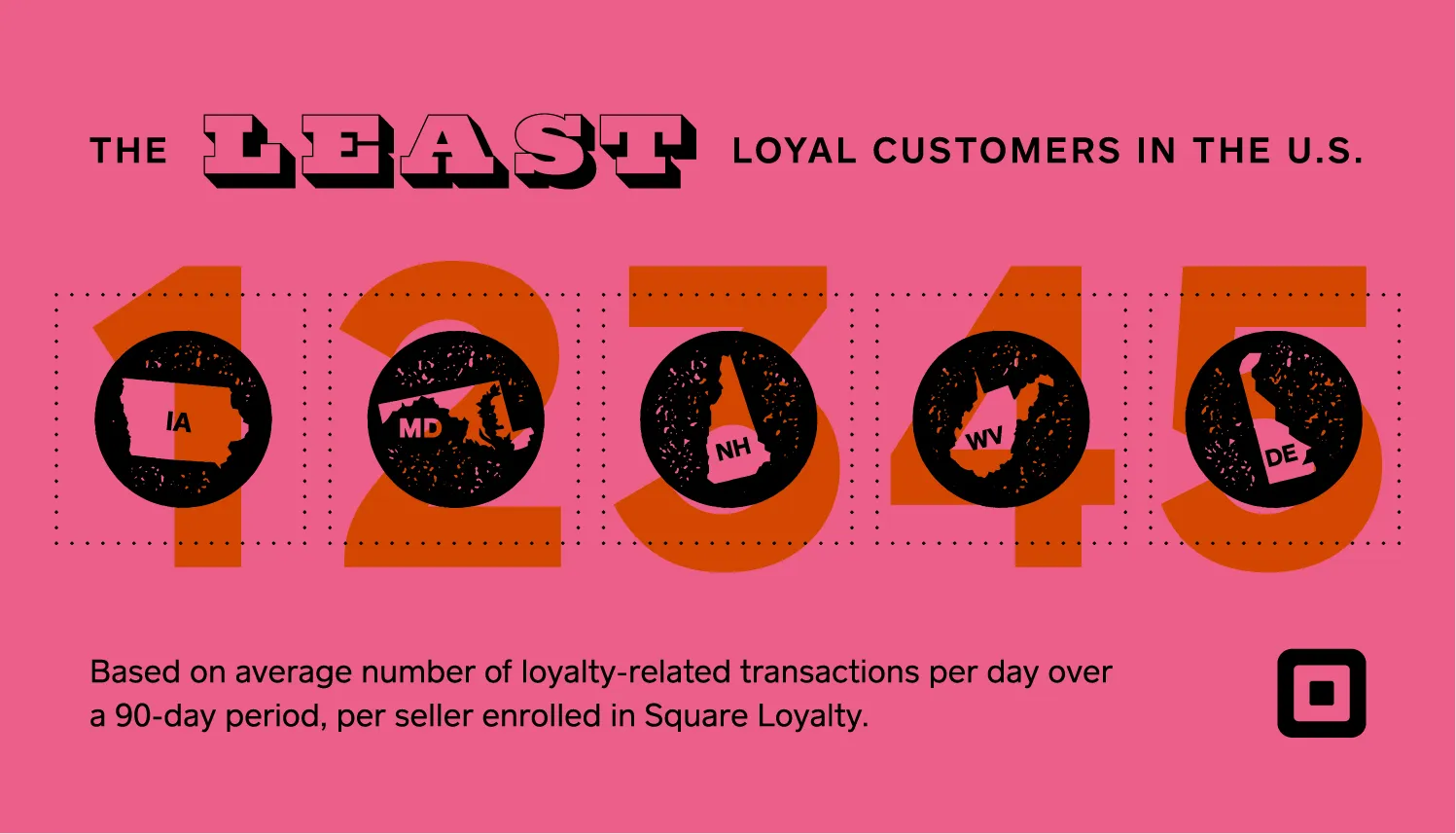 A few more fun findings
"Treat YOself" Tuesday is the most common day of the week for customers to redeem their loyalty reward. Friday comes in at a close second.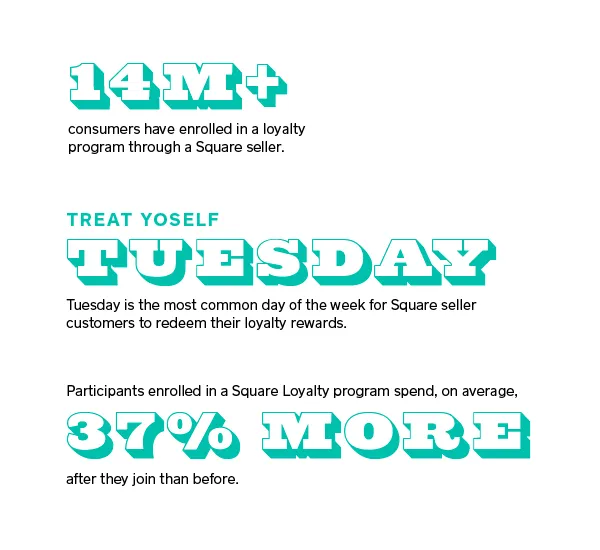 Harnessing the power of loyalty for your business
Looking to take advantage of a loyalty program to grow your business and reward your customers? Whether you're new to the loyalty game or an old pro, here's how to get started.
Do your research
If you don't already have a loyalty program, learn how to set up a loyalty program that will be successful for your business. Then you should ensure that customers know what programs and rewards are available to them.
Pro tip: Only 10 percent of consumers prefer traditional stamp/punch cards; the remaining 90 percent of consumers prefer a digital-based loyalty program, according to Visa.
Market your loyalty program
Get the word out about your program in your store (your employees can give customers a heads up), online with social media, and through an email marketing campaign.
Ensure guests have a great experience
Keep customers coming back by making them feel special and ensuring their experience is always off the charts.
And make sure you're using loyalty best practices to keep things running smoothly, and encourage your customers to spread the word about your brand. For example, you should implement a proactive customer feedback strategy, and respond to feedback quickly, so new customers and regulars feel heard and taken care of.