Whether you own a hair salon or tattoo parlor, scheduling appointments with clients can be tedious and time-consuming. Today, we're excited to announce Square Assistant, the AI-enabled automated messaging tool that responds to your customers directly, quickly, and professionally.
As part of Square Appointments, Square Assistant allows customers to respond directly to SMS appointment reminders to confirm, cancel, or change their appointment. It automatically replies to customers and handles all coordination around bookings, without any action needed from you. With Square Assistant, your customers no longer need to reach out to you directly to reschedule an appointment.
With Square Assistant, you can:
Get time back: Spend more time building your business and let Square Assistant handle scheduling conversations.
Reduce no-shows: Square Assistant offers smart, instant responses to customers 24/7 and helps fill empty client slots to prevent cancellations and no-shows.
Avoid manual work and mistakes: Square Assistant can confirm, cancel, or schedule appointments without the need for any additional communication. It syncs right to your calendar in real time so you never miss a booking.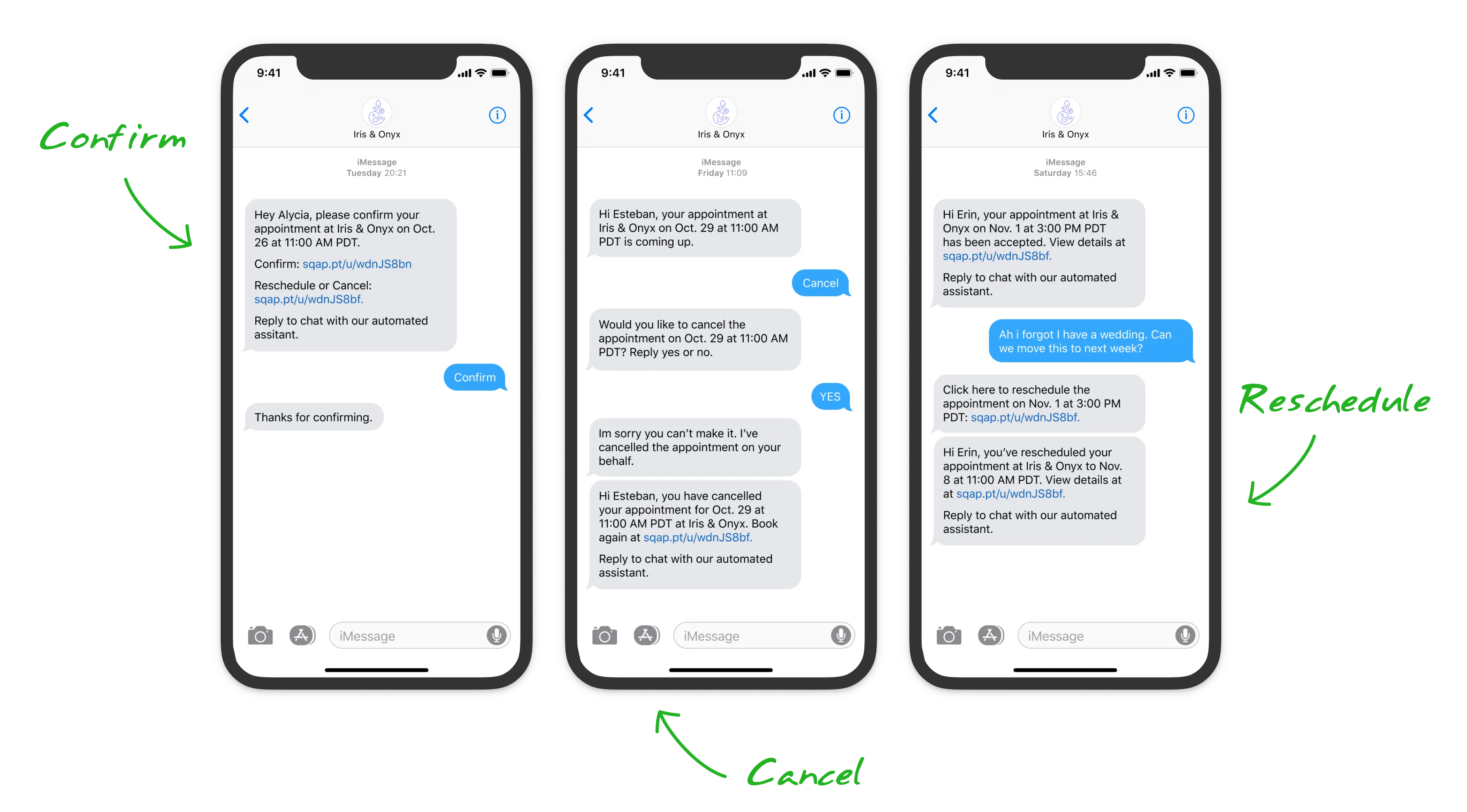 "The addition of Square Assistant has made running my business even easier," said Diana Sanchez, owner of Gentlemen's Hair Co. in Gleneden Beach, OR. "My clients receive quick responses and solutions regarding their upcoming appointment, minimizing their wait time, directly from me. It's really like having your own personal assistant that can direct clients instantly and efficiently."
Square Appointments is a free online booking site that makes it easy for sellers to start, run, and grow their business. Included free in Square Appointments, Square Assistant is turned on by default and can be managed in the Appointments dashboard.
Existing and new Square sellers have access to Square Assistant via Square Appointments starting today. To learn more, visit here.
Square acquired Eloquent Labs in May 2019 to help sellers find more efficient ways to interact with their customers. This is the first Square product to utilize Eloquent conversational AI technology.