Table of contents
This past year was especially tricky for seasonal business owners who make the majority of their revenue during a few months of the year.
Last year we spoke to Beau Coen about the joys and challenges of running a seasonal business on Square's Talking Squarely Podcast. With the holiday season now behind us, we caught up with Beau to talk about running a seasonal business when business is not as usual. He also lets us in on his modern to age-old tradition that helped Papa Noel have their best year yet.
Planning for a holiday season like no other
Papa Noel Christmas Trees are experts in selling Christmas trees. As a family business that started 40 years ago, they know what to expect each year and have inventory planning down to a science. Each year was pretty predictable, until 2020.
"We planned to sell the same in 2020 as 2019," says Beau Coen, CEO of Papa Noel Christmas Trees. "If we only had a magic ball."
With so much change in 2020, by the time the holidays came around, customers were longing for a sense of familiarity and tradition. "This past year has been so unorthodox and unusual, and people have been cooped up and at home. They were ready to go out and feel a sense of normalcy and do a fun family activity. It seemed like the idea of going out and shopping for a tree was top of their list," says Coen.
With so much demand, Papa Noel experienced their highest generating season yet, a welcome surprise during a time where many other small businesses struggled. Coen reflects, "It was by far the quickest, most profitable season that we've ever experienced in our 40 years of being in business. It was almost like a feeding frenzy — people wanted their tree and they wanted it early. Had we known that we probably could have sold 3,000 more trees."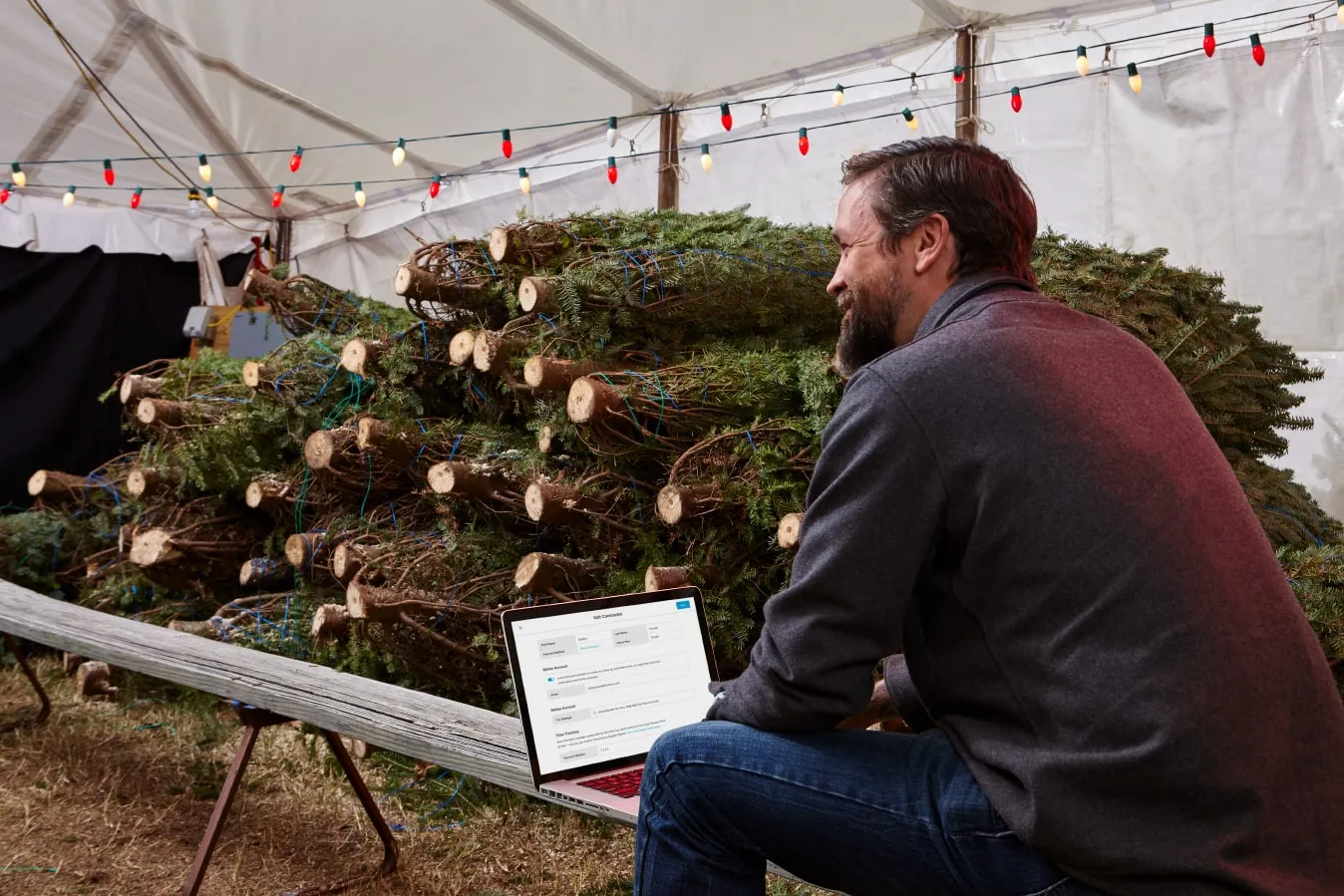 A contactless approach to an age-old tradition
Papa Noel did expect this year to feel a little different from an operational standpoint. Knowing they needed to make some functional changes for customers, Coen and his team planned ahead to make sure all health and safety regulations were meticulously followed.
"One big concern I had was for the safety of customers and employees. We were very very cautious and conscious of wearing masks and social distancing," says Coen, adding that tree lots have a slight advantage since they are almost always outdoors. "Our business model is good for this time because we're already operating outdoors, so it wasn't as challenging or as difficult as what indoor retail is facing."
By being vigilant about health and safety measures, Papa Noel was able to help customers feel comfortable engaging with their business.
"We realized this was a difficult season and no one knew what to expect, but we were motivated to see this through and that bled over into our great customers who saw the steps we were taking."
Managing inventory amid consumer behavior changes
Papa Noel anticipated that there would still be some customers who were hesitant to come to a tree lot in person, so they also focused on improving their online ordering and delivery. A service they'd offered for several years had now surpassed expectations and become a key channel for the business.
"This year we greatly increased our online sales, which was driven by people who are uncomfortable shopping on a lot or leaving their homes right now. We saw a huge increase in online sales in comparison to previous years. It surpassed our expectations. We've been doing online sales for the last three years, but this was our biggest year yet," reflects Coen.
With a new emphasis on contactless or limited-contact delivery, online ordering quickly became a popular method for customers of Papa Noel.
"We offer an option to have contactless delivery with everything paid for beforehand. We also offer in-home delivery, but we were very adamant that people followed safety concerns. We had a waiver that people signed, which is the first time we've had people sign a waiver when buying a tree."
Since this was the first year that Papa Noel had a significant increase in their online sales and delivery service, they did encounter some new challenges around inventory management.
"Inventory is a juggling act and in the beginning of the season we were just shipping trees into every location, but as the mid-season comes in, it gets trickier as some locations are selling quicker. We do an inter-company shuffle and rent trailers and it's not uncommon to take 200-300 trees to a different location and shuffle around," says Coen.
"It's challenging for a seasonal business because we only have four weeks out of the year to figure out what works — we have such a short period of time and it's so fast-paced."
By managing sales and inventory through a centralized system like Square, Coen is able to see sales across all locations to help him make quick decisions about how to balance out inventory.
"I take a look at the snapshot of each location and what inventory they're sitting on. We've been doing this long enough that we can estimate accurately how many trees each location needs," says Coen.
By adding online sales and delivery through the same system, Coen is able to manage the business across online and in-person channels, without skipping a beat.
"I really enjoy working with the Square Online Store and delivery service — it really works for us. Each location has a 10-mile delivery radius and customers who shop online can enter their address and it directs them to the location near them where they can then see inventory at the lot, and then the managers at the lot arrange the delivery."
A new channel to bring in new customers
Papa Noel expected online sales and delivery to be a supplemental way for their dedicated customer base to buy trees from them, but what they didn't expect was for it to become a gateway to acquiring new customers.
"This year we had a lot of first-time customers. We have a long standing and devout customer base, but this year we found a big increase in the amount of customers that had not shopped with us before that were from online delivery orders," says Coen.
The impact that their online presence had on the season has shown Papa Noel's that what was once a small part of their business model has the potential to be a high-functioning channel in the long run.
"This year gave us a lot more exposure and online ordering is going to be a bigger and bigger part of our business," says Coen. "We made around $125,000 more than last year. What was shocking to us is that we were able to make so much more profit in such a short period — $50,000 more in 12 fewer days. "
The potential of online sales has Coen planning for the future and how their online presence can be expanded to better serve their customers.
"We are thinking of ways of expanding online presence and online operation, and that may mean devoting one location solely to supplying online stores and budgeting for more rental vehicles so we have a broader fleet to handle deliveries."
Their Online Store has also inspired Coen to start thinking of ways to extend the business into other seasons.
"One hundred percent of our revenue happens in November and December," says Coen. "We are considering now, for the first time in our history, branching out and doing more roadside retail in Austin, which is an opportunity to make more revenue throughout the year."
By nature, it's hard to predict what each year will look like for a seasonal business. This was especially true in 2020. By adapting to utilize technology and open new channels to provide a safe and seamless customer experience, Papa Noel was able have their best season yet and bring a sense of normalcy and tradition to customers, old and new.
"All in all, despite the changes and challenges, it really was a great year."