Table of contents
This article is for educational purposes and does not constitute legal, employment, or tax advice. For specific advice applicable to your business, please contact a professional.
Businesses and customers alike are embracing new ways to pay in-store and online. In Square's Future of Commerce 2022 report, we found that in both restaurants and retailers, customers are often choosing contactless payment options: 29% of those surveyed saying they preferred paying by mobile wallet, contactless kiosks, or QR code. This number rises to 50% for Gen Z customers.
Consumers want to interact with brands and buy wherever it's most convenient. Business owners in turn are experimenting with new payment methods and sales channels by selling on social media, online, and exploring innovative payment methods for in-person commerce.
Adapting new technology to a traditional business
For Gwendolyn Freeman, running a bakery wasn't always in the plans. Before opening The Pink Box she was working long hours at a Fortune 500 company, fighting a nagging feeling that she wasn't following her passion. This feeling catalyzed into action one day when visiting a cupcake shop in a neighboring town where she couldn't help but think how nice it would be to have a small bakery in her own town. She started setting aside savings and writing recipes. Soon, her idea became a reality and the bakery became a family business.
"I wanted to create something that we could all do together," said Freeman. Her son who handles most of the baking comes in between 3 and 4 am to get things started. Freeman's husband helps with training and repainting, and while one of her daughters runs the bakery's social media, the other working in the front of the shop. The bakery opened its doors on February 14th, 2020, but quickly had to shut down due to the pandemic just a month later. They regrouped, cutting hours, expanding their offerings from cupcakes, selling baked goods at local farmers' markets, and innovating with new payment methods to meet customer needs.
"I think people in the future are going to go more for anything that is definitely contactless and is quick. We notice that a lot of our customers that come in want to be able to pay quickly," said Freeman, adding that many of their customers pay with Apple Pay and Cash App Pay. She believes this shift towards quicker transaction times to quicker transactions being more commonplace at businesses in addition to her younger clientele adopting it.
Pulling sales reports through Square Dashboard regularly gives Freeman more insight than ever into who her customers are and how they like to transact. In addition to highlighting perennial customer favorites, these reports enable the Freeman family to plan ahead to stock and promote popular in-store options like seasonal sugar cookies or farmers market options like cinnamon rolls. This has helped build the bakery's customer community on social media and in person, giving customers options for order pickups, surprising them with social media giveaways, and always being prepared with the base ingredients the bakery needs.
Seamless payments from in-store to online
Kei Collective co-owner Andrea Jonas reported, "There's been a huge rise in contactless payments. Most of our off-site sales." The business has experienced an increase in demand for mobile wallet app payments in person at pop-ups and conventions. "Customers at our booths used to ask 'Do you accept card?' but now the question is 'Do you accept Cash App, Venmo, Apple Pay?'" She adds that transactions from the Cash App Pay option they recently added at checkout have made sales so quick and seamless that some customers double check to make sure they were charged.
For customers who aren't requesting mobile wallet payment options, the majority use the tap feature on Square Register. Through the pandemic, this function has made business more seamless to operate and reduced physical contact. "We've loved having everything be on the customer terminal so that they don't need to hand us a card and we don't have to hand them a paper receipt. A quick wipe down of the Terminal between customers and we're good to go!" said Jonas.
Kei Collective is a Phoenix, Arizona, based shop that features over 80 independent artists. The three co-owners, Andrea, Stella, and Skylar are artists themselves who brought their own brands together. The business has a brick-and-mortar retail shop as well as an online presence and artists who are part of the collective pay a monthly fee to be in-store upfront and are paid out any sales made on their behalf at the end of each month.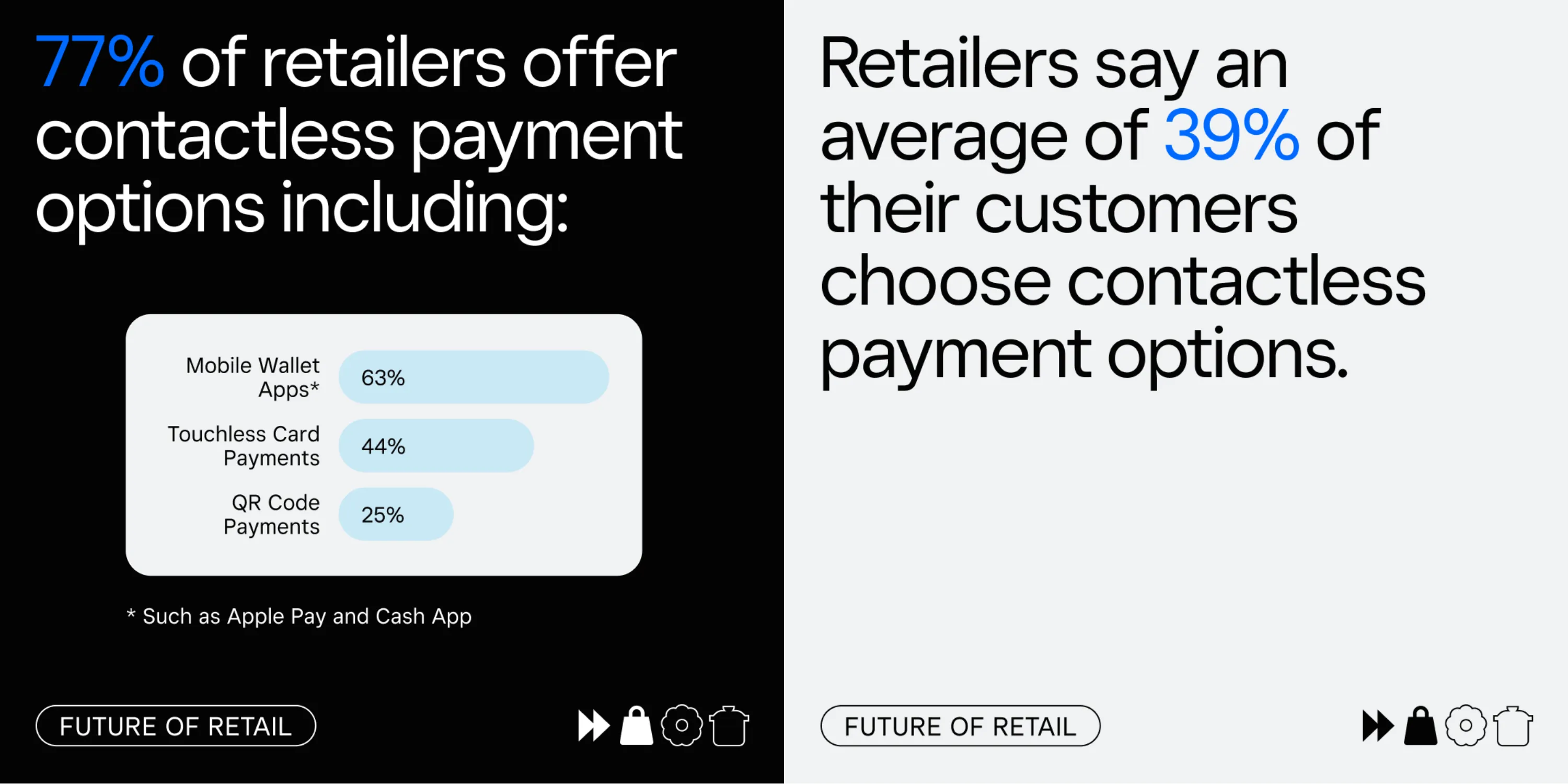 While Kei Collective caters to customers in-person, they have seen many of their returning customers turn to online shopping/ "We've seen a steady move towards online shopping, even by local customers," said Jonas. After adding pickup orders as an option for online customers in 2020, they've seen continued adoption of the feature. Customers who had come in-store for trips in the past would use the pick-up orders option to make repeat purchases rather than going in-store. Jonas says the website has not only helped customers shop and pick up their orders but browse new items before heading into the store so they make sure to keep the page up to date with the latest front and center on the homepage.