You may be asking, what is a quick-service restaurant? A QSR is a specific type of restaurant that serves food fast and has minimal table service. So, if you've been to a restaurant where you order at a counter and wait for employees to call your number when your food is ready, you've been to a quick-service restaurant.
Quick service restaurants have come a long way from their origin in Ancient Rome. In the last few years, new concepts inspired by international cuisines and old favorites have spurred QSR growth, as have food trucks, which are proving to be a good way for restauranteurs to enter the market with lower operating costs.
In 2017 the booming industry generated $290.2 billion in the U.S. alone, with McDonald's — the largest fast-food company in the country — generating revenues of a little under $37 billion.
Here's how the quick-service restaurant concept you've become familiar with has evolved, and how companies have started rethinking what it will look like in the future.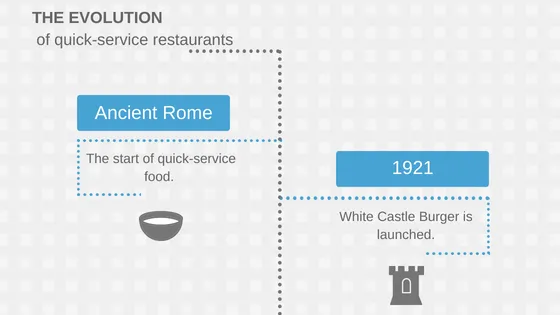 Ancient Rome: Street vendors created stationary food carts with counters for people to order food and drink items to go.This is the first known instance of what would later evolve into the traditional quick-service restaurant format.
1921: Walt A. Anderson and Billy Ingram had the idea to open a chain restaurant that would take food stands to the next level. They wanted to create an establishment that served traditional diner food, but in a quicker and more casual setting. Thus, White Castle was born.
Following in their footsteps came a slew of quick-service restaurants — A&W and McDonald's being among the first — that would forever change the way Americans viewed casual dining.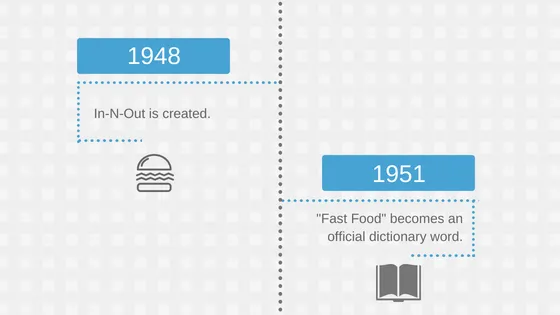 1948: A burger shack in California created the first complete drive-thru package. In-N-Out started offering customers the option to order their food through an intercom systemwithout ever leaving their cars, and inspired every fast-food restaurant from there on out to do the same.
1951: The term "fast-food restaurant" became recognized by the Merriam Webster dictionary. Since then, Americans have never stopped evolving how we eat on the go. Today fast-food restaurants are multinational corporations and new restaurants pop up all the time, creating new concepts for how customers casually dine.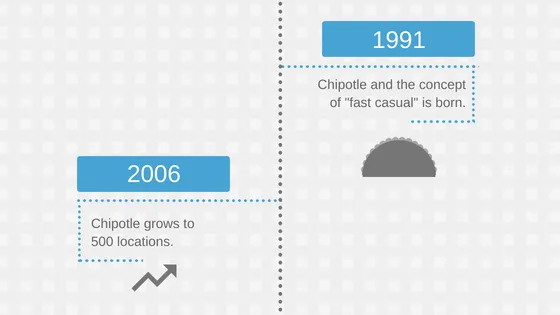 1991: Steve Ells was eating in a San Francisco restaurant and observed people ordering at the counter and receiving quickly produced food that didn't compromise flavor. Two years later he opened the first chain of Chipotle Mexican Grills and the concept of "fast casual" was born.
2006: Chipotle grew to 500 locations and found success by rebelling against the typical reduced prices, expanded menus, and raised operational efficiencies model. It prioritized top-quality, fresh local produce, high-priced naturally fed and humanely raised meats, and well-designed restaurants. More so, Chipotle challenged the fast-food status quo by paying employees more than its competitors.
The emphasis on providing customers with the best ingredients in the quick-service industry did not go unnoticed and created a cult following that changed the standard for fast food. Today, there are 1,400 Chipotle locations in 43 states (and growing) and the chain makes roughly a 25 percent profit margin.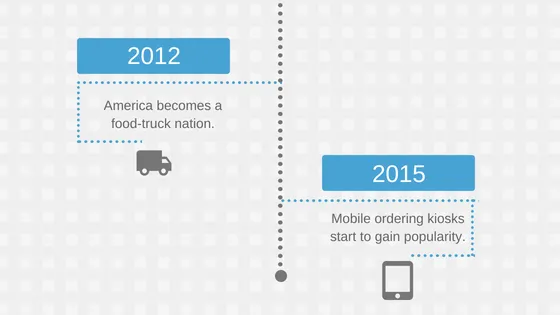 2012: America became a leading food-truck nation. While food trucks were not exactly a new concept, in 2012 they became a phenomenon. Trendy restaurants with celebrity chefs started creating mobile versions of their restaurants, making high-quality food easily accessible.
Some trucks moved around cities and some joined forces with other trucks for weekly food-truck festivals. Bringing cuisine on the road also enabled restaurants to create cult-like followings — like the Señor Sisig truck in San Francisco — as they popped up in different locations around a city. Trucks even started letting customers order ahead of time to avoid lines completely.
2015: Self-ordering kiosks started popping up, led by Panera Bread. This new approach reinvented the way customers ordered at fast-casual restaurants. Instead of being greeted by a cashier, customers immediately walked up to a self-service kiosk and placed their orders through a digital interface. With less focus on ordering, employees were able to shift their attention to other aspects of customer service, like making sure food came out of the kitchen at a faster pace. A couple of years after Panera started rolling out their kiosks, McDonald's followed suitand started installing kiosks in their restaurants. As with Panera, moves by McDonald's and other companies into a tech-savvy self-service ordering option hint at how QSR's will continue to evolve with the times.